---
The Future of LGBT Horror
---
With Gay Pride Month in full force this June, I decided it was time to take a look at the LGBT community and the horror genre.  For years I've complained about the lack of LGBT visibility in my favorite genre, but if you look deep enough they are there.  Warning SPOILERS will be ahead!
There have been some great (and mostly under seen) films with strong gay characters or gay themes.  I won't be looking at movies with gay undertones, so I won't be mentioning the great Nightmare on Elm Street 2.  If you're looking for a list of LGBT horror films, here are some of my favorites:
High Tension — Lesbian
Pitchfork — Gay
The Dark Place — Gay
Hellbent — Gay
Sacrament — Gay
Vampires: Brighter in Darkness — Gay
Vampires: Lucas Rising — Gay
Deviance — Gay
The Hunger — Bisexual
All Cheerleaders Die — Lesbian
The Vampire Lovers — Lesbian
May — Bisexual
Lyle — Lesbian
Sleepaway Camp — Transgender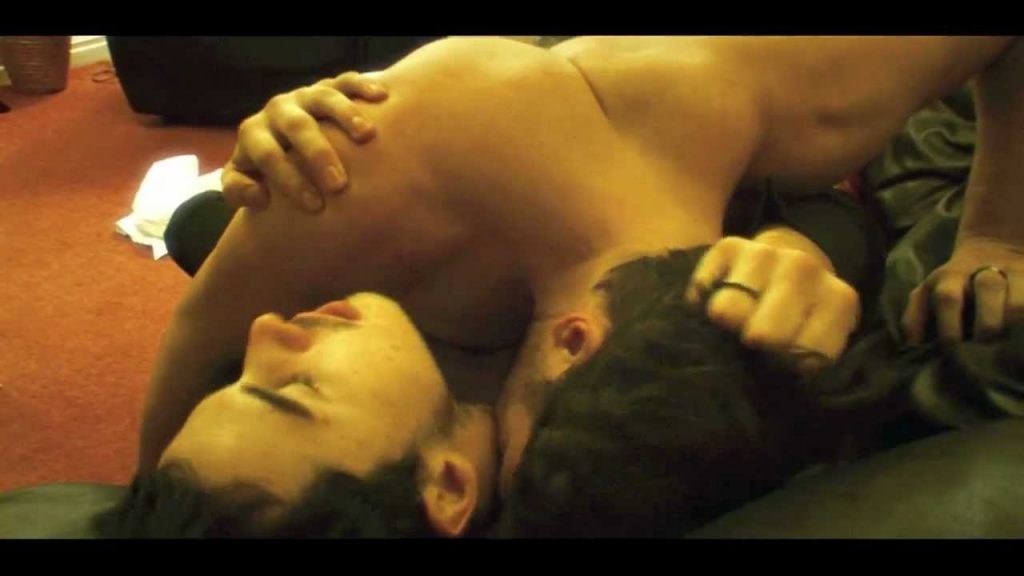 Each one of these films has stood out in some way or another to me.  These are horror films that were not scared to put homosexuality front and center.  Not each film did it perfectly, but I respect that each film tried to move towards the future by pretending the LGBT community doesn't exist. 
There is still a huge step that needs to be taken.  Most  of the horror films with LGBT themes are usually played for laughs or cheese factor, and I would like to see some more serious horror with gay characters.  Also, it's sad I can ONLY think of one horror film with a transgendered character, and while I love the movie, the transgendered character is used for shock value and ends up being the killer in Sleepaway Camp.  I'm not saying the LGBT community shouldn't be portrayed as villains, but it needs to be done in a way where it isn't insulting.  High Tension did this perfectly in my opinion.  The lesbian killer trope didn't feel insulting, but rather for me it worked. 
Now I want to look at the LGBT community that helps the genre thrive.  Through the years there have been many names helping the genre along.  One such name is Clive Barker, who is an openly gay filmmaker, writer, artist, and master of horror!  He has been a big inspiration to me.  His prose is poetic and even though he has only directed three movies, each one is beautifully shot.  One name that you all might know is Don Mancini.  If you don't then hold onto your cute butts, because you definitely know his work.  Does the name Chucky ring a bell?  Yes, Mancini is the creator of Child's Play and the character of Chucky, and he is an openly gay man!  Mancini has been a force behind the scenes for a long time now, and he doesn't show any signs of stopping, with Cult of Chucky due out later this year.  Mancini knows what he is doing and he has a way of blending horror and humor in a way most filmmakers fail.  He's written all the Child's Play movies and that is reason right there!  I hope this gorgeous filmmaker and writer stays with the horror genre and I would love to see him take on some new original work! 
And then we have David DeCoteau, who makes many campy horror films, that are kind of turn ons.  His films are full of half-naked men walking around in their underwear, and that's all you need to know.  His films aren't high art, but boy do they get you sweating. 
For more modern horror filmmakers, take a look at one of my favourites: the gorgeous and über talented Alejandro Amenábar.  He is the man behind The Others, one of the greatest ghost films ever made.  He has an old-fashioned way of making films.  His direction is artistic, morose, and beautiful in one horrifically beautiful package.  Adam Robitel is a new name in horror.  I'm still learning about him.  He directed the eerie The Taking of Deborah Logan and will be helming the next Insidious installment, which is one of the biggest franchises of horror right now.  He has acted in some horror films, such as 2001 Maniacs and Chillerama, and he wrote a Paranormal Activity film.  He is new to the genre, but he is already creating a name for himself and could end up being one of the greats. 
Dominic Haxton, has only done a couple short films to my knowledge, but one of them was the very creepy gay horror called Tonight It's You, which tells the story of a hook up gone wrong.  To say more would be a disservice to the awesome twists and the ending that leaves you wanting more.  And then we have the man who wrote Final Destination and Dead Awake, Jeffrey Reddick.  He hasn't done a lot of work, but Final Destination is enough reason to keep tabs on him. 
Three modern filmmakers I'm really loving are Tommy Faircloth, Glenn Packard, and Bart Mastronardi.  Bart Mastronardi has only directed two movies (Tales of Poe and Vindication) and they are both unique films with tons of originality, great characters, and stories that stay with you.  Watching his movies you can tell he has an artistic background as his shots are beautiful, bringing to mind a young Argento.  Faircloth has created the Crinoline Head franchise.  While the first one was a decent film, the sequel Dorchester's Revenge: The Return of Crinoline Head (unfortunately renamed Dollface for its DVD release) really blew me away.  It was fun, humorous, and creepy and showed off that Faircloth is here to stay. 
One of my favorite modern horror films would be the slasher film, Pitchfork wonderfully co-written and directed by Glenn Packard.  Packard is becoming one of my favorite modern horror filmmakers.  His cinematography, visuals, his work with actors is all fabulous.  With one movie, he has become a favorite of mine and I hope he stays in the horror genre.  The way he did Pitchfork was wonderful, as the main character was an openly gay final boy, but it wasn't treated as a joke.  He was treated as an everyday guy who just happened to be gay.  That's all I want from the horror genre. 
With all these films, there are still many strides the genre has to reach.  This is only a small handful of films and filmmakers.  My dream is to see more horror films with LGBT characters that are written just like all the straight characters.  I'm tired of seeing LGBT characters written like jokes, but these filmmakers know what they're doing, and the films I've listed are some great ones to check out.  And it would be a disservice if I didn't mention Anthony Perkins and James Whale.  These two men were gay men of horror and paved the way for the fresh new faces we have today. 
I think as the years go by we are going to get more films with strong LGBT characters, and I can't wait to see more people like myself in a genre I adore.  Happy Pride Month, and I hope you all have a bloody good time. 
---