---
TERROR FILMS Wants You to GET YOUR SCREAM ON Announces Summer Release Schedule!!
---
Genre indie distributor, 

TERROR FILMS

 is preparing to give horror fans a fun-filled gore fest of new films this summer. Get ready to get your scream on with a killer cult in the dessert; not one but 2 movies about the hot fiery female demon, Lilith; a baby born by black magic; a horror anthology with something for everyone and a criminal who breaks into a house full of killers.
Here's a glance at the upcoming releases:
ROAD HEAD (Digital Release Date 6/4)
Referred to as, "90 minutes of slapstick, gore, and the occasional heartfelt talk" by Film Threat, ROAD HEAD hits digital platforms Friday, June 4th.
Directed by

David Del Rio

and written by

Justin Xavier

, the film centers around three friends who take a road trip to the Mojave Desert, where their complicated relationships are pushed to their breaking point as the group encounters a reclusive, murderous cult.
Starring E

lizabeth Grullon, Paul T. Taylor, Damien Joseph Quinn, Clayton Farris, Misty Violet, Sierra Santana and Clay Acker.
LILLITH (Digital Release Date 7/9)
Directed by

Lee Esposito

and written by

Esposito and Luke Stannard

, the film centers around a girl catching her long-term boyfriend cheating. Hell bent on revenge, she summons the succubus named Lillith, who embarks on a bloodthirsty, sex-fueled rampage.
Starring 

Langston Fishburne, Savannah Whitten, Chrissie Capobianco, Julia Arden Rock, Nell Kessler, Robin Carolyn Parent, and Taylor Turner.
BLOOD BORN (Digital Release Date 7/16)
Directed and written by

Reed Shusterman

, the film centers around a couple struggling with infertility who turn to a ritualistic organization that conceals the true cost of their "magical" procedure, leaving the soon-to-be parents fearful that their baby might not be entirely human.
Starring 

Rosie Moss, Antoine Perry, Melanie Haynes, Laurine Price, Leah Verrill, Cole Gerdes, Stacey Moseley, Jody Jaress, Tracy Winters, Matt Mendoza, Adria Baratta, Chelsey Donn, Jennifer Daley and Teri Gamble.
LILITH (Digital Release Date 7/30)
Directed by 

Alexander T. Hwang

and written by

Richard J. Aguirre, Paul McFall and Anthony Werley

, this 4-part horror anthology follows the

Demon Lilith

who punishes men for their indiscretions against women.
Starring 

Vernon Wells, Felissa Rose, Thomas Haley, Brialynn Massie, Michael Wainwright, Charles Chudabala, Hunter Johnson, Michael Jon Murphy, Jennifer Nangle, and Colton Wheeler

.
10/31 Part 2 (Digital Release Date 8/13)
A follow-up to the popular 10/31 Anthology released across digital platforms last summer by

Terror Films

comes 5 more horrifying tales of terror.
Segment directors, writers and producers include

 Brett DeJager, Max Groah, John Hale III, Zane Hershberger, Robert Lanphere, Jennifer Nangle, Tory van Buskirk, Stephen Wolfe, Mike McPherson, Bryan Fitzgerald, Rocky Gray, Zeke Hanson, and Lee Walker.
HOSTAGE (Digital Release Date 8/20)
Directed by

Eddie Augustin

and written by

Laura Ashley Polisena and Eddie Augustin

, the film centers around a small-time crook who breaks into a home inhabited by a family of killers who will do whatever it takes to make sure he doesn't get out alive. But the family has secrets that threaten to tear it apart.
The films will be available across multiple digital platforms including

Amazon Prime, Apple TV, Kings of Horror, Roku, Watch Movies Now, Google Play

and many more.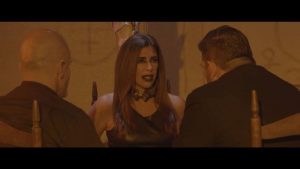 ---