---
Andrew E reviews Devil's Path (LGBT themed)
---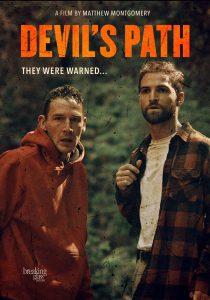 Synopsis:
Two strangers meet in a wilderness park where gay men cruise for sex. What seems like an innocent and random meeting quickly descends into a horrific nightmare. With recent disappearances and attacks, the two men soon find themselves in the terrifying position of being the next victims in a deadly game of cat and mouse. As they flee further into the woods to escape the danger, they begin to understand that the greatest danger of all may be closer than either of them realizes. Will these two strangers be able to work together to defeat the darkness that has settled in on Devil's Path? Or will their own secrets and lies lead them to be the next two missing persons in this perilous park?
Andrew E's Review:
The movie is well presented both the two leading characters are believable and intriguing and one of the best LGBT themed movies I have seen in a while. Sometimes getting to review independent films has its perks, and this film is one of them!
So what happens? On a nature trail known to the locals as "Devil's Path", Noah (Stephen Twardokus) meets Patrick (JD Scalzo). Patrick is looking to get his rocks off but stumbles across Noah – a shy, timid guy who doesn't seem to grasp the concept of cruising or how to talk to man nevermind hook up with him. While wandering through the woods (and Patrick at times looking for an escape / sexual encounter) the park ranger warns them not to go into a restricted area of the woods. The ranger warns them that several gay men have disappeared after wondering to the upper trails for sex. A horror/thriller movie wouldn't be complete if the pair didn't eventually wander into the forbidden woods one leading playing alpha and the other questioning if they should. Enter two homophobic men that want to hurt, hunt, track and kill the boys. The true plot of the Devil's Path is best left a secret and will ruin the experience if I delve to deep into the plot. it makes perfect sense in and plays out nicely but is unpredictable so worth watching it unfold without spoilers.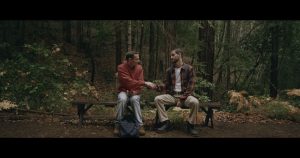 #Mammothly entertaining stuff,  A clever, heart-pounding thriller…
The film's world premiere was held at FilmOut San Diego where it won Best First Narrative Feature and Best Supporting Actor. Other festival screenings include NewFest, Atlanta Out On Film, Cinema Diverse Palm Springs, Chicago Reeling, and qFLIX: Philadelphia and Worcester.
The film tackles some weighty themes such as mental illness, loss, trauma, and homophobia all wrapped up nicely in a B-movie of the highest standard. I have said this before but independent cinema has taken a massive leap in terms of quality and presentation and Devil's Path is no exception.  Montgomery (director) should be applauded for this achievement capturing so much in 90minutes.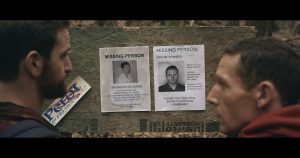 Major Wins in Devil's Path:
Acting – the movie is held up by the two lead actors 

Stephen Twardokus and JD Scalzo.

Both actors are brilliant at capturing their respective characters. Both characters are wildly different from each other and portrayed perfectly. JD is Handsome, Sophisticated in his take of the character and jumps between confident male to "final girl" seamlessly, multi-talented. Stephen shows his skills as an extrovert with agile conviction. And during his character arc shows real versatility.
Presentation – The movie looks great. It is cleanly shot and has nothing in terms of production quality that lets it down. Some lower budget films can often have production issues which distract from the core story. That is not the case here, it is fresh clean and executed brilliantly.
Direction – I was not bored. Some movies can leave you twiddling your thumbs between major plot points. This is not the case with this film, I was involved mentally with the story beginning to end. Not even a cheeky twitter glance! That is a huge testament to the director!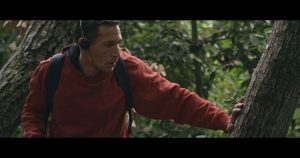 I would normally list some drawbacks of a feature here, however – I am literally coming up blank! I would of like a little bit more visuals in relation to the hook-up joint – but maybe I am just being pervy, but felt it could have potentially made it feel more real. I was restraining from writing that we needed more sex scenes which involved JD Scalzo, but that again is pure perviness as he is a very cute actor to watch!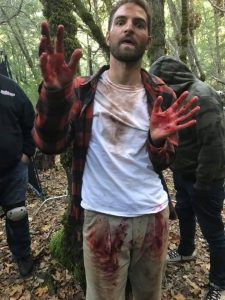 #"Take it from personal experience you can get yourself into some bad situations from making those kinds of assumptions"…
Devil's Path will satisfy genre fans – and proof that independent cinema can compete on a mainstream level. With limited drawbacks and a well-acted, intensely shot, horror/thriller filled epic. Refreshingly honest and utterly charming in its brutal subject matter.
GRUEMONKEY RATING: 4/5 GRUEMONKEYS!
Check out some great stills of the film:
Trailer:
Follow the film:
Be sure to watch out for this on DVD or maybe Blu-ray, I know I want a copy for my collection!
---