---
Andrew E reviews Camp Cold Brook (2020)
---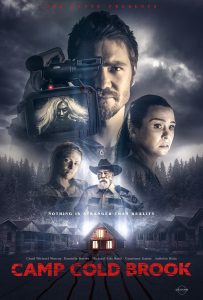 The film stars Chad Michael Murray (House of Wax, "Riverdale"), Danielle Harris (Halloween, Hatchet II), and Courtney Gains (Children of the Corn, Back to the Future)
The film is directed by Andy Palmer (Badlands of Kain, The Funhouse Massacre) and written by Alex Carl (Reeves Road). It is produced by Warner Davis and Mark Alan. The Executive Producers are Joe Dante, Ben McConley, Jason Van Eman, David Van Eman, Ross Marroso, Michael Stott, Jason Young, and Gerald I Wolff.
Shout! Studios is the filmed entertainment production and distribution arm of Shout! Factory, specializing in all aspects of distribution, including theatrical, VOD, digital and broadcast. Reflecting Shout! Factory's ongoing commitment to innovation and excellence, Shout! Studios champions and supports like-minded filmmakers and creators at the forefront of pop culture, driving creative expression and diversity in independent storytelling. Shout! Studios finances, produces, acquires and distributes an eclectic slate of movies, award-winning animated features, specialty films and series from rising and established talent, filmmakers and producers.
Camp Cold Brook tells the story of a ghost-hunting reality show crew: host Jack Wilson (Chad Michael Murray) is on a quest to get huge ratings to boost to save his flagging television show. The crew thinks that they have just the ticket in an abandoned church camp in Oklahoma, where 28 children were slaughtered in the 90s. Of course, with this being a horror movie, things don't exactly go as planned, and our heroes get much more than they bargained for in the form of vengeful creepy child ghosts, skin-crawling spiders, spooky witchcraft symbols, and no cell service!!!!!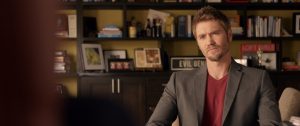 SETTING THE RECORD STRAIGHT: There was some initial buzz online that this movie was going to be a 'Sleepaway Camp' sequel or part of the same universe. I think from what I can find online this was purely based on the fact it is set at a summer camp and the character (scream queen icon) Danielle Harris plays is called Angela. Sadly (sorry Sleepaway Camp fans) this is not the case. Though saying that, the premise of this movie would be a badass way to give Sleepaway Camp a new edge and make Felissa Rose playing Angela (sorry Pamela Springsteen fans) a badass way to become the new unstoppable Jason type killer for 4or 5 sequels!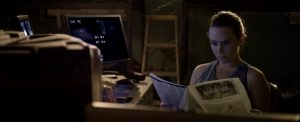 What was good about the movie?
YES. The movie was good. The movie was shot brilliantly, nicely edited and not a single dodgy low budget draw-back like poor sound or camera work insight. It had some lovely trickery in some shots where the characters use their own go-pro style cameras whilst trying to temp spirits our of hiding. That execution was very creative and from the moment the slow flip-reverse camera shots were introduced I knew it was going to make me jump at some point and IT DID! The casting was spot-on, Chad delivered a performance that journeyed from the typical dick-ish, zero compassion boss to a caring and loving father and friend. It was nice to see that development to create a lead that the audience would care for (minus caring for him for being inhumanly attractive). Danielle Harris was a delight her character was the slightly more sensible one, in that she / Angela wanted TO GET THE HELL OUT OF THERE. Daniella knows how to play a horror role, and it shows her ease and skill in this production. A nail-biting moment where her character lifts a camera up and down (i shall say no more) had me on the edge of my seat. Which is a true testament to her talent, experience, and abilities as a performer. The whole cast of the reality show stood strong together and was very believable in their individual roles and as a collective.
If you like a romp through the woods, with some ghostly ghoulies this is definitely the movie for you. There are some creative scares, good camera work and a cast that know how to hold your attention.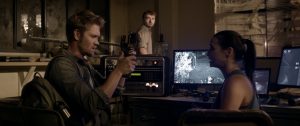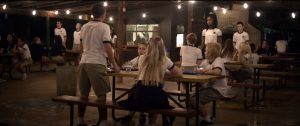 What will frustrate you?
Run time and ending, whilst above I am clearly giving the movie praise (which I am) the run time was sadly around 80minutes. For me, the movie was just getting to the height of where I thought it was heading and it ends very quickly, and very abruptly. I think maybe another 10minutes where the stakes were raised a little more, the ghosts and ghoulies came together would have been more satisfying to see as pay off at the end of the movie. Oh and one more thing, no shirtless Chad? I mean COME ON – TALK ABOUT MISSED OPPORTUNITY HE EVEN GETS WET!
Mistake rectified! See below!  🙂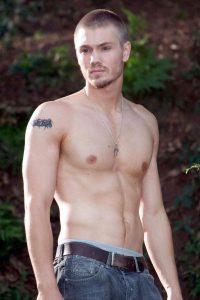 Overall?
Watch it! It is a strong ghost movie, with great actors – fun trick shots and a fast pace. It is set nicely up for a sequel, one I would love to watch!
---

Rent it, buy it, stream it  – support this movie! You get Danielle Harris who is on fire in this movie (not literally), and the smolder of Chad Michael Murray, ghosts, chases, scares and witchcraft all rolled into one!
These types of movies need the love and support of fans, otherwise, they will stop making them. I for one would be devastated. Fingers crossed for a part 2! Maybe then they can at least have a shower scene LOL.
---
GRUE MONKEY RATING: 4/5 Gruemonkeys!
---