Andrew E interviews Ben Kaplan (Blind/Slasher.com)
---
Andrew E interviews Ben Kaplan (Blind/Slasher.com)
---
Gruemonkey's Andrew E sits down to talk to the brilliant actor Ben Kaplin famed for his role in 'Slasher.com' about his new role 'BLIND'.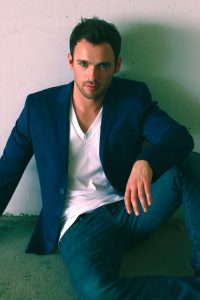 Andrew E: Can you tell me about "BLIND" and who do you play?
Ben Kaplan: BLIND follows a former actress named Faye who was blinded by a botched laser eye surgery. She lives in a dream house in the Hollywood hills but it's more of prison because removed herself from the world. Without her knowing she's being stalked by this silent masked killer. I don't think I can say much about my character without spoiling parts of the movie so I'll just say I play a sushi delivery guy with his own agenda.
Andrew E: Blind looked like a tone of fun to shoot, what was the hardest bit about filming?
Ben Kaplan: We were filming in the Hollywood hills in winter. A lot of people don't think of Southern California as cold but it was 40 degrees out during our night shoots and I was in these short shorts and short sleeves. I definitely blew a couple takes just from shivering too much.
Andrew E: Your character goes through A LOT! – were there any elements that you struggled with?
Ben Kaplan:  I don't want to say anything that spoils the film but I will say as soon as I read my part I had strong opinions on who this guy was and how he operated. I'm not at all this character in real life but I feel like I understood how this guy exists after reading the script the first time.
Andrew E: Can you tell us any fun behind the scenes moments from 'Blind'?
Ben Kaplan:  Most of the cast and crew are close friends. I've been friends with a lot of them for a while but I was coming into a family. There are all kinds of inside jokes hidden in the script that everyone was excited to explain to me. It was really cool to work on a project that the people making it were not just making it for audiences but also for themselves.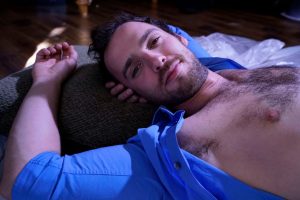 Andrew E: I thought you were great in the movie – How do you prepare for filming?
Ben Kaplan:  I think every actor has a gut feeling the first time they read a character. I try to operate and expand on what my first instincts are. Sometimes I gotta let all of that go if I talk to the director and I completely misunderstand the character but that rarely happens. This one I came in with a strong choice and we expanded on that on set.
---
Andrew E: Would you pursue more work in a horror film?
Ben Kaplan:  I don't think I'll ever leave horror entirely and I mean that as a positive. Horror is an evergreen genre and the fan base has been very good to me. There's a lot that I want to do outside of horror but I always want to come back and make projects for horror fans.
Andrew E: How would you feel about the title Scream King being attached to you? – after all, you have some serious horror credentials behind you (Slasher.com, Blind, Murder Tag, Toilet Trolls, The Haunting of Grady Farm). Would you wear the crown with pride?
Ben Kaplan:  Absolutely! I'm very proud of the work I've done in horror and there's a lot more I wanna do.
Andrew E: What is next for you, where can we see you next?
Ben Kaplan:  Besides BLIND, I have another horror feature coming out called the Haunting of Grady Farms. I play one of the leads in it and I was also a writer/producer on it. I acted in a short call Complex Human Seeks Similar that I'm very excited about. I don't know how much is public knowledge about it but keep an eye out for it! I'm also getting to work on creating something with Chip Gubera, who I did SLASHER.COM with. Chip is one of my closest friends so I'm we're always looking for any excuse to work together.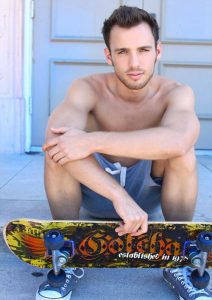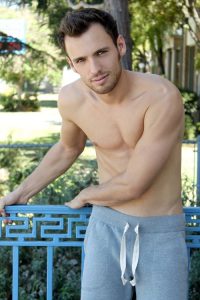 Quickfire round:
Andrew E: What is your favorite scary movie?
Ben Kaplan: It changes a lot but is typically a John Carpenter film. Right now I'll say They Live.
Andrew E: What is your biggest fear?
Ben Kaplan: The internet finding out my biggest fear.
Andrew E: Ever experienced anything paranormal?
Ben Kaplan: Yes! Once when I was a teenager, I was in my bedroom and I had this balloon leftover from my birthday. I was laying on the floor doing homework when all of a sudden the balloon was ripped from the ceiling behind the futon in my room. I assumed our cat got in my room. I looked behind the futon and the ribbon the balloon was on was shredded. My door was closed and it turned out the cat was sleeping upstairs.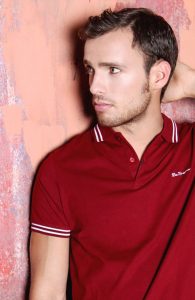 Andrew E: If you could film a role in an existing horror franchise who would you battle with?
Ben Kaplan:  Friday the 13th is my favorite franchise and I would love the opportunity to be in a sequel! I hope everything works out the with rights!
Andrew E: Where can people follow your work?
Ben Kaplan: I'm @thebenkaplan on all social media. I'd say I'm most active on Instagram so hit me up!
Andrew E: Out of all your work which role is your favorite?
Ben Kaplan:  I'll always have a special place for Jack in SLASHER.COM. That was my first leading role and I loved the journey the character goes on.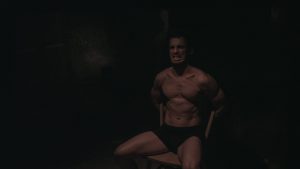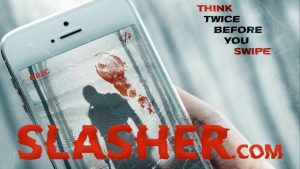 ---
Andrew E: Out of all your work which role is your least favorite?
Ben Kaplan:  I can't answer that! But I'll say like any actor I have a lot of films that I've worked on that will never see the light of day.
Andrew E: Tell us something random about you?
Ben Kaplan:  I have two cats and they are my world!
---