---
Parasite, 2019
---
Act like you own the place.
All unemployed, Ki-taek's family takes peculiar interest in the wealthy and glamorous Parks for their livelihood until they get entangled in an unexpected incident.
Actors
Starring:
Song Kang-ho
,
Chang Hyae-jin
,
Choi Woo-shik
,
Park So-dam
,
Cho Yeo-jeong
,
Lee Sun-kyun
,
Lee Jung-eun
,
Jung Ji-so
,
Park Myung-hoon
,
Jung Hyeon-jun
,
Park Keun-rok
,
Jung Yi-seo
,
Cho Jae-myung
,
Jeong Ik-han
,
Kim Gyu-baek
,
Ahn Seong-bong
,
Kim Geon
,
Lee Joo-hyung
,
Lee Ji-hye
,
Kim Bo-ryeong
,
Park Hye-sook
,
Baek Seung-hwan
,
Riccardo Ferraresso
,
Ko Kwan-jae
,
Lee Si-hoon
,
Seo Bok-hyeon
,
Shim Soo-mi
,
Yoon Hye-ri
,
Andreas Fronk
,
Anna Elisabeth Rihlmann
,
Rosie Peralta
,
Shin Seung-min
,
Park Seo-jun
,
Kwak Sin-ae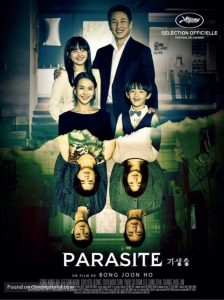 The perilous quarters of Bong Joon-ho manage to cause a ripple in space-movie-time touching and purging everything yet again within a radius of disturbing and painstakingly executed. Parasite takes birth in a shabby, filthy basement in a down on its luck neighborhood and grows up in the suburbs, it is conditioned to be from a certain strata and learns from another. Maslow had it all distorted, 'self actualization' comes before everything else; to be this foul smelling and troubled and taking an entire social block to fucking realize it. The visual commentary is flawless and rises with every frame, as each actor presents to the viewer an elevated performance, befitting to the thin as ice surface of the fim and the deliberate cracks that are appearing in it and moving on its bellies towards us, the keen viewer, like snakes, like centipedes.
A brilliant film by a filmmaker who further strengthened the fortitude, yet again.
---