---
Last Shift, 2014
---
Fear the ones left behind.
A rookie cop's world is turned upside down when she comes face to face with Paymon - King Of Hell. Officer Jessica Loren has the last shift at a transitioning police station, assigned to wait for a crew picking up bio-hazard waste from the armoury. But unbeknownst to her, cult leader John Michael Paymon has haunted the department ever since he committed suicide in custody. Jessica is about to find out just how dangerous he still is, all alone on the graveyard shift.............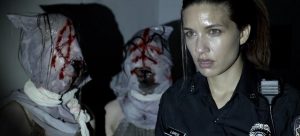 Precinct horror.
The film is a mix between the highly entertaining Indie British, Irish horror flick Let Us Prey, 2014 and the cult classic, Assault on Precinct 13, 1976.
Speaking of cult, there's a whiff of one as the film begins (that turns into full blown stench of rotting bodies by the end) with Jessica Loren (the pretty New Yorker, Juliana Harkavy) showing a great deal of impatience while on the phone with her mother.
"I'm worried for you Jess." The voice on the phone says.
"Listen mum, I don't wanna get fired even before I start, gotta go."
"But, Jess…" Officer rookie shuts her clam-shell phone before her Ma can finish her sentence. It could've been a smartphone but I'd like to think that the PoHlice is old-school; but Officer Loren is only 29. Plus Mum's (not) the word.
If I resisted that line I would've gone into a long silence, staring into a sea of unhappy/happy people with a cocky sense of humour, like yours truly.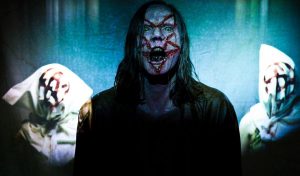 I hope… No wait, hope is shit; I wish people would relax a little; chill out man. Here, take a drag and pop this.
Review?
Ah, yes.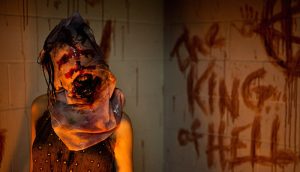 Sergeant pock-marks, Hank Stone from The Punisher, 2004 is one freaky fucker. I mean if you want a rookie to relieve you of your shift, you can be a little accommodating, or neutral.
Not him, no ma'am. This guy is the motherfucker who, it seems, has gone to hell and back and he loved it.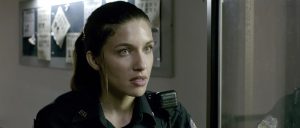 Anyway, the precinct is being taken down as a new Police Station is up and functioning nearby.
"The guys (to collect 'toxic evidence') will be here between ten and four, DO NOT go to sleep."
"Yessir, Sergeant Anal Plugs."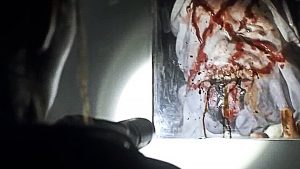 With the entire empty precinct to herself and all 911 calls being directed to the new station, it may seem that Officer Loren could have done a fly-by through her nine hour shift. I couldn't be more wrong.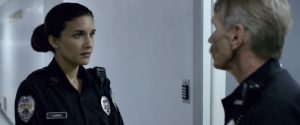 Then the phone starts ringing (even though they have been redirected), a hobo shows up, twice (unresolved), then a hooker shows up, smoking a Marlboro and full of impending doom talk (unresolved, again).

What I liked most about the film was the sound editing, and the way how cinematographer, Austin F. Schmidt manages for the audience to watch the characters (just enough), grasping for the Tactical Maglight in a cell with suspense and horror locked in with the rookie who should have spoken to her mum, the second time she called.
Officer Loren's first day on the job is killing her.
Daddy issues.
Killed in action Daddy issues.
Daddy Partner issues.
Need head issues.
Continuity issues.
Reaction acting issues.
Charles fucking Manson-like issues. Can we get over the Tate LaBianca Massacre and move on to Syria and Myanmar? No? Alright.
Bat outta hell issues, straight to DVD issues (I ain't got no problem with that, just that I hear some do)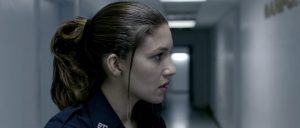 Last Shift is a mediocre film with a lose back-story and crusted-hell make up, however, it has a truly gratifying ending that I did not see coming (well, I'd like to think so anyway) – full points for that.
The ending is hair-raising and Mr. asshole sergeant makes a final appearance to check on the Rookie.
The feature is a mildly entertaining horror film that shines but very little in terms of originality, that is until the last act. However, if cops and cults and a manic Sergeant (unresolved) is something that tickles your fancy, watch it. If not, then try and decipher a Peter Bogdanovich film.
By the way, "Officer down" sounds so cool in a film, but the implication of it is filled with life-saving urgency and such is the nature of the Motion PictureS. All of them.
Fin.
https://cultcrumbs.files.wordpress.com/2016/09/a12.gif?w=474&h=201
---