---
Don't Breathe, 2016
---
This house looked like an easy target, until they found out what was inside.
A group of teens break into a blind man's home thinking they'll get away with the perfect crime. They're wrong.
Ever wondered what Audrey Hepburn, Alan Arkin and Terence Young would've been like, after consuming meth on the set of Wait Until Dark, 1967? Well, wonder no more boys and girls, the maker of the new Evil freaking Dead, 2013 shows to us what could've happened. Fede Alvarez is a master of manipulative and clandestine camera-work and leaves no corner of the house unexplored, lights out or lights on; doesn't matter to Alvarez, like how that babe cutting off her arm with an electric kitchen bone saw doesn't matter to him or that other babe tearing the side of her face open with a straight razor doesn't.
Here the threat is human, the horror here is broad-shouldered with its sixth sense sharper than that sword from The Bodyguard, 1992. Jane Levy as Rocky the rebel is Warrant Officer Ripley, she is "My name is Alice". Stephen Lang as blind terror is a formidable force to reckon with, he's a fucking freight train about to hit a bus full of petty thieves. He is just like the haunted cabin in the haunted forest coming to rape its victims.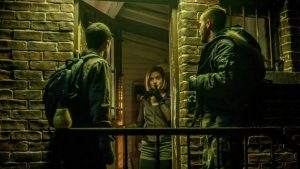 The tension is relentless and the confined choreography grand. What stands out is the creepy sound design, as if someone is trying to play a piece of steak on the turntable. Doesn't make sense, the pin would get stuck; but if it moves, even slightly; that's the kinda noise going on in the back throughout the film.
Plus Sam Raimi is a producer.
Go watch it.
---