---
GRUE'S PRIDE MONTH: Queer Reality Series Premieres July 3rd – PUTTING ON: Second Season!!
---
The second season of the Revry Original Series, PUTTING ON, premieres on July 3, 2020. The queer reality series delivers delicious drama and international glamour courtesy of Israeli underwear model and Instagram star turned entrepreneur, On Mekahel.
Queer Reality Series Serves the Drama Internationally
for Second Season
Underwear Mogul Unravels His Life and Love in Season 2 of

Revry

Original, PUTTING ON
Queer virtual cable TV network,

Revry

, is taking the drama around the world in Season 2 of its juicy reality series, PUTTING ON, starring Israeli-born underwear model, Instagram star, and entrepreneur,

On Mekahel.  
"It's very gay, and we're very grateful." – Pride.com
The first season explored the trials and tribulations that On experienced in starting his own underwear brand…with his ex-boyfriend. Premiering this July 3rd, the full-length Season 2 dives deeper inside the private and professional life of

On Mekah

el–and the new love of his life,

Dave Cederb

erg. High-stakes (and high reality TV drama) abound this season with episodes featuring: business ventures in the "Big Apple", Israel and the West Coast, as well as a wedding in Paris. As On deals with his own trials, Dave has his own challenges: while On travels to LA to do press for his new underwear line, Dave is busy navigating the justice system and wrapping up his parole duties in order to make On's dream wedding in Paris a reality. And that's just the first episode! What else can you expect from a 26 year old who wants to rule the world?
            "A natural roller coaster ride that is filled with highs and lows – the glitz and glam of the fashion industry meets the raw emotions that are destined to be revealed." 
 -Subvrt Magazine
On Mekahel's Comments
"As with many reality shows, the storyline has evolved because my life is forever changing. For season 2, I chose to offer more private moments from my life. I think we kicked up the excitement level a bit with the lead up to my wedding ceremony in Paris all while moving across the country to Los Angeles and running my company! Life is drama and that is something that just comes effortlessly to me.
It's obvious that I'm a 'fame monster,' so I definitely enjoying having cameras around me all the time but what truly keeps me going with this show is being able to set an example as a successful, openly queer man. It's so important to me to be able to reach LGBTQ people across the globe on Revry who might not see themselves portrayed on TV–let alone as the star of their own reality show–and show them that our LGBTQ lives are just as real, relatable, and important as our straight counterparts." 
Subscribers of

Revry

Premium (Revry's subscription on-demand offering) can watch the second season premiere of PUTTING ON starting July 3rd on the

Revry network

(available on

iOS, tvOS, Android, Android TV, Fire TV, Roku, Samsung

and the web at www.revry.tv).
 .
On Mekahel Biography
On Mekahel is an Israeli born model/actor, social media influencer and entrepreneur, boasting an impressive 630,000 followers on Instagram alone. With a resume that spans the course of a decade, he began modeling at the age of 14. 
In 2014, On became an international citizen, moving to New York City to further his career and to attend acting school at Lee Strasburg Theatre and Film Institute. Upon graduating from acting school in 2017, On appeared in television shows on networks such as HBO, Starz and NBC. Not only can he be seen portraying characters in film and TV, the first season of "Putting On" a reality show following On and the creation of his underwear empire premiered on REVRY and was the first IGTV reality tv series to be released on Instagram. 
Staying true to his modeling roots while in New York City, On was featured in ad campaigns by some of the largest global companies, from Gap to H&M, Nike, Adidas and Puma. Additionally, he can be spotted around the world at some of the most sought after industry events such as NY Fashion Week, Amfar, Fashion For Relief and Cannes Film Festival. 
Since relocating to the US, On Mekahel has further diversified his brand and business ventures, beginning with the creation of his underwear company, MO Underwear, in 2016. This particular project has consumed a great deal of his efforts, with the launch and assembly of the underwear line itself, as well as the marketing and publicity that surround it. On spared little expense and left no details untouched, investing half a million dollars into this endeavor. MO Underwear appeared in publications including, but not limited to Vogue, Nylon Magazine, and New York Times. In 2019, MO Underwear joined the global market, landing in stores across Israel, Europe, and the Middle East. Finding little time for rest, On launched in 2019 his signature fragrance, ON N.25 – This is quite a personal experience, as he is the sole creator and proprietor of this original scent. 
More recently, On relocated to the Los Angeles area with his husband to further pursue his career within the entertainment industry. Presently, the second season of his reality show will premiere July 3rd on Revry. He is currently hosting the after show for Project Runway and Making The Cut on Afterbuzz TV. 
About Revry
Watch Queer TV 24/7 with the first LGBTQ+ virtual cable network. Revry offers free live TV channels and On-Demand viewing of its global library featuring LGBTQ+ movies, shows, music, podcasts, news, and exclusive originals all in one place! Revry is currently available in over 225+ million households and devices, and available globally on over nine OTT, Mobile, Connected TV and Desktop platforms. Revry can also be found on Comcast Xfinity X1, XUMO TV, Zapping TV, STIRR (Sinclair Broadcast Group) and TiVo+. The company–an inaugural member of the Goldman Sachs Black and LatinX Cohort–is headquartered in Los Angeles and led by a diverse founding team who bring decades of experience in the fields of tech, digital media, and LGBTQ+ advocacy. Follow on Facebook, Twitter, and Instagram @revrytv. Revry.tv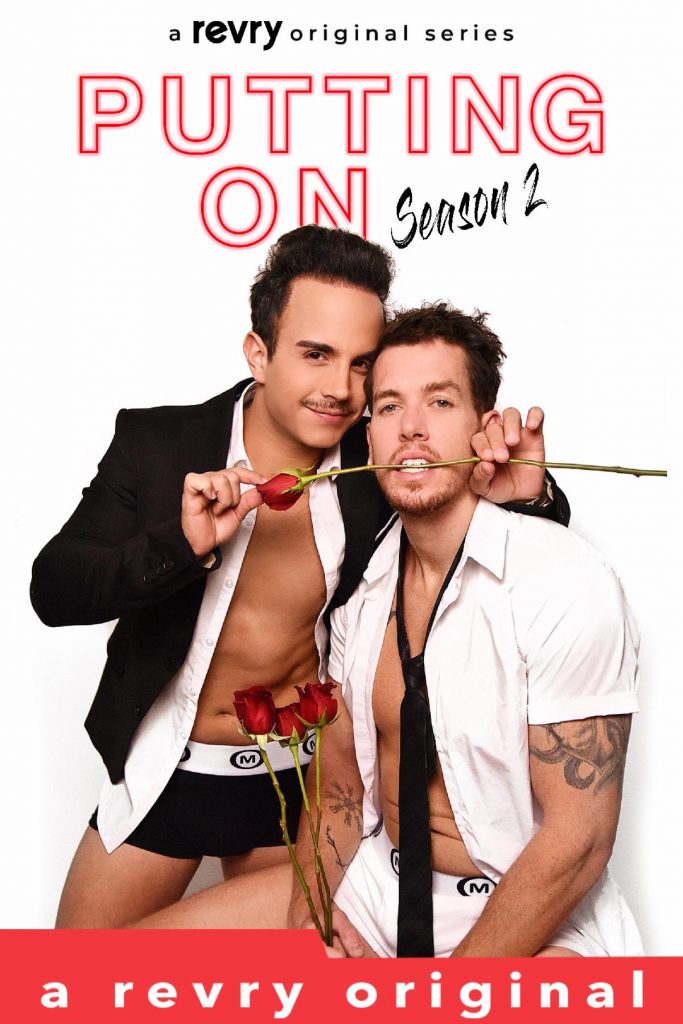 ---