---
Zombie Women of Satan
---
It Really Was the Wrong Time of the Month!
When a group of nightclub performers – including Pervo the clown, Zeus, a flatulent dwarf, and Skye, a feisty rock chick – arrive on a remote farm for a cable TV interview, they soon discover the dark secret of the sinister family who live there – they have been kidnapping and torturing gorgeous young women as part of a perverted cult. However, the family's experiments have now gone wrong, and the stocking-clad women have now become ravenous ZOMBIES! Now trapped, our ragtag group of visitors must unite in a desperate bid to stay alive… Sexy, gory and gut-munchingly hilarious – ZOMBIE WOMEN OF SATAN is THE most outrageous zombie comedy movie of the year!
Actors
Starring:
Warren Speed
,
Victoria Hopkins
,
Victoria Broom
,
Marysia Kay
,
Peter Bonner
,
Kate Soulsby
,
Bill Fellows
,
Gillian Settle
,
Christian Steele
,
Joe Nicholson
,
Jez Hunt
Funny, camp with Victoria Hopkins (Google Images please) as the bad ass rock star/zombie killer in leather pants and plenty cleavage. It is not in the least gory except for one stock footage.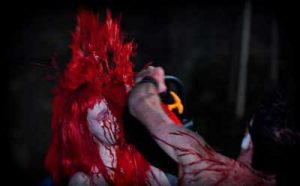 It took two people to direct this Z grade bunny?
Oh, there's also Pervo the Clown. The rest? Don't ask, don't tell.
Watch it if you like straight-faced, cheeky Brit humour, which at times gets really off or really effective if not all the time, because of the dreadful and pitiful and lamentable editing.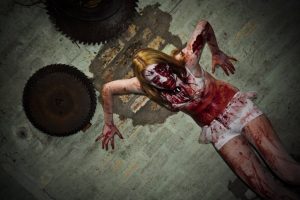 Now I can say I watched Zombie Women of Satan; but why in heaven's name would I do that? I want a Zombie Women of Satan t-shirt also.
I guess now would be a good time for some Michael Bay CGI happiness and the Transformers Franchise will serve just perfect.
---