---
Velvet Buzzsaw
---
All art is dangerous
Big money artists and mega-collectors pay a high price when art collides with commerce. After a series of paintings by an unknown artist are discovered, a supernatural force enacts revenge on those who have allowed their greed to get in the way of art.
Actors
Starring:
Jake Gyllenhaal
,
Rene Russo
,
Toni Collette
,
Zawe Ashton
,
Tom Sturridge
,
Natalia Dyer
,
Daveed Diggs
,
Billy Magnussen
,
John Malkovich
,
Mig Macario
,
Nitya Vidyasagar
,
Rob Brownstein
,
Pamela Shaddock
,
Marco Rodríguez
,
Gregory Cruz
,
Sedale Threatt Jr.
,
Alan Mandell
,
Mark Steger
,
Cass Buggé
,
James Aston Lake
,
Valentina Gordon
,
Oz Kalvan
,
Darren Richardson
,
Kevin Carroll
,
Sydney Lemmon
,
Pisay Pao
,
Christopher Darga
,
Ian Alda
,
Andrea Helene
,
Kristen Rakes
,
Stefan Marks
,
Pat Healy
,
Joanna Strapp
,
Adam Silver
,
Sal Lopez
,
Candice Ramirez
,
Jasmin Marsters
,
John Fleck
,
Chris Ghaffari
,
James Paxton
,
Patrick Quinlan
,
Scott Broderick
,
Sitara Falcon
,
Eugene Nomura
,
Time Winters
,
Andrea Marcovicci
,
Rebecca Klingler
,
Ruth Williamson
,
Brendan Parry Kaufmann
,
Sofia Toufa
,
Keith Bogart
,
Kassandra Voyagis
,
Mark Leslie Ford
,
Ruth Gilroy
,
Giulia Chiara Rocca
,
David Moses
,
Amy Tsang
,
Sean Riley
,
Charlotte Taschen
,
Joel Patino Corona
,
Steven Williams
,
Peter Gadiot
,
Lourdes Nadres
,
Nic Cornett
,
Mike Ostroski
,
Stephanie Nash
,
Tony Jacobsen
,
Nova DeJhemani
,
Andrea Bensussen
,
Tyrone Evans Clark
,
Eric Shackelford
,
Damon O'Daniel
,
Stan Divranos
,
Monique McKellop
,
David Alan Graf
,
Jeremy Russell
,
Scott Peat
,
Elise Falanga
,
Robert Artz
,
G. Larry Butler
,
Charles Coplin
,
Joan Urchin
,
Shantiel Alexis Vazquez
,
Sam Sami
,
Courtney Stephens
,
Dan Gruenberg
,
Erica Chappell
,
R Scott Hoffman
,
Eli Santana
,
Reuben Boyd
,
Kanoa Goo
,
Jeni Jones
,
Milton Perez
Gruemonkey's own Yehuda Gladen reviews new horror/thriller film Velvet Buzzsaw:
.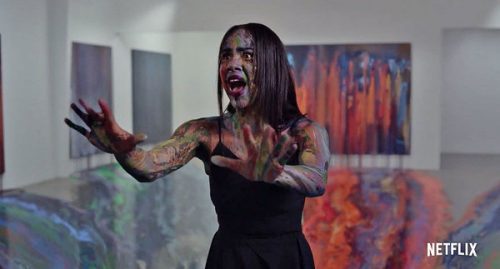 .
Velvet Buzzsaw Review:
I was tremendously excited to see the next Dan Gilroy film even before I knew anything about it. Nightcrawler, besides featuring what is perhaps a career best performance from Gyllenhaal, also featured Rene Russo whose scenes with Gyllenhaal were one of the highlights of that movie. In Velvet Buzzsaw they are reunited and joined by a great cast including Toni Colette, coming off one of the best genre movies of last year in Hereditary, and John Malkovich following his turn on Birdbox, the other Netflix original with an A list cast.
.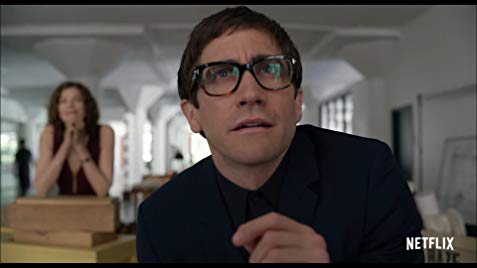 .
From the outset, we are introduced to a large cast of characters with ostentatious names that are befitting their profession in the modern art world. The cast is led by Gyllenhaal (Morf) an art critic, whose critical reviews can make or break a career, and Russo (Rhodora), an art dealer who tries to capitalize on the work of a dead man's paintings which start to come alive. Zawe Ashton (Josephina) plays a major role as well, seeking a second chance at fame and fortune when she discovers the work of the late painter which he fails to destroy before his death.
.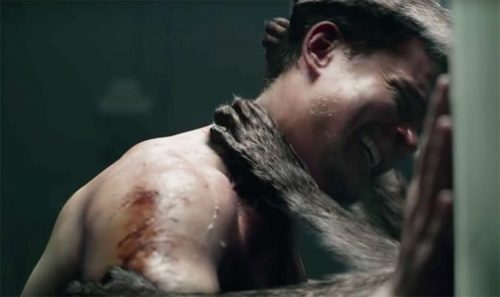 .
The principal characters are surrounded by other art sycophants looking to profit off the works of tortured artists, even though they have long left their own artistic ambitions behind in a bid to save themselves. Morf even dismisses the work of a man recovering from alcoholism in the opening scenes, finding that it lacks inspiration, while Rhodora speaks dismissively about her musical past which threatened to destroy her life. They have remade themselves as influencers who profit off of other peoples' success while enjoying expensive cars and homes with ocean views.
Where the movie falters somewhat is in the character of Dease, who never appears except in brief flashbacks. He's given a thin backstory that hints at his tortured genius, but Dease himself does not make any appearance and very little is known about him or his artistic obsessions. Nevertheless, the work we see of his in the film is haunting. The effects when these paintings come to life are minimal yet effective. Gilroy uses living paintings and sculptures to set up some murder set pieces that emphasize aesthetics over gore. They may lack a unifying theme or singular iconography, but they are still beautiful in their simplicity. There is even a scene with a giant reflective sphere that recalls the classic Phantasm series. It's a nice callback for genre fans.
.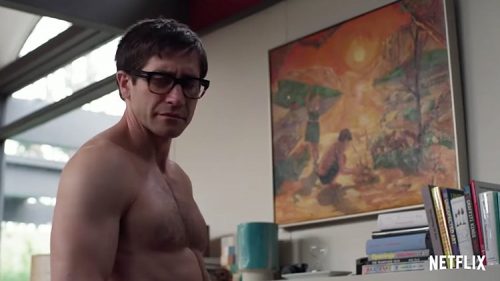 .
These characters may lack empathy, but just as in Nightcrawler, they are imbued with enough humanity to make you care whether they live or die. Gyllenhaal, in another fine performance, operates under controlled madness for much of the film's runtime and it's a testament to his talent that his role does not become a caricature. Russo plays another icy character in this film, but with just a hint of vulnerability. Zawe Ashton is equally adept at playing the seductive temptress and scared victim. Her scenes with Gyllenhaal recall the sexual dynamics he shared with Russo in Nightcrawler. Gruemonkey fans will appreciate the added presence of Billy Magnussen and Daveed Digs who provide some good supporting work. Toni Collette and John Malkovich are a welcome addition, but they don't stick around long enough to really make an impression.
.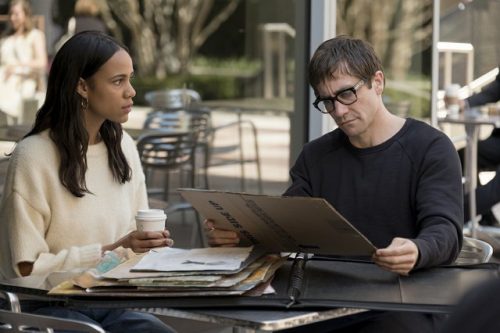 .
Velvet Buzzsaw is a film with a unique visual style, fine performances, and an intriguing concept. However, it collapses under the weight of its own ambitions. Dease's work is never fully realized, and his character remains a concept. The film introduces many ideas and characters but in limiting its focus to the characters day to day lives, never gets to delve into the fantastic concepts that are hinted at by its imagery or subject matter.
.
---