---
The Theatre Bizarre, 2011
---
Down a seedy city street in her neighborhood, young Enola Penny is obsessed with what appears to be a long abandoned theatre. One night, she sees that the front door is slightly ajar and impulsively decides to sneak inside. But there in the dark, decrepit auditorium, a show unlike any other unfolds before her eyes. Its host is an eerie human puppet named Peg Poett who will introduce Penny to six tales of the bizarre: A couple traveling in a remote part of the French Pyrenees cross paths with a lustful witch; A paranoid lover faces the wrath of a partner who has been pushed to her limit; The Freudian dreams of an unfaithful husband blur the lines between fantasy and reality; The horrors of the real world are interpreted through the mind of a child; A woman addicted to other people's memories gets her fix through the vitreous fluid of her victims' eyeballs; And a perverse obsession with sweets turns sour for a couple in too deep.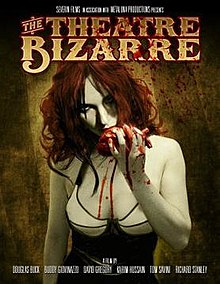 The Theatre Bizarre is an ensemble of six stories with a framing composite that runs throughout between each short as a pretty caked-up puppet (Udo Kier) offers an epilogue to the previous segment and an introduction to the one that follows.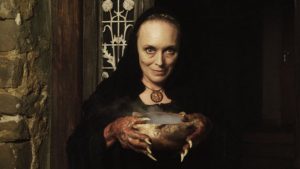 All with the help of other even more not-so-scary (for 2011) puppets. The cut-scenes and the assortment of the poorly fucked up adult dolls reminded me of Michael Jackson's video for Thriller by John Landis; famous for comedies and the cult black-comic-horror An American Werewolf in London, 1981.
And this film has the nerve to take itself seriously, knowing it is thirty four years late.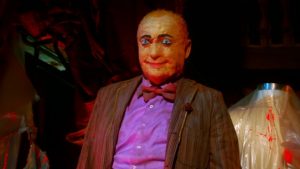 Right.
Bizarre is a heavy dose of sex and a multilingual commentary on everything from forbidden knowledge to a nympho witch, I kinda dig on that trim. Speaking of which, the film is an overload of sexual images and revolves around leitmotifs of the burgeon sex-kind, throughout. Except this one time when our anti hero, it seems, has taken Takashi Miike's Audition, 1999 to heart and very seriously. Her motives seem to have blinded her. Anyhow, we are quickly brought back to tales of mastication of the flesh by IV.
Does that even make any sense?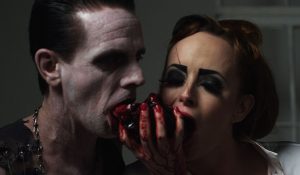 The Accident by director Douglas Buck comes out as less outrageous and more bizarre, hence most loyal to the title. Inter-cut with shots of mostly everything done under the pretence of horror previously, this is one theatre that looked bizarre from Enola's (Virginia Newcomb) window, on the other side of the street. Once Enola has entered the decaying hall, everything goes downhill from there.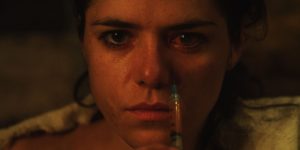 With weak visuals and a weaker string of tales, The Theatre Bizarre is not even that; bizarre.
It only succeeds in inducing nausea.
---