---
M, 1931
---
In this classic German thriller, Hans Beckert, a serial killer who preys on children, becomes the focus of a massive Berlin police manhunt. Beckert's heinous crimes are so repellant and disruptive to city life that he is even targeted by others in the seedy underworld network. With both cops and criminals in pursuit, the murderer soon realizes that people are on his trail, sending him into a tense, panicked attempt to escape justice.
Actors
Starring:
Peter Lorre
,
Otto Wernicke
,
Gustaf Gründgens
,
Friedrich Gnaß
,
Rudolf Blümner
,
Ellen Widmann
,
Inge Landgut
,
Theodor Loos
,
Fritz Odemar
,
Paul Kemp
,
Theo Lingen
,
Georg John
,
Franz Stein
,
Ernst Stahl-Nachbaur
,
Gerhard Bienert
,
Karl Platen
,
Rosa Valetti
,
Hertha von Walther
,
Carl Ballhaus
A film that refuses to age.
Deranged technologist Fritz Lang dives right into the paranoia and the intense investigation that the psychological thriller shows to us in more ways than one.
We cannot help but notice the glimpses of films in M, films that were yet to be released by genre bending directors like Hitchcock, Orson Welles, Elia Kazan, Jean-Luc Godard and later, Spielberg and Lucas among others.
Lang, although light years ahead from 1931 made a film that carries with it infantile urges that require immediate gratification.
The perpetrator and the persecutors are both acting on their impulses, and this bit adds much horror to the otherwise symbolic acts of violence (the balloon stuck in wires) and a remarkable study in the fedora and long-coat film noir.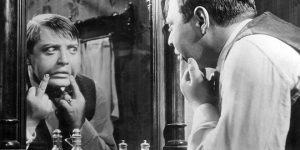 Lang did not get much fame during his life, especially after starting on a wrong note with Metropolis, 1927 a film that is now a restored masterpiece.
M is dark and punctuated with moments of pristine innocence and loneliness; themes that Lang would later expand in Das Testament des Dr. Mabuse, 1932 and The Big Heat, 1953. German cinema has always been obsessive in dealing with the stark, arresting visual styles they apply to their films. Leni Riefenstahl is another German influence on modern cinema.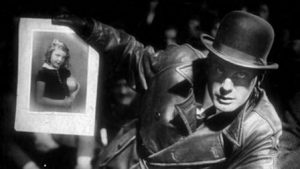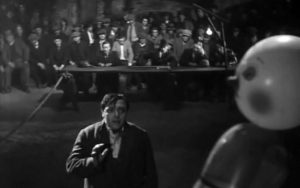 Fritz Lang was a slave-driver, to the extent of being abusive on the set, much like the lost Michael Deer Hunter Cimino. One of the reasons he could not get much work in the US.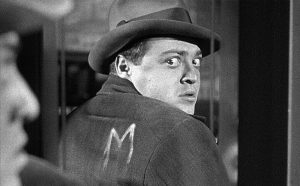 By the time he was directing his last film in 1960, The Tiger of Bengal, Lang had gone almost blind. That says much about a medium and its fierce, all consummate relation to the artist.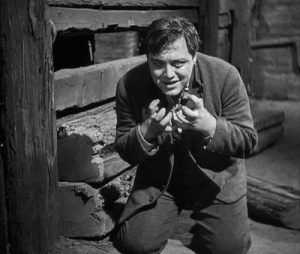 A exceptional film with a soundtrack so dense you can almost reach out and feel it. A film which is as fresh as it was on its first release in 1931, eighty seven years ago, commenting on the ruination of the modern society and discovering and expanding on themes of abnormal psychology like never before; showing and telling the rantings of a frenzied, frantic state of mind, tangled in all its misgivings, the qualms of the torn serial killer. Torn between an undeniable urge and guilt, whose weight makes him bend by the end of it all. All of this when the idea of a serial killer was not even a concept and fiends like Albert Fish and Ed Gein had yet to make headlines.
I can't stress enough on how important M is, specially now in times of torture porn and found footage and people unfriending other people on social media and getting butt-fucked for that. The latter and the bloody imprints it has left behind in the annals of film-making makes M a perfect example of a ardent study in trial by criminals of a serial child killer and how inclinations and intentions are mangled as the film maneuvers the narrow and fragile temperaments of all implicated; the viewer included.
Highly recommended.
---