---
I Spit on Your Grave III: Vengeance is Mine, 2015
---
Jennifer Hills is still tormented by the brutal sexual assault she endured years ago. She's changed identities and cities, reluctantly joining a support group where she begins to piece together a new life. But when her new friend's murderer goes free and the tales of serial rapists haunt her, Jennifer will hunt down the men responsible and do what the system won't – make them pay for their crimes in the most horrific ways imaginable. Only this time, no jury may be able to save her.
This review may contain spoilers.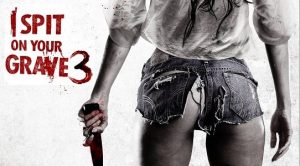 Jennifer Hills (Sarah Butler) returns in this gruesome rape n' revenge, scissor and sisters, sledgehammer and metal pipe, knife and penis sequel to the 2010 remake of Meir Zarchi's The Day of the Woman, 1978.
Jennifer is shown working at an office and completely paranoid of any contact with the opposite sex, even if the guy only wants to be friends. I could punch someone in the face the next time I hear that. It would be an equal opportunity assault.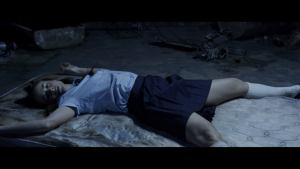 She has changed her name to Angela and partakes of a rape survivors' group meeting, which does not work for shit as Jennifer is beyond the healing process; to her healing comes at the cost of taking serial sex offenders down and out, tearing them a new asshole or biting off the tip of their manhood after slicing the damn thing in half. Either that or she really digs Fight Club, the book by Palahniuk.
The film has less graphic scenes than its predecessor from 2010, however Jennifer's state of mind is more precarious and desperate. She does not only day dream of x-rated violence but also dishes out some high grade wrath onto her persecutors or men who have gotten away with the rape of one or two or three members of the therapy group.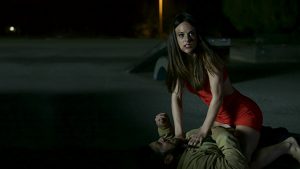 The film actually has a story, no matter how unbelievable but a story nonetheless, which interjects the graphic violence with shots of Jennifer covered in a blanket and talking to her psychologist.
"They deserved it."
"Did you?"
Additionally, there is a twist in the end that changes the way the film resonates with its audience, and comes full circle in its violent misgivings that start to resemble the highly controversial French outing, Baise-moi, 2000 as the film develops an appetite for murder, the extreme ways in which the dastardly act is carried out; growing even more unwatchable with each new offender being taken down, or being castrated with a knife that cuts the penis in half (sideways) and teeth that bite the bishop and is spat back at the unlucky bastard's face.
"Just the tip."
I enjoyed the transformation of Jennifer from a serious writer to a serious femme fatale and a literal man-eater in addition to being someone whose definition of men and pigs is quite similar.
Vengeance is Mine is over-the-top in its kills, just like the remake from 2010, losing credibility. Did I just write that?
This film does not require credibility, it only requires for the male audience to keep their pecker where it belongs (in the undies) unless asked to be shown, that too by some other lady and not Jennifer and for the female viewers to derive guilty pleasure from the highly charged scenes, perhaps serving as communal catharsis in the face of rampant misogyny.
It is a better film than its predecessor but not the original and Meir Zarchi has two credits in the production area, for reasons of approval, I am guessing.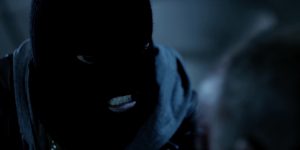 Man oh man the sliced bacon scene is maddening and I had my hands on the crotch and my eyes wincing during the entire time Jennifer takes to undertake the act and execute the rapist.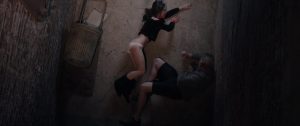 Beat that Final Girl, 2015 a film with similar themes but contains violence that looks G rated in the face of this motherfucker.
"Hell hath no fury…". Now I'm certain the phrase is coined for all films associated with Meir Zarchi's shocking and in your face/in your boxers projects.
I hear they are working on a fourth film.
Woohoo.
---