---
Halloween
---
Face your fate
Laurie Strode comes to her final confrontation with Michael Myers, the masked figure who has haunted her since she narrowly escaped his killing spree on Halloween night four decades ago.
Actors
Starring:
Jamie Lee Curtis
,
Judy Greer
,
Andi Matichak
,
Will Patton
,
Virginia Gardner
,
Nick Castle
,
Miles Robbins
,
Toby Huss
,
Jefferson Hall
,
Haluk Bilginer
,
Christopher Allen Nelson
,
Omar J. Dorsey
,
Dylan Arnold
,
Rhian Rees
,
James Jude Courtney
,
Hannah Russell
,
Drew Scheid
,
Charlie Benton
,
Carmela McNeal
,
Jared Moser
,
Marian Green
,
Diva Tyler
,
Vince Mattis
,
Pedro Lopez
,
Koby Griffin
,
Chris Holloway
,
Rob Niter
,
Omar Azimi
,
Michael Harrity
,
Brittani Cox
,
Edward Stachyra
,
Michael Smallwood
,
Jibrail Nantambu
,
David Lowe
,
Johnny Price
,
Brien Gregorie
,
Ranisha Wood
,
Matthew Anderson
,
Angela Anderson
,
W.F. Bell
,
Willie Tyrone Ferguson
,
Aaron Christian Paderewski
,
Anthony Woodle
Halloween (2018) review – Score:

4/5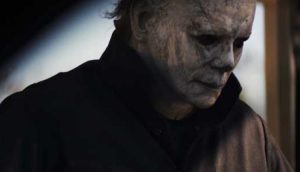 In 1978,

John Carpenter

forever changed the horror movie genre with Halloween, a movie that soon became a classic and sparked many sequels and even a remake, most of them being rather mediocre. Fast forward 40 years, and now we have David Gordon Green's Halloween, which is a direct sequel to the original Halloween with this one taking place 40 years later and ignoring all of the sequels, including Halloween 2. Although this movie doesn't quite reach the heights of the original, it is probably the best Halloween movie since Halloween 2.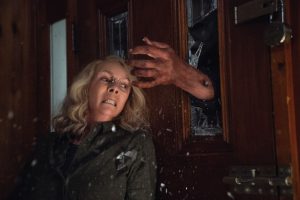 As noted above, Halloween picks up 40 years after the events of the 1978 murders, with serial killer

Michael Myers (James Jude Courtney)

imprisoned ever since. Michael is soon transferred to another prison, but the bus he is on crashes and Michael escapes, which prompts him to return to Haddonfield to hunt down

Laurie Strode (Jamie Lee Curtis)

, the survivor of Michael's rampage 40 years earlier. We find out that Laurie has been living with post-traumatic stress disorder ever since her encounter with Michael, and has gone to extreme lengths to protect herself and her family from his inevitable return, much to the dismay of her daughter,

Karen (Judy Greer)

, and her granddaughter,

Allyson (Andi Matichak),

who find Laurie to be too controlling and crazy. Michael soon goes on a killing spree, setting up a final showdown between him and Laurie which has been building up for years. There are some twists and turns along the way, including one that was downright odd and a bit silly, but overall it is a pretty straightforward movie that is easy to follow and includes certain nods and references to previous Halloween movies that many fans of the franchise will enjoy and appreciate. While it was certainly cool to see that, there were times when those references seemed a little forced and out of place, almost like the writers just included them to please diehard fans without really thinking too much about how they fit into the scene.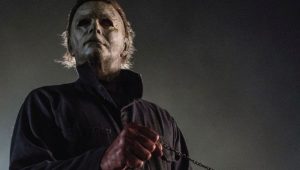 What made the original Halloween such a classic is how it delivered its thrills. Instead of predictable jump scares and excessive gore,

Carpenter

used suspense and atmosphere to get under your skin. Director

David Gordon Green

goes back to the basics and does the similar thing here, creating horror through atmosphere and building suspense through it, and he mostly succeeds. Although the movie wasn't quite as scary as I hoped it would be, there were a few parts that were undeniably intense and creepy. And this wouldn't be possible without good performances from the cast, with a particularly strong performance from

Jamie Lee Curtis

portraying a traumatized

Laurie Strode.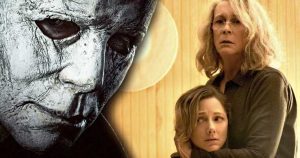 All in all,

David Gordon Green

and his team go back to the basics and lay the foundation on how to craft a good, modern slasher horror film. It's not perfect and wasn't as scary as I thought it would be, but it does have its moments and is good enough to rank as one of the year's best horror movies. It's good to know that the Halloween franchise is finally in good hands again.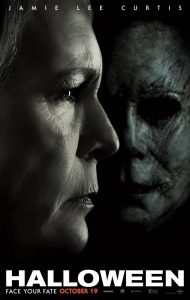 ---