---
Eden Lake, 2008
---
A weekend by the lake, with views to die for.
Eden Lake is a relentlessly tense and immaculately paced horror-thriller about modern youth gone wild. When a young couple goes to a remote wooded lake for a romantic getaway, their quiet weekend is shattered by an aggressive group of local kids. Rowdiness quickly turns to rage as the teens terrorize the couple in unimaginable ways, and a weekend outing becomes a bloody battle for survival.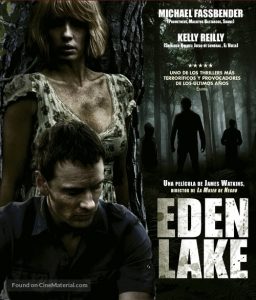 I need a miracle disinfectant please. And also a copy of Parenting for Assholes while you're at it. Now fuck off.
That's how James Watkins makes you feel by the time the film is about to end. However, quite cleverly, the film has ended when Brett (an electrifying performance by Jack O'Connell), the ringleader keeps responding with, "I dunnno" when interrogated on his own turf. The film ends but the will to survive takes over even if it takes the hard-boiled protagonist to be submerged chest-deep, in a human waste container at a public park. An unused public park.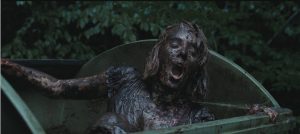 Where's the bloody Iodophor and the bleach?
The film gives you what most back-water alienation narratives have to offer; just that Kelly Reilly (Flight, 2012) is surprisingly ostentatious in her will to swim against the tide. A tide of damaged upbringing.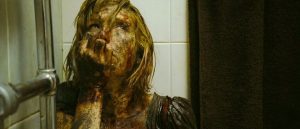 We see the actor transform from a nursery school teacher to Dutch from Predator, 1987 when Arnie discovers that the hunter can't see heat emitting from the body if covered in mud and hence obstructs his foe's visual by plastering wet mud and soil all over himself. Ahhh.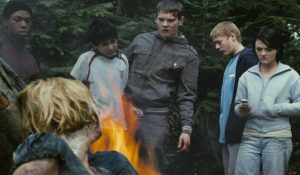 Having basked in the "get to the choppa" reference lets get back to how unforgiving and provocative the film actually is, despite it's clear-cut, no cheap scare direction.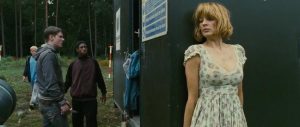 Once the action starts (after a dreaded sense of impending doom), it does not stop. In 2008 Fassbender appeared in Lake and it seems the horror flick spring-boarded his career and the next year he starred in Tarantino's Inglourious Basterds, 2009 – which, I think is average at best sans Waltz and his portrayal of the Nazi officer Hans Landa. Fassbender uses his Alpha-male looks and disposition to eventually dismiss those and become a victim of a witch hunt verdict. The actor does wonders for the film. And so does Jack O'Connell (300: Rise of an Empire, 2014), as the angst-ridden, volatile product of a intemperately abusive home. The same home where, in the end he pulls off a terrific job of making the viewers sink in their seats. Wonderful.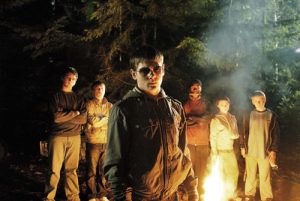 Eden Lake is a well made survivalist-horror-thriller, set in a rustic and rusting industrial warehouse, next to a park with a lake running through it. It bloody well nails the message home, frightens you out of your Avengers' boxers, makes you uncomfortable at many societal levels and has the ingredients to make such a film work and kick you in the nuts, that too with a plot that has been used as toilet paper before.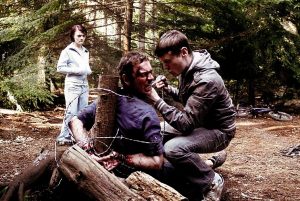 A difficult task but the film comes out a winner; the solid performances, the density of the forest and teen hormones closing in from all sides and then a scene where you are pushed in to a moral washing machine? I sort of heaved my last about then.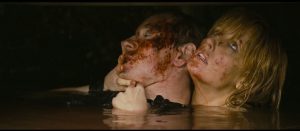 This was made in 2008 and I'm sure if Jenny and Steve, the doomed couple, had watched Zodiac, 2007 or Children of The Corn, 1984 they would have taken a motel by the lake and saved them the trouble of losing a shoe. Yes, the restaurant owners also hate New Yorkers, but the character, of the kids combined, is the violence that the movie relies on but only for a deeper visual/mental gash. That's all.
Kelly Reilly as Jenny is savage. I'd fuck savage, if it looked like this.
---