Gruemonkey interviews Germain Arroyo (Netflix Ratched, Brother's Keeper)!!
---
Gruemonkey interviews Germain Arroyo (Netflix Ratched, Brother's Keeper)!!
---
Hello Grue-Lings,
  I am so happy to share with all of you today a interview I recently did with the super chill Germain Arroyo. He was such an amazing nice guy to speak with. Very down to earth. He has had some amazing experiences already in his young life as a actor including sharing scenes with Sharon Stone and Brandon Flynn. He even turned the tables around and asked me a question. He has done a little bit of modeling as well. 
He is directing a short called Six Feet Apart. He was also in a few tv series such as La Chamba as Intern, Crazy Ex-Girlfriend as Victor, The Affair as Eduardo, S.W.A.T as Miguel, For All Mankind as Anthony, and of course the popular horror series on Netflix called Ratched as Diego. You can also see him in the TV Movie Sick as Oscar and a film in post production called Brother's Keeper as Augustine. He is such an amazing talented actor at such a young age and he got to make out with Brandon Flynn on Ratched.  Find out who is Celebrity Crush is as well. Here is our interview with Germain Arroyo:
.
.
---
.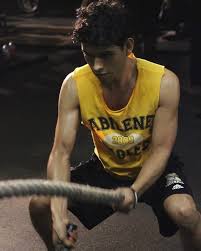 .
GRUEMONKEY: Hello Germain thank you for joining us today on Gruemonkey. I like to start off with a question that's not what's expected. What's your top 8 favorite horror films and why you like them? 
GERMAIN: Hello Rocky, first of all I just want to start off by saying thank you for having me and I'm very excited to be on Gruemonkey. Now lets answer some questions and have some fun!
My top 8 favorite horror films, well I need to start off with the legend the icon Chucky I mean must I say more, I grew up watching Chucky and then quickly being terrified of all my toys, feeling like they're watching me and planning some kind of torture session. Yeah, its a great movie for children!
My second choice is the original The Exorcist shot in 1973, and the 2004  Exorcist: The Beginning  I guess that's 3 now. I remember watching the 1973 Exorcist and regarding it very quickly, I have three older brothers so I had no other choice but to sit and finish it. I remember being completely shocked and petrified the entire time, I feel like for some reason old films just have a much more haunting feeling to them, and I guess that's why I enjoy them so much. Now lets talk about Exorcist The Beginning, all I remember is hearing the score to the movie, I mean that song alone is a horror film. I was pretty young when I watched it, once again I was with my older brothers and we went to the movie theaters and they decided to sneak into this movie and I followed. We sat in the front row and all I remember is looking up and seeing this demon devil child vomit and twist her whole body around as everyone screamed! I ran out of that theater so quickly and went straight to the arcade area and hid myself in the car racing game, the one with the wheel and car seat. I had nightmares for a long time, I think I still do to this day because of it! Number 4 is SAW and why because that damn puppet, his face is frightening and his voice is haunting and his games are twisted! Of course I have to say Get Out because its a master piece, the shots and the storyline are amazing thats 5. My number 6 is Silence Of The Lambs because the acting is incredible! Number 7 would have to be The Witch, it's a twisted and dark story and the movie will make you feel all kinds of weird. And last but not least my number 8, I would have to say Scream, I mean its a whole franchise of pure camp and horror, it's just magic! But I will say this as much as I enjoy horror films, I'm probably the easiest person to scare, I'm defiantly the person screaming and running at any haunted house and I'm definitely the one covering his eyes during blood and gore scenes. 
.
GRUEMONKEY: (Laughs). That is so funny. Seeing The Exorcist as a kid would make someone run out of the theater screaming and hiding. I love your choices of horror films. Every choice is great. You did a little bit of modeling besides a actor. What had been your favorite model shoot and why? 
GERMAIN: Am I a model, I would have to say no, I do not consider myself a model. I do enjoy taking photos and shoots but all for fun!
.
.
.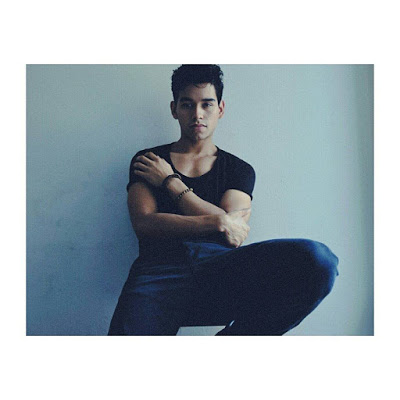 .
GRUEMONKEY: That's great that you do this for fun. What company would you love to model for? 
GERMAIN: If I had to pick a company to model for I would have to say, Vogue! Ill take the cover, but ill even take a page, thats ok with me!
.
.
.
GRUEMONKEY: Yeah, being in Vogue would be a huge honor for anyone. How did it feel to be in The Affair tv series as Eduardo? 
GERMAIN: It was amazing and I had a great time shooting with the other cast members. First of all I was in scenes with the one and only Dominic West who I absolutely love! And I also got to sit right next to Sanna Lathan, not only is she talented but also beautiful! But Eduardo was a fun time he's a big mouth high school student, what's not fun about that. I also got to meet so many other young talented actors who im still in contact with and consider friends. 
.
.
.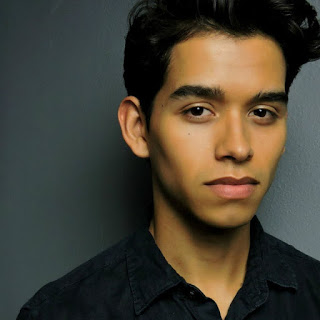 .
GRUEMONKEY: I always like hearing about that. How actors get close to each other being on set and making life long friends. Glad you had that experience. Any cool stories you can share playing Miguel on SWAT?
GERMAIN:  It was incredible! I had so much fun shooting S.W.A.T., it really felt like I was shooting a movie and not a t.v show. The production value was so good, I got to work with the talented actors who played my family in the show who are all genuinely kind people. The actor who played my dad, his name is Jose Pablo Cantillo, he's been in so many projects. He was extremely kind. We would all sit together for lunch and he would share his stories as an actor and was so open to giving advance. He's an amazing person. Ruben played my grandpa in the show. He is also someone who has worked a ton and is filled with advice and so much knowledge and shared it all with us. And my mom in the show was Kikey who is by far the sweetest and warmest human being I have ever met, I just adore her! I was also in scenes with Patrick St. Esprit who's very tall, but also extremely kind and very supportive of the entire film. I'm a huge fan of his! But come on! Im on a show with Shemar Moore who isn't a fan of his. My mom has never been more proud of me or interested in my stories on set till she found out I was in a show with Shemar Moore. But the entire cast and production was incredible and very kind to work with! Our first day of shooting we actually the fire scene im part of where i'm dragging my father next to a huge fire, it was actually a real fire and really burning the house and it was HOT! There was smoke and wood pieces falling from the ceilings. It all felt so real! But my experience on that set will always and forever be one of my favorite. It was a real big production with real S.W.A.T trucks and helicopters and gear. It was a dream! 
.
.
.
GRUEMONKEY: Wow, that's incredible. It's like being in a real life situation. Burning buildings, real fire, that's insane. It gave you a great experience. That's for sure, (Laughs). How did you find out and get involved with Netflix and Ratched horror series? 
GERMAIN: Well, I had to audition for the part of Diego and that was a very fun process. I actually had to read a scene between Sarah Paulson and Finn Wittrock for the audition, and knowing the talented actors behind the roles made the audition a lot more interesting and fun. But I didn't find out I booked the part till 2 weeks later I think it was. And when my manager told me, I was so excited! First of all, because I'm a HUGE Ryan Murphy fan. I absolutely love everything he does from American Horror Story to Pose to of course Ratched. It has always been a dream of mine to work on one of his shows and I got to do it! So that was a dream come true and I know it's not going to be the last time that I will work with Ryan Murphy again! I hope so. 
.
.
.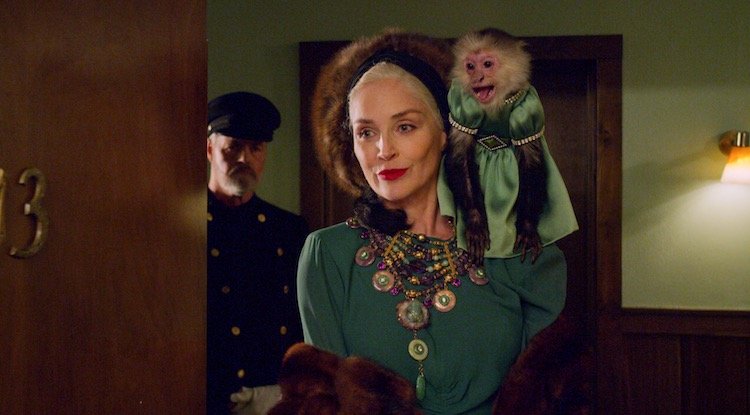 .
GRUEMONKEY: Ryan Murphy, put this talented young man in more shows. He deserves it. I'm sure you will be in so much more series and films. I would be excited too if I found out I was going to be in a Ryan Murphy series. How was the experience like working with the legend Sharon Stone on Ratched, tell us about that? 
GERMAIN: My experience working on Ratched with the legendary Sharon Stone was a dream! I mean come on I get to work with Sharon Stone, enough said! She's an icon, a legend. When I first found out I was going to be on Ratched I was super excited. But when I found out I was working with Sharon Stone, I freaked out! First of all, when Sharon Stone walks into a room you know a star has arrived. She has such a boss presents and demands attention. But she's also very down to earth and kind. She introduced herself to me while on set and i'm sure I was speechless for about 2 min until I finally said hi. But Sharon Stone is very professional and when its time to work its time to work! All I can say is that she was amazing and very helpful making you feel comfortable and welcome. I'm a huge fan of Sharon Stone and I can't wait to work with her again! 
.
.
GRUEMONKEY: Wow, what a experience. Sharon Freakin Stone. That's great. Favorite scene or moment involving your character Diego from Ratched?
GERMAIN: My favorite scene or moment in Ratched, I have lots of favorite moments but if I have to pick one, I would say its the very first scene where I'm playing chess with Brandon Flynn who is also a very kind person. During that scene the monkey that Sharon Stone carries around actually jumped on my shoulder during a take and I freaked out just a little in the in side. But I soon found out that the monkey only jumps on people he likes, so I felt cool after that. But another moment has to be (SPOILER ALERT), when I stab and kill Sharon Stone with a pitch fork! OMG I was freaking out when I read the script and found out who stabs her, ME!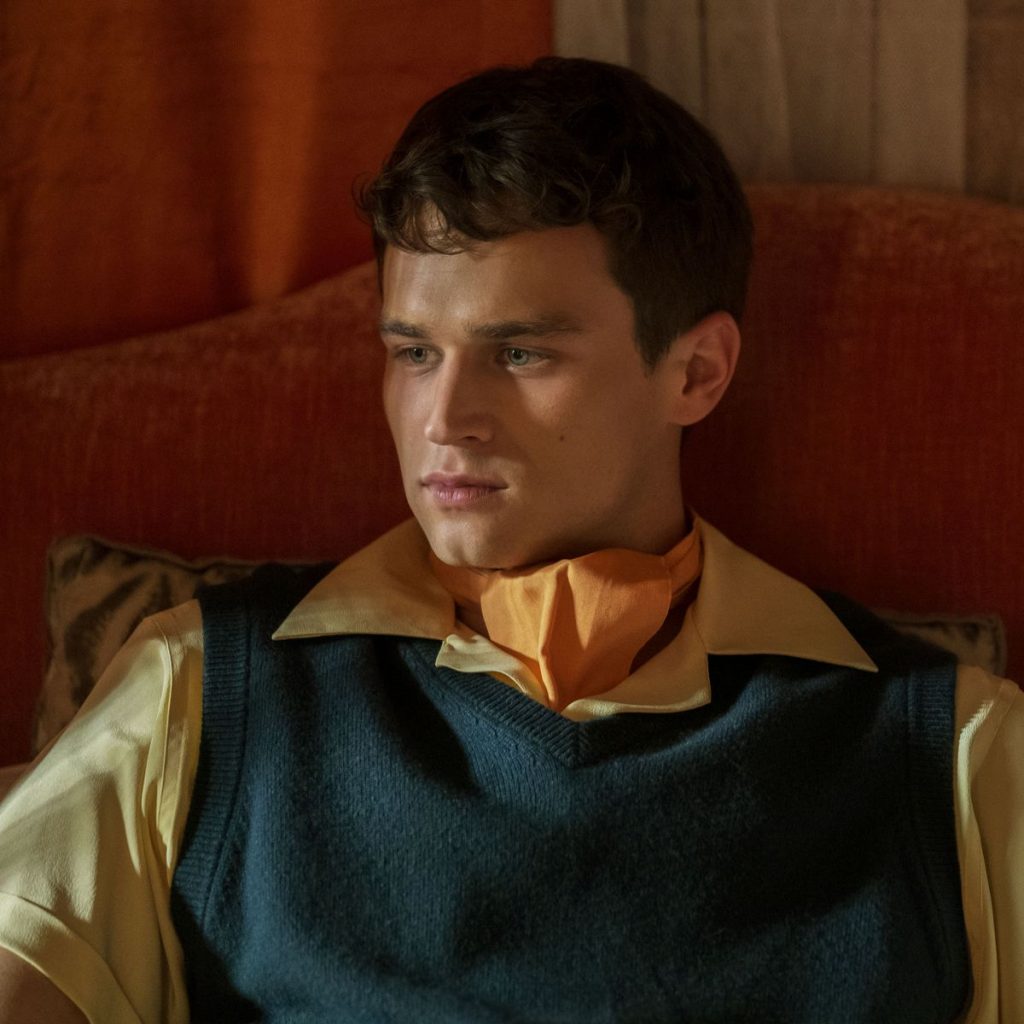 GRUEMONKEY: You Murderer! (Laughs). Not only do you share a scene with Sharon Stone and her Monkey, but you get to murder her as well. Wow. Any funny or cool behind the scenes stories you can share with us from being on set for Ratched? 
GERMAIN: A funny or cool behind the scene story from Ratched. Not only is it a cool story, it's also an amazing experience for myself. It took place while shooting the stabbing scene, while we rehearsed the scene, I had like three people around me telling me how to approach the stabbing and to make sure not to hurt Sharon Stone. Which made me even more nervous, I also had the director telling me what to do while Sharon Stone was looking at me! After doing our rehearsal, Sharon Stone actually approached me and grabbed me by the shoulders in a loving way, looked me in the eyes and said " this is your moment" I want you to stab me and don't worry about hurting me I can handle it. I want you to live in this moment and take it! Do you understand? She said.  And so I did exactly what she asked from me, and after they called cut, the director came around and said that was amazing! And Sharon Stone gave me a thumbs up and said great job!! She also called me a talented actor, I just about died! 
GRUEMONKEY: There you go, Sharon Stone gave you the thumbs up and called you a talented actor. You're the new best thing in acting. I'm sure you left that day with a huge smile on your face. Did any scenes scare you or freak you out a little from Ratched?
GERMAIN: Did any scenes freak me out on Ratched, yes! We actually shot a scene that unfortunately didn't make it to the final cut, and that was a sex scene between me and Brandon Flynn. It was actually my first sex scene and would have been my first time showing any kind of body part, that part being my ass. I was nervous but also excited for it, it was a sexy little scene and it sucks that it didn't make it to the final cut. But they made it feel very easy and comfortable to shoot and Brandon Flynn was very polite and made it fun to shoot.  But that was a scene that freaked me out a little. 
.
.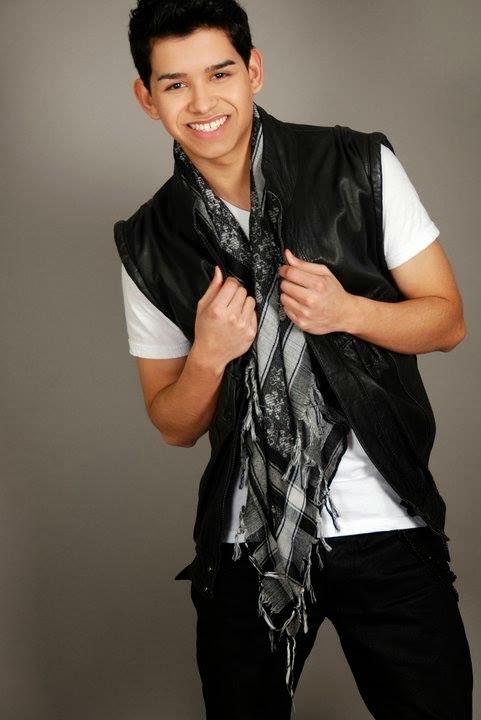 .
GRUEMONKEY: I would be freaking out too. It's Brandon Flynn, my man crush. I would pass out once he start taking off my clothes. I wouldn't be able to handle my dream come true, (Laughs). But, that sucks that scene got cut. Can you tell us anything about Brother's Keeper and being on set with Laurence Fishburne?
GERMAIN: Brothers Keeper is a movie I hold so close to my heart, I met so many amazing actors on that set. Three of them being Adrian Favela, Acorye White and Carter Redwood. Three very talented actors, but more then that, three great friends. We all experienced a lot during filming and we did it all together, having each others back, and supporting each other every step of the way. I love these guys!  But another highlight was defiantly working with Laurence Fishburne! This man is another icon and legend and we all know his resume. So it was an honor working with him! Laurence actually took myself and Adrian, Acorye and Carter with our director Todd to eat some BBQ. Think we went to Famous Daves in Minnesota where we were shooting during that time. We all actually walked together from our hotel to the BBQ joint and we got to talk to him and get to know him a little more on that walk. Fyi, he's actually very tall. Then I got to sit right next to him at the restaurant where he asked us questions about ourselves and got to know us a little more. Then he shared some stories about his career and journey as an actor as we all listened and consumed all of his knowledge and advise. But the whole time I was just in shock and in aww that I was having BBQ with Laurence Fishburne. And we all ate amazing BBQ and shared some brisket and onion rings over sips of sweetened ice tea of course. That will always and forever be a huge moment in my life and a story I will share with anyone willing to listen. Laurence Fishburne was kind and humble a stand up gentleman that I will always look up too. Not only because he very tall and I'm not. (Laughs).  
.
.
.
GRUEMONKEY: Wow, I would have loved to be in that group, eating BBQ and chatting with Laurence Fishburne. Don't get better then that. ROLE SWITCH BELOW:
.
.
.
GERMAIN: I do actually want to switch the roles, just quickly. I wanted to ask you Rocky ,why did you want to get into writing about Horror? I know lots of horror junkies, but what is it about horror films that you love so much? Just to get to know you a little if you don't mind me asking. 
GRUEMONKEY'S ROCKY: That's a tough question. That's a very good question too. You should be a interviewer (Laughs). Horror is something that is very dear to my heart and soul. Me and Ani, Ani is co owner of Gruemonkey. We always been best friends and as kids, the two things that brought us together was Horror and Wrestling. But mainly horror. We must have rented every single VHS horror movie at Blockbuster video on Friday and Saturday nights (Laughs). We literally seen every VHS that had to rent and when DVD's came out, we did the same with them. True horror fans, here! (Laughs). After watching it and loving it for so long. We always looked at horror website for horror news and reading interviews with Celebs. We both thought, we can do this too. Let's do it, so went for it. It's been such an amazing fun experience for me. I love it so much. I love getting to talk to Celebrities and hearing their experiences and what their favorite horror films are. We aren't as big or popular as a Bloody Disgusting or Arrow in the Head, but we have a nice amount of fans. We even are great friends with Mark Patton from Nightmare on Elm Street 2, and he was even writing for us. Not bad for a small site? Thank you for the question. 
.
.
.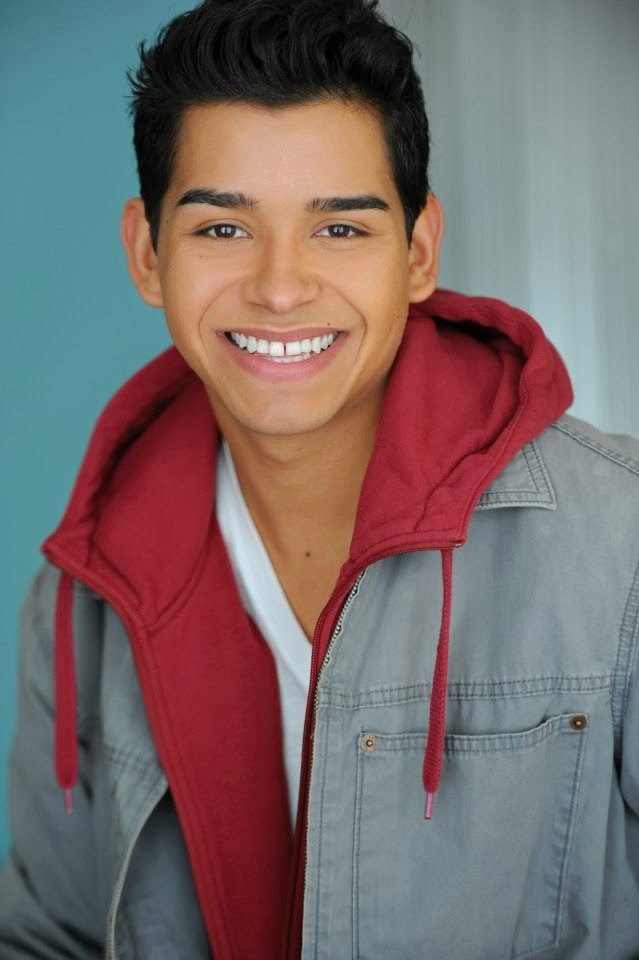 .
SPEED ROUND:
.
GRUEMONKEY: CELEBRITY CRUSH?
GERMAIN: I cant just pick one that's too hard to decide, so Shawn Mendes and Harry Styles! Oooh and Dyllon Burnside! (Laughs).
GRUEMONKEY: GUILTY PLEASURE TV SHOW?
GERMAIN: RuPauls Drag Race! 
GRUEMONKEY: WHO'S ON YOUR PLAYLIST?
GERMAIN: Giveon!
GRUEMONKEY: HIDDEN TALENT?
GERMAIN: I'm a really good cook! 
GRUEMONKEY: BOXERS OR BRIEFS?
GERMAIN: If I have to wear something, briefs all that way!
GRUEMONKEY: COFFEE OR TEA?
GERMAIN: Tea! 
GRUEMONKEY: FAVORITE SOCIAL MEDIA PLATFORM?
GERMAIN: Instagram! Follow @germainarroyo
GRUEMONKEY: FAVORITE VACATION SPOT?
GERMAIN: France! 
GERMAIN: Wow! That was so much fun! Just want to say thank you very much for having me, it was a pleasure Rocky! Thanks for the interview and all the great questions, can't wait to see the final interview on Gruemonkey! Stay safe and wish you nothing but the best! 
.
.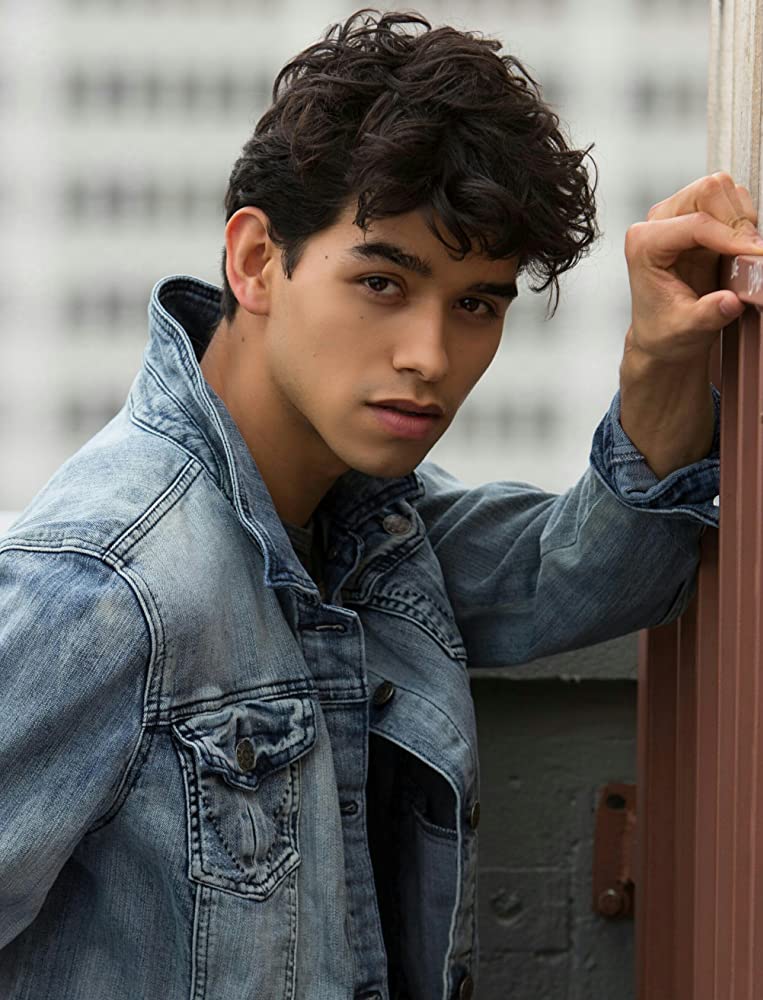 ---