Gruemonkey interviews Jennifer Rhodes (Charmed, Night of the Demons 2)!!
---
Gruemonkey interviews Jennifer Rhodes (Charmed, Night of the Demons 2)!!
---
Hello Grue-Lings,
   We are very excited for our guest today. She is a legend. She battled Angela in Night of the Demons 2, played Winona Ryder's mom in Heathers, and is the Grandmom to the Charmed sisters who they call Grams. Yes, we have Jennifer Rhodes. 
She has appeared in numerous tv series including: The F.B.I, Barnaby Jones, The New Perry Mason, The Rockford Files, Little House on the Prairie, Fame, Matlock, Mike Hammer, Cagney and Lacey, L.A. Law, Quantum Leap, Doogie Howser M.D., Knots Landing, Designing Women, Full House, Party of Five, ER, Wings, Murphy Brown, 3rd Rock from the Sun, Cold Case, Friends, Family Matters, All McBeal, Boston Public, Charmed, The Gilmore Girls, Cold Case, The Young and the Restless, The Suite Life on Deck, CSI, Grey's Anatomy, and All Rise. She has appeared in numerous films as well including: Night Creature, Halloween, Grace & Frankie, Ghost Fever, Slumber Party Massacre 2, Heathers, Night of the Demons 2, and Lovesick. Here is our interview with the amazing Jennifer Rhodes:
.
.
---
.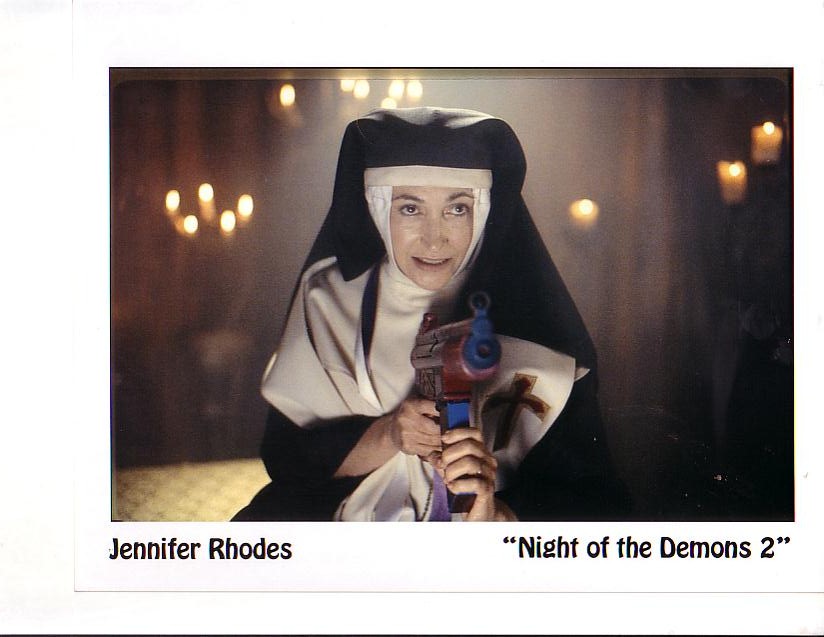 .
GRUEMONKEY: Hello Jennifer and welcome to Gruemonkey. We are honored that you are our guest today. It looks like you got your start in the world of horror in 1978 playing Georgia in Night Creature and a uncredited Psych Ward Nurse in the original Halloween. How was your experience playing Georgia in Night Creature and being on set for such an iconic film Halloween?
JENNIFER: "Night Creature" sounds like a horror film & was probably marketed that way but it actually was a drama about a man (Donald Pleasence) who was obsessed with killing a marauding panther, when his two daughters (Nancy Kwan and me) unexpectedly arrive for a visit. It was originally called "Fear" and was shot in Thailand. I wish the film had been as wonderful as the experience of being in Bangkok for 6 weeks. That small scene I did in "Halloween" was an added scene for television and coincidentally was also with Donald Pleasence.
.
.
.
GRUEMONKEY: Wow, you worked on two films with the horror legend himself Donald Pleasence. How did you get involved with Night of the Demons 2?
JENNIFER: My agent said you have an audition to read for a Nun for Brian Trenchard Smith who is directing a feature. "A nun…..uh…OK, I can do that." He obviously thought so too.
.
.
.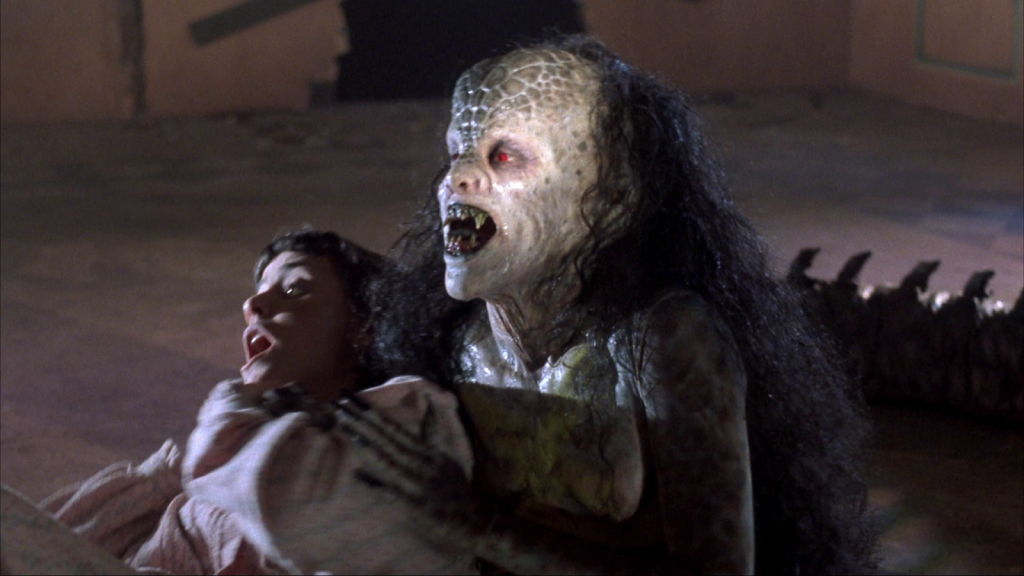 .
GRUEMONKEY: Did you ever see Night of the Demons 1 prior to playing Sister Gloria? 
JENNIFER: No, but if this lock-down keeps on, I probably will.
.
.
.
GRUEMONKEY: Yeah, I know the feeling. How was it like working with Amelia Kinkade who played Angela the head demon and battling her at the end of the film?
JENNIFER: Amelia was a sweetheart and very professional. I was amazed at her patience sitting in make-up for hours – don't think I could have done it.
.
.
.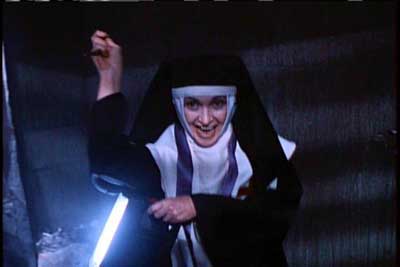 .
GRUEMONKEY: Amelia is amazing and super sweet. She has helped out Gruemonkey a lot and been a friend to us. Can't say enough good things about Amelia. Tell us about Sister Gloria character and what you liked most about playing her?
JENNIFER: It was a fun role to do – I mean, shooting an Uzi Supersoaker filled with Holy Water?! I think the yardstick was the key to the character for me…separating kids dancing too closely ("Leave a little room for the Holy Ghost") or slamming it across the students legs and of course, using it as a make-believe sword when fencing in a private moment.
.
.
.
GRUEMONKEY: I love that line. Such a classic (Laughs). What was your favorite scene from Night of the Demons 2?
JENNIFER: The scene with the nunchucks I think. One of the actors, Johnny Moran, was a martial arts guy and he showed me how to use them. The reviews referred to me as the Ninja Nun and Rambo-ized Nun. I thought a whole new career would open up for me but it never seemed to pan out.
.
.
.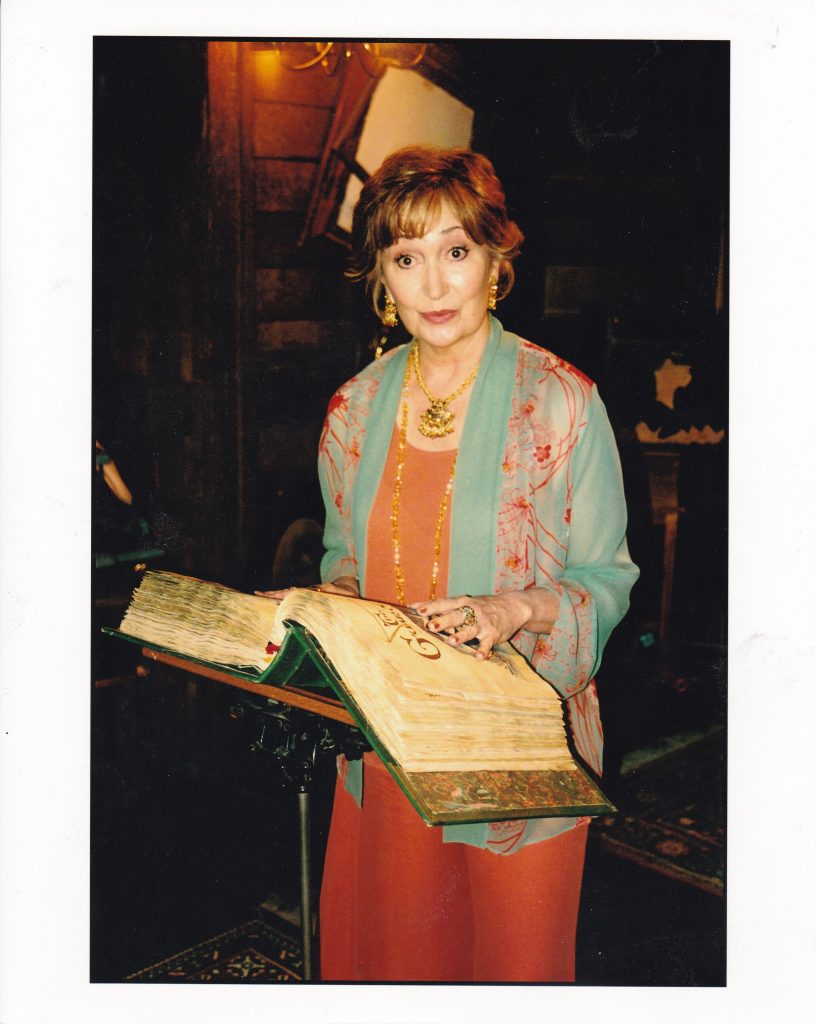 .
GRUEMONKEY: Your character was so bad ass. I loved the ending, when Angela turns into that giant snake and Sister Gloria has to battle her. Do you remember how they made that scene happen with the giant snake?
JENNIFER: Well it looked like Angela had a very flexible back but they cut a path in the floor that she walked through. I was a big fan of the old Japanese Samurai films starring Toshiro Mifune & when he was outnumbered and killed everyone, he would turn his back, roll his right shoulder in a circle and then walk away. So I stole that and rolled my right shoulder at the end. I don't think anyone else thought I looked like Toshiro Mifune…..but I knew!
.
.
.
GRUEMONKEY: Nice! You were part of such an iconic series that has a huge following, Charmed. You play the Grandmother, Penny Grams Halliwell. What was your experience like playing Penny Grams Halliwell?
JENNIFER: When I first read for Charmed, it was for two episodes but I wound up appearing in 16 episodes over the eight years. The popularity of it still today is amazing and over the years, I was invited to Charmed conventions in the UK, Italy and France. So it has been a wonderful experience for me in many ways.
.
.
.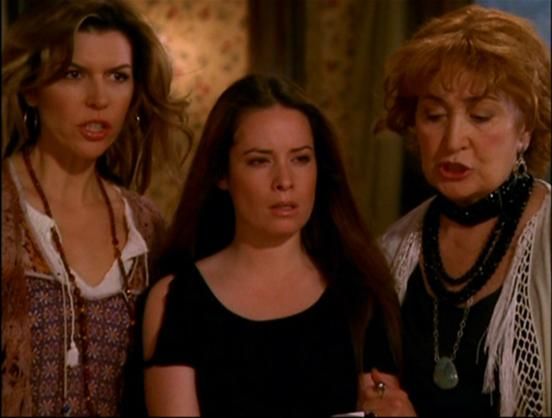 .
GRUEMONKEY: I am really happy you did more then the 2 episodes on Charmed. How was it like working with 3 amazing actresses as your grand daughters, Shannon Doherty, Alyssa Milano, and Holly Marie Combs?
JENNIFER: Everyone asks me that question and I wonder if they know something I don't know – I mean, I thought they were all very good, giving actresses and I liked them very much. So if you know something juicy that I don't, please let me know.
.
.
.
GRUEMONKEY: Hmm, besides the Shannon Doherty and Alyssa Milano arguments and fights, not sure. (Laughs). What was your favorite scene involving Grams and the 3 Grand Daughters?
JENNIFER: Oh, there were so many. Probably the scene with Holly where we are having "the witch talk" or in "Necromancing the Stone" where I kill my ex-love and turn to the girls and tell them nothing is more important than my love for them. The episode where I played the Big Bad Wolf was also a favorite.
.
.
.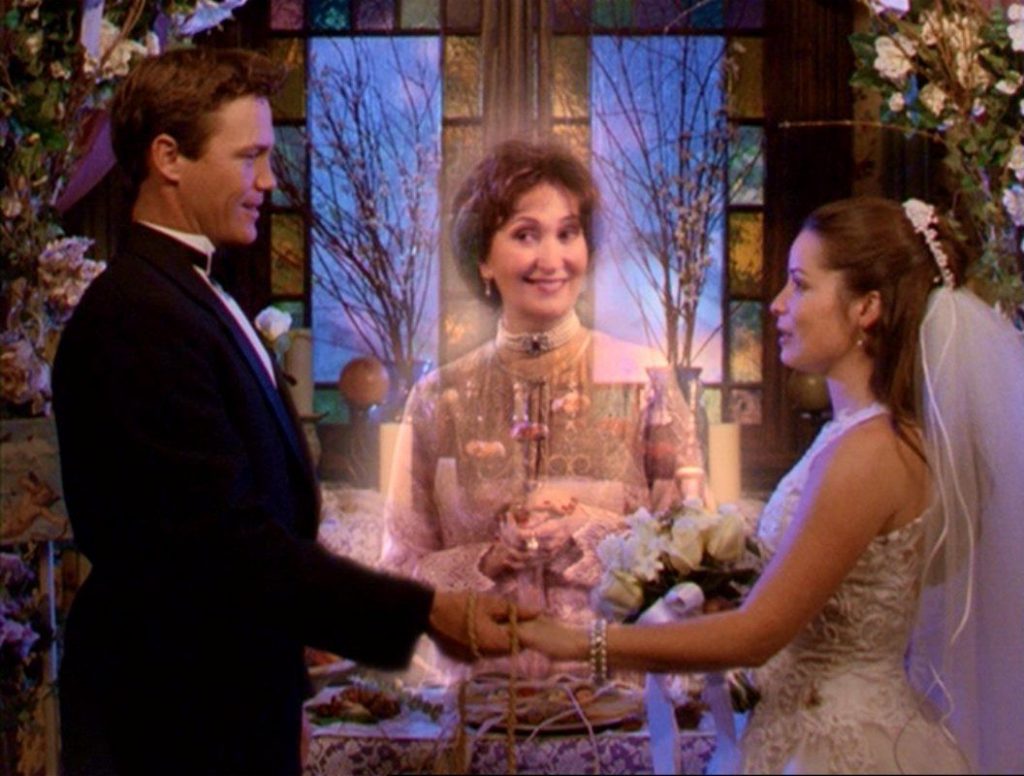 .
GRUEMONKEY: Great scenes!! Any funny or fun behind the scenes stories that happened on set for Charmed that you can share with us?
JENNIFER: What happens on the Charmed set stays on the Charmed set. Actually a funny moment I remember: Holly and I were supposed to fall face down on the floor right next to the camera and when I landed, it hurt and I muttered some obscenity under my breath. Holly said, "Grams, did you say ____?" I said "No". And the cameraman said, "Oh yessssss, you did".
.
.
.
GRUEMONKEY: (Laughs), that's too funny. How do you feel about the Charmed remake, have you seen any episodes?
JENNIFER: I watched one out of curiosity….what can I say? I can't be objective.
.
.
.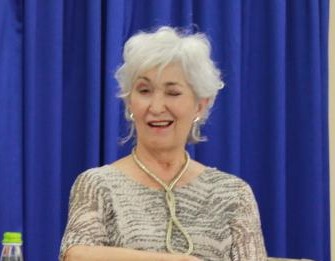 .
GRUEMONKEY: Anything else you want to discuss or promote?
JENNIFER: Rather quiet now for obvious reasons but if people want to keep up with what I'm doing, they can check me out on IMDB.com or follow me on Twitter @jjrhodes9 or on FB, "Jennifer Rhodes Actress Fan Page".
.
.
.
SPEED ROUND:
.
Favorite Horror Film?
The Omen
What TV Series and Movie are you currently watching during Isolation?
"Ozark", "Hollywood" and old favorite movies like "A Fish Called Wanda"
Hidden Talent or Something fans might not know about you?
Love golf, playing poker and make a great arugula salad
Favorite Song?
Anything country-western
Favorite Charmed one?
I'm no fool
.
.
---
.
.
.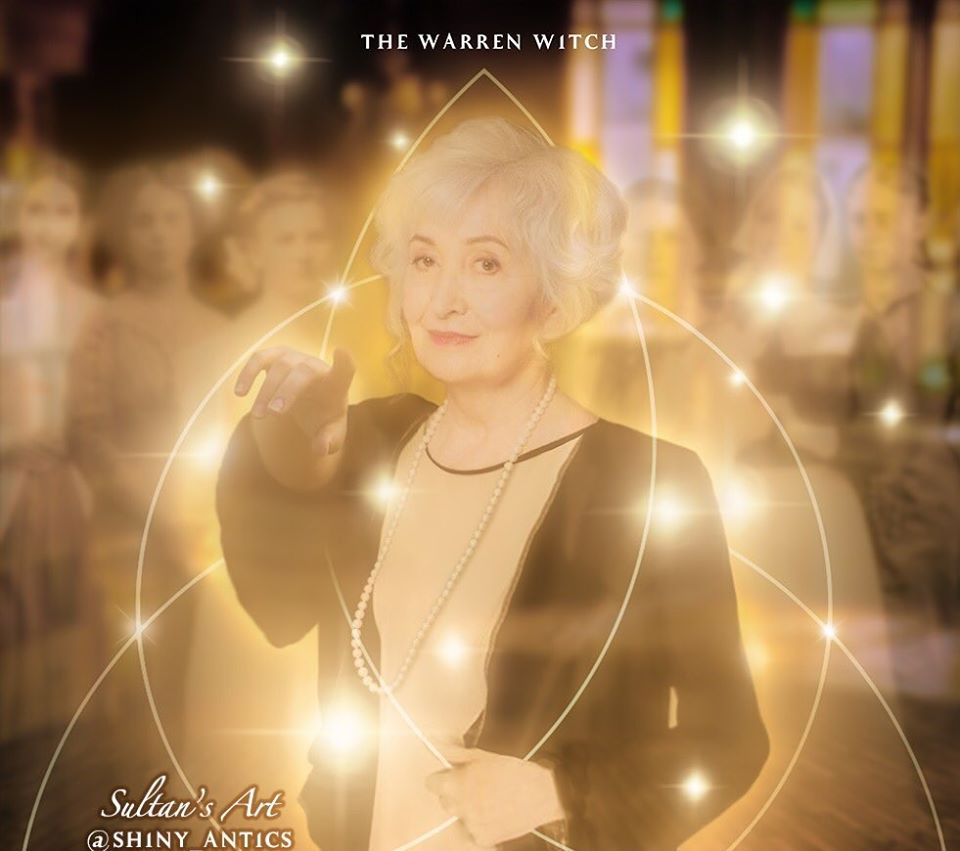 ---