Gruemonkey's interview with Lukas Gage (Midnight Kiss, T@gged, Sleep No More)!!
---
Gruemonkey's interview with Lukas Gage (Midnight Kiss, T@gged, Sleep No More)!!
---
Hello Grue-Lings,
  Today we have an amazing talented actor and model, his name is Lukas Gage. Lukas stars in the new LGBTQ Horror film on Hulu called Into The Dark: Midnight Kiss. Lukas has also done some very sexy modeling work that  would make you sweat. He is known for his work in tv series. Some of the tv series he was in include: Kingdom, American Vandal, Confess, Class of Lies, T@gged as he plays Brandon, Supergirl, Veronica Mars, and he currently is playing Tyler in the series Euphoria. He did a few short films including: Elie's Overcoat, Animals, and LGBT short Ace. He is no stranger to horror films. He starred in numerous horror films: Scouts Guide to the Zombie Apocalypse, SickHouse, Sleep No More, and Deadcon. He does such an amazing job in LGBT Horror film Into the Dark: Midnight Kiss. Here is our interview with Lukas Gage:
.
.
---
.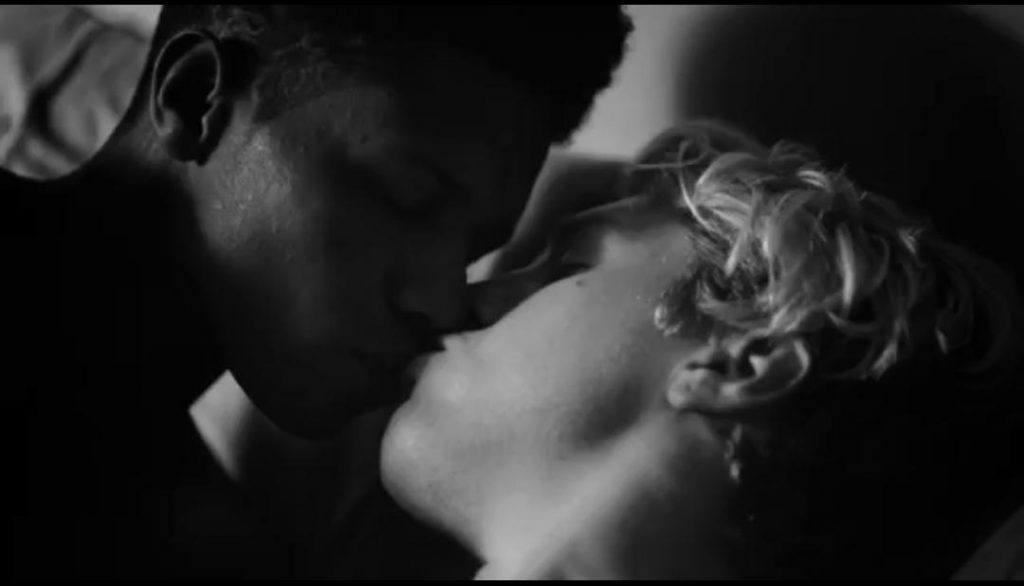 .
GRUEMONKEY: What drew you to the world of horror? Are you a big horror fan and if so what are some of your favorites?
LUKAS: Growing up my mom would sometimes let me miss school to watch horror movies with her all day long. She knew I hated school and we both shared a love for horror films. She introduced me to all my favorites which include: The people under the stairs, Candy Man, and the American and the Japanese versions of the Ring.
.
.
.
GRUEMONKEY: Everybody hate school (laughs). That's a really cool Mom. I am happy to see more and more LGBT Horror Films are being made. Some LGBT horror films are actually really good including Midnight Kiss. Do you watch and LGBT Horror and what are some of the ones you really like?
LUKAS: The only other one I've seen and can think of Stranger by the Lake and High Tension, both french, both incredible movies.
.
.
.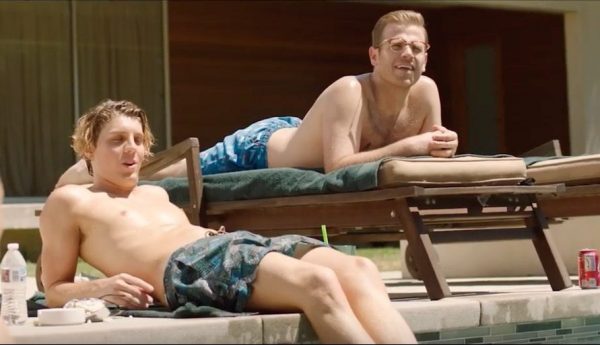 .
GRUEMONKEY: Both great films. Are you happy to see more film makers aren't afraid to make and showcase LGBT Horror and giving the LGBT horror community a chance to see some good horror films?
LUKAS: Yes! Everyone should see themselves represented in all genres of films!
.
.
.
GRUEMONKEY: True! What made you want to play the role of Logan in Midnight Kiss and were you a fan of the Into The Dark series?
LUKAS: I honestly hadn't seen any of the other Into The Dark series but I saw Carter Smiths, The Ruins which I always thought was an underrated horror film and wanted the opportunity to work with him!
.
.
.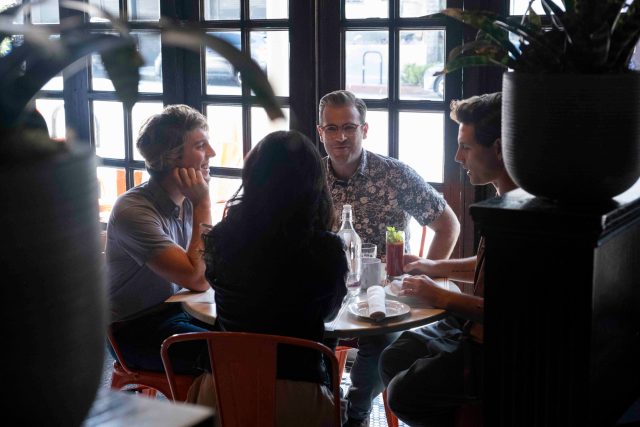 .
GRUEMONKEY: I love The Ruins too!! For people who haven't seen the film yet. Can you tell them what Midnight Kiss is about and who Logan is?
LUKAS: Midnight Kiss is about a group of longtime LGBTQ+ best friends who head to Palm Springs to celebrate New Year's Eve. They play the traditional midnight kiss game and relationships are truly tested in the most insane circumstances when a mysterious sadistic killer starts slashing people on the drug and sex filled weekend. 
.
.
.
GRUEMONKEY: Sex filled weekend sounds good to me (laughs). You really do a excellent job as Logan. We learn about Logan's background in the film which featured heavy themes around his sexuality and we find out he is in a very abusive relationship with his boyfriend. How was it like working on those emotions for Logan about his sexuality and the issues of being in a very abusive relationship?
LUKAS: Thank you! Luckily, I've never been in a relationship like that but I have been in other relationships in different areas of my life where people have tried to have power and control over me. I tried to tap into that dynamic everyday and then try to cover it up and bottle it down so that the emotion was just beneath the surface until… shit hits the fan.
.
.
.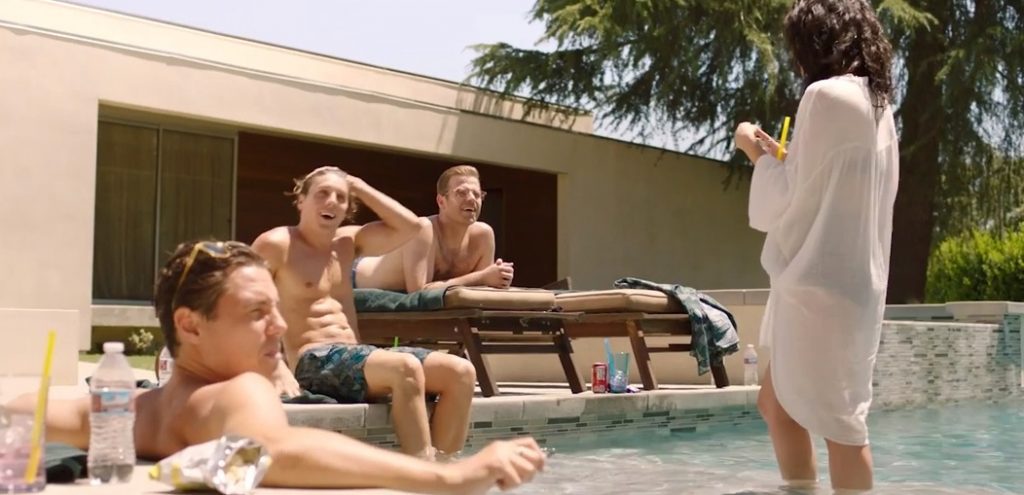 .
GRUEMONKEY: What was your favorite scene and favorite kill in Midnight Kiss? Some kills were very brutal and gory. 
LUKAS: SPOILER: Killing Chester who played Zachary, I really had fun with Chester and that scene is so brutal and getting to play with him was a blast.
.
.
.
GRUEMONKEY: Yeah, that was a awesome kill. What was your favorite scene Logan did in the film?
LUKAS: The finale for sure when I get to let everything bottled up finally release.
.
.
.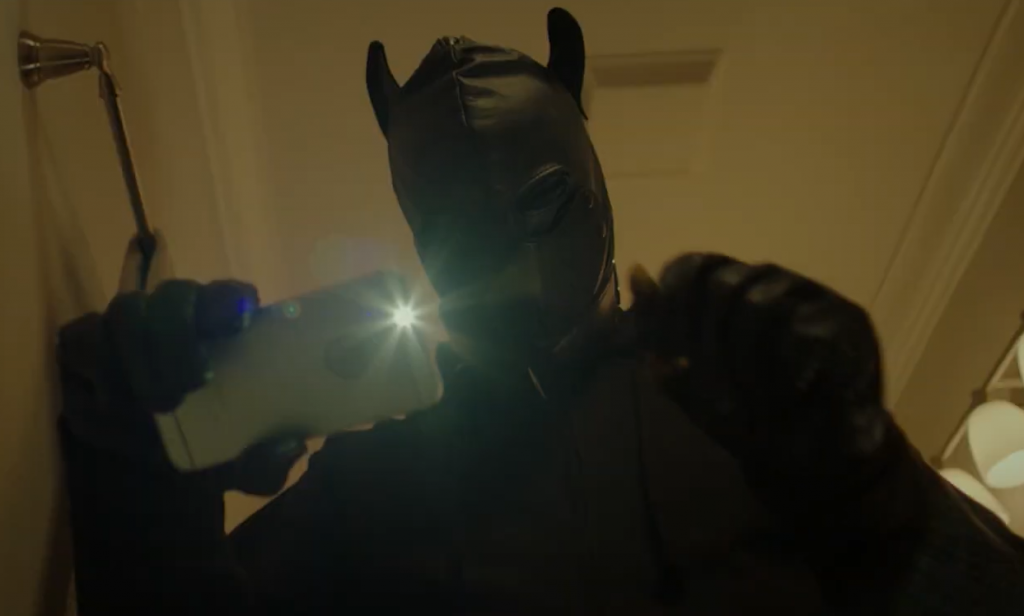 .
GRUEMONKEY: That was a very epic scene. I loved it. Any funny or cool behind the scenes story you can share with us for Midnight Kiss?
LUKAS: I totaled my car filming the movie. One I had just purchased two weeks before, not cool or funny. It was after we filmed the final scene we had filmed all night I took a few hour nap and got up to film a few hours later and fell asleep driving. Thankfully, Myself and no one else was hurt. Lesson learned EVERYONE GET AN UBER IF YOU ARE TIRED.
.
.
.
GRUEMONKEY: Wow, sorry to hear you totaled your car. Have you ever kissed and made out with a stranger on New Year's Eve at Midnight? (Laughs), I know I have. (Laughs).
LUKAS: Several. (Laughs).
.
.
.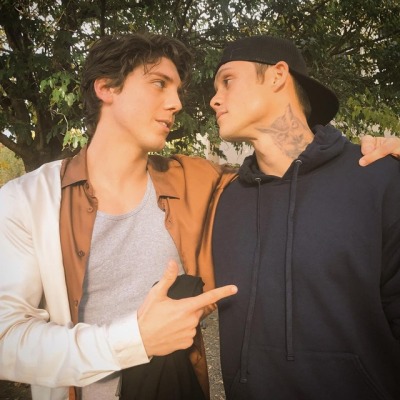 .
GRUEMONKEY: A series you starred in as Brandon is T@gged. Can you tell us about Brandon's journey in the seasons, and the relationships between Brandon, Trevor, and Rowan?
LUKAS: I love T@gged thats my baby. Brandon is like a little brother to me that needs guidance and structure in his life. He needs help navigating his conflicting love and anger with both Trevor and Rowan. I am hopeful for a season 4 I will fund it myself if I have to and we're all 30. I don't care that story is unfinished.
.
.
.
GRUEMONKEY: You hear that Grue-Lings, help support bringing back T@gged for Season 4!! You worked with Timothy Granaderos in T@gged, do you watch 13 Reasons Why and what do you think of his character in the show?
LUKAS: I love Tim. I watched some of his scenes his character is in so much pain, he does such a great job. I watched the first season and it was really heavy. Also, his intense scene in season 2.
.
.
.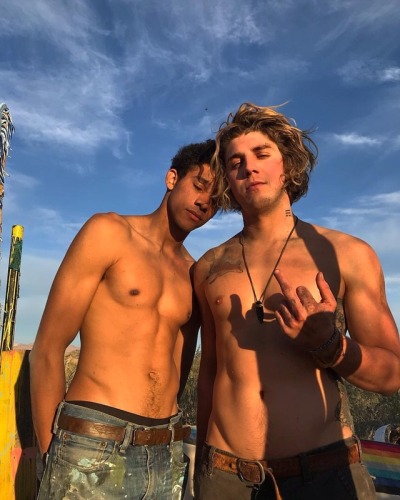 .
GRUEMONKEY: Wow, what a scene that was in Season 2. Yeah it was brutal. I cringed when I watched it. Did you get to interact with Nick Jonas at all during your episode of Kingdom?
LUKAS: God, I wish. I am a Jonas Brothers fan for life.
.
.
.
GRUEMONKEY: Tell us what you liked most about working on 3 horror films Scouts Guide to the Zombie Apocalypse, Sickhouse, and Sleep No More?
LUKAS: I think that it's really cool that my first introduction to all cinema was horror films with my mom, and the majority of my films I have done so far have all been Horror. I think they are so fun, and just pure entertainment. 
.
.
.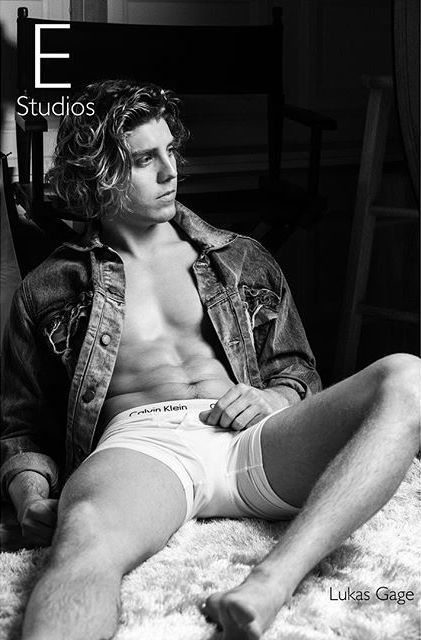 .
GRUEMONKEY: Yeah, I love horror so much. Can you tell us about your character in Euphoria?
LUKAS: Poor guy. Can't catch a break. Did something really stupid, and should of asked any person he was sleeping with their age!!! He learns a lesson, the hard way…
..
.
.
GRUEMONKEY: Can you tell us anything about Derek and the Love, Simon series?
LUKAS: Love Simon is also tackling a LGBTQ+ character, Derek is also in that family, and I think that's all I can share right now.
.
.
.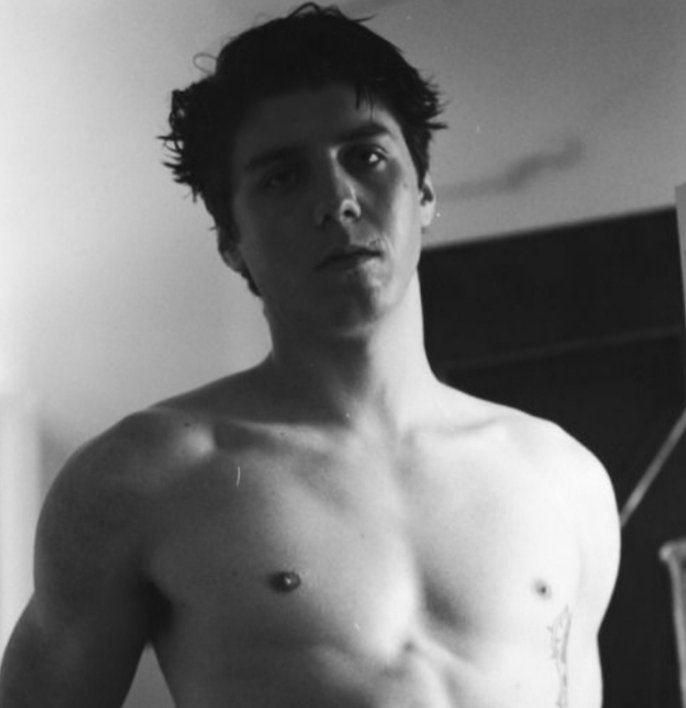 .
GRUEMONKEY: Anything else you want to discuss or promote?
LUKAS: I just finished a Quibi series with Tye Sheridan, who I worked with on Scouts Guide to the Zombie Apocalypse, with a show called Wireless. I am very excited about that one, it's such a cool concept and like nothing else I've worked on.
.
.
.
SPEED ROUND:
.
GRUEMONKEY: Guilty Pleasure TV and Movie show currently watching?
LUKAS: Just finished watching The Morning Show and just watched Jojo Rabbit- both are excellent
GRUEMONKEY: Favorite Social Media platform?
LUKAS: Hate them all. Half-kidding but I am really into watching TikToks .
GRUEMONKEY: Who is currently on your playlist?
LUKAS: Doja Cat
GRUEMONKEY: Hidden Talent and something about you that not alot of people know?
LUKAS: I am learning to tattoo from my friend,and we did a bunch of feet and hand tats on each-other, that are really fun… we just got a professional tattoo gun sooo…wish me luck!
GRUEMONKEY: Favorite Karaoke song?
LUKAS: I love karaoke- Hilary Duffs – Let the Rain Fall down – was a hit at my last karaoke night
.
.
---
.
.
.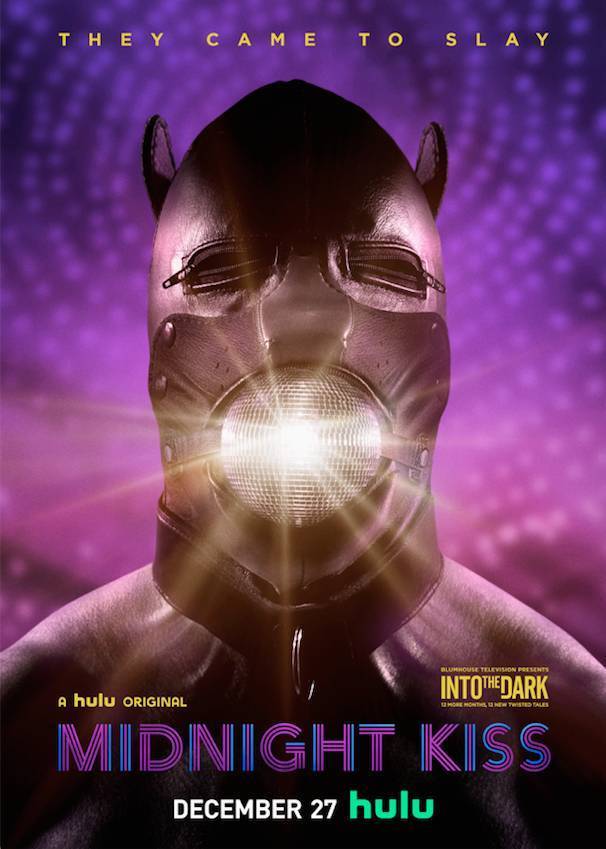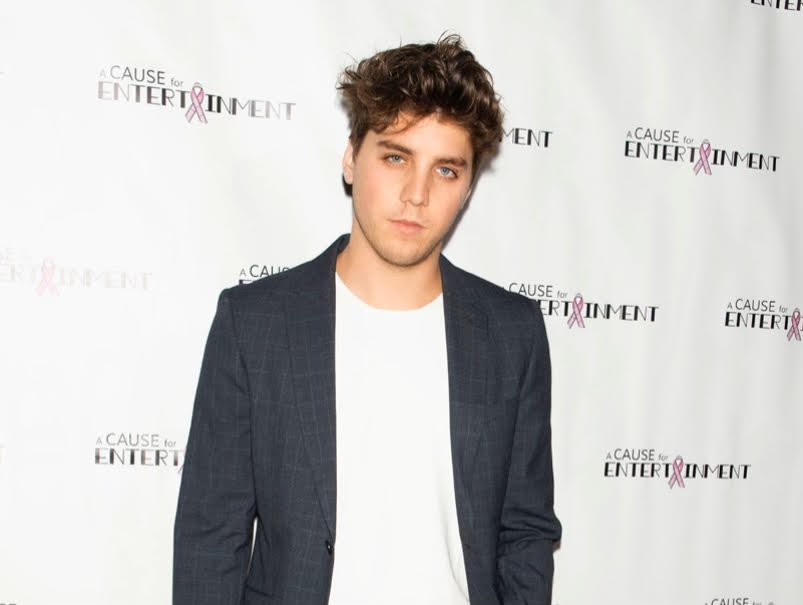 ---