---
A Halloween Trick now available on Gay Streaming service Dekkoo!!
---
Michael Varrati makes alot of indy horror including Tales of Poe, Sins of Dracula, Flesh for the Inferno and Grindsploitation 4. He also wrote Christmas movies for television that star Chevy Chase, Melissa Joan Hart, Dean Cain and Denise Richards. He did short films He Drinks and All Sales Final. His lastest LGBTQ horror short is A Halloween Trick, released exclusively on Dekkoo last week.
.
.
Written and directed by Michael Varrati. His story finds a young, quiet woman constantly woken up in the dead of night by her noisy neighbor. Often, she thinks he's in trouble – due to the banging and moans coming through the wall – and hurdles herself next door to make the save; only to find him in moments just after climax. In the days leading up to Halloween, his sexual antics get louder and louder… until one night, they stop. Revenge is a dish best served hot and piping, like tea, but with a fuckboy who has so many previous partners – the killer could be anyone. It could even be someone closer than he thinks.
.
.
Produced by Varrati and Brandon Kirby with executive producers Derek Curl and Brian Sokel. Starring: Tiffany Shepis (Victor Crowley, Tales of Halloween), Ben Baur (Hunting Season), Matt Pascua (Where We Go from Here), Daniel Plotner (Euphoria) and Sean Keller (The Capture). Andrew J. Ceperley served as composer, cinematographer and editor with mask design and blood effects created by Vander Von Odd (Dragula). Shot by June Gloom Productions in association with We Make Movies, A Hallwoeen Trick is now on Dekkoo – the streaming service for gay men.
.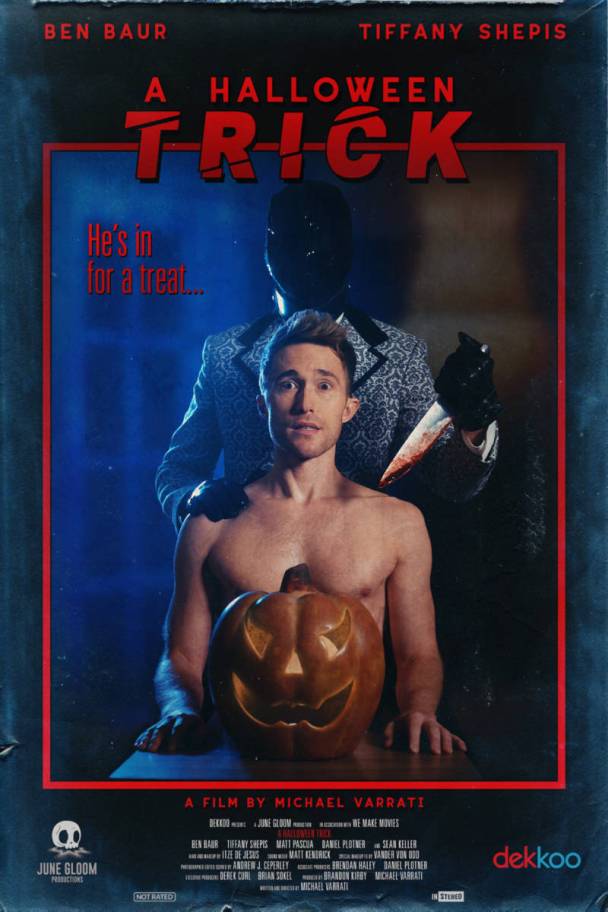 ---