---
Andrew E reviews BLIND!
---
Andrew E reviews the new horror slasher BLIND (2019)
Directed by Marcel Walz
Director of Photography Thomas Rist
Written by Joe Knetter
Produced by Ruediger W. Kuemmerle & Ivan Hruschka
Starring: Sarah French, Caroline Williams, Jed Rowen, Tyler Gallant, Thomas Haley, Ben Kaplan, and Michael St. Michael
Introducing Jessica Galetti
What did I think?
Blind is super sharp. The imagery of this film is on point. You cannot fault directors Marcel Walz's eye. Marcel finds a really striking way to put the creative imagery into the camera. I cannot describe it in any other way than 'popping' the film feels rich and alive on the screen like it's popping out at you.
Whilst the films burns bright in the imagery and grading department the subject matter is dark. We follow a truly harrowing tale. Love is truly blind in this story, both literally and metaphorically.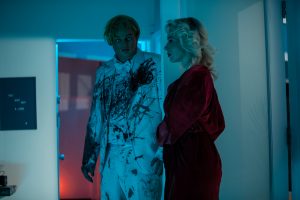 The basic plot of the film is:
Faye, a former actress that has lost her vision through a Laser eye surgery that has gone wrong and struggles to put her life back together while she lives alone in her dream glass house in the Hollywood Hills. Supported by her also blind friend Sophia she finally starts opening up to Luke, a common friend who is mute and can only communicate through his cell phone. Not knowing about the stranger "pretty boy" secretly living in her basement, Faye is caught up in a deadly love triangle that will unfold in the most terrible way possible.
The movie has me thinking of 'Black Christmas' when we enter the basement where the killer lurks. Covered in blinking bright lights it reminded me a Christmas time, the flamboyance of the typical evil layer of a killer tipped on its head as in this house he can do as he pleases no need to tone it down. The killer is named 'Pretty Boy' (Played by Jed Rowen) who by the way has one of the best masks I have seen in a long time, have a look see if you agree?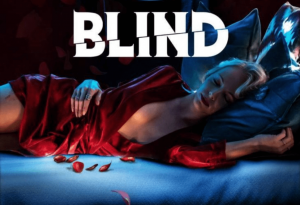 Pretty Boy is the perfect slasher villain – good sets, good tools, banging mask and an appetite to kill. These kills are creative and brutal with little shown on screen but just enough to make you squint when Pretty Boy (Rowen) gets his kill on.
The best thing about BLIND is the interesting take on a standard slasher. Adding the elements of visual impairment mean that your traditional cat & mouse games don't naturally occur and it gives our final girl Faye a new level of vulnerability not often seen, maybe only perhaps in 'Hush' before it but to a higher degree in BLIND. It allows for Pretty Boy (Rowen) to hide in plain sight and not be restricted to the odd jump scare in a dark woodland setting. The killer is there on the screen in plain sight, stood but feet away from the lead and in some cases murdering right in front her, and she is unaware. This brings a whole new level of horror and suspense.
The film gives horror fans a lovely nod by the casting of Caroline Williams (Texas Chainsaw Massacre 2 and Hatchet). Caroline lights up the scream with a lovable sidekick / best friend character Sophia. Having seen Caroline in several movies and knowing her natural on-screen charisma it would have been hard to top this casting decision. She delivers with elegance and a natural flare. One of the most underrated actresses in the horror business. If you want to see Caroline at her best look no further than Blind! A true stand out star of this film.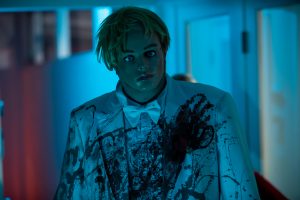 We are later in the film introduced to a police officer (played by Thomas Haley) who is one hunk of a man who shows up to help Faye. I would this man in uniform to show up at my door.
There are some cliché horror moments, but it feels okay in BLIND as there is so much more than normal to take in and experience. It is a perfect little package and one I hope to revisit – I will need the Blu-ray the second it's out, this is the birth of a new franchise.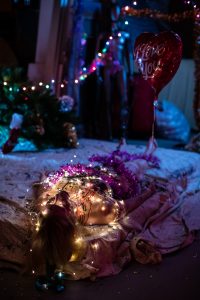 It isn't often I say this, check this movie out – great acting, great imagery, great story with one hell of a cliff hanger. [cough] Part 2 must be filmed immediately, please!!!
GRUEMONKEY RATING: 5/5!
---