Gruemonkey's Black Horror Month: My Interview with Mu-Shaka Benson (Crossbreed, The Shed, Dwelling)!!
---
Gruemonkey's Black Horror Month: My Interview with Mu-Shaka Benson (Crossbreed, The Shed, Dwelling)!!
---
Hello Grue-Lings,
   Gruemonkey's Black Horror Month. Giving our thanks to the amazing Black Actors who have appeared in horror films and or tv series. In honor of Black Horror Month, we have a interview with amazing actor Mu-Shaka Benson. He served 4 years in the U.S. Army, traveling the world, fighting in combat and working the all too redundant job, he decided to respond to a casting call for the film, "Half Dead (2012)". Everything changed from there. He was cast as Detective John Reilly and officially took on the title of "actor". He has had the pleasure of working with film makers from Buffalo to Syracuse, to Utica, NY on many small projects and has recently had the pleasure of performing as an extra in the film "Wards Island (2013)" which was filmed in Buffalo, NY . He was in Christmas horror film "Savage Christmas (2013)" and starred in "The Vampire (2013)". Mu-Shaka is also a writer and wrote Nexus. He self published his short story ,"The Drive Home" on the Amazon Kindle in early 2012. He also produces music and hopes to someday compose for film. You can see him acting wit the amazing Vivica Fox in Crossbreed and the upcoming horror film The Shed. Here is my interview with Mu-Shaka Benson:
.
.
---
.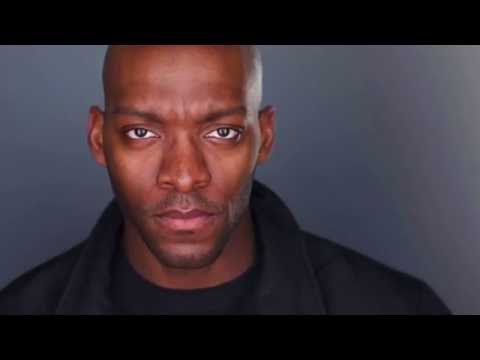 .
HELLTER: First off, I want to say thank you for being part of Gruemonkey this month for our Black Horror Month. Where we Celebrate the amazing Black Actors who have been in horror films or tv series. It's safe to say you love your horror films, you are in a lot of them (laughs). What drew you to the world of horror?
MU-SHAKA: First of all, thank you so much for having me. Now in response to your question. I wouldn't say that I was drawn to horror films. The first film that I was ever in was a zombie horror film called Half Dead. Then after that came Savage Christmas. I kind of just fell into the genre because that's what was being made locally at the time. The indie scene loves horror and when I came in on the ground floor, that's where the roles were. 
.
.
.
HELLTER: Yeah I agree. Indie horror is really big. If you want roles, just seek out indie horror. What are some of your favorite horror films and why?
MU-SHAKA:  I have to say that 28 Days Later is one of my favorite horror films of all time. Danny Boyle created such a terrifying world. I oddly felt unsafe and uneasy while watching it. Like I was going to walk out my door and be inserted into that world. It made me paranoid. It was so gritty and real. And Cillian Murphy was great in it. Another horror film that I really enjoyed that kind of flew under the radar was Honeymoon with Rose Leslie. That film had some freaky moments that crept up on you in the end. But I thought it was brilliant. 
.
.
.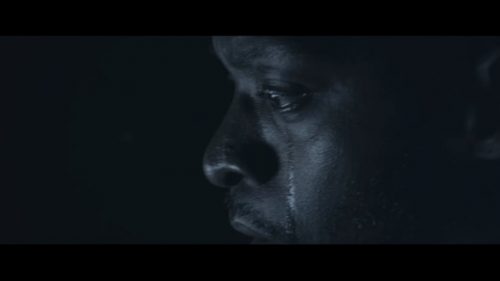 .
HELLTER: 28 Days Later is an amazing horror film. What made you want to get into acting and how did you break into it?
MU-SHAKA: I wanted to be an actor since I was a kid. I used to watch movies all the time. I grew up on them and I had such a vivid imagination. I used to write little narrative short stories and poems. I would imagine myself as the characters I would see on screen or visualize myself in those scenarios. But the internal conflict with that was that I was an extremely shy kid. I didn't want to be in the front of the pack or the center of attention. So wanting to be an actor and being so damn shy was a bad dynamic. It wasn't until several years later when I saw the casting call for Half Dead and some encouragement from my wife at the time, that I went for it. But that wasn't before I fell for a few acting scams and was swindled out of some money. Lesson learned. Half Dead was really the start for me. That opened doors to meeting more and more people. I took networking very seriously because honestly, that's a very important part of the game. It's really one of the main components that I had to master to get me here. 
.
.
.
HELLTER: Sadly, there really are so many acting scams out there. It's horrible how people use upcoming actors who are trying hard to get a break in the entertainment world. What was your military experience like and did that help shape you to want to get involved in acting?
MU-SHAKA: I'm a combat veteran. Honestly, acting was the furthest thing from my mind during that time. I was more concerned with successfully completing the mission and getting back to my family as I'm sure my battle buddies were as well. It wasn't until I was completely clear of military service that I seriously entertained the thought of acting. My passion for acting was merely dormant and once I had the time to pursue it, I went for it. But as I mentioned before, I had to fall for a few scams first. My military service instilled in me the discipline required to endure the unforgiving environment of this industry and the strength necessary to stick with my passion. I know a few other vets in the industry who I respect immensely and they're doing amazing work. 
.
.
.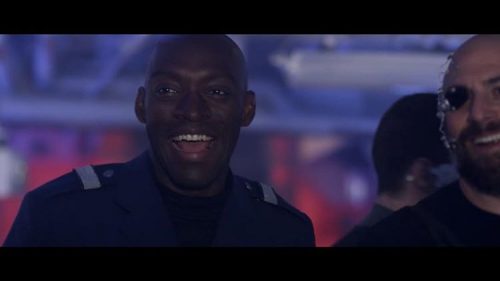 .
HELLTER: Thank God for your military experience to help you see what's a scam and what's not. Can you still bench 750 pounds?
MU-SHAKA: 800 since the last time I was asked that question.
.
.
.H
HELLTER: Wow, that's impressive!!! Did your military experience help you with your role in Crossbreed?
MU-SHAKA: Yes. My character was former military before he went into politics. Although he was in a political position, I wanted him to exude a hardened discipline that high ranking soldiers exhibit. For me, that meant emulating one of my drill sergeants from basic training. He was a tall, baritone, imposing guy. I even tried to copy the way he bloused his pants into his boots. He was a clean cut, terrifying guy. Sort of reminded me of Christopher Lee. 
.
.
.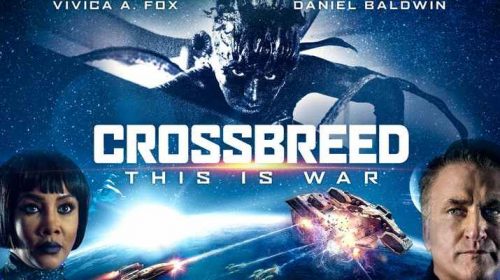 .
HELLTER: Your Military background really did prepare you for this role then. Tell us about Crossbreed and your character in the film?
MU-SHAKA: Certain aspects of Crossbreed focus on political turmoil. Not just on Earth, but interplanetary as well. My character, Miller, capitalized on that turmoil and tried to selfishly profit from that. Not unlike real life politicians honestly. But he took it to diabolical lengths in my opinion. Willing to kill anyone who got in his way. Friend or foe. Just an all around bad dude. 
.
.
.
HELLTER: That's a awesome character!! What was your experience like filming Crossbreed? I read online that Devanny Pinn raved about how awesome all of you were to work with.
MU-SHAKA: My experience working on Crossbreed was amazing. The level of professionalism was extremely high, yet we could still be silly and joke around on set. There was a lot of that. The mission was clear. We knew what we were trying to make and it shows when you watch the film. I have immense respect for everyone I worked with on this project. 
.
.
.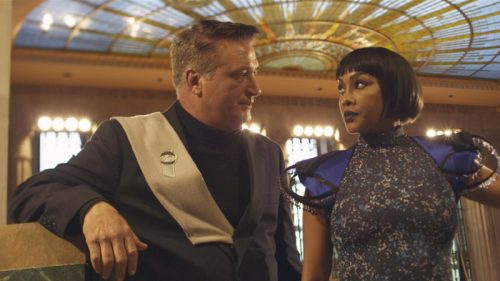 .
HELLTER: I am really happy to hear the amount of respect you had for the amazing actors in the film. What was your favorite moment or favorite scene in Crossbreed?
MU-SHAKA:  I think my favorite scene in the film is when Boss was assembling his team. We've seen that done to an extent in other films that sort of revolve around an ensemble or team that the film focuses on. Seeing where they come from. For me that always drew me into the film more and provided an avenue toward empathy for the characters. By the time people started dying, you felt invested in those characters. I feel like that was a great choice.
.
.
.
HELLTER: I agree 100 percent with you on that. The crowd has to feel invested in the characters in the film. When that happens, you know you have a great film. You have a lot of great scenes in Crossbreed, but a big scene for you was sharing the screen with both Vivica Fox and Daniel Baldwin. How was that scene like filming with both of those icons in the the entertainment world?
MU-SHAKA: Well, it was intimidating at first. I had the whole day to stew and anticipate the scene because we shot it really late in the day. Like early evening. I remember it was dark outside. I remember my stomach sank when I was called to set. Like okay, this is really happening. Man up! Thankfully, Vivica and Daniel were so easygoing. They immediately calmed me down with their warming personalities. Of course they didn't know I was feeling nauseated from just standing near them. I hid that well. The three of us rehearsed a few times to work out the kinks and get the timing right. Once the camera started rolling, I was very comfortable. I really enjoyed shooting that scene. 
.
.
.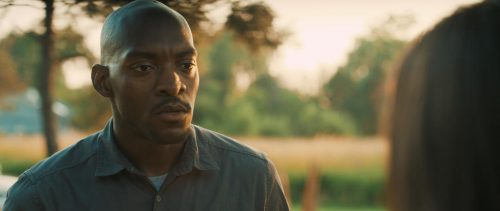 .
HELLTER: That's really cool to hear that Vivica Fox and Daniel Baldwin were so calming and cool. Tell us about the story of Devanny Pinn running around as Half Alien Half Human and directing to (laughs)?
MU-SHAKA: Well as we all know, Devanny produced the film as well as playing the alien. Of course, the producer's work is never done. Even when they're in the make up chair. I was very impressed with how she'd solve problems in the middle of getting prosthetics placed on her. I recall seeing her walk around in partial alien costume. She didn't wander far of course. But it was still impressive. I've said this numerous times already, but Devanny is a machine. 
.
.
.
HELLTER: Yeah, Devanny seems so cool. I been trying to interview her for a while now, but she is always so busy. Your thoughts on the amazing Vivica Fox?
MU-SHAKA: Well you said it already. She's amazing! I've admired her work for years and her hustle is uncanny. I remember before I got cast in Crossbreed and saw the news that she'd been cast as the first female African American president in a feature film, I was sad that I wasn't going to be a part of it. Until Devanny reached out to me weeks later. It was meant to be and I couldn't be more grateful for having worked with her. The highlight of my career thus far. 
.
.
.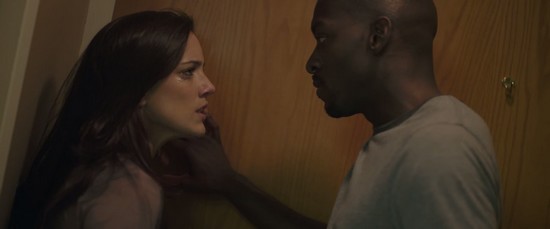 .
HELLTER: It's going to be hard to beat that moment, working with Vivica. In A Grim Becoming, you work with some amazing people. You work for the first time with Devanny Pinn. And how was it like working with the legend himself Bill Oberst Jr, Jessica Cameron and Lynn Lowry? What were your interactions with them?
MU-SHAKA: In A Grim Becoming, I actually hadn't met Devanny yet. I didn't meet her until Dwelling. As far as the others, I didn't work with or meet any of them. I would've loved to meet all of them though. I'm definitely a fan of Bill Oberst Jr.'s work.
.
.
.
HELLTER: Bill seems like someone really good to work with. A lot of experience there. Another film I want to talk about is Dwelling. I saw that horror film, it was great. You work once again with Devanny Pinn (laughs) and someone that my site interviewed in the past Erin Marie Hogan. What was your favorite scene or favorite moment from filming Dwellling?
MU-SHAKA:  I really enjoyed working on Dwelling. That was my official first time working with Devanny on screen. That experience solidified a working relationship and friendship that ultimately led to Crossbreed. Erin Marie Hogan was great to work with as well. Her performance in the film made me feel like I had to step up my game. It was a great experience. I actually met Erin about a year prior to working with her on Dwelling at Scare-A-Con. I was just a lowly fan then, shaking her hand. It's crazy how things come full circle. 
.
.
.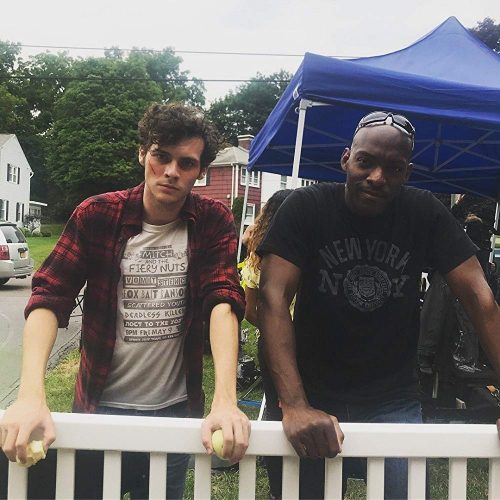 .
HELLTER: I love the Scare-A-Con horror convention. It's a really fun experience. What has been your favorite horror film that you shot so far and why?

MU-SHAKA: The Shed. And why reason why I choose this film as my favorite is Siobhan Fallon Hogan. She was a total gem and a blast to work with. All of my scenes were with her as I played Deputy Haiser. She played the sheriff. She was so easy to talk to. In between scenes, we'd sit in our holding area and she would tell me stories about Samuel L. Jackson during her work with him on The Negotiator. It was great!
.
.
.
HELLTER: I can't wait to see The Shed! What can you tell us about The Shed?
MU-SHAKA: I'm not sure how much I can reveal about it at this point. All I can say is that there is a monster tearing shit up. Literally.
.
.
.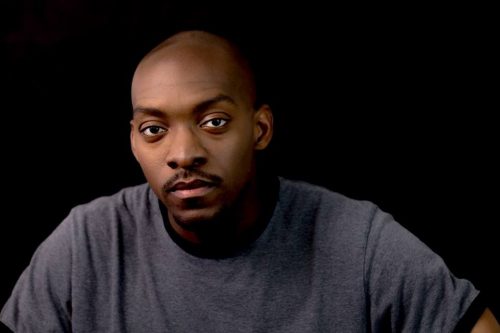 .
HELLTER: Ok. A monster tearing shit up sounds good to me (laughs). I am happy to see that Black Horror is getting popular now. From Black Actors having leads in horror films and not dying fast to horror films focusing mainly on black characters. How do you feel about the direction black horror is going into?
MU-SHAKA: I don't think there's a such thing as black horror. Horror is horror. But with films like Get Out, US, Bird Box and my film Dwelling, they send a message that black actors can do horror too and do it well. We can be the heroes of these stories and of course, survive to the end. Although Tom died in Bird Box, but still. He wasn't fodder. He died doing a heroic thing. Black characters always dying first in horror movies was a real thing and became sort of a punchline. A punchline that even black people would perpetuate in jokes. There was sort of a complacency there. I'm grateful that we're seeing a turnaround in that. Hopefully it's not just a trend. Black characters in horror films can bring the pain and save the day too. 
.
.
.
HELLTER: Anything else you want to discuss or promote?
MU-SHAKA: These aren't horror related, but I'd like everyone to keep an eye our for my upcoming drama/thriller The Price for Silence. Also, keep an ear our for Windfall. An upcoming sci-fi audio drama that's dropping its first 2 episodes on February 27th. I provide my voice on that one as a character called Shaima. Everyone can subscribe to the page on Apple Podcasts to get all the episodes. Aside from that, I'm just grinding away and continuing to make my dream a reality. 
.
.
---
.
.
.
.
.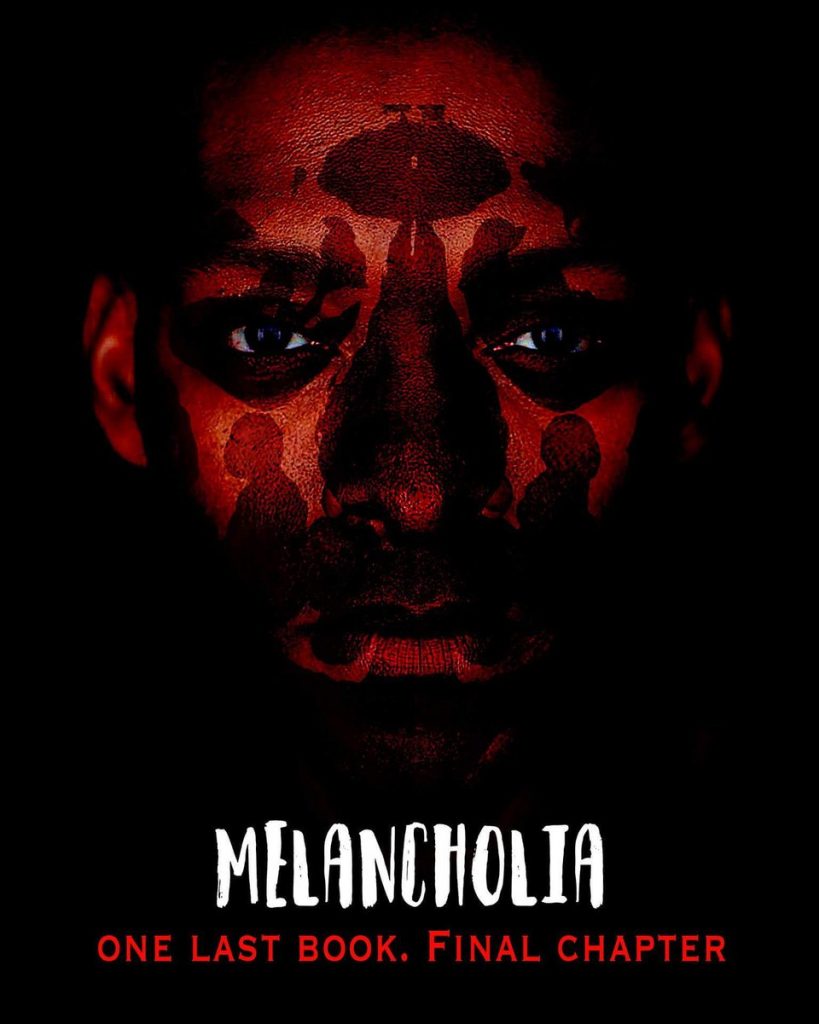 ---