---
Women of Horror: Jenn Nangle (Malvolia: The Queen of Screams, PopHorror)!!
---
Jenn Nangle is a writer and actress, known for Malvolia: The Queen of Screams, Slit, and Irrational Fear. Her dream is to work with J.J. Abrams and Quentin Tarantino. Won "Best Actress" award at The Massachusetts Drama Festival. She has been in numerous horror films and shorts including: Spirit Board, Demonic Attachment, Slit, 60 Seconds to Di3, 10/31, Irrational Fear, Lilith, For Jennifer, Ugly Sweater Party, Malvolia: The Queen of Screams, and numerous other horror films. Her IMDB page is amazing. CLICK HERE to check it out. She is a actress, writer, director and producer at Queen Scream Productions. She is a creator, actress, and writer at Malvolia: The Queen of Screams. She also writes for PopHorror.com Jenn told Gruemonkey what it means to her to be a Woman of Horror. Check it out:
.
.
I found my true passion when I took the leap into creating horror content. As an actress, I felt something was missing while doing comedies and dramas. I was intimidated by the genre, because I adored and respected it so much. One day I thought, "No one is going to do this for me. What's the worst that could happen?" A love affair! There are so many endless possibilities in horror. Psychological, murder, paranormal, I mean, the list goes on and on. You can create any outrageous character and story you want! With "Demonic Attachment" I took history that I knew and combined it with the haunted house I grew up in along with research about the paranormal. With "SLIT" I modernized an urban legend. With "Malvolia: the Queen of Screams" I took a respected horror icon idea and pushed it to make it more evil and dark with adding acting short films to go along with it. Anything is possible in this genre and I am so thankful that I have an audience that wants and likes to hear my voice and see my ideas come to life. I wear my "Women in Horror" badge with pride and won't be stopping any time soon!
-JENN NANGLE
.
.
.,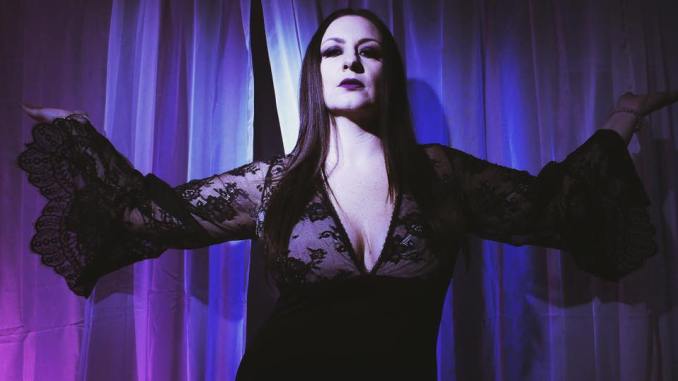 .
.
.
---