---
Mondo Macabro Releasing Perversion Story This November 2018!!
---
Perversion Story
1 Blu-ray disc
Label:  Mondo Macabro
Prebook:  10/9/18    Street: 11/13/18
MSRP:  $29.95
Catalog #:  MDO186
Color, 108 minutes in English and Italian
Region A.  Widescreen 1.85:1
PCM Mono
Production year:  1969 in the USA
Director: Lucio Fulci
Starring: Jean Sorel, Marisa Mell, Elsa Martinelli, Alberto de Mendoza, John Ireland, Riccardo Cucciolla, Jorge Rigaud, Jean Sobieski.
.
.
Dr. George Dumurrier is looking for money to expand the San Francisco based clinic he runs with his brother. He is also having an affair with Jane, a glamorous fashion photographer. When Dumurrier's wife Susan dies following an asthma attack, leaving him a million dollar insurance payout, it seems that all his problems are solved – until an anonymous phone call sends him to the Roaring 20s strip club where he is astonished to discover that its featured performer, the dangerously desirable Monica Weston, looks exactly like his dead wife. As he tries to unravel this mystery, George learns that the police are now investigating his wife's death and that he is under suspicion of murder.
.
.
.
Directed by Lucio Fulci. This fully restored Blu-ray release is the longest version available.
SPECIAL FEATURES:
HD transfer from the original negative.
Full extended European version.
Interview with star Jean Sorel.
Interview with star Elsa Martinelli.
Interview with writer Stephen Thrower.
Original artwork by Justin Coffee.
English/Italian language choice.
Original trailer.
Mondo Macabro previews.
.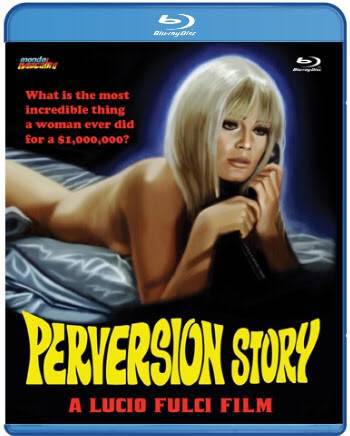 ---