Mark Mackner interviews Tara Reid (Ouija House, Sharknado, American Pie)!!
---
Mark Mackner interviews Tara Reid (Ouija House, Sharknado, American Pie)!!
---
Today we bring to you a interview that

Mark Mackner

did with the lovely

Tara Reid.

Mark does interviews for

Gruemonkey

and he is also a indy horror film director, producer, writer, and actor. Most known for his Daisy Derkins films. Tara was nice enough to take time out of her busy schedule to talk briefly with

Gruemonkey

. Tara started her career off by doing commercials and she attended a Professional Children's school in New York City with kids who turned out to be big successful actors such as

Sarah Michelle Gellar, Macaulay Culkin, and Jerry O'Connell.

Her big break came from the movie The Big Lebowski where she plays

Bunny

. She then appeared in Urban Legend as

Sasha Thomas

and Cruel Intentions as

Marci Greenbaum.
.
Then American Pie happened. American Pie shot Tara up to super stardom as she stars in American Pie, American Pie 2, and American Reunion as

Vicky.

She did the Alone in the Dark movie as

Aline

and she was in a Crow movie called Wicked Prayer as

Lola.

Then she gets the role of a lifetime from a film that she probably would never have thought it would have 6 different films, yes im talking about Sharknado. She stars in all 6 Sharknado films as

April

. She can be seen in her latest horror films that are available now called Party Busy From Hell as

Darby

, and Ouija House as

Young Katherine

.  Here is

Tara Reid:
.
.
---
.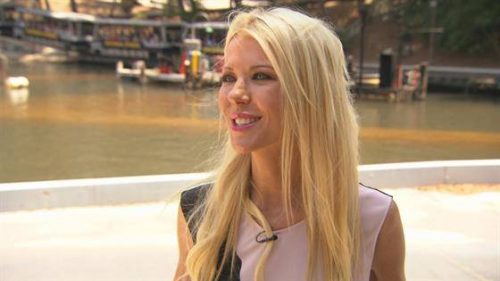 .
MARK: Thank you Tara for taking time out of your busy schedule to speak to me for a few minutes of your latest horror film Ouija House.
TARA: Your welcome Mark and thank you Gruemonkey for having me as a guest. 
.
.
.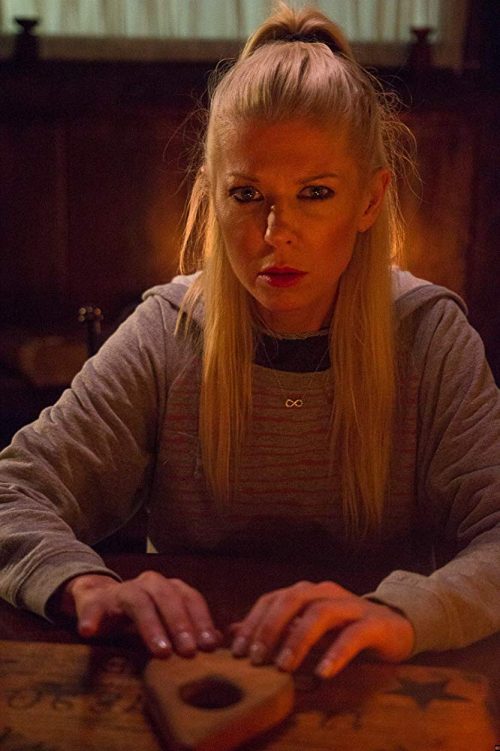 .
MARK: We're calling today to speak to you about your newest feature film that's coming soon called OUIJA HOUSE? How do you like to pronounce it? WEEGEE or Oh-wee-JA?
TARA: I think it's WEEGE. A WEEGEE board.
.
.
.
MARK: That's the right way, yeah. So tell me how you came to be involved in this project.
TARA: The director was the DP on SHARKNADO 1, 2, and 3. So this is his first film.
.
.
.
MARK: Oh, Cool.
TARA: Yeah and he wanted me to do this 'cause we had such a good time together. He's fantastic.
.
.
.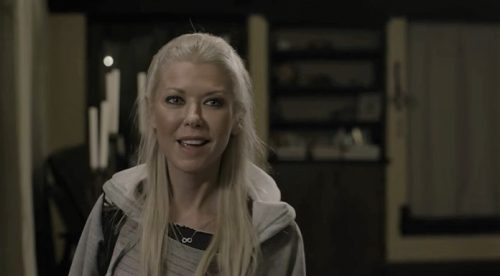 .
MARK: And why don't you tell us a little bit about your character.
TARA: Have you ever seen SCREAM? The movie, SCREAM?
MARK: Oh, yeah, sure. 
TARA: It's kinda like the opening scene in SCREAM. So it's not like she's in it throughout the whole film. I'm the focus of the 1st scene, I get things started. It's a really well written scene. Really great dialogue. And then it's like BOOM, like WOW, then the opening credits roll. It's a typical horror thing, but it works.
.
.
.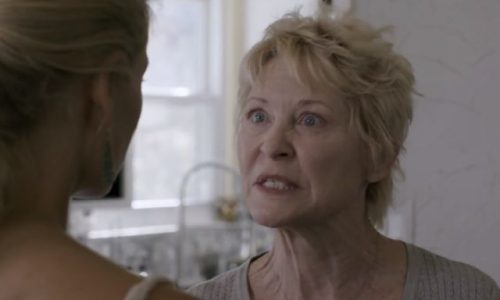 .
MARK: There's some other names in this project, Dee Wallace, who's a legend in the business, in this genre specifically. Did you get a chance to hang out with her at all? Or was she filming on different days?
TARA: No, I only shot for about a day, only being in the opening scene, so I didn't get to meet anyone else in it.
.
.
.
MARK: Do you have any personal experience dealing with the occult? Like Ouija boards, or anything?
TARA: No. It scares me too much. Have you ever seen anyone do it? It gives me the creeps. There's some kinda energy. Like, you feel like you're doing something you know you shouldn't be doing.
.
.
.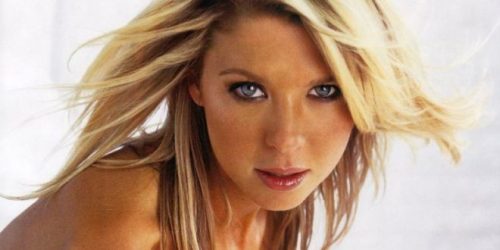 .
MARK: Yeah, I only have limited experience. Just the Parker Brothers version. Somebody always seems to be cheating, pushing it. But yeah. Do you know when the movie is due to be released?
TARA: I think it's coming out… I wanna say September 5th.
.
.
.
MARK: I also know a young actress, Sarah French, who's also in the film. I've worked with her myself and I'm pretty excited to see her in this.
TARA: Yeah, from what I've seen of it so far, it's just a really well made horror film.
.
.
.
MARK: Cool. Yeah, that's what our site's all about. And me personally, I'm into the genre so I'm definitely looking forward to it after speaking with you, of course. And also my own experiences with, as I said, Sarah French and Dee Wallace. They're just two really cool people that I try to support whenever I can. But yeah, that's super exciting.
TARA: That's cool of you. Thank you. I appreciate that.
.
.
.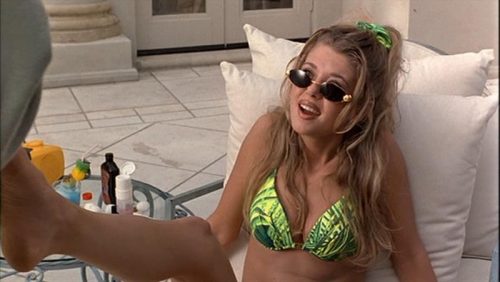 .
MARK: Now, while we were tapped primarily to speak about Ouija House, which again, is coming soon, do you care to speak about your experiences on THE BIG LEBOWSKI at all?
TARA: Big Lebowski was great. I got that when I was just turning 21. I didn't realize then exactly who the Coen Brothers were. I had no idea I was dealing with… legends. It was a very big initiation for me on that film. But I think that worked. Me being new to the Coens and adult life in general. I think it worked for the character of Bunny. I think there was something about that that was true to her spirit.
.
.
.
MARK: Yeah, absolutely. What's interesting about Bunny Lebowski is that she doesn't get a ton of screen time but she has her own story. Like, she has her own movie. You imagine what kind of adventures she had the whole time she was missing.
TARA: Yeah, you're wondering, "Is she kidnapped?", "Is she OK?", "Is she gonna come back?" Meanwhile, she was in Vegas, partying.
.
.
.
MARK: I read that you auditioned for the Coens, and they loved your audition so much, like you really killed it. It was have been exhilarating for you, especially being so new to the business.
TARA: Yeah, there's nothing better than the fun of that, the excitement like, "I got the part!"
.
.
.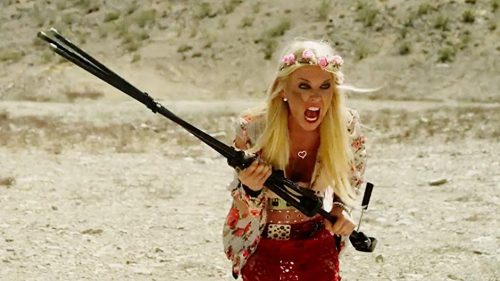 .
MARK: I saw something else you did recently. PARTY BUS TO HELL. That looked like fun.
TARA: Yeah, that was great. That's my favorite one that's coming out. That's the best one. You'll love that one.
.
.
.
MARK: I watched it!
TARA: Oh! You saw it?
.
.
.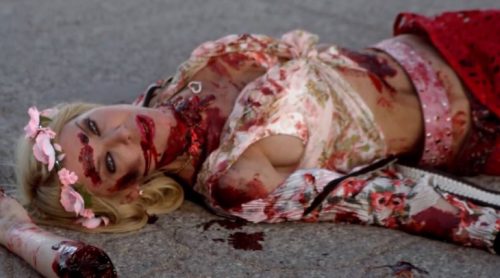 .
MARK: Yeah, I did. There's an actress in it, Devanny Pinn, that I'm sort of acquainted with. She's in it so I watched it and it was a really great time.
TARA: That's what I love about it. It's so much fun. It goes places no movie has gone in a long time. You know what I mean? Like, from the nudity, the sex, the gore, the cars. Just everything. It's nuts. Gremlins, and zombies.
.
.
.
MARK: Yeah, it didn't hold back on anything.
TARA: That's great, glad you enjoyed it.
.
.
.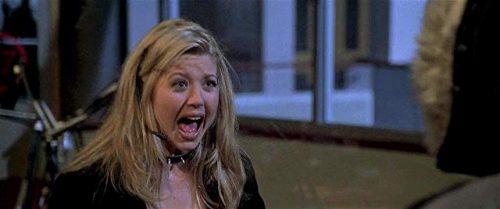 .
MARK: URBAN LEGEND was another popular horror flick you did some time ago, but it's one that some of us still remember fondly. Do you wanna share any memories of working on that one?
TARA: Yeah, it was with Jamie Blanks, he was the director. He's from Australia and he's fantastic. And then Jared Leto is in the movie, and he's the coolest guy. That was when he was putting together his band. And they were just about to take off. They started making music around URBAN LEGEND. I remember going to the warehouse and watching them play all the time. And now they're 30 Seconds to Mars. I'm sure you're familiar with that.
.
.
.
MARK: I even forgot that he was in it, but yeah. Danielle Harris played a small part. And Alicia Witt. And (SPOILER) Rebecca Gayheart was the killer.
TARA: Right, Rebecca Gayheart.
.
.
.
MARK: That was a fun time for horror, and slashers specifically, in the 90s. You had SCREAM and I KNOW WHAT YOU DID LAST SUMMER. It was a good time for us fans. It was a resurgence of horror at that time.
TARA: I agree. It was fun. Horror movies are always fun. If they're done right, and with the right cast, there's nothing better than a scary movie.
.
.
.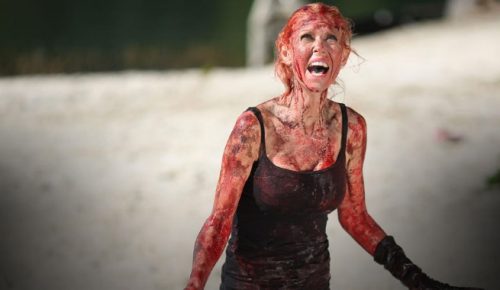 .
MARK: And this one, OUIJA HOUSE, definitely has all the ingredients to be one to watch.
TARA: Yes it does. I hope you like it. 
.
.
.
MARK: There's a lot of cool people involved, so I'm sure I will. Ms. Reid…
TARA: Thank you so much, it was a pleasure speaking to you. You're so kind.
.
.
.
MARK: It was fun for me, too. My name is Mark Mackner, the site is Gruemonkey.com. I do a bit of filmmaking myself, and I'd like to work with you some day, but for now, I'm happy watching your films.
TARA: Thank you very much, Mark. I appreciate it.
.
.
---
.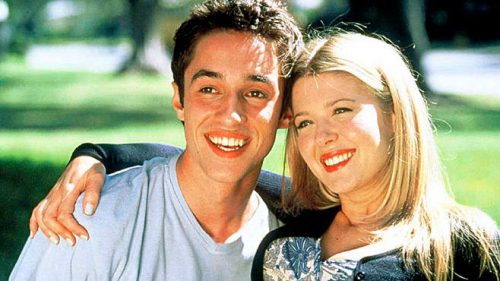 .
SNAP CHAT IS TaraReid8
.
.
.
.
.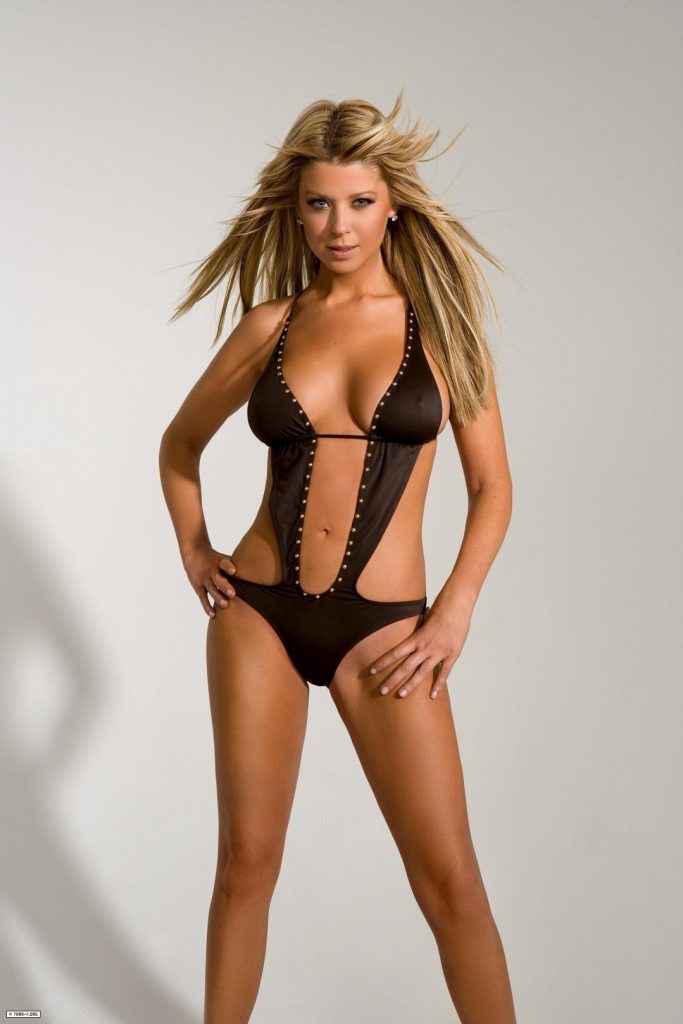 ---