---
Now Available on Cable VOD, Debuting on Digital July 7: Nick Chinlund & Danny Trejo Reunite in Action-Horror Thriller THE PREY: LEGEND OF KARNOCTUS!!
---
Nick Chinlund & Danny Trejo Lead an Elite Group
of Special Forces Against a Deadly Beast
Con Air Co-Stars Reunite in an Afghan Cave
The Prey: Legend of Karnoctus Available Now on Cable VOD
Debuts on Digital Platforms July 7th
"a fun watch for those willing to go along for the ride"
— Cinema Crazed
"a claustrophobic nightmare filled with blood and gore to keep you entertained for about ninety plus minutes."
— Hoy Sale Cine
"the movie's spectacularly goofy plot and low production values are counterbalanced by a surprising chemistry between its principal cast, some tense situations, and an endearingly silly monster."
— Film Threat
Lennexe Films

is excited to announce the digital release of 

The Prey: Legend of Karnoctus

, from co-directors

Eric Hensman and Matthew Hensman

. On

 July 7

, The Prey: Legend of Karnoctus will debut on digital platforms, including iTunes, Prime Video, Vudu, and Google Play. The action-adventure monster movie is now available nationwide on all major Cable, Satellite and Telco platforms, including Comcast, Charter, DirecTV, Cox, Verizon Fios, Dish, Sling and AT&T U-verse.
The Prey: Legend of Karnoctus reunites Con Air adversaries

Nick Chinlund (Chronicles of Riddick) and Danny Trejo (Machete, From Dusk till Dawn). The film also stars Adrian Paul ("Highlander: The Series"), Kevin Grevioux (Underworld), Fahim Fazli (Argo, Iron Man), Adolfo de la Parra, Justin Arnold, and Masika Kalisha.
Matthew Hensman and Gustavo Sainz de la Peña

wrote the script, from a story by

Gustavo Sainz de la Peña

, in an homage to the action-adventure and monster flicks of the 1980s.
In the Afghanistan desert, a group of mercenaries out for treasure complete their greatest heist. Seeking refuge from the hunting Taliban in a nearby cave, they are soon joined by retreating US soldiers, and both groups are trapped within by a rocket explosion at the cave's entrance. The newly joined parties need to work together to find an escape through the labyrinth but soon realize they're being tracked by a deadly beast that local legend calls Karnoctus; and they have become… the prey.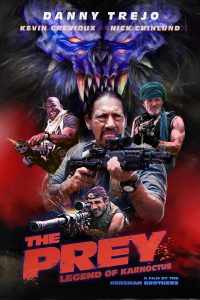 ---