---
PIGGY is coming to DVD on May 31st from Bayview Entertainment!!
---
PIGGY, a new breed of vigilante is coming to DVD on May 31st from Bayview Entertainment.   Directed by Kieron Hawkes and starring Paul Anderson, Ed Skrein, and Martin Compston. 
London, modern day: Joe, a mild mannered young man is bored by his life. When his beloved brother is murdered Joe finds solace in Piggy, one of his brother's old friends. Piggy helps Joe to cope with grief, intent on saving him and helping him get justice for his brother's killing. As their friendship grows Joe finds himself in an increasing dangerous and murky world of violence and revenge. As Joe life collapses around him he starts to question who Piggy really is, and how honest he's really been with him. When Joe confronts Piggy a series of events are put in place that lead to a disastrous climax.
Pre-Order PIGGY Today
PIGGY DVD
.
Marketing Macabre – a horror boutique public relations company created to give independent filmmakers an affordable alternative. We focus on the importance of press releases to gain momentum and we work with some of the biggest genre websites in the world. Our mission is to get your project in front of your audience, the horror public – the most devoted fan base in all of entertainment.
More information: 
https://www.marketingmacabre.com/
.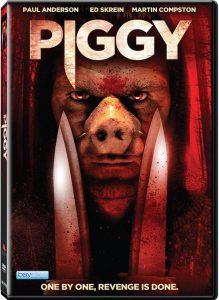 ---