---
Horror Creature Feature BYE, SON launches crowdfunding campaign!!
---
Bye, Son is a horror creature feature that has recently launched a crowd funding campaign through Indiegogo.  
What starts off as a fun weekend vacation movie set on Catalina Island off the coast of Southern California, soon becomes a psychological journey for the characters and audience alike. When one by one friends go missing or turn up dead, no one knows whether it is a mysterious creature seemingly hunting them, or quite possibly one another. In addition to a very diverse and talented cast, this is a creature never before portrayed in the horror genre! Is it nature or nurture? Is mankind's recklessness at play or simply a matter of someone pushed too far? 
There has already been quite a bit of buzz about the idea and the cast and crew we've assembled are quite special! Some of our actor's credits include The Orville, Marvel's Inhumans, Grey's Anatomy, Manson Family Vacation, Ray Donovan, Now Apocalypse, The Chosen, Bad Match, and Henry Danger. We also have many diverse backgrounds including Egyptian, Filipino, Haitian, White, Pacific Islander, Native American, Black, Armenian, and Latinx. Our ridiculously talented DP is Chinese, we have LGBTQ characters, there are multiple female producers on the team, our writer has won awards for his screenplays, our creature suit creator has worked on huge Netflix and HBO projects (we can't say which yet), and it is Brent Alan Henry's directorial debut!
INDIEGOGO
https://www.indiegogo.com/projects/bye-son-the-horror-feature-film#/
INSTAGRAM:
https://www.instagram.com/byesonthemovie/
.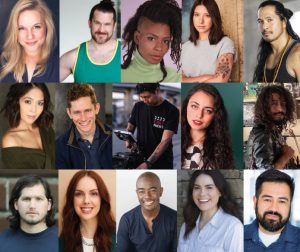 .
Marketing Macabre – a horror boutique public relations company created to give independent filmmakers an affordable alternative. We focus on the importance of press releases to gain momentum and we work with some of the biggest genre websites in the world. Our mission is to get your project in front of your audience, the horror public – the most devoted fan base in all of entertainment.
More information: 
https://www.marketingmacabre.com/
---