Gruemonkey interviews Noam Ash (Boyfriends, My Gay Roommate)!!
---
Gruemonkey interviews Noam Ash (Boyfriends, My Gay Roommate)!!
---
Hello Grue-Lings,
  Today we have the star of Boy Friends and My Gay Roommate. He also has a recurring role as Cruise on The Influencers. I'm talking about the super talented Noam Ash.
A graduate of Tufts University and the National Theater Institute, Noam Ash is an actor, writer, producer, and storyteller originally from Haifa, Israel. His hit web series My Gay Roommate has amassed over 7 million views on YouTube, receiving critical acclaim from Vanity Fair, The New York Times, Huffington Post and many more. TV and film credits include: The Other Two (Comedy Central), Absentia (SONY Pictures for Amazon Prime), Happy Yummy Chicken (with Taryn Manning), and Tango Shalom (with Lainie Kazan). Theatre credits include: She Kills Monsters (Steve, fight captain), A Chorus Line (Mark), Chemistry (Jamie, world premiere) and Joseph and the Amazing Technicolor Dreamcoat (Benjamin). Upcoming: Noam co-executive produced and stars as Cruise in the comedy The Influencers from his newly-formed production house Well-Versed Entertainment with partner Mike Heslin. In 2020 Noam's screenplay Perfectly Fine was accepted to the Jewish Writers' Initiative, a highly-selective year-long development and grant program.  ​Here is Gruemonkey's interview with Noam Ash:
.
.
---
.
.
GRUEMONKEY: Hello Noam and welcome to Gruemonkey. Thank you for being our guest. Since it's Halloween season, I'm going to start off with a hard question. What are your top 8 favorite horror films?
NOAM: When it comes to horror, I'm a classics kind of guy: The Exorcist, The Shining, Psycho,, Halloween, SAW and most recently the Presidential Debates. 
.
.
.
GRUEMONKEY: (Laughs). That is too funny. Yeah, the Presidential Debates was a horror film series all on it's own with humor, (Laughs). What inspired you and inspired your idea for your My Gay Roommate series and are you shocked the popularity it gained?
NOAM: The inspiration for MGR came from my own experiences in college. My relationship with my straight college roommate was one that I felt had not really been seen or explored in a meaningful way on screen, so we decided to make some fun videos about it! I never dreamed it would take off like that, but I guess our message really resonated with people. 
.
.
.
.
GRUEMONKEY: It really did resonate with a lot of people. That situation happens a lot. A lot of gay males fantasize about their straight best friend or roommate and always wonder what if. What was your personal favorite episode of My Gay Roommate? 
NOAM: I love the pilot episode because it was the genesis of our story and format and set the tone for the rest of the series. But The Art of Manscaping was also a very memorable one, not least because I nearly destroyed my aunt and uncle's bathroom in the process. But… for art!
.
.
.
GRUEMONKEY: (Laughs). That must have been a fun experience. How was the sex scenes between you and Matthew, The Cowboy? 
NOAM: Here's the thing about sex scenes: they're not sexy to make! They are very carefully choreographed for camera angles and of course for actor comfort. Matthew is an absolutely wonderful actor and collaborator and a joy to work with. And though I'm thrilled with the results of our work I have far better memories of other scenes we did together 🙂 
.
.
.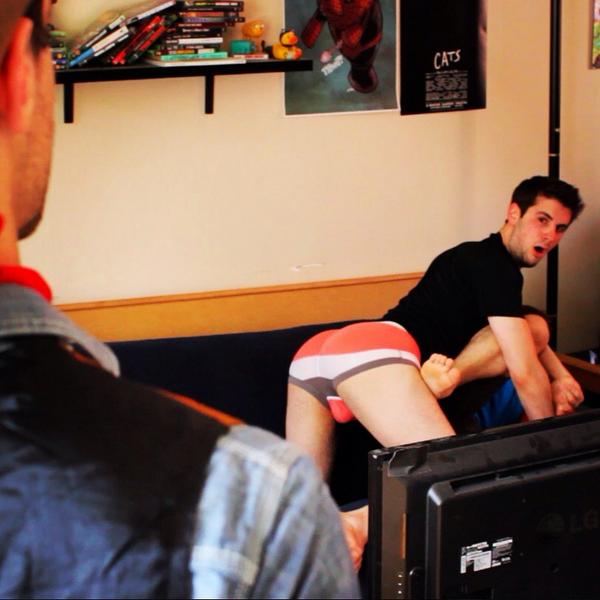 .
GRUEMONKEY: That's awesome. Glad you had fun on set with him. What age did you know you were Gay and how did you come out? There are still so many young people that are scared to come out. 
NOAM: I think I knew I was gay around 13 or 14, but didn't come out until I was 18, right before I went to college. For me it was a painless experience of simply telling my parents in a casual setting. I am extremely fortunate to have an incredibly loving and supportive family. I know that's not the case for everyone, but part of my hope with the MGR was to show a world where a person can be gay and it's never an issue. It's just one part of who they are. And that through showing that world we could help create it. And indeed over the years I've gotten so many message from young LGBTQ kids sharing that MGR helped them come out to their families and friends so they can live their lives authentically. To me that has been the greatest success of the show. 
.
.
.
GRUEMONKEY: I agree 100 percent. I'm happy you and your show helped a lot of LGBTQ Kids with their sexuality. Tell us about Cruise on The Influencers and working with such hot hunks like Joey Belfione, Mike Heslin, and Nicholas James Wilson?
NOAM: When Mike wrote The Influencers, he initially had a different role in mind for me, but when I read Cruise I had to insist. Cruise is the CEO of his own company. He's incredibly ambitious, intelligent and… odd. When I read the script I just found him so funny and off-beat in the most delightful way, I knew I had to play him. Getting to play someone who is a bit off their kilter is incredibly freeing because you don't stop yourself from making crazy choices. The Influencers  is the next show to come out of my and Mike Heslin's Well-Versed Entertainment and we can't wait to share it with you! 
.
.
.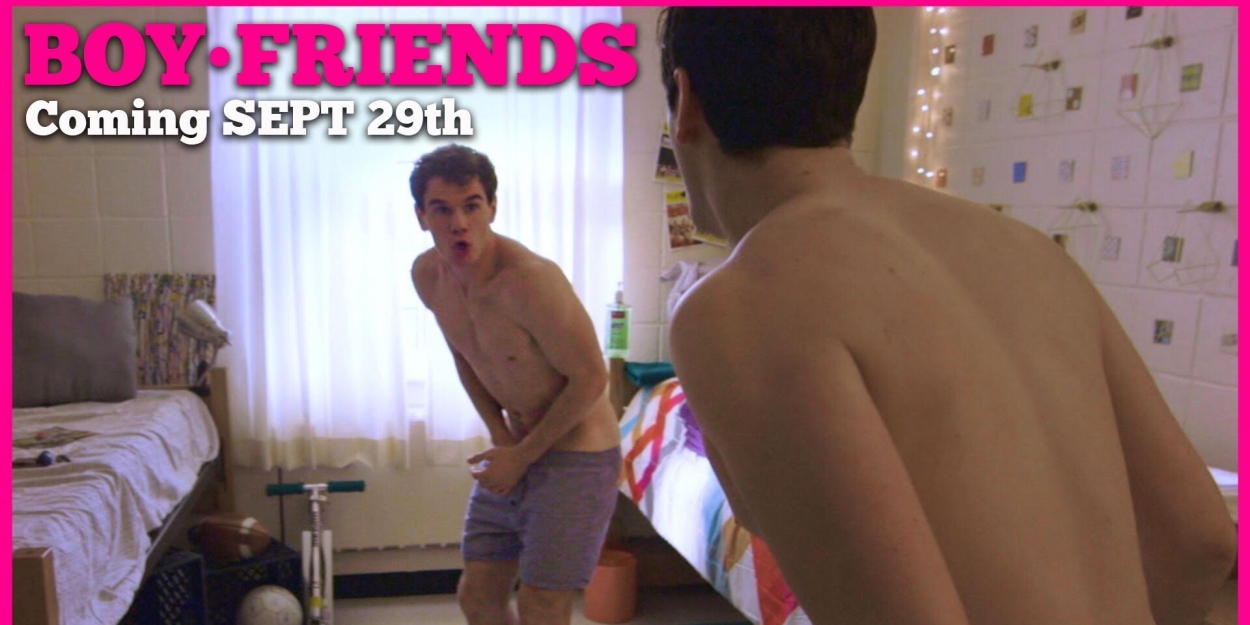 .
GRUEMONKEY: Nice! What is a Happy Yummy Chicken? (Laughs)?
NOAM: Happy Yummy Chicken is a super fun film I shot a few years ago with Taryn Manning and Diane Guerrero. You can watch it for free on Peacock!
.
.
.
GRUEMONKEY: Tell us about the new series Boy*Friends and being Nick again? 
NOAM: Boy•Friends is the new half-hour pilot based on the web series. Boy•Friends tells the story of two college roommates, one gay and one straight, and their journey through college and into adulthood to become the homo-hetero power couple of the ages.
The world of Boy•Friends flips social paradigms: being gay is not an issue, the jocks of the struggling Intramural Flag Football team are the underdogs while the a cappella singers are the popular kids, the women's rugby team is the drug-dealing muscle, and the ladies are always in charge. The show presents a modern and aspirational world where a gay guy and straight guy can just be friends. Best friends.
Getting to play Nick again was the most fun. Like coming home to an old friend. He's so hopeful, naive and fearless – ever the cockeyed optimist. I love him and always enjoy tapping into that special energy. 
.
.
.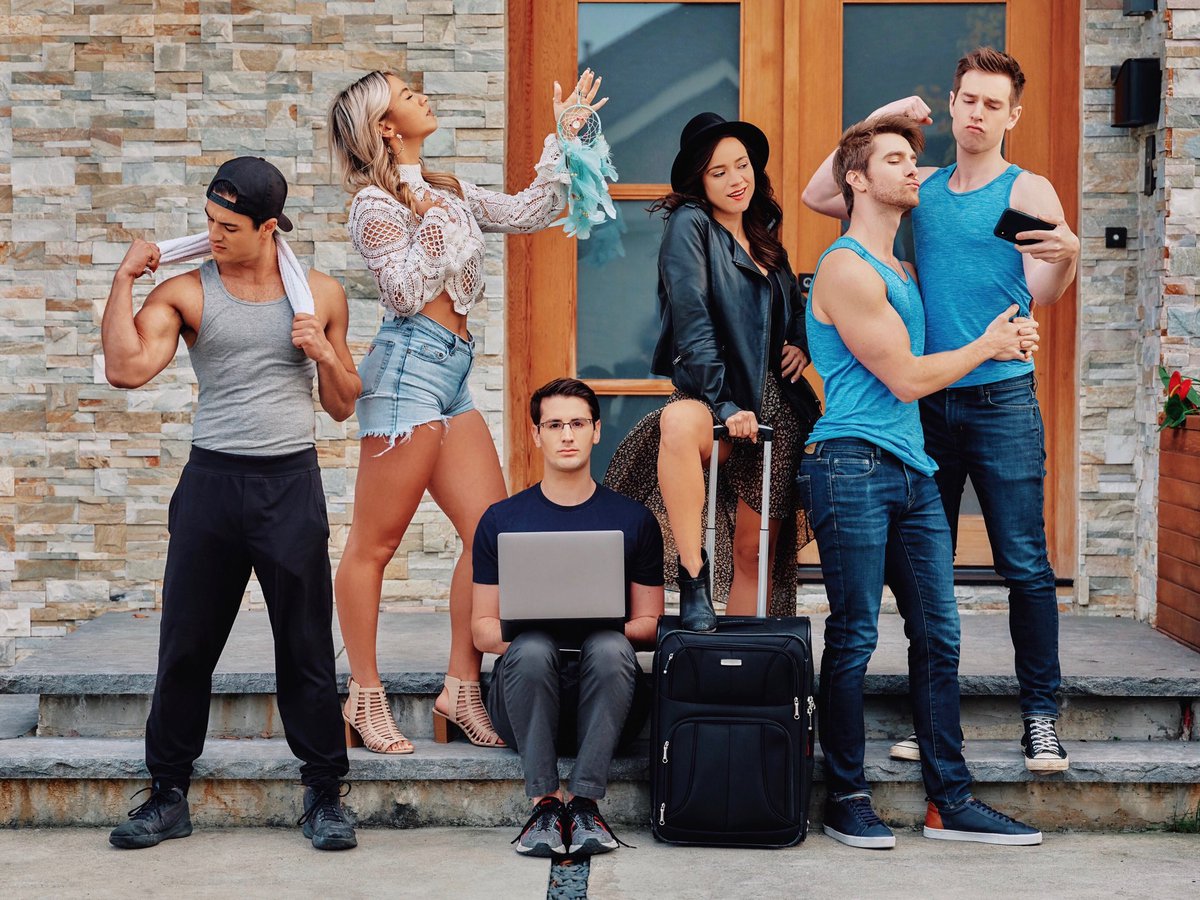 .
GRUEMONKEY: I'm so happy you make series like this. It helps the LGBTQ community out a lot to see more Gay themed shows being made. What's your favorite scene or moment from Boy*Friends? 
NOAM: The four days of filming the pilot were some of the most fun I have ever had so it's really hard to pick! I think the audition scene, while deeply embarrassing and uncomfortable, was nevertheless a highlight. It was so crazy and vulnerable, but I felt completely supported by the cast and our director, Darren Stein, even as they were reading me to filth (Laughs). 
.
.
.
GRUEMONKEY: Sounds like a fun time to me (Laughs). Any funny or cool behind the scenes stories you can share with us from the set of Boy*Friends? 
NOAM: We filmed the pilot in January but wanted it to look like fall. So even though it was freezing we dressed in light fall clothes. For the most part this was fine, but the night I had to film the scene running across campus in my underwear the temperature was well below freezing. So we had a system where there were PAs on each end of the running path with a warm blanket so I could do multiple takes running from one blanket to another without suffering hypothermia. That was pretty wild. 
Another cool moment was the fight scene at the party. Since we'd be getting wet we could only do one take. So we rehearsed with glitter several times before using the water. But then we ended up loving the footage with the glitter so much we used it instead! 
.
.
.
.
GRUEMONKEY: Wow, that's insane. It's good you didn't freeze to death (Laughs). Anything else you want to promote or discuss?
NOAM: You can catch me in the first episode of the third season of Absentia opposite Stana Katic on Amazon Prime, and of course stay tuned for The Influencers and more exciting projects to be announced soon from Well-Versed Entertainment. 
.
.
.
SPEED ROUND:
.
GRUEMONKEY: Celebrity Crush?
NOAM: Liam Hemsworth
GRUEMONKEY: Guilty pleasure movie or tv series you are currently watching?
NOAM: Selling Sunset
GRUEMONKEY: Who is currently on your playlist?
NOAM: Cardi B
GRUEMONKEY: Hidden talent or something fans might not know about you?
NOAM: I'm trilingual!
GRUEMONKEY: Favorite karaoke song?
NOAM: Super Bass
GRUEMONKEY: Craziest place you had sex?
NOAM: My armpit.
GRUEMONKEY: Boxers, Briefs, or Commando?
NOAM: Boxer briefs! 
GRUEMONKEY: Favorite junk food?
NOAM: McDonalds. So gross. But so good. 
GRUEMONKEY: Favorite Vacation spot?
NOAM: Cape cod
GRUEMONKEY: Single or Taken?
NOAM: Currently single.
.
.
---
.
.
https://www.youtube.com/watch?v=gBXGDn9egSk
.
.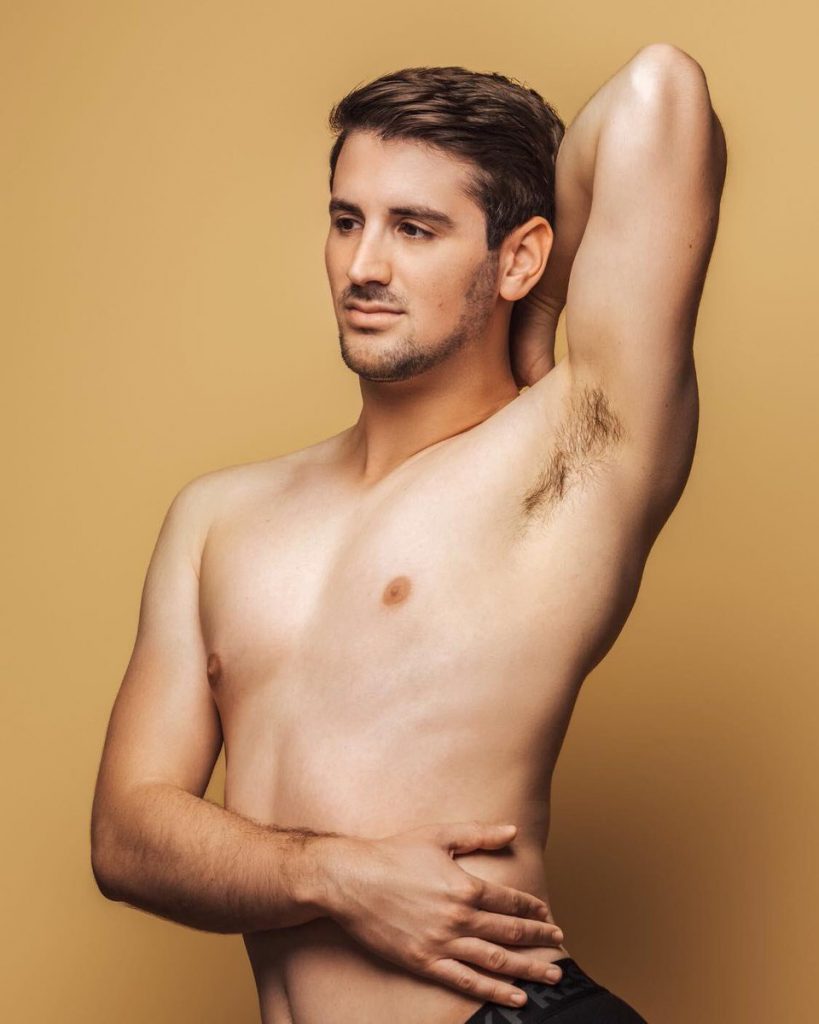 ---