Gruemonkey interviews Anthony Turpel (Love,Victor)!!
---
Gruemonkey interviews Anthony Turpel (Love,Victor)!!
---
Hello Grue-Lings,
  Very happy to be interviewing Anthony Turpel today. I loved Love Victor and he did an amazing job in it.
Anthony is such an amazing talented actor and very handsome. He was in two shorts called Zero Point and Culdesac. He was in numerous TV Series including: Comedy Bang! Bang!, Hendry Danger, Life in Pieces, Future Shock, A recurring role in The Bold and The Beautiful as R.J. Forrester, 9-1-1, No Good Nick, and of course Love Victor as Felix Weston. Anthony has such a bright future ahead of him and more roles in the future. The rumor around is that he will have a recurring role in season 2 of Love Victor. Here is our interview with Anthony Turpel:
.
.
---
.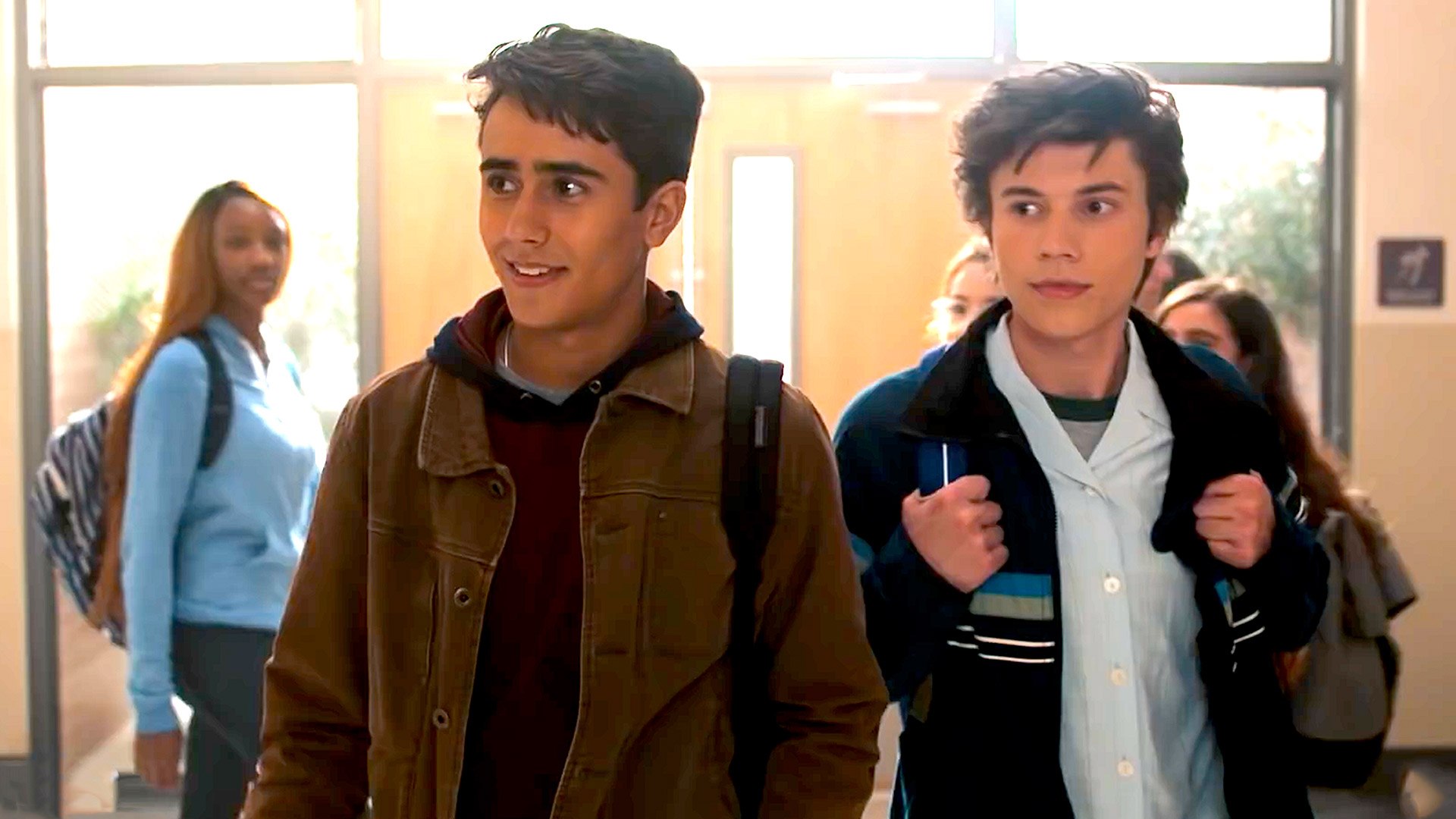 .
GRUEMONKEY: Welcome to Gruemonkey Anthony. Very happy to have you as a guest. What are your Top Eight (horror movies or video games)?
ANTHONY: Video games definitely. After Skyrim, it would have to be – in no particular order – Uncharted, Last of Us, Final Fantasy XIV, Until Dawn, Portal, Half-Life, and God of War.
.
.
.
GRUEMONKEY: Nice. I loved Until Dawn and Last of Us. Didn't really like Last of Us 2. Love Victor is so powerful about teens who are Gay and scared to come out. The experiences that Victor goes through happens to a lot of Gay Teens in High School. What are your thoughts on Love Victor and closeted teens who are scared to come out?
ANTHONY: To be able to relate to a story and not feel as alone I think is a super important message and the fact that we get to be a part of their lives and help them through it is an incredible honor.
.
.
.
.
GRUEMONKEY: That is a very important message. Why do you think Felix wanted to be friends with Victor so fast?
ANTHONY: Well Felix didn't have any friends to start with. I felt like it was an opportunistic moment for him. He saw a kid with no friends who just moved here and felt like this was his chance to make friends with someone starting from a clean slate.
.
.
.
GRUEMONKEY: That actually is a really good way to make friends. Find the new kid who just moved to town. Let's talk Felix and Lake. Your thoughts on the interactions and relationship they have with each other?
ANTHONY: The interactions with Felix and Lake are this kid who is lusting over someone who would never get with him in a million years. And with most people in Felix's life, the more time you spend with him, the more you start to understand what's so great about him. Lake and Felix are on opposite sides of the social spectrum. But even though Felix gets made fun of, he is beaming with confidence while Lake holds all of these insecurities. They find a way to support each other through the difficulties they're facing in their home life.
.
.
.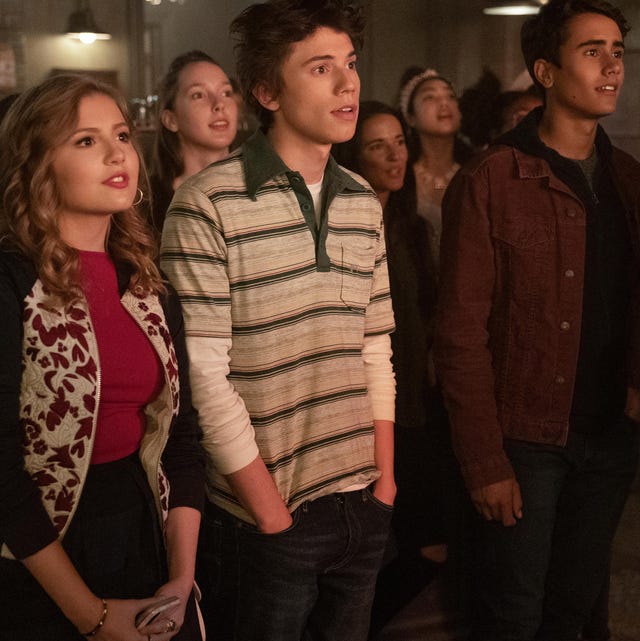 .
GRUEMONKEY: I really love the interactions of Felix and Lake. Bullying is horrible. Sadly it happens a lot in high school. How powerful was it for you to have Felix stand up to his Bully Andrew? I loved it.
ANTHONY: I think it was a really amazing moment for Felix. For so long he's been beaten down by Andrew and he's finally taking a stand. It was a really important moment for his arc and I think him starting to experience a relationship with Lake really gave him the confidence to stand up for himself.
.
.
.
GRUEMONKEY: Yes, that really did give Felix the confidence he needed. Your thoughts on the emotional scene of Victor coming out to Felix and thoughts on working with Michael Cimino?
ANTHONY: That was one of my favorite scenes to film. To even be a part of that was a privilege in and of itself. Working with Michael is always a joy, but that scene in particular was important to not only Victor's story but the show as a whole. I don't think Felix could've handled it any better.
.
.
.
.
GRUEMONKEY: Felix handled the coming out of his best friend really well. Favorite scene or moment of Felix?
ANTHONY: Outside of Victor's coming out scene, one of my favorites is in episode six where Felix gives a speech about an angler fish. I thought it showed his personality but also how sweet he can be! I also thought Felix showing Lake his apartment was such a huge deal because it showed Felix's most vulnerable side. And I'm not gonna lie…that nod to the Judd Nelson pose was just incredible.
.
.
.
GRUEMONKEY: Yeah, that's a terrific scene. Similarities between you and Felix and what drew you to Felix?
ANTHONY: Felix and I are both the type to geek out in eerily similar fashions. And we both try to be as loving and supportive as possible. The character as a whole was just interesting to start with. My last three roles, I played a serial killer, a criminal, and a spoiled rich kid. So it was great to play someone who's fun and lighthearted.
.
.
.
.
GRUEMONKEY: Being a Geek is cool. If you had the power to write what happens to Felix in Season 2, what would you write
for him and his relationship with Lake?
ANTHONY: I'd love it if this just slowly morphed into a new season of Firefly.
.
.
.
GRUEMONKEY: (Laughs). Nice. You played Will on No Good Nick. What was that experience like for you and working
with Melissa Joan Hart?
ANTHONY: Playing Will was one of the best moments of my career. Not only because I loved the show and character, but also I got to work with some of the most amazing actors I grew up watching like Melissa Joan Hart and Sean Astin. Melissa is an incredible human being and I wish to work with her again in the future.
.
.
.
.
GRUEMONKEY: As great as you are. I'm sure you will work with Melissa again. I heard soaps are a lot of hard work and long hours. Can you tell us what a typical process is like filming The Bold and The Beautiful?
ANTHONY: Think about filming a normal TV show but twice in the same day. That was Bold. We did 120 pages a day, two episodes a day. It was VERY fast-paced. You really have to be able to roll with the punches. And you get to work with these people who have been in this area for 30+ years. I had a lot mentors on set. And one of the people that helped me the most was Thorsten Kaye and I will always be grateful to him.
.
.
.
GRUEMONKEY: Wow, that sounds very hectic but also fun to work with legends. 93 Episodes on a soap is long. Congrats on that. What was your favorite episode and favorite scene of R.J. Forrester?
ANTHONY: Really any episode I got to work with the OG cast. I think it was such a learning experience and amazing time to be able to work with these legends. But specifically I'd have to say my second episode. I was sitting in my dressing room and I was up in five items. They came in and had changed the whole script and I had to have a whole page monologue prepared. We got on set at 4:55pm and they told me you had to finish the scene by 5pm. All eyes were on me and the pressure was on. I finished the scene at 4:59pm.
.
.
.
.
GRUEMONKEY: 1 minute before 5pm, wow. At least you got it done. Talk about pressure. What gaming systems do you own and what's your favorite one for hours of gaming?
ANTHONY: I have a PS4, Xbox 360, Wii, Wii U, GameCube, PS2, PS3, PC, Nintendo Switch, Nintendo DS…and I think that's it. Maybe more.
.
.
.
GRUEMONKEY: Wow, that's a lot (Laughs). I see your a gamer too. Anything else you want to discuss and promote?
ANTHONY: Watch Season 2. Watch Season 2. Watch Season 2.
.
.
.
.
SPEED ROUND:
.
GRUEMONKEY: Celebrity Crush?
ANTHONY: Kristen Schaal! She's SO funny and incredible. Definitely Ellie Kemper too. And Aubrey Plaza. Three is probably enough.
GRUEMONKEY: Guilty pleasure Movie or TV series you are currently watching?
ANTHONY: Guilty pleasure has to be anything by Neil Breen. And right now I'm watching The Boys which I'm loving.
GRUEMONKEY: Who is currently on your playlist?
ANTHONY: Steam-Powered Giraffe is my favorite band so ALWAYS them.
GRUEMONKEY: Hidden Talent or something fans might not know about you?
ANTHONY: I can click VERY loud. Like with my tongue. I've also got bumps on my wrists that stick out. When I was a kid I used to go up to people pretending I broke my wrists.
GRUEMONKEY: Role Playing game, Fighting game or sports game?
ANTHONY: Roleplaying 100%.
GRUEMONKEY: Favorite social media platform?
ANTHONY: Myspace. If anyone wants to follow me on there, it's just me. It's literally my space.
.
.
---
.
.
---