Gruemonkey's interview with Nick Topel (Fitness Expert)!!
---
Gruemonkey's interview with Nick Topel (Fitness Expert)!!
---
Hello Grue-Lings,
  Today we have a great guest. Fitness Expert and Actor. The sexy, extremely well built, Nick Topel.
Nick grew up in a small Ohio town where he pursued competitive swimming for 12+ years. It was this early involvement with sport which laid a foundation for the physique he brought to fruition in his later years. Nick went on to attend The Ohio State University and graduated with a degree in mechanical engineering focusing on advanced thermodynamics. During his time at OSU, he became a member of the ΣΦΕ Fraternity where he learned to flourish as a balanced man by giving equal emphasis to the curation of mental, physical and social health.
Nick is now recognized as a self-learned expert in the bodybuilding and fitness industries. He has trained and coached himself to professional status as a natural bodybuilder as well as trained a number of high profile clients and coached many through incredible fitness transformations. In 2019, Nick joined the Model Trainers personal training company – a group of elite fitness models and social media celebrities with a reach of more than 1.5 million– and expanded his personal training services worldwide.
Nick is also a professional cover model and entertainment personality. He has been featured in global publications such as All American Guys, Fantastics, the Men of Las Vegas, Mike Ruiz's Bullies and Biceps, and MASCULINE calendars. Garnering a spot on FitMediaChannel's "Top 10 Hottest Physiques in the World," Nick has also made guest appearances on BravoTV's "Watch What Happens LIVE!"with Andy Cohen and is an original season 1 cast member of FOX's "Ultimate TAG." Here is our interview with Nick Topel:
.
.
---
.
.
GRUEMONKEY: Hello Nick and welcome to Gruemonkey. Thank you for being our guest today. What inspired you to get into fitness, modeling, and being a athlete?
NICK: Hey Rocco, I really appreciate you bringing me on for some fun! I have always been an athlete at heart; baseball, basketball, wrestling, football, track, soccer – I did it all. Growing up I was a pretty successfully swimmer for 12 years and was actually recruited to swim D1 in college. Unfortunately, my senior year of high school I broke a vertebra in my low back and reevaluated my swimming career. I chose not to swim in college but was really missing that competitive atmosphere I was used to my whole life. At that time, I chose to get a lot more serious about the weight room and my bodybuilding career took off. I competed in the USA National Championships down in Miami, FL and did my first photoshoot with a photographer by the name of Luis Rafael. He put my images out there and the rest was history! I stuck with the bodybuilding and two years later, I went on to win my pro-card as a natural bodybuilder. My fitness and modeling careers have both been quite rewarding and very exciting.
.
.
.
GRUEMONKEY: Tell us about your experiences doing All American Guys, Fantastastics, The Men of Las Vegas, Bullies and Biceps, and Masculine?
NICK: These were all really fun projects to work on. I shot for these calendars and magazines early in my modeling career which helped lay the foundation for what I'm doing today. Mike Ruiz (shot me for Bullies & Biceps and Fantastics) and Michael Downs (shot me for AAG, Men of Las Vegas and MASCULINE) have since become good friends and mentors.
The Bullies & Biceps calendar was particularly a lot of fun. Mike Ruiz fly's in some of the best fitness models from across the world and produces a variation of this project every year. We all shoot for free to raise money to support local animal rescues. It's a cause that's been near and dear to him, and has become near and dear to me as well. It's a challenge to take the perfect photo with a real-life pup, but so worth it when you consider the impact it has on these animal's lives.
.
.
.
.
GRUEMONKEY: Tell us about your swimming and swimming competitions? You did it over 12 years, what did you like best about swimming?
NICK: Some of my best childhood memories are from the countless summer swim meets spent with my friends and family. As my swimming career matured, I began to focus on the sprint freestyle events. In high school, I was the captain of the swim team for two years, held two school records, and earned first-team All-America honors. Swimming is really a mental sport – our bodies aren't meant to survive in water and my years in the pool taught me patience and work ethic, but most importantly – time management. With these tools in my belt, I know I can accomplish the impossible. I'm not competitive anymore, but I try still try to get in the pool a few times each month for some cardio. Swimming for 12 years was one of the best things that ever happened to me.
.
.
.
GRUEMONKEY: You pride yourself at being a Natural Bodybuilder. What would you advice be to any guy who wants to follow in your footsteps and be a Natural Bodybuilder?
NICK: That's a hot topic! So many people think drugs are the secret to "success." Take my word for it… if somebody is selling you a shortcut that just seems too good with your health and wellness, it's not real.
People are really misguided when it comes to performance enhancing drugs and it makes me really sad. You don't just take steroids one day and wake up the next day a solid rock of shredded muscle. You have to know how to train, you have to know how to eat and how to recover properly first before any of that stuff makes sense – and it takes years to learn that.
There's a huge difference between stepping on stage at the world bodybuilding championships and working with an entire team of medical professionals who are constantly monitoring biomarkers in your bloodwork and administering pharmaceutical grade compounds, versus buying something illegal off the black market overseas, storing it in your fridge and following the advice from random info you found on a bodybuilding forum.
There's no shortcuts or substitutes for hard work. That stuff just helps you do even better what you're already doing… but if you don't know what you're doing – start there. I don't knock anyone for using steroids, eventually there might be a time and place, but it needs to be a well-informed decision. Take the time to learn and practice the fundamentals and you'll be VERY surprised with how far you can get.
.
.
.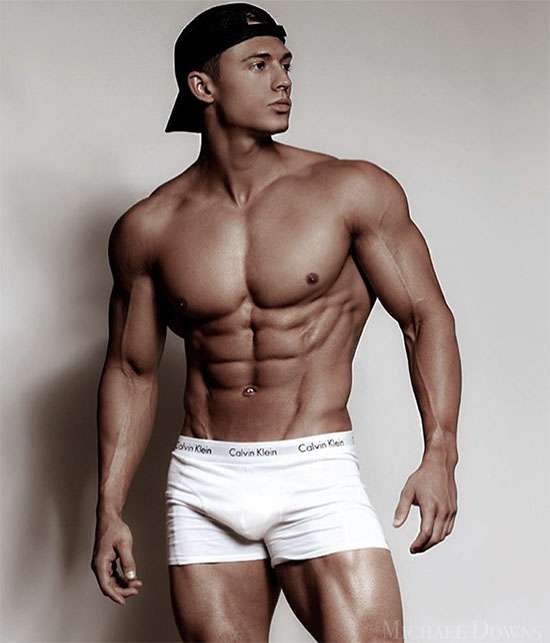 .
GRUEMONKEY: Tell us about your personal training and what Celebs have you trained?
NICK: My personal training company, The Model Trainers, has a pretty cool history working with celebs in New York City and abroad. I'll keep it high level but we frequently work with actors, television hosts, Fortune 500 CEO's, a few artists and even some US Congressmen. That's not to discourage anyone else from joining the team – Our online coaching programs are custom built to each client and we work with people across the world all with different goals and experience levels. Make sure to check us out here: themodeltrainers.com
.
.
.
GRUEMONKEY: What was your experience like being on Fox's Ultimate Tag and Bravo's Watch What Happens Live?
NICK: Working with BravoTV and FOX has been a lot of fun!
FOX flew me out to Burbank, CA and they put me up for a few days while we filmed the new show at the Warner Brothers Studio. The show definitely put me out of my element (as a bodybuilder I'm not too agile anymore), but it was incredible to see how a major production like that is filmed and put together. Really great people and I look forward to working with them again.
The team over at BravoTV is top notch. I've been on Watch What Happens LIVE with Andy Cohen a few times and it's always a hoot. I love the energy of New York City so I'm always eager to pop-in, even if it's just for a quick filming. I've got to meet some cool people through the show as well, like Bear Grylls, Kelly Blake and Megan McCain.
.
.
.
.
GRUEMONKEY: What does a typical workout of yours consist of and what kind of diet do you follow?
NICK: I usually ride my bike to the gym which is a nice 15-minute warmup. After I get there I jump straight into the weights and train for about 45-minutes. Once I'm finished, I jump back on the bike!
My workouts are always focused on big functional and compound movements. I start with heavy lifts then funnel it down to muscle specific isolation training to help carve out detail and work on any lagging body parts.
I try to keep it to 16-20 sets.
A great training split for most people is a Push, Pull, Legs repeated twice a week. Always make sure to include a full rest day in your weekly training.
My most recent leg day:
5×5 Barbell Squat
Superset #1
4×20 Dumbbell Walking Lunge
4×15 Box Jump
Superset #2
3×20 Barbell Front Squat
3×12 Alternating Reverse Cossack Lunge
2×20 Seated Leg Extension
5×15 Standing Smith Machine Calf Raise
.
.
.
GRUEMONKEY: What foods would you recommend someone to cut out and your thoughts on Plant Based Diets?
NICK: Successful dieting is an interesting beast. It's not hard to look great and see results, but it's really difficult to look perfect. For most people you don't need to look perfect, you just want to lose some weight and tone up. So, don't overthink things. Calorie balance drives everything – the first Law of Thermodynamics states that energy can't be created or destroyed, it only changes forms. So just focus on hitting the proper calorie balance and you're going to see encouraging results.
In terms of what foods to cut out – it's going to sound cliché, but all the foods you know you shouldn't be eating… yeah you probably shouldn't be eating them.
There aren't "healthy" foods and "unhealthy" foods per se – calorie and nutrient density will always drive your results — but there are definitely foods that are going to be better for you than others. Personally, I try to cut out most processed foods, grease, nitrates (think preserved lunch meats), refined sugars and white bread. These tend to take the polish off my physique and give me food cravings like none-other, plus they don't have much nutrient density.
Also, big one — make sure to stay well hydrated. Dehydration is often mistaken for hunger. If you're feeling hungry, have a few cups of water first.
My thoughts on Plant Based Diets? I don't love them, I don't hate them. Personally, I think you're going to see the best results from a well-rounded carnivore diet that involves red meat and fish a few times each week, but we have plenty of clients who are on plant-based diets and they do quite well. The thing with plant based is that since you're not eating meat, you're not feeding your body complete protein sources. So, you have to be focused on getting a variety of different plant-based protein to mix and match the amino-acids and give your body what it needs to stay healthy.
.
.
.
.
GRUEMONKEY: I read you do alot of charity work and help out people. What are some charities that you have helped out?
NICK: On a personal note, I volunteer once a week, usually on Saturdays when I'm not traveling, at Habitat for Humanity here in Columbus. I also volunteer my personal training and coaching services from time to time to the undergraduates of my old fraternity at Ohio State University.
Recently, I've been able to volunteer at my client Dr. Loren Wold's research lab in Columbus and help produce Corona Virus test kits for the state of Ohio.
Professionally, I've also worked with some awesome charity projects. Whether I'm just promoting or actually shooting in the calendar — I always support Mike Ruiz and his annual charity work to fund local animal rescues.
Whenever my team at Model Trainers hits the road, we always try to support a few local charities too. Our last trip to LA we held a fundraiser in WeHo for One Tree Planted – helping to support reforestation in California after the recent wildfires. We also attended the WildAid Charity Gala and auctioned off an Executive Platinum Personal Coaching Package to raise awareness for wildlife poaching in Africa and abroad.
Whatever you chose to do, it's important to share your wealth with the less fortunate — whether that's time, money, resources – or all three. That's how the world goes round.
.
.
.
GRUEMONKEY: You are the spokesmodel for Aronik Swimwear. How did that come about for you?
NICK: I wanted to work with Aronik for a long time! So, I finally got in shape and had one of my photographer friends take my photo in one of their swimsuits. We sent it off to the company, it got their attention and a few months later I was in Australia with the guys helping to shoot their next campaign. They are a good group of guys and I really believe in the company and swimwear.
.
.
.
.
GRUEMONKEY: What turns you on to a woman and turns you off from a women?
NICK: I've found I'm very much attracted to foreign women. The soft accent and overseas lifestyle has an element of mystery that I can't seem to get over!
.
.
.
GRUEMONKEY: What's your guilty pleasure?
NICK: My guilty pleasure is FOOD! Ask anyone who's been with me for more than a day and I eat A LOT. I'm a sucker for gummy bears… whenever I'm done with a big shoot, there's always a giant bag of Haribo gummies waiting for me at home.
.
.
.
.
GRUEMONKEY: Out of the places you visited whether vacation or touring for modeling, what are some of your favorite spots?
NICK: I lived in Rio de Janiero, Brazil for a few months. That city is absolutely wonderful in so many ways. Valencia, Spain is another one of my favorite places because of the food and culture. I'm looking forward to visiting both again when the COVID travel restrictions are lifted.
.
.
.
GRUEMONKEY: Do you like horror films and what are some of your favorite horror films and why?
NICK: I'm actually a giant teddy bear and horror films terrify me… (Laughs)! I took a film studies class in college that opened my eyes to critical film analysis. I think American Pyscho is one of the best horror films I've ever seen. Christian Bale is a great method actor.
.
.
.
.
GRUEMONKEY: Favorite songs and why?
NICK: I've got a pretty eclectic taste in music. I was in the choir for 8-years so I have an appreciation for symphony and choral music. Christmas is a great time for that! Cloudburst by Eric Whitacre is one of my favorites.
About once a week I'm jamming to some Disney throwbacks too – the old-school Tarzan, Mulan and Aladdin soundtracks are timeless.
Outside of that, I like EDM and old-school 90's punk and hip-hop. A few years ago I saw Blink-182 in concert at the Olympic stadium in Munich, Germany so I've got that sensory connection to their music. On that same trip I also saw Marshmallow perform on the beachfront in Barcelona, so whenever his music comes on it takes me back to wild nights in Spain.
Tiesto, Martin Garrix, Avicii, Diplo and Calvin Harris have all been on my playlists recently.
.
.
.
GRUEMONKEY: Hidden talents or something fans don't know about you?
NICK: I think this surprises people, but I'm actually pretty shy in person. I have a degree in mechanical engineering and I like to do the Rubik's cube when I'm nervous. I spend a lot of time figuring numbers and trying to optimize my life.
.
.
.
.
GRUEMONKEY: Anything else you want to discuss or promote?
NICK: I've been fortunate to build a successful career with my body. Now, my focus is to give-back, coach and share my experience with others through my personal training company, Model Trainers. We have an absolutely stellar online coaching program that services hundreds of clients across the world. If you're in the market for a personal trainer, one who actually practices what they preach, check us out at modeltrainersnyc.com and let's get started!
.
.
GRUEMONKEY: Thank you for this interview sir. 
NICK: Thanks for having me.
.
.
.
.
.
---
.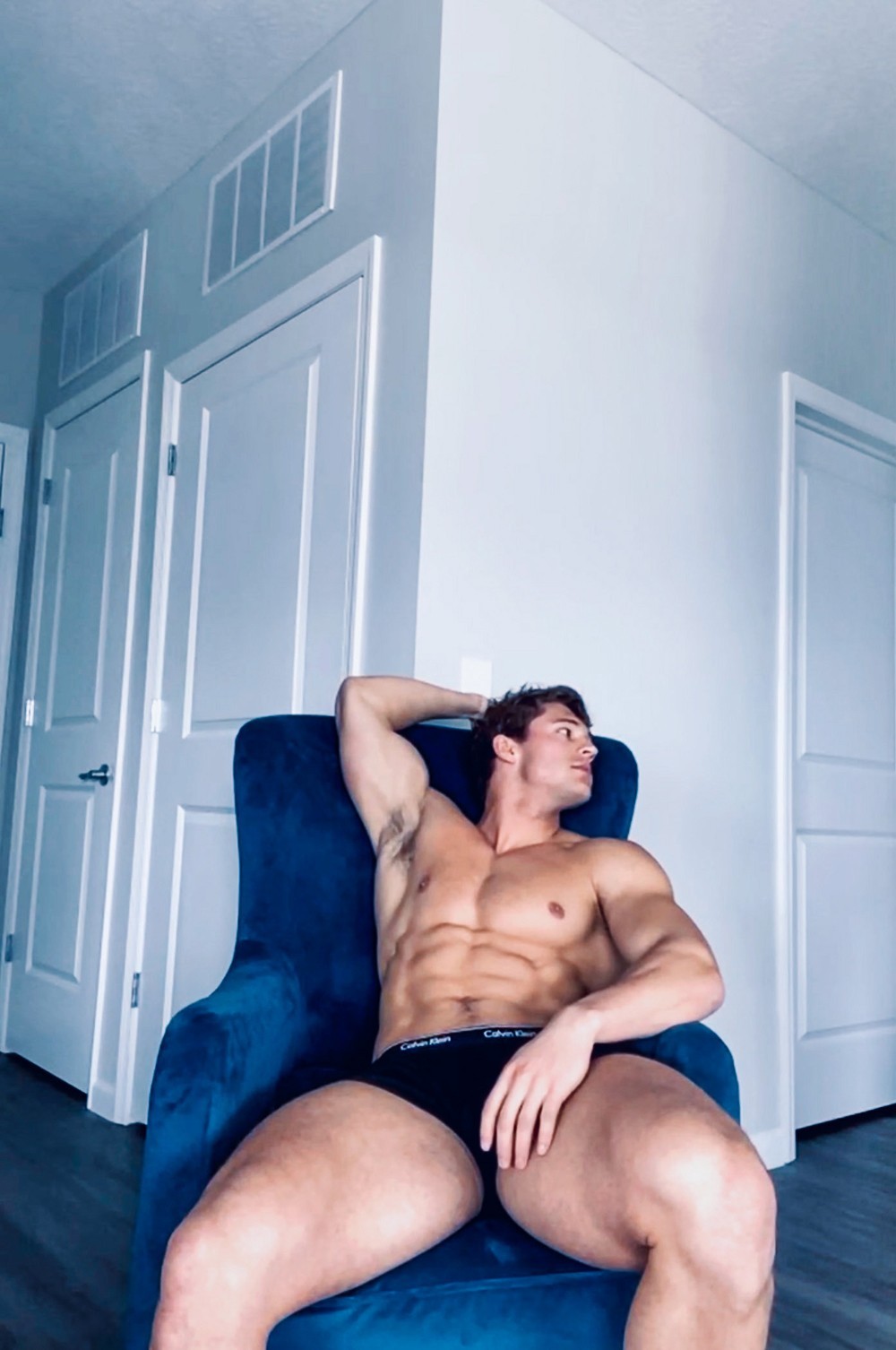 .
.
---