Gruemonkey's Interview with Aeon Cruz (Monster Force Zero)!!
---
Gruemonkey's Interview with Aeon Cruz (Monster Force Zero)!!
---
Hello Grue-Lings,
  Today we have a very special guest musician and actress, the star of Monster Force Zero, Aeon Cruz.
Aeon grew up a pop, modern and hula dance performer in local festivals, parades, home town halftime shows and as a competitive gymnast. She appeared dancing and cheer-leading in the 'Walt Disney World Super Bowl XXV Halftime Show' in Tampa, Florida. In high school she was in drama club, acting in school plays, and on the competitive dance team. She learned the bass guitar and formed her first band, Iudiu. After graduating high school, Aeon attended college to study performance and visual arts. She's had training in theater, voice, dance, bass guitar, martial arts, painting, photography, glass blowing, welding and fire. After completion of school she moved to Denver, Colorado to form her next music project, Audioflux, and later joining Glass Delirium. She has recorded two albums; 'Diamond Lullabies' and 'Honey Blood', with Glass Delirium. After the band's break up, Aeon joined the band Motograter as their bassist, completing two US tours and performing at music festivals around the country. Aeon has appeared in and on the covers of numerous music, art, alternative magazines, publications and websites. Melding her love for art and cosplay, motorcycles, cars, horror films and music into her unique art. She took to her first film role as the lead Amanda Shore in the zombie film Ravenous You're the Main Course (2013) and also appeared on the soundtrack playing bass and singing backup vocals. Recently appearing in the rock n' roll feature Stadium Anthems (2018) as Steph; the lead guitar player, where she recorded bass and back up vocals on the soundtrack, and in the comic book sci-fi film Monster Force Zero (2019), where she performed her own stunts. She co-produced and hosted the first season of the TV series The Drink (2017) on ASY TV. Aeon has one daughter, Aeona Cruz, who has appeared in numerous films with her, including Ravenous You're the Main Course (2013), Hope (2016), as well as Mesa Lake (2017) and Too Sweet with Aeona Cruz (2017), which were both also co-produced and directed by Aeon. Their YouTube channel, Candy Grenade, in which they create various promotional films and shorts, includes their version of the iconic Coca-Cola commercial 'Teach the World to Sing' featuring their dog Sammy Pants. She resides in California.
Aeon stars in Monster Force Zero and has a couple films in post production and filming including: Sinners Inc, The Initiation, and Boulder Buddz. Here is our interview with Aeon Cruz:
.
.
---
.
.
GRUEMONKEY: Hello Aeon. Thank you so much for being a guest today on Gruemonkey. 
AEON: Thank you so much for the interview!!! 🙂
.
.
.
GRUEMONKEY:  I would like to know what your top 8 favorite horror films are? 
AEON: Thank you for not saying my favorite, cause I don't know of just one I could pick! I love the 'Paranormal Activity' series, 'Hellraiser' series, 'Wes Cravens New Nightmare', 'Cabin in the Woods', 'Frontier(s)',' House of Wax', 'Oculus' & 'Mirrors'  
.
.
.
.
GRUEMONKEY: Very good choices. I see your also a model and rock star besides actress. How did you get involved in both modeling and rock music? 
AEON: I joined my first band Iudiu when I was in high school. My boyfriend at the time played drums for them and my friend from high school played guitar. I was always at the practices and it didn't take long for me to ask to be the bass player since they needed one anyways. I asked my friend to teach me the bass and if I sucked then I wouldn't bug them to play anymore and they could fire me and I'd totally understand. I guess I didn't suck and I picked it up pretty quickly. A few years later I started modeling while I was working as a nightlife photographer in Vegas. A website I was shooting for had us do monthly photo shoots for promotions. It was fun. When I moved to Denver and started playing in a band I understood the importance of photography as a means to promote the music and shows. I really enjoyed dressing up and creating through photography so just kept networking with photographers and creating art.
.
.
.
GRUEMONKEY: That's awesome! Do you still currently do music and still part of Metal Maidens?
AEON: I still play bass but am not currently with a band. I had been so busy with film that tour wasn't possible. Now the way the world is, there's not really been any film or tour possible. I filmed a small part in the film 'The Initiation' during quarantine. It's a horror film that stars Vernon Wells and Richard Tyson, which will be released in 2021. The world is a really different place right now, everything has been on hold. And I'll always be a Metal Maiden! I love what they stand for and all those chics are badass, especially Amy. I love her 🙂
.
.
.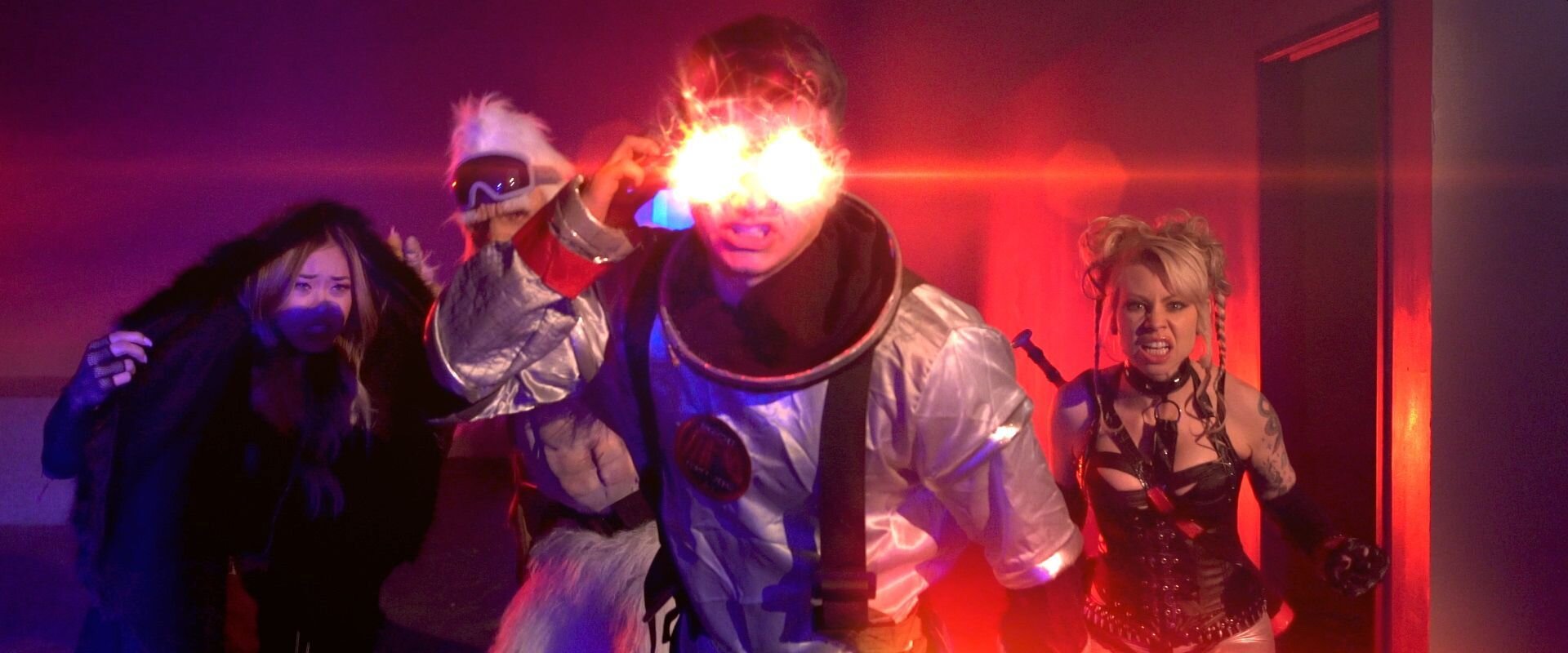 .
GRUEMONKEY: That sucks you had to stop filming that horror movie. Let's talk Monster Force Zero. How did you get involved with this film? 
AEON: I saw the casting for 'Monster Force Zero' and it mentioned cosplay, sci-fi and the 80's and I knew I had to be a part of it. So I went out for an audition.
.
.
.
GRUEMONKEY: Tell us about your character Ammorama and what the film is about?
AEON: 'Monster Force Zero' is about a group of sci-fi cosplayers who are granted super powers and transported to the multiverse to do real battle with evil alien forces bent on earth's destruction. 
I play

Ammorama

, the comic book's artist. I'm pretty high strung, stressed out from traveling from convention to convention trying to promote and sell our comic with very little success. I don't trust anybody except my best friends, A.I and

Kadabra

, and I am very

defensive

when it comes to protecting them. 
GRUEMONKEY: I love your character. You really kill it! I actually did a wrestling match with your co star Pat Tanaka. I'm a wrestler too. How was working with Pat Tanaka on set like? 
AEON: I'd love to see that match! Pat is awesome! He was very prepared and professional on set, very easy to talk to and work with, and a good storyteller. 
GRUEMONKEY: I'll look for the match and send it to you. Favorite moment or scene from the film involving your character? 
AEON:
I loved all the fight scenes. That was a lot of fun to film and exciting getting to learn and work with the stunt coordinators on. I felt pretty

badass

getting to kick so much ass. I also really enjoyed filming at Galaxy Fest. Being there filming, surrounded by

cosplayers

and comic book enthusiasts was the only thing that could make a comic-con any better. It was like 2 of my favorite worlds merging into 1 awesome event. And the party scene.. Cause I like to party.
GRUEMONKEY: That sounds like such an amazing fun time. So cool. You are really cool. Any funny or cool behind the scenes stories you can share with us that happened on set for Monster Force Zero?
AEON: The cast and crew was absolutely amazing and fun to work with. Some of the actors I had worked with before on other projects, but there really was so much chemistry between us all right away. I loved coming to set and being on camera and off camera, it was always fun. While filming the party scene, there's a ton of people there, we're all dancing and all the

cosplayers

and

furries

were there. The fog machines are going to where you can't really see your hands in front of your face and the lights flashing and we were having a great time. Then the fire alarm started going off and they had to evacuate everyone from inside. Fire department came and everyone was just outside talking, laughing, taking

selfies

. It was pretty exciting! That was one of my favorite scenes filming as well as watching in the film.
GRUEMONKEY: I wish I was on set. Sounds like one big party (Laughs). You are no stranger to horror. Your very first horror film was a zombie film called Ravenous. You claim the old abandoned hospital you filmed at was really haunted. Tell me about that? 
AEON:
It was haunted!! It was so scary there! Walking in you could tell. It felt weird to be there, that creepy

someone's

watching you vibe,

something's

 here. We all felt it. One room had a

tv

in it and it was unplugged, but it turned on somehow. Plus a wheelchair we had outside, on a flat ground, rolled to the middle of the parking lot when we were out there. The producer and cinematographer, Eric Smith, got photos of 2 ghost figures, the TV and 3 light anomalies. 
GRUEMONKEY: I love that kind of stuff. I would really love to see the pics of that. Wow!! Did anything on set scare you while filming The Warning? 
AEON: The whole idea of 'The Warning' is pretty scary. It's actually based on the true Satanic Panic in Colorado Springs. One scene we filmed in the middle of the night in the woods, in the Black Forest. It had recently been on fire so everything was all dead and black. We couldn't see much except right where we were. I think the woods at night are pretty scary anyways. There were masks.. cloaks.. fire. 
GRUEMONKEY: WOW, That sounds freaky and scary. Awesome!! You were in Terror Tales with horror legends like Felissa Rose, Lynn Lowry, and Ari Lehmann. Did you get to interact with any of them and if so, how was it?
AEON: Unfortunately, I didn't get to work with them on 'Terror Tales'. I met Lynn when we were both guests at Colorado Horror Con in 2015. She is a sweetheart. She was super great with my daughter, who was small at the time and super excited to be there and wanting to hang out at her booth. Ari and I first met at Mile High Horror Film Festival that same year. I was there interviewing guests for my show and he was a guest, although we didn't get an interview together that weekend due to scheduling. Later that year we were both on Paranormal Palace, Colorado's largest Halloween party. He was judging the costume contest and I was performing. We got some time to chat and share some candy. He's pretty funny, super cool guy.
GRUEMONKEY: That's cool you still got to meet and hang with them at other events. What did you like best about filming Terror Tales?
AEON:  I'm all about the 80's and horror, so say those things and I'm in. In 'Terror Tales' my daughter and I got to film together, which usually doesn't happen. We usually get separate scenes, not connected characters, so that part was super rad. And we dressed up like 80's freak fans, which was a blast.
GRUEMONKEY: Woman after my own heart. I'm all about 80's and horror too. Anything else you want to promote or discuss? 
AEON:'Monster Force Zero' just got released on Video on Demand, and can be found on Amazon, YouTube, Xbox, Google Play, Fandango, Dish, Vudu, Comcast, Cox, Fios by Verizon and VuBiquity. Pre-Orders of the DVD are being sold on Amazon now as well and will be released on December 15, 2020. Please Like and Leave a Comment on the platform you watch it on if you enjoy it, that would be much appreciated, as it helps us all!! There's also some cool merch, including a fun Ammorama shirt and the badass soundtrack by 20Six Hundred up on the Facebook page: https://www.facebook.com/monsterforcezero
'The Warning' is also up on Amazon. 'Army & Coop' was an official selection at the 'All The Laughs Comedy Awards' in Atlanta Georgia this month and will be released on other platforms, so stay tuned for that. Please support indie film!!! 
You can also follow me on

Instagram

/

Facebook

/Twitter and let me know how you like the films, I'd love to hear what you think! 🙂
..
Speed Round:
Guilty pleasure movie or tv series you are currently watching?
Right now I'm deep into 'How to Get Away with Murder' and just started 'The Walking Dead', which I think I'm the last person on earth to
watch.
Who is currently on your playlist?
I'm all about Lin-Manuel Miranda, I think he's brilliant. So been listening to the Hamilton soundtrack a lot, as well as Classic Rock n

Roll's

Greatest Hits, Bob Marley, Classical and Enrique

Igesias.
Favorite karaoke song?
Vanilla Ice: Ice Ice
Baby.
Hidden talent or something fans might not know about you?
I grew up as a dancer and a gymnast. I love performing. I'm also a singer and an artist, very Aquarius. My favorite color is yellow- although I'd probably never drive a yellow car, unless it was a school bus converted into a house, which I would happily live in, but I'd probably still paint it.. I have a daughter who is also an actress and a dancer and she named her brother, as well as her 2 cats after characters from The Vampire Diaries. Our dog's name is Sammy Pants Potatoes. His first horror film in the theater was Halloween.
Who are you dressing up as for Halloween?
I have no idea!! This is the first year we don't have plans. Might just binge watch horror films in a cozy Freddy sweater and eat all the candy. Particularly Butterfingers, Kit

Kats

and chocolate bars. Maybe make some spooky cookies with frosting and sprinkles. I love sprinkles.
Favorite vacation spot?
I want to go back to Prague and Germany and see more of Europe. We were lucky enough to get to visit when we were out during the fall to support Monster Force Zero at the Berlin Sci-Fi Film Festival. I fell in love with it there. The Christmas markets were just opening up and we got to ice skate around Neptune's Fountain. I want to be there when it snows and see all of Europe.
---