Gruemonkey's interview with Charles Band of Full Moon Pictures!!
---
Gruemonkey's interview with Charles Band of Full Moon Pictures!!
---
Hello Grue-Lings,
  Today we are very excited for our guest. He is the Undisputed Horror King. He is Full Moon Features own Charles Band. For those of you who don't know who Charles is, here is a fast recap:
Having produced and directed more horror films than anyone else in history, Full Moon Features' founder Charles Band, is the undisputed master of horror. His films helped launch the career of many of Hollywood's biggest stars including Demi Moore (PARASITE), Helen Hunt (TRANCERS), and Viggo Mortensen (PRISON), to name a few. BTW, Charles was babysat by Marilyn Monroe and is the man behind cult classics such as Puppet Master, Subspecies, Demonic Toys, Trancers, Evil Bong, Gingerdead Man, and so many more!
In 1977, when no one in the industry shared his vision that home video was "the shape of things to come," Band founded MEDA Home Entertainment, a company that became one of the original independent video distribution operations in America. His foresight and unwavering commitment to this marketplace helped pave the way for the colossal home video boom to come. Previous to Full Moon, Charles and his father Albert Band headed Empire Pictures, which produced Ghoulies, Re-Animator, The Dungeonmaster, Dolls, Troll, Robot Jox, and many more.
Here is our interview with the man himself, Charles Band:
.
.
---
.
.
GRUEMONKEY: Hello Charlie.  Thank you so much for being our guest today on Gruemonkey. Huge fan. We appreciate this.
CHARLES: Thanks for having me!
.
.
.
GRUEMONKEY: Let's start out by asking you what your top 8 favorite full moon horror films are?
CHARLES: Sure! In no order, PUPPET MASTER, TOURIST TRAP, HEAD OF THE FAMILY, TRANCERS, KILLJOY'S PSYCHO CIRCUS, MERIDIAN, DOLLMAN and DEMONIC TOYS!
.
.
.
.
GRUEMONKEY: Love all those films you mentioned. You started out with your dad for Empire Pictures. Producing classic horror films such as Ghoulies, Re Animator, Dolls, and Troll. What was the most fun experience you had with Empire and your favorite horror film you produced with Empire?
CHARLES: Well, I actually started making movies long before Empire! In the 60's in Italy, where my family lived and my dad made movies, I was just a bambino and starred as Steve Reeves' son in on of my dad's gladiator movies! And in the 70s, I really got my start making movies like MANSION OF THE DOOMED and TOURIST TRAP, moving into the 80s with stuff like PARASITE and METALSTORM. I started Empire to see if I could produce AND distribute my own films and it worked great! My father often worked with me and was always around for me to bounce ideas off of. I still miss him terribly. As far as fun experiences, there were too many to cite though when we had our studio in Italy on the Dino De Laurentiis lot, it was a wild trip every day, making movies like FROM BEYOND, TROLL, CRAWLSPACE and more. Great days!
.
.
.
GRUEMONKEY: Must have been an amazing time living in Italy filming horror movies. Tell us how you got involved and started Full Moon?
CHARLES: As Empire started to to decline in the 80s and I sold it off and the film business started to change – again – I decided to target the direct to video market with Full Moon. I locked an unprecedented distribution deal with Paramount, who wanted plenty of content, and our first film was PUPPET MASTER in 1989. We had a monopoly on the video store scene back then and when that started to wind down, we kept changing and adapting and ebbing and flowing. And we're really on fire these days, with tons of new movies, our streaming channels and merchandise.
.
.
.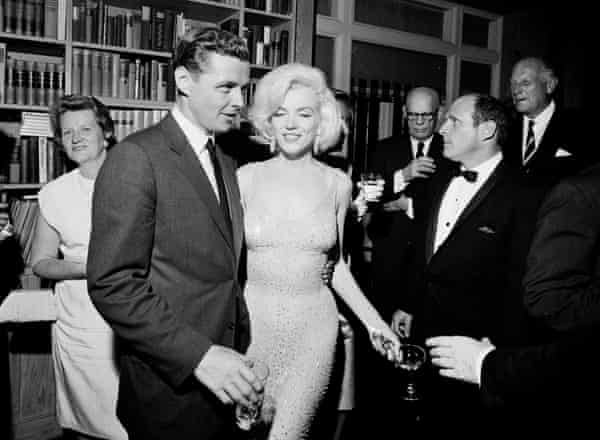 .
GRUEMONKEY: I love everything Full Moon is doing. The streaming channels rock and some really cool merchandise. How's it feel that you helped launch careers of legends such as Demi Moore and Helen Hunt and getting babysat by Marilyn Monroe?
CHARLES: Well, I do pride myself on being able to spot talent. It's in my blood. I was raised in movies and I watched my father and his colleagues – among them Marilyn, yes! – and learned. Demi was fantastic in PARASITE and I knew she'd have a huge career. Same with Helen in the TRANCERS films.
.
.
.
GRUEMONKEY: Parasite and Trancers are two classic films. Out of all the films you made for Full Moon, is there any funny or cool behind the scenes stories or story that stands out to you the most that you can share with us?
CHARLES: I was on the set of Trancers, we were shooting nights. I was also putting in full days at our offices – so basically no sleep. One night, at the top of a building in Chinatown we were setting up for a complicated shot with a full crew and stunt men standing by when I must have gone into a deep sleep standing up…then there was some noise that woke me up and I yelled, with all the authority vested in me as the director and producer of the movie, ACTION!!! – Of course everyone was still setting up the shot and I looked like a dork…anyway I realized after that episode that my plan of working during the day and shooting at night was not wise! 
.
.
.
.
GRUEMONKEY: That is too funny (laughs). My favorite Vampire Horror film are The Subspecies series. And my favorite Vampire is Radu. How did you come up with Subspecies and what's your favorite scene in the Subspecies series?
CHARLES: There are so many cool scenes in the first 3 features! Probably every time RADU is on screen!
.
.
.
GRUEMONKEY: Yeah, me too. I love Radu. How was it like working with Radu himself, Anders Hove?
CHARLES: Anders is a total pro and a really great dude. And I really do think his reading of Radu is one of the screen's most charismatic vampires of all time.
.
.
.
.
GRUEMONKEY: Yes, I agree! Did you ever think Puppet Master would become as popular as it is with numerous films and spin offs like Blade?
CHARLES: No! It's the franchise that refuses to die and we literally built our empire on its fame and fanbase. I learned long ago – making movies like GHOULIES and DOLLS – that diminutive monsters strike a chord with fantasy and horror film freaks. And truly, we knew we had something unique and very special with PUPPET MASTER, from the mythology we built, to David Allen's brilliant stop motion animation work, the individual personalities of the puppets themselves, my brother's music, David's direction…it all just clicked and we've had a blast reinventing and expanding that universe for over three decades!
.
.
.
GRUEMONKEY: Such a classic film series. Would you think you did a bad hit of Weed if your bong start talking Evil to you and you saw a talking Gingerdead Man walking by you?
CHARLES: Well, I'll tell you a little secret, but don't tell anyone – I don't really smoke weed! Never really was into it. Not my scene. I think weed movies are hilarious, though! And hey, I see evil bongs and talking gingerdead men all the time…and it's awesome!
.
.
.
.
GRUEMONKEY: (Laughs). That's awesome!! Your thoughts on getting Gary Busey to do The Gingerdead Man and working with him?
CHARLES: Just got lucky he was available!
.
.
.
GRUEMONKEY: How do you feel Full Moon has shaped Indy Horror?
CHARLES: I've always embraced the indie spirit in all that I do. Even though Full Moon is pretty famous and has a huge, multi-generational fanbase, we're still kinda underground. We've never really compromised or sold out to the majors. Even when we had the Paramount deal, we were doing our own thing. Always have. And our films have a branding, a sensibility. You know what you're gonna get with Full Moon and the hundreds of movies and endless toys and iconic imagery has shaped and inspired countless fans and filmmakers. I've seen our influence out there. I mean, look at the contemporary success of stuff like ANNABELLE…evil dolls, man. People love them. And we've made an industry out of that! AND we got there FIRST!
.
.
.
.
GRUEMONKEY: Evil toys and dolls are very creepy. You did inspire films like Annabelle. Tell us about Full Moon Streaming and Horror Television?
CHARLES: When the video store died, it went to streaming. First to sell through, then to streaming. And we were very fortunate that we own most of our library, including all the film elements. So it was a no brainer to re-present these titles on what was originally called Full Moon Streaming but is now the bigger and more badass Full Moon Features. On FMF, and our Full Moon Amazon channel, we've been releasing HD versions of our classics, soft erotic stuff from our Surrender Cinema line, gems from our family imprint Moonbeam as well as HUNDREDS of awesome cult and exploitation films from all kinds of other libraries like Blue Underground, Severin FIlms, Something Weird Video and dozens more. We've also been on a roll releasing TONS of incredible European horror and exploitation stuff direct from Italy and France, movies like NAKED GIRL MURDERED IN THE PARK, ORGY OF THE LIVING DEAD and HOUSE OF CRUEL DOLLS – all uncut and in HD and many of which have NEVER been released here on streaming or any format at all in North America! People want content and with FMF, they want it wild and weird and we have made it our mission to supply it in spades. THE GUARDIAN in the UK said our channel was the closest thing to replicating the grindhouse experience and I agree.
.
.
.
GRUEMONKEY: I love Grindhouse and Exploitation horror films. Can you tell us about The Deadly Ten and how fans can watch it?
CHARLES: The Deadly Ten was our insane experiment to grab 10 awesome Full Moon directors and give them the space to create 10 amazing genre films around the world AND live stream the productions for FREE to the D10 site for fans to watch. It was one of the most ambitious projects I've ever mounted. We managed to get Danny Draven's WEEDJIES, Chris Alexander's NECROPOLIS: LEGION, John Lechago's BLADE: THE IRON CROSS and Lindsey Schmitz's FEMALIEN: COSMIC CRUSH in the can before BLAMMO – COVID came and killed everything! We had movies set to shoot in Europe but that got leveled and seeing as we have no idea as to when the world will stabilize, we have no idea when we can re-start the productions. So in the meantime, I'm in the process of launching a side series of almost 20 small horror and exploitation film productions to be shot safely and with small crews working within the parameters of the pandemic. We're starting those now. More on that coming soon. In the meantime, as soon as this craziness hit, I mobilized and made CORONA ZOMBIES, the super controversial comedy we shot literally the day the lockdown in LA happened! It was a hybrid of the Italian gore classic HELL OF THE LIVING DEAD, dubbed as a Corona comedy and spliced together with new footage and it was a notorious international hit. The "coronasploitaion" formula worked well enough for us to blast out TWO more of these pictures – BARBIE & KENDRA SAVE THE TIGER KING and BARBIE & KENDRA STORM AREA 51, both which are insane, innovative, hilarious and made TOTALLY within weeks in and around the quarantine and employing dozens of artists. Nothing will stop us until, well, until SOMETHING stops us!
.
.
.
.
GRUEMONKEY: Any home tips you can give us for having a spooky Halloween during covid?
CHARLES: YES ! Stay home with your boyfriend or girlfriend or spouse or all of them and watch Full Moon Features! And wear a mask (preferably one of our awesome Full Moon facemasks which are on sale now at FullMoonDirect.com!)
.
.
.
GRUEMONKEY: I actually ordered my Full Moon Masks. Can't wait to wear Radu, Castle Freak, KillJoy, and The Gingerdead Man. How does it feel being The Undisputed Master of Horror?
CHARLES: Well, I know for sure that having made over 300 monster and horror movies that I'm a master at MAKING horror movies! The most prolific horror film producer/director in history, I think! And I'm proud of that. You know, a long time ago, I realized that the process of waiting for a movie to get made wasn't for me. Instead, I've just dove in. Sit around and wait years to make a single picture? Forget it! I'd rather make 10 smaller pictures that make people happy every year!
.
.
.
GRUEMONKEY: Anything else you want to discuss or promote?
CHARLES: Our killer Halloween sale is blasting out this weekend at FullMoonDirect.com and we have enough insane deals to keep you bathed in movies, merch, magazines and more for months! Get shopping! And please, do yourself a favor – sign up to our channel at FullMoonFeatures.com. It really is the true alternative to the mainstream world of NETFLIX and it just gets better and more packed with coolness every single day. PLUS, if you sign up for a year subscription, we're giving you a FREE PUPPET MASTER Blu-ray box set worth over 100 bucks. You can't lose!
.
.
.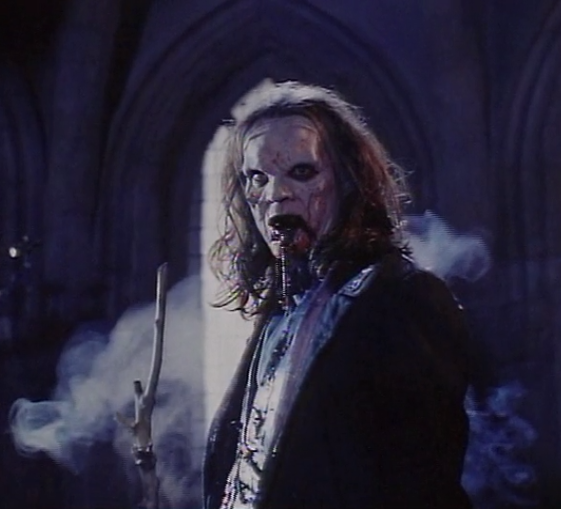 .
SPEED ROUND:
.
Guilty pleasure movie or tv series you are currently watching?
Better call Saul
Who is currently on your playlist?
Lana Del Ray
Hidden talent or something fans might not know about you?
I can cook!
Favorite vacation spot?
Anywhere in Italy!
Who are you being for Halloween?
.
.
---
.
.
---