Celebrity Picks: Joey Ambrosini
---
Celebrity Picks: Joey Ambrosini
---
Hello Grue-Lings,
   Today on Celebrity Picks we have a young actor who is no stranger to us at Gruemonkey, Joey Ambrosini. Joey is currently 18 years old and he made his debut in front of the camera at age 16 when he was a casino patron in the crime biography movie Vault (2019). In Fall 2019, both Ambrosini and Rocky Ciarrocchi produced the documentary on the Masuk High School football team, Panther Homecoming (2020), which was not only Joey's final Masuk documentary but Rocky's producer debut and Gruemonkey's first time serving as a production company. Joey also appeared in a movie called The Find which is set to release very soon and right now, we have Joey Ambrosini to discuss his top 10 favorite horror movies:
.
.
---
.
PARANORMAL ACTIVITY: THE MARKED ONES:
In my opinion, I would have to say that out of all of the Paranormal Activity movies, this one had to be my favorite and probably the most scariest one of all of the ones I have seen. I mean, the other ones were quite frightening but this one seemed more extreme.
.
.
.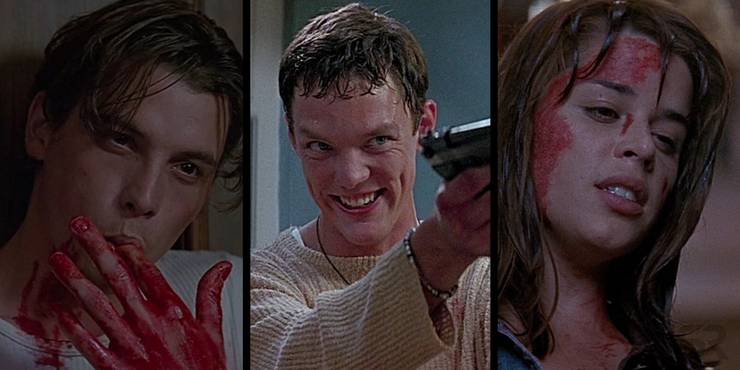 SCREAM:
Now, everyone knows this one was the best in the entire franchise and definitely the least unpredictable. First of all, I am sure that when the movie first hit the theaters that everyone first thought the boyfriend was the killer until he was "proven innocent", but when it not only revealed he was the killer, it also revealed he was a killer. There were two of them. Sounds like a head spin, doesn't it (laughs)? But it was also one of those realistic fiction horror movies which I think increased the value of the movie. Plus, I would assume that most horror filmmakers used the rules that Jamie Kennedy pointed out about horror movies towards the end.
.
.
.
FREDDY VS JASON:
The story was just so intense. How Freddy goes from using Jason to just making him his primary target. Also, I feel like that the ironic purpose was exposed in the middle of the movie about how both of the killers died while they were still human. Now as far as I know, quite a few fans were kind of disappointed at the ending. But what did you expect? Nobody was going to win. They are non human entities that cannot be killed. Even Jason's mother, who really was Freddy, told Jason that he cannot die. So the fight was more of a contest and both killers were in each other's way. Sounds quite like the reputation (laughs).
.
.
.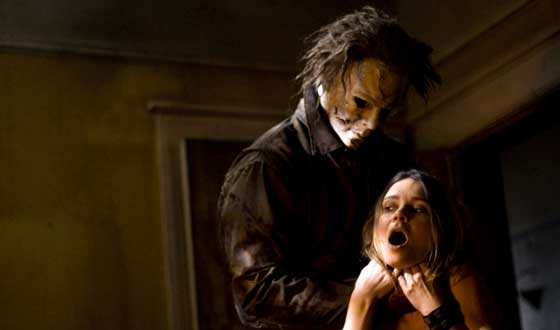 ROB ZOMBIE'S HALLOWEEN 2:
Now this one was a continuation of the extreme. I loved how it made Laurie Strode suffer from that PTSD and she figures out who she really is. But it did have its flaws. The one big flaw I can recall is how Dr. Loomis was made. Dr. Loomis is not a celebrity, he's a  psychologist and he knows that his patient can't die. But that's really it. I do also think that the way the movie ended was a little bit weird but it made sense. Michael Myers possessed her but what I found confusing is how did Laurie constantly have all of these visions while she was awake? But I guess it concluded it pretty well.
.
.
.
HALLOWEEN 2 (1981):
This one is where I feel it all got scary in the franchise. I mean, it was a continuation of the night of October 31st in Halloween (1978). After Loomis shot Myers six times and saw that he disappeared, the hunt never ended that night until he finds out that he is out to kill Laurie Strode in the hospital and burnt him, but not to death.
.
.
.
HALLOWEEN 5: THE REVENGE OF MICHAEL MYERS:
Another continuation of the story taking place one year later after he failed to kill the "evil child". Actually, I remember meeting both Don Shanks and Danielle Harris at CT HorrorFest in 2019. I remember I brought my Michael Myers mask and I had it signed by Shanks (laughs). But one of the main things that got my attention was towards the end how Myers showed some emotion when Jamie called him her uncle and he unmasked himself. But then he just snapped again. Then on top of that we have the mysterious man that broke Myers out of jail which may have been the primary reason why people wanted to see the sixth one. It revealed who that man was and the result was a jaw dropper. Now, the only problem I had with it, well not a problem really because it did keep the story going, was how Jamie Lloyd was possessed but she was acting as Michael's messenger girl. Unless it was like Freddy vs. Jason where the town isn't big enough for two demonic freaks and they want to eliminate each other, even though Freddy vs. Jason came out in 2003 (laughs).
.
.
.
FRIDAY THE 13TH: THE FINAL CHAPTER:
Now if you ask me, this has to be the best one of the franchise. I was so impressed on how a 12 year old boy would be the one to defeat a figure like Jason Vorhees. I guess kids aren't one to be underestimated (laughs). But I also feel that it really showed that Jason is beyond territorial and will stop at nothing to have dead bodies as company, except maybe a brave boy (laughs). 
.
.
.
A NIGHTMARE ON ELM STREET 3: DREAM WARRIORS:
Now first of all, Robert Englund will always be Freddy Krueger and that is a fact that only true, and I mean true, horror fans know! What this movie did, along with the other ones in the franchise of course, was continue the uprising. Now, the one thing that made every film in this franchise the greatest franchise of all horror movies is how Freddy's finger knives looked like his primary weapon when really, he didn't need them at all. He controlled the dreams and used his powers to constantly mind screw his prey. One scene I found insanely awesome was how he used one of the victims as a puppet on strings and throws him off of the building. Like, Jesus Christ that was mind blowing.
HALLOWEEN 4: THE RETURN OF MICHAEL MYERS:
Now if I were around at that time, I would be frustrated that this didn't come out sooner because Halloween III: Season of the Witch (1982) was a train wreck (laughs). Now the only thing I wish that they did was explain about how Jamie ended up adopted. Because it was theorized that her biological mother, Laurie Strode, died. But she was really alive as we all know with Halloween H20: 20 Years Later (1998) as our obvious source. But question is, what is the story of Jamie being adopted? Was she taken from Laurie or did Laurie set her up? Beats me. But I would say that this one was by far my favorite in the original series. The only question I have for it is the same question I have for every one of the original movies. Why is he after Jamie Lloyd? Why was he ever after Laurie Strode? I mean, he wasn't going to kill them because he was related to them I don't think. At least he killed his older sister for a reason. But hey, it was still an outstanding movie and again, my favorite movie in the original series probably because it had a lot of scary moments. Definitely scarier than the first one in 1978 (laughs). I also admire how badass Loomis was and how he had the guys from the bar join the group. Too bad it didn't work out for them (laughs). But definitely more scary moments and more intensity. 
HALLOWEEN 2007:
This one is definitely my favorite horror movie of all time. Now you know by now, I am a huge Michael fan but this one was just my favorite horror movie ever. I mean, they were just so different but the good different. I also feel that say this was the first one for the originals. In other words, say John Carpenter took the concept of this movie for the 1978 version, it would answer a lot of questions, even if the stories are different in some aspects. But at least this series probably had a lot of questions to it that were answered. For instance, why did Michael want to kill Laurie Strode? He didn't! He loved his baby sister. He just wanted her to remember him because she was clueless about herself until Halloween II (2009) when she read the book. But then, she became the prey of the predator after she stabbed him. Why did Michael want to kill Dr. Loomis? Same thing, he didn't. He and Loomis were close and while Michael was locked up in Smiths Grove, which will bring me to my next point, Loomis was the only one left that treated him like a human being. Michael and Sam, best pals (laughs). Until Loomis shoots him, then he became a second prey (laughs). Now for my next point, it told stories about Michael as a kid and about him in Smiths Grove, including how he managed to escape. It never told valid stories about Michael being a kid. Also, the actor who portrayed Myers as a kid looked like a killer unlike the kid from the 1978 movie that looked like he was mistaken for a 4 year old girl who complained about her lollipop being stolen so she kills her older sister with a knife (laughs). The movie overall though was just incredibly extreme and it will always be my favorite horror movie of all time and Tyler Mane will always be my favorite Michael actor. 
We at Gruemonkey would like to thank Joey Ambrosini for his shared thoughts and also, be sure to keep an eye out for his upcoming movie, The Find, where he plays the role of Perry. Also if you haven't already, do be sure to watch Panther Homecoming (2020) produced by Joey Ambrosini and Rocky Ciarrocchi using the link below!
---