Gruemonkey interviews Jamie Kennedy (Scream, Trick, Stoopid Smart)!!
---
Gruemonkey interviews Jamie Kennedy (Scream, Trick, Stoopid Smart)!!
---
Hello Grue-Lings,
   Today we have Jamie Kennedy as our guest. We are very happy to welcome Jamie to Gruemonkey. 
Actor, producer, and comedian Jamie Kennedy was recently featured in James Gray's sci-fi epic Ad Astra, opposite Brad Pitt. His other recent work includes starring roles in the latest installment of the Tremors film franchise for Universal, as well as Riley's Peak with Jon Voight, and the thriller, Spinning Man, opposite Guy Pearce and Pierce Brosnan.
Before that, he appeared in Chris Carter's (The X-files) Amazon drama pilot The After, and NBC's medical dramedy, Heartbeat. He is also voicing multiple characters on the new Comedy Central animated series, Legends Of Chamberlain Heights, and portrayed legendary music manager Jerry Heller in the Lifetime movie Surviving Compton: Dre, Suge, & Michel'le. Jamie can also be seen performing his stand up show around the country.
Jamie landed his big break when he was cast in Baz Luhrman's Romeo + Juliet, alongside Leonardo DiCaprio as a punked-out rival to John Leguizamo. His career soon kicked into high gear as he co- starred in his breakthrough performance as Randy Meeks in Wes Craven's Scream and its follow-up Scream 2. Jamie has worked alongside some of the biggest names in Hollywood like Steve Martin in Bowfinger and Greg Kinnear in the Oscar-nominated As Good As It Gets.
In 2002, Kennedy created The Jamie Kennedy Experiment, which became the WB's highest-rated show. Kennedy portrayed a number of wacky characters, but the audience's favorite was Brad Gluckman, the white rapper from Malibu. In 2003, Kennedy brought Brad Gluckman to the hit film, Malibu's Most Wanted.
Along with those films mentioned above Jamie has had memorable roles in fan favorites like Three Kings directed by David O.Russell, Enemy of the State directed by Tony Scott, Boiler Room opposite Vin Diesel and over 190 episodes of television under his belt with networks that include CBS, WB, MTV, Comedy Central, Showtime, NBC, Fox, and VH1.
His new stand-up comedy special Jamie Kennedy: Stoopid Smart premiered exclusively on the #1 free streaming app Tubi TV on Monday, May 25, 2020.
Loved by audiences for his '90s classics Kickin' It Old School and Malibu's Most Wanted, Jamie Kennedy takes center stage in this one-hour installment directed by Kurt Kubicek. Stoopid Smart features Kennedy's hilarious jokes about life as an unmarried man, being recognized in an Olive Garden, Alexander Graham Bell's thoughts on sexting, and America's most bizarre college majors.
The comedy special was filmed in Orange County's REC ROOM when Kennedy embarked on a nationwide headlining stand-up tour.
Jamie Kennedy: Stoopid Smart will also be available on Amazon, iTunes and Digital platforms in June 2020. 
Here is our interview with Scream Legend Jamie Kennedy:
.
.
---
..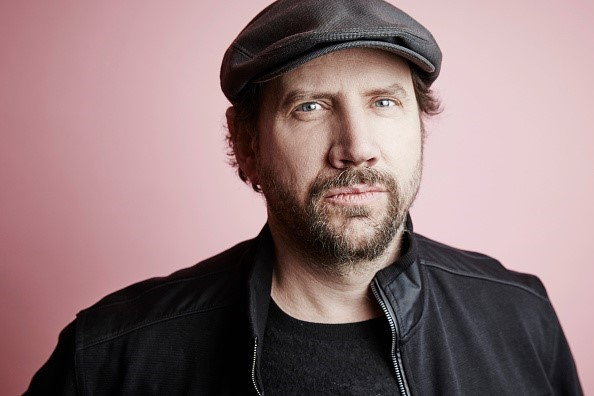 .
GRUEMONKEY: Hi Jamie and Welcome to Gruemonkey today. We are very happy for you to be our guest. Wanna
start the interview out by talking about your special. Tell us about Jamie Kennedy in Stoopid Smart?
JAMIE: Stoopid Smart is my new comedy special it came out on my 50 th birthday, it's my fourth special. It's a
whole new hour of material that I've been rafting over the last 4 years, I'm really excited to release
it.
.
.
.
GRUEMONKEY: Happy belated 50th Jamie. What can the fans expect from Jamie Kennedy Stoopid Smart?
JAMIE: Hopefully they'll expect to laugh and we will talk about my life, my experiences, and my take on
things.
.
.
.
.
GRUEMONKEY: I'm sure they will laugh. What did you like best about Stoopid Smart?
JAMIE: I like that I got it done. I like completing things, and I like that I put this out there so I can retire these
jokes and move on to the next one.
.
.
.
GRUEMONKEY: Sounds like a plan to me. Would love to talk horror now. How did it feel to join the legacy of Tremors? Tremors has been
around for 30 plus years. What was your thoughts when you got the role of Travis in Tremors: A Cold Day in Hell and what was your favorite scene from the film?
JAMIE: It felt great. I felt it was so cool, I was gonna be Burt Gummers son as he's now the anchor of the
series and to be able to be his offspring from a one-night stand. My favorite scene in the film was
probably the cave stuff in Tremors 5, it was filmed deep in the heart of Africa.
.
.
.
.
GRUEMONKEY_ That must have been really cool to film in the heart of Africa. Tell us about Dr Steven in Trick?
JAMIE: He's the doctor who Trick meets in the beginning of the movie and by the end of the movie, Trick
and his posse had made quite the impression on him.
.
.
.
GRUEMONKEY: Trick was a good horror film, I liked it. How did it feel to be in another Slasher outside of Scream and what differences and similarities do you think Trick and Scream have?
JAMIE: It felt great, always nice to be back in that genre. There were multiple killers who were behind the
killings, so it throws you off when you think you knew who the killer was in both, also the masks, and
the copy cats. The differences were Trick is more straight up drama, horror and gore, and Scream
had comedy to it and self-referential, but it's definitely similar tones because of Patrick.
.
.
.
.
GRUEMONKEY: I agree. How do you think Slasher films have evolved since Scream?
JAMIE: More psychological, Insidious, Get Out, they operate on getting fears going in a psychological way.
.
.
.
GRUEMONKEY: Yeah, that's true. In the 3 Scream films you were in, what was your favorite scene involving Randy and why?
JAMIE: I think the rules scene in the first one was the most memorable because that's the one the fans most
resonate with and it's a very quotable scene and says real truths about what actually happens in a
horror movie.
.
.
.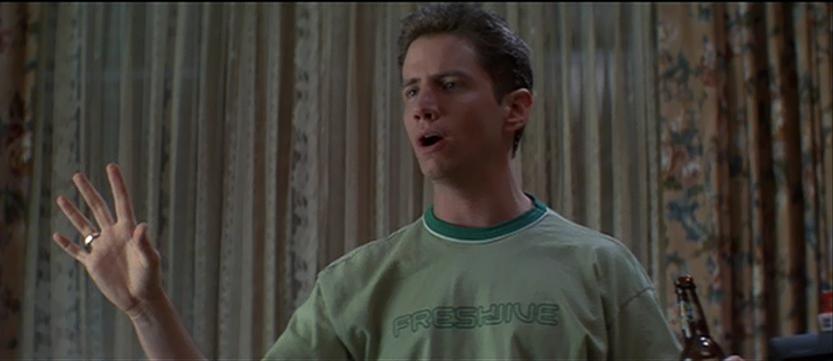 .
GRUEMONKEY: That's such a classic scene. What was your favorite death in the 3 Scream Films?
JAMIE: Probably Rose's character (Tatum) with the garage door, I thought it was really iconic, it was a
throwback in a way to Halloween but also inventive in a way for Scream.
.
.
.
GRUEMONKEY: That's my favorite death in the Scream films too. Such a classic death scene. Without knowing the outcome of who the killer was in Scream, did you ever think Randy could be the killer with his obsession and knowledge of horror movies?
JAMIE: Yes, definitely. He's a horror freak, he studies it, and he's sexually frustrated, he always loved Sydney
and he was unrequited so you never know. Passion does crazy things.
.
.
.
.
GRUEMONKEY: No offense, but I thought it was Randy till the end of the film (laughs). How was it like working with 3 iconic actors: Neve Campbell, Courtney Cox, and David Arquette in Scream 1 and Laurie Metcalf in Scream 2 and of course Sarah Michelle Gellar, Buffy herself in Scream 2?
JAMIE: It was incredible. Some of my earliest days on set learning from some of the best. To this day, I'm
grateful for being able to do it.
.
.
.
GRUEMONKEY: Any funny or memorable behind the scenes stories that happened on set for any of the Scream films
that stands out to you?
JAMIE: After my death scene they sent me to take a shower in the dorms by myself, with one little sliver of
soap and there was only one little light that worked so it was pretty dark, and I had no towel. I felt
like I was actually in the movie, so I had to holler for a PA to bring me some paper towels to start.
.
.
.
.
GRUEMONKEY: Wow, that's crazy (laughs). What was your reaction when you found out about your hysterical and Iconic character in Malibu's Most Wanted?
JAMIE: Well I wrote it and I developed the character over times, so I was really excited about being
able to do a whole movie based around him and I was very happy with the end result, and the way
the fans responded to it.
.
.
.
GRUEMONKEY: Such a funny and great movie. I live in Philadelphia. Do you ever get to visit Philly and what are your favorite go to spots when you are here?
JAMIE: I often go to Philly I love going to Jim Steaks, fish town how revived it is, a new taco spot over there,
sugar house casino, go to the Link, checkout the Eagles, and the Sixers, and I love WaWa's.
.
.
.
GRUEMONKEY: Jim's Steaks is sooo good. Anything else you want to promote or discuss?
JAMIE: Coming to the Stage also just came out, I'm hosting that. You can check that out as well on Pluto. I
just filmed Crabs in a Bucket which will be coming out this year. Also you all can follow me on my
socials: Twitter @Jamiekennedy Instagram @TheJamiekennedy Facebook, Jamie Kennedy, Snapchat
Yevrahh
.
.
---
.
Snapz @ yevrahh
.
.
---