Gruemonkey interviews PJ Farley from Trixter and Kuarantine!!
---
Gruemonkey interviews PJ Farley from Trixter and Kuarantine!!
---
Hello Grue-Lings,
   Today we are interviewing a Rock and Roll legend. One of the best bass players in the world today. He played with Trixter and now is playing with the new Kiss Tribute band Kuarantine. 
P.J. FARLEY started his professional career as a musician at the age of 16 as the bass player for Trixter (www.trixterrocks.com). The band signed its first major label record deal with MCA Records in 1989. Trixter went on to sell well over 1 million records and had 3 #1 videos on MTV. Here is our interview with PJ Farley:
.
.
---
.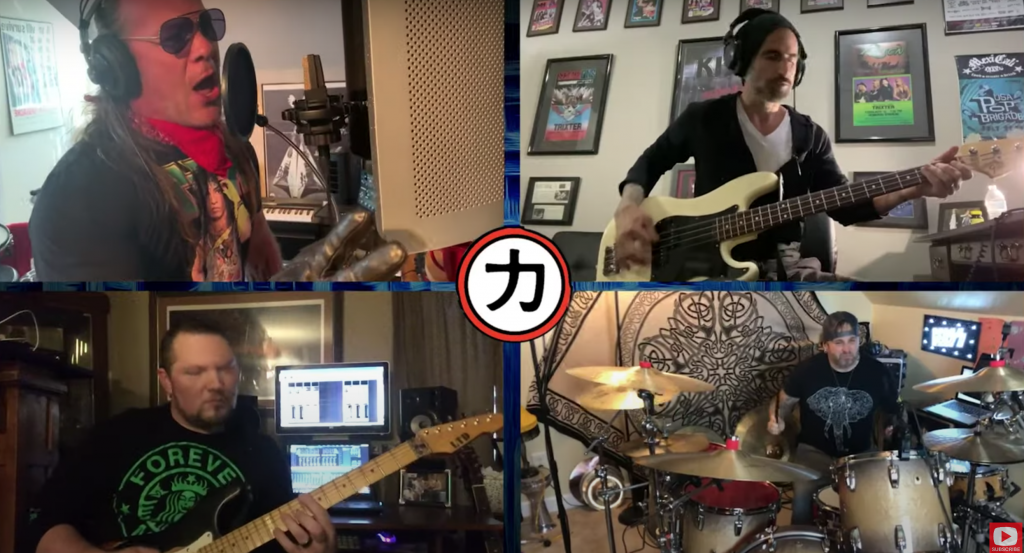 .
GRUEMONKEY: Hello PJ and welcome to Gruemonkey. Very happy that you are our guest today. Wanna start the interview off by talking about Kuarantine. How did this band come together and what is Kuarantine?
PJ: Kent Slucher sent the drum intro to No No No to Chris asking him to guess what song it was. Kent wasn't looking to put a band together or to get Chris to sing, he was just having fun. Chris guessed it right away and asked Kent if he needed a singer. Kent and Joe Mcginniss were working on some stuff already and thought it would be great!. Kent asked Chris to find a bass player who loved KISS…Chris and I have been friends for years and so he called me.
.
.
.
GRUEMONKEY: That's so awesome how this band came together. The way everything is now with Isolation and Quarantine, everyone is bored out of their mind. So this is perfect. The first single and music video is No No No from Kiss album Crazy Nights. Out of all the Kiss songs, what made you guys choose this song to be the first single? 
KJ: At this time we have 2 songs done and thought NO NO NO would really jump out. Oddly enough not a big KISS fan favorite but I think we put a good spin on it.
.
.
.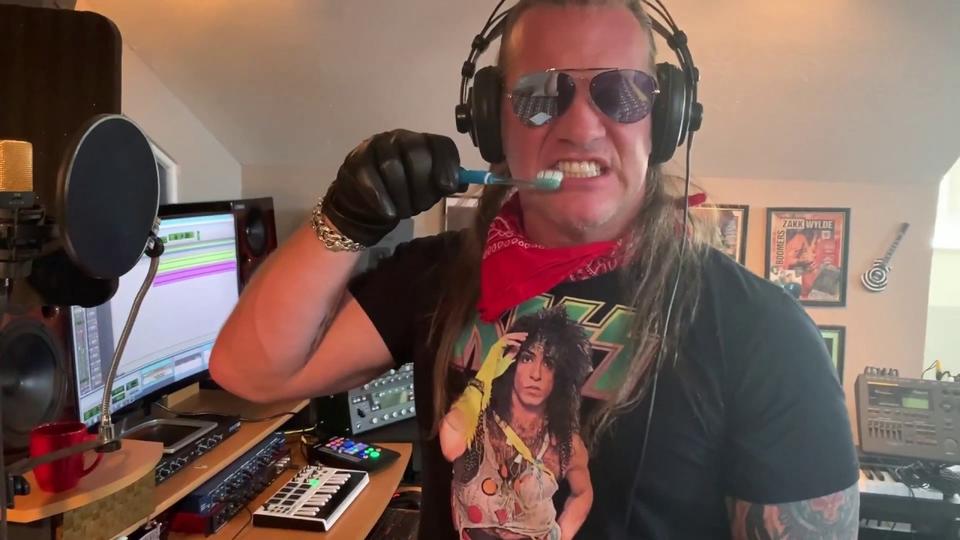 .
GRUEMONKEY: I have to admit. I listened to a lot of Kiss songs over the years, but never heard of or listened to No No No. It's a great song. What's your favorite Kiss song of all time?
PJ: Love Gun. 
.
.
.
GRUEMONKEY: Great song!! How is it like working with Chris Jericho?
PJ: It's great! Chris is an "all in" kinda guy. He does nothing half assed and has total passion for everything he's involved with from wrestling to music to interviewing other people. Its truly inspiring because he is ALWAYS doing something!!
.
.
.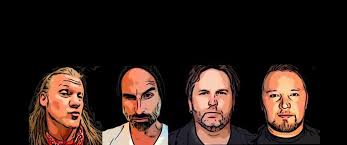 .
GRUEMONKEY: Chris is a true Icon in Professional Wrestling and Music. He is always busy and always evolving. You have Trixter and your solo projects and Chris has Fozzy. Would you ever do a Fozzy/Trixter tour? 
PJ: 100% (Laughs) no brainer.
.
.
.
GRUEMONKEY: The Powers to Be at Fozzy, let's make it happen (Laughs). Besides Kuarantine you also have a new solo album coming out called HighVolMusic: Accent The Change. What can you tell us about your new album and when can we expect it out?
PJ: I do! hopefully be out by end of summer?? was suppose to be out sooner but……..
This record, much like my last one (Boutique Sound Frames) is a glimpse into my life, my thoughts, my experiences and feelings. So much has changed in my life since writing that first record that I think the title was fitting.
.
.
.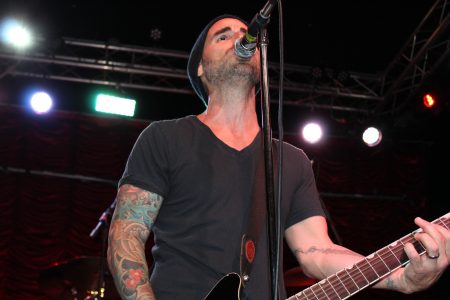 .
GRUEMONKEY: I can't wait to hear it!! Who were some of your favorite bassists that made you wanna become a bassist? 
PJ: Gene Simmons, McCartney, Jaco, but it wasn't any bass player in particular that made me wanna play bass, I just couldn't find a bass player to be in the band. I was starting when I was a drummer!
.
.
.
GRUEMONKEY: Wow, drummer to bass player, very nice! What do you think has been your greatest personal accomplishment in your career so far?
PJ: Still being able to play/make music for a living after all these years! 
.
.
.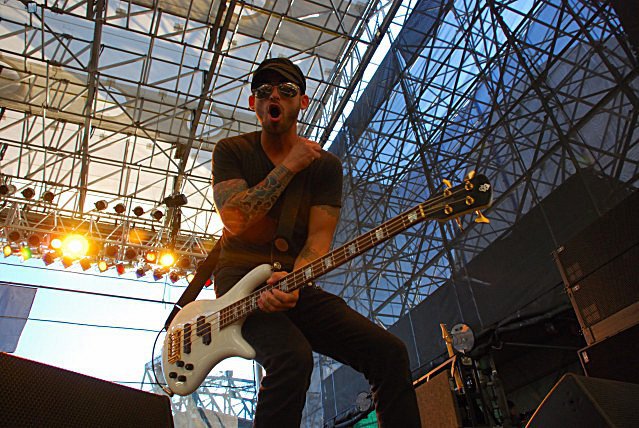 .
GRUEMONKEY: And you're still killing it bro! You have been in the rock world for a while. What is the biggest change in your opinion from when you began to now?
PJ: Obviously the internet. The whole model is different now. Still trying to adjust myself in it but embracing it. Its unnatural for me to be the artist/label/publicist/accountant/tour manager….etc but it is what it is.
.
.
.
GRUEMONKEY: Yeah, The internet and Streaming music is all the young generation does now. Trixter is one of my favorite rock bands of all time. What is your favorite Trixter song to play live?
PJ: Thank you!! Line of Fire. Its got a killer groove to start and then kicks your ass at the end!!
.
.
.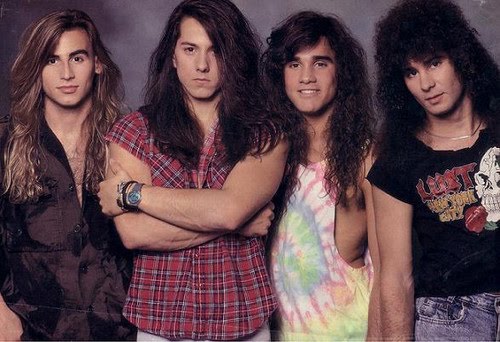 .
GRUEMONKEY: Love that song! I love one of the newer Trixter albums, Human Era. What was your experience like with Trixter recoring that album?
PJ: It was much like the rest f the records, Steve and I go through all the song ideas and pick the best ones, then start chopping away. That record was a surprise for us thought because we didn't really have another record in mind when we were asked to do one. We came out with (in our opinion) one of our best records.
.
.
.
GRUEMONKEY: I agree, it was one of the best records. How much communication did you have with the members of Trixter during the hiatus and what made you all decide to come back as a band years later?
PJ: Steve and I have never not worked together since the day we met, during the hiatus we were still tight with Pete but Gus moved away and fell off the face of the earth for a bit. Only started seeing him again abut a year or so before ewe got it back together back in 08.
.
.
.
.
GRUEMONKEY: Anything else you wanna discuss or promote?
PJ: I currently play with Eric Martin of MR.BIG along with Steve and drummer Joey Cassata. Eric and I also do some cool acoustic shows. Along with that I am in a band called RA (@officialraband on IG) that is gearing up for a new record as well as my 2nd solo release. Follow me on FB(pjfarleymusic) and Instagram @pjfarley and I can keep you updated on all of it!! I really appreciate the opportunity to chat with ya!! -P.J. 
.
.
---
.
.
.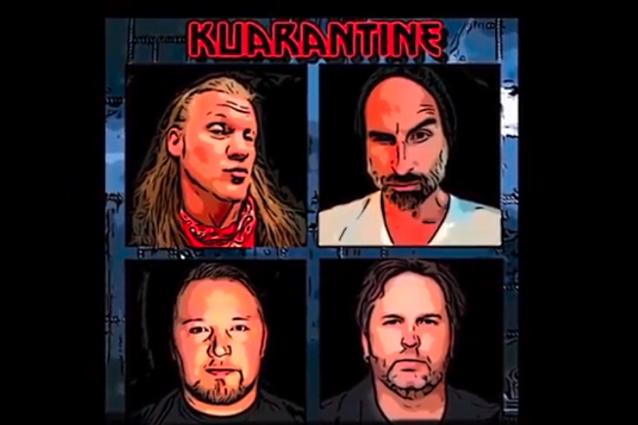 ---