Celebrity Picks: Count Gore de Vol (Horror host)!!
---
Celebrity Picks: Count Gore de Vol (Horror host)!!
---
Hello Grue-Lings.
   I am happy to bring to you today Celebrity Picks with a Horror Icon, his name is Count Gore de Vol. 
Count Gore de Vol is a television horror host who originally appeared on Washington, D.C.'s WDCA from 1973 to 1987. The character first appeared on the WDCA version of the Bozo the Clown program. When the character got a positive reaction, he was given his own program, called Creature Feature. Gore de Vol became the Washington/Baltimore area's longest-running horror host, broadcast every Saturday night on WDCA from March 1973 to May 1987.  He returned to the D.C. airwaves for a one-time special, Countdown with the Count, on New Year's Eve 1999/2000.
.
Count Gore's Creature Feature also embraced the sexual revolution of the 1970s, and his guests for the show included several Penthouse Pets. Though he never had an official sidekick, he frequently employed the talents of writer and actress Eleanor Herman in the role of Countess von Stauffenberger. The two played off each other with a series of romantic near misses and sexual innuendos that made the show a success even when many horror hosts were losing their shows in the wake of the original Saturday Night Live.
He was the first host in America to broadcast an unedited version of Night of the Living Dead. He also began transmitting his own show in stereophonic sound a week before his station officially made the announcement, making Creature Feature Washington's first stereo broadcast.
After a five-year hiatus from the air, Count Gore returned to WDCA 20 in 1984 and a second wave of popularity kept the show a local fixture until new owners canceled all local programing in 1987. During this time, Gore made numerous public appearances with live shows and Halloween events and received thousands of fan correspondences, making Count Gore one of the most popular figures in the history of D.C. media.
In 1998, Count Gore de Vol became the first horror host to present a weekly show on the Internet, featuring streaming video of movies and shorts hosted by the Count, and interviews with celebrities.
Count Gore remains busy, as he approaches his 35th year. He is a regular convention guest at Baltimore, Maryland and the Horrorfind Weekend in Baltimore and Cinema Wasteland in Cleveland, Ohio. In 2004 he wrote the introduction to the Steve Niles' graphic novel Aleister Arcane. In 2006, 2007, and 2008, the Count made appearances in Northern Virginia on the new live television and Internet program Monster Madhouse Live, starring "Karlos Borloff". In October 2006 and 2007 he hosted the opening nights for the horror film fest The Spooky Movie Film Festival in Silver Spring, Maryland. He is featured alongside fellow horror hosts in the documentary, American Scary (2006), which screened at the 2007 San Diego Comic-Con. Count Gore also hosted the costume contests at the horror/sci-fi convention Pensacon (Pensacola, Florida) in 2014 and 2015. He currently is in a film being filmed called Revenge of the Devil Bat. You can also catch his show on Roku called Count Gore De Vol Presents.  CLICK HERE for the imdb of the show. 
Here is Celebrity Picks with the icon himself, the one and only, Count Gore de Vol:
.
.
---
.
Count Gore de Vol said this:
There is one question that I HATE being asked. It is, "What's your favorite Horror Movie?"
I hate it for two reasons. First, there are just too many to choose from! I mean there has to be thousands of studio releases alone from the last 90 years! How can you pick just one? Second, limiting it to just 'horror' takes out too many really scary Science Fictions films that are really frightening!
So, I was pleased when asked to list my Top 8 films, which are all scary! They are in no particular order of preference.
.
.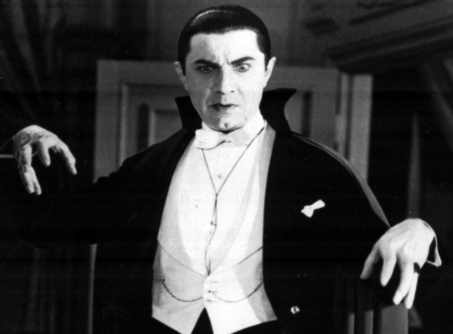 DRACULA (1931):
Starring Bela Lugosi! Universal really created the horror genre we know today when they brought Frankenstein, Dracula, The Werewolf and The Mummy to the theatrical screen. So one of them has to be a favorite and since I AM a vampire, it had to be Dracula. Yes, it is slow moving, doesn't have a suspense music track, but it demonstrated how to dress a vampire (Tails & Cape) and how a vampire can be sexy….deadly, but sexy. Bela is my idol!
.
.
..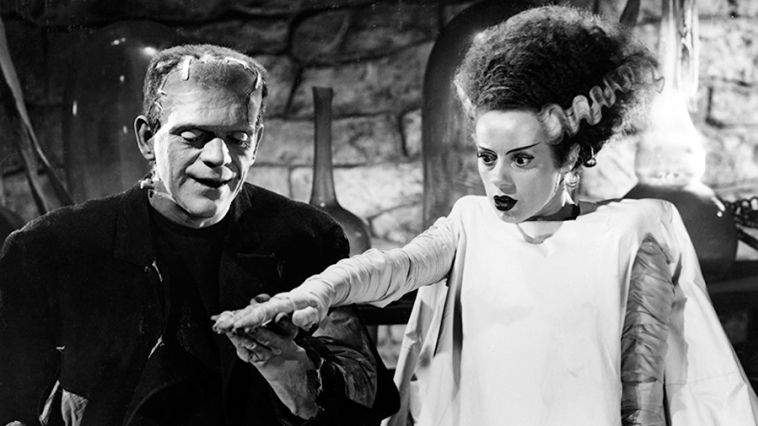 BRIDE OF FRANKENSTEIN (1935):
Starring Boris Karloff! This films launched a career for Karloff that was incredible! He managed to escape the make-up of the monster and the bandages of the mummy to show what a versatile actor he really was! The movie itself is a rare example of the sequel being better than the original. True, may of the improvements were the result of improving movie making technologies, but the scripting and acting made it work!
.
.
.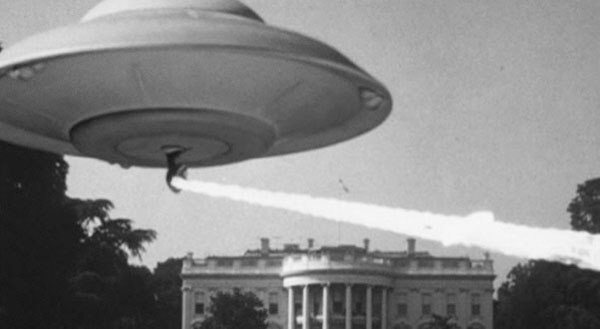 EARTH VS THE FLYING SAUCERS (1956):
Starring Hugh Marlowe! I love this film because it captures the UFO craze of the 1950's in such a fun manner. Hugh Marlowe is perfectly cast as the flawed hero who will save humanity but not all of Washington, DC! It's great watching the animation of Ray Harryhausen bring alien saucers crashing down into out most famous monuments. Please remember that I hosted this movie on Washington, DC television, which really localized it for me.
.
.
.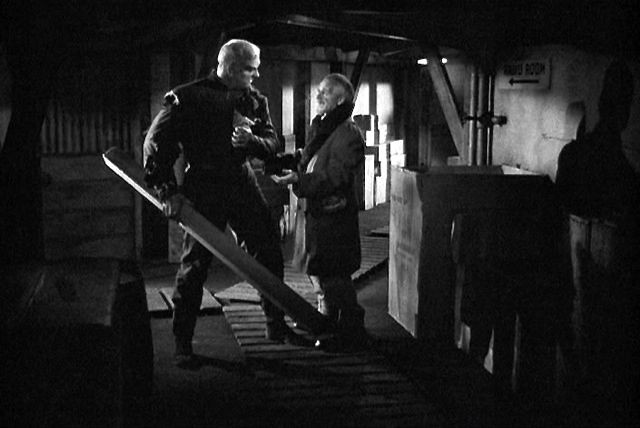 THE THING FROM ANOTHER WORLD (1951):
Starring Kenneth Tobey and James Arness! I know there are many people who say that the John Carpenter version of this story made in 1982 is scarier and they may be right. But, under the direction of Howard Hawks, this is earlier version is so wonderfully put together that it just has to be my favorite of the two.
.
.
.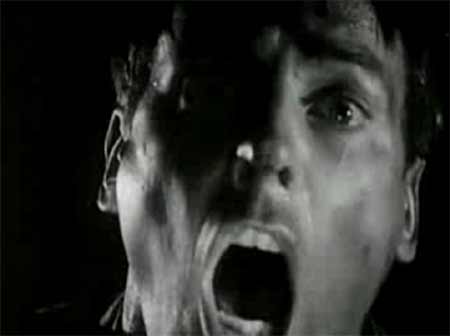 INVASION OF THE BODY SNATCHERS (1956):
Starring Kevin McCarthy and Dana Wynter! This is another movie that captures the feeling of the times. This feeling is fear and paranoia of being taken over by aliens from space standing in for Communism. Kevin McCarthy show his acting prowess as the simple family doctor who tries to save the world from a silent take over. This was supposed to be a quick and inexpensive little film, but it struck a chord in American society that made it a classic!
.
.
.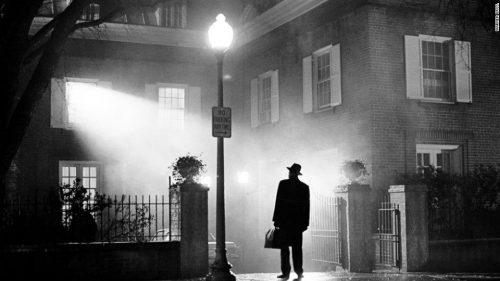 THE EXORCIST (1973):
Starring Ellen Burstyn, Max von Sydow and Linda Blair! Unlike some movies from the 1970's, this one really holds up well. I recently hosted it for the American Film Institute and was amazed at how truly frightening it still is. The story is so compelling and the acting so good, that you quickly overlook the old everyday technology of the era and get into the evil befalling poor little Regan. This may be the one movie that can get you to believe in the Devil!
.
.
.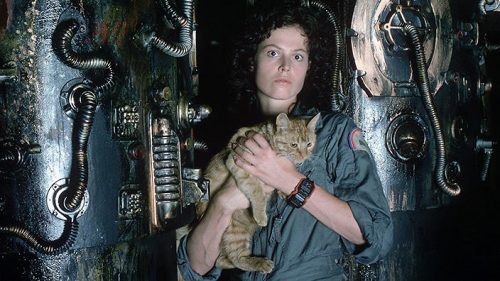 ALIEN (1979):
Starring Sigourney Weaver, Tom Skerritt, John Hurt and a whole bunch of terror! This is my favorite SCARY movie. Yes, it is Sci-Fi, but it is also horror, which is why I hate trying to put every movie into only one box. Again, it holds up well. Except for the Tube computer screens, nothing says it wasn't made today. I don't think I need to go into the story of a crew trapped in a spaceship with a never stopping, acid dripping monster intent on only one thing…KILLING. The tag line says it all, "In Space No One Can Hear You Scream!"
.
.
.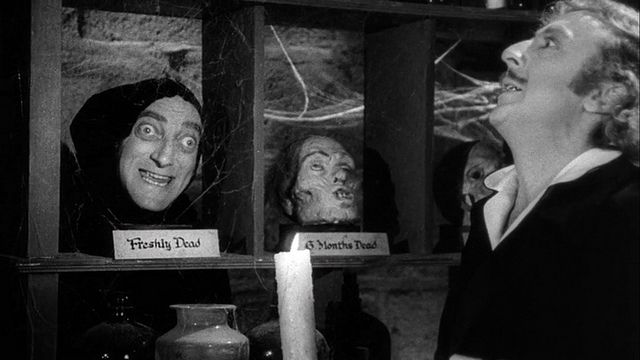 YOUNG FRANKENSTEIN (1974):
Starring Gene Wilder, Madeline Kahn, Marty Feldman, Peter Boyle, Teri Garr and Cloris Leachman. This film was directed by Mel Brooks, but it's got the spirit and sensibilities of Gene Wilder all over it! Yes, I know it's not scary, but it is kind of creepy. It's got a memorable music track, but let's face it, there are lines in this film that will live forever and few movies can make that claim. But the really unique claim to fame of this movie is that it has fun with the genre…without making fun of it. As a matter of fact, I contend that it pays homage to The Bride of Frankenstein and particularly Son of Frankenstein in a way all genre fans can truly appreciate.
.
.
---
.
.
CHECK OUT SOME OF HIS VIDS BELOW, CLICK ON LINKS:
https://twitter.com/CountGore/status/1256367073888022533/video/1
https://twitter.com/CountGore/status/1239170927260246020/video/1
https://twitter.com/CountGore/status/1226300165662924800/video/1
.
.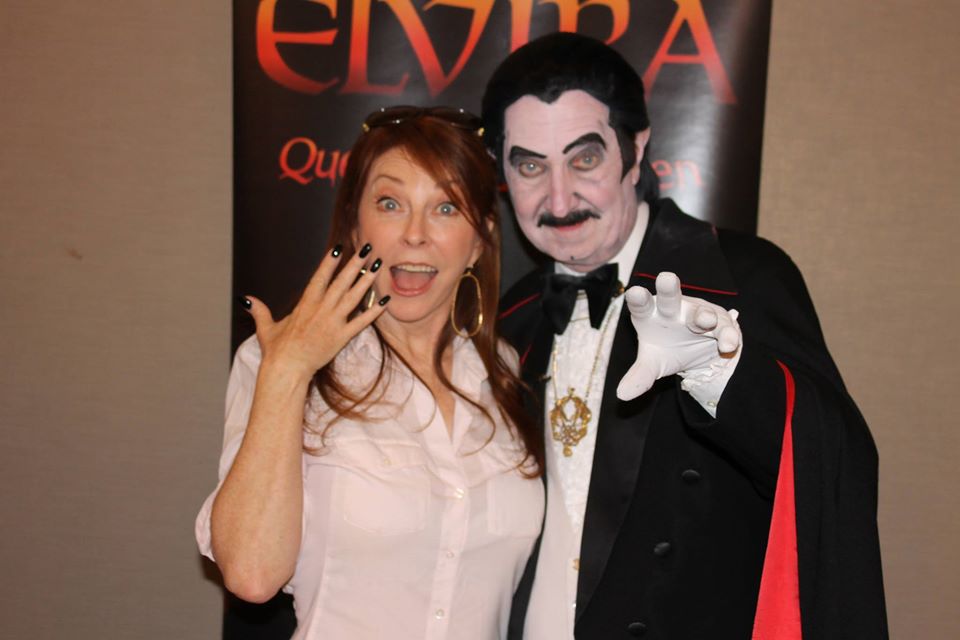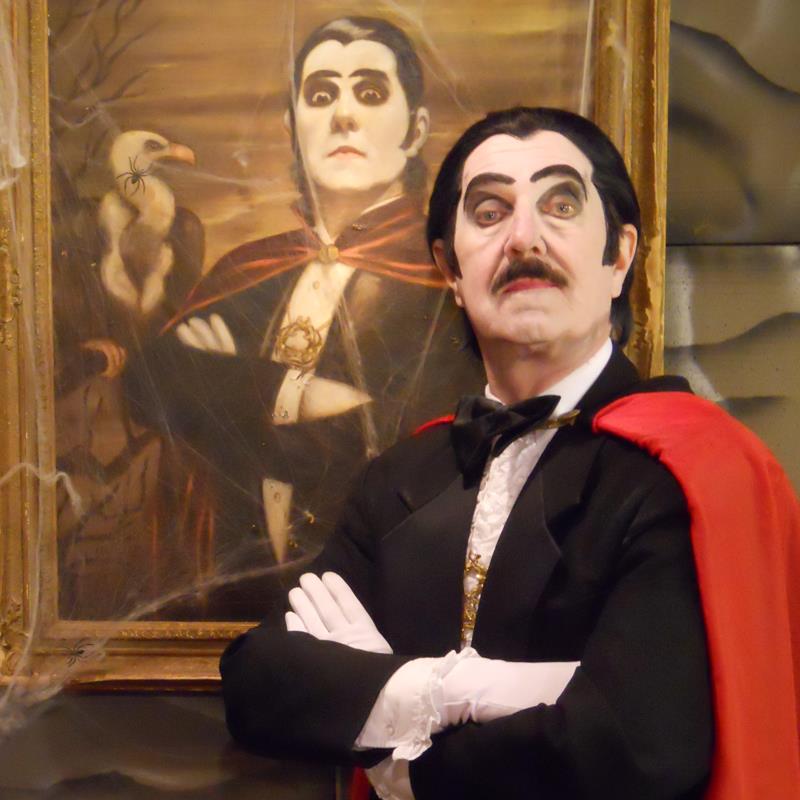 ---