Gruemonkey interviews Cameron Duckett (Groupers, Killer University)!!
---
Gruemonkey interviews Cameron Duckett (Groupers, Killer University)!!
---
Hello Grue-Lings,
   Today we have an amazing guest. He stars as Dylan in the LGBTQ horror film Groupers, Cameron Duckett. He is an American award winning actor (2019 Best Actor in a Supporting Role- Film Invasion L.A.), musician and writer. He is best known for his award winning role of Dylan in, "Groupers" as well as his award nominated role of Aaron in, "Secondborn". He recently returned from Finland where he spent almost two months starring in the film, "Insite" which filmed all over the beautiful country. Along with acting, he also sings, plays the guitar, drums and piano. He even as his own music project called, "Pisces Party", where he composes and writes all his songs. He now lives in Los Angeles, California. Here is our interview with Cameron Duckett:
.
.
---
.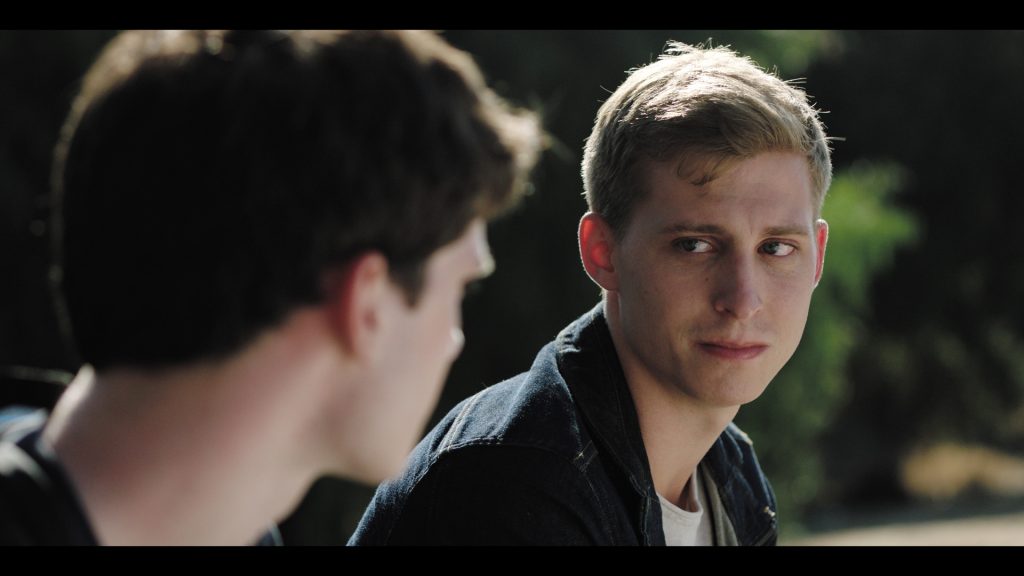 .
GRUEMONKEY: I see you have done some horror work. Can you tell us about the horror short you were in early in your career called Nanna? 
CAMERON: Yes, Nanna is a thriller, horror story about Ben (played by me), who visits his grandma, Isabella who lives in Los Angeles, to convince her to move to New York where him and his mom have just moved to. While staying at her house, Ben discovers a vicious, horrifying truth about his grandma.
This was a delight to act in and the reveal in the last scene of the film still haunts me to this day. 
.
.
.
GRUEMONKEY: Oh wow, really? That must have been really scary then. Can you tell us about your character Kyle DiLaurentis and what the tv series of Killer University is about?
CAMERON: Killer University is a web series about a group of college students investigating a string of murders that are occurring around campus. It was inspired by Wes Craven's, Scream & Scream 2, so while the show is mainly a whodunit drama, there are comedic moments like breaking the fourth wall and meta moments too.
Kyle is love interest of Zoey, one of main girls in the season. He's kind and sometimes a bit nerdy but he will do anything to protect the people he cares about. 
.
.
.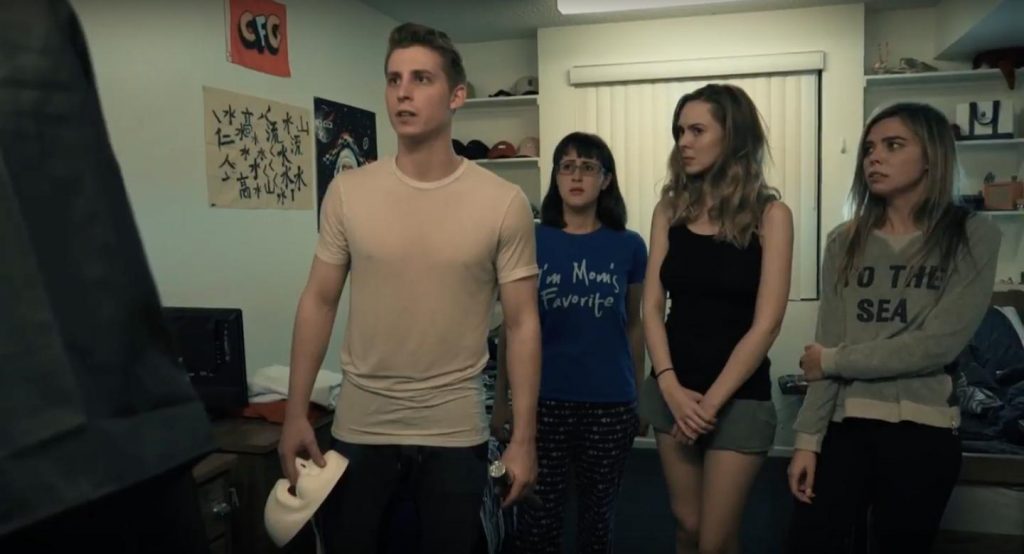 .
GRUEMONKEY: It's a great series. -How did it feel to work on your first tv series?
CAMERON: I just want to say again Killer University is a web-series not a tv series, you can watch it on YouTube right now if you want!
Overall, it was surprisingly exhausting yet rewarding experience. I grew a lot as an actor because all seven episodes of the entire season were already written. While you're filming, you have to constantly keep reminding yourself of the story's timeline, where your character's at mentally and physically in this scene and then knowing where your character will end up in the next scenes too and later on in future episodes. Luckily, we filmed each episode in order but there were still times where we would jump back and forth from filming a scene in the beginning of the episode straight to a scene that happens at the end. I know I grew more into myself as an actor from doing Killer University because while it required a lot of work and preparation, I proved to myself I was able to step up and play a role convincingly in a complex story. Also, filming my death scene was probably my most memorable moment for that series, it was so much fun dying, playing dead all while getting to taste chocolate blood!
.
.
.
GRUEMONKEY: Chocolate Blood? Interesting. You were in a film called Rift about Parallel universe. If you could travel to parallel universes, what would you hope to see? 
CAMERON: I guess I would hope to see some of my favorite artists who would still be alive if they hadn't died so young. Like what if Kurt Cobain or James Dean were still alive? How different would a world be if these people were still alive and creating, you know? 
.
.
.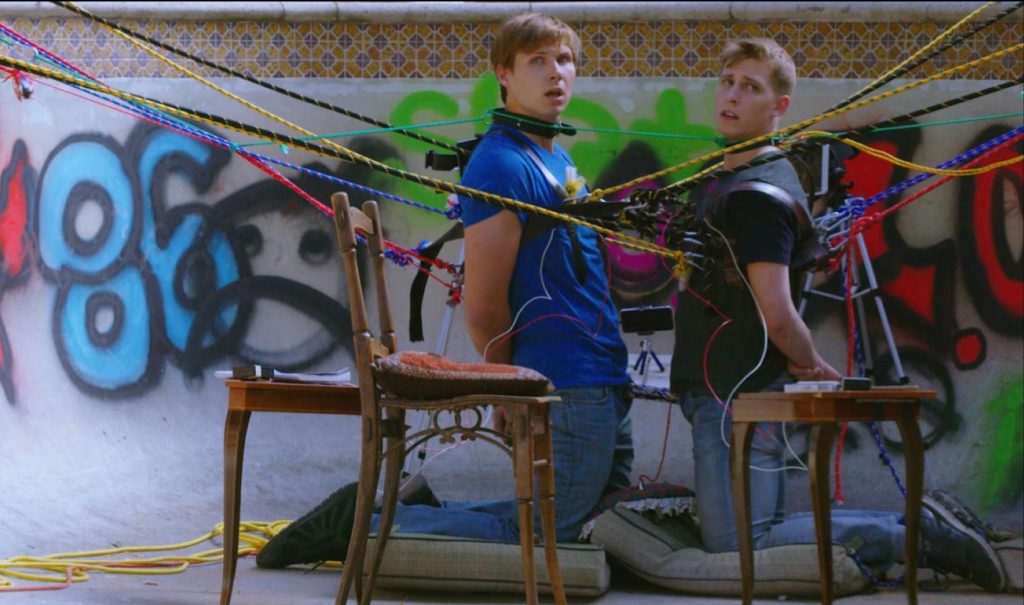 .
GRUEMONKEY: Yeah I know, that would be interesting if our heroes were still alive creating new stuff. -Let's talk Groupers. For anyone who hasn't heard of this film yet. Can you tell us what the film is about? 
CAMERON: Groupers is about a grad student who kidnaps two homophobic jocks to use as her subjects in her experiment at the bottom of an empty swimming pool. As the experiment begins to start, chaos ensues for everyone.
.
.
.
GRUEMONKEY: This is such a great movie. Tell us about your character Dylan in Groupers and what made you become interested in playing Dylan?
CAMERON: Dylan is one of the homophobic jocks who gets kidnapped. He has a mob think mentality and does whatever his best friend Brad tells him to do as well as what to believe.
What sold me on Dylan were two things: the absurdity of the situation he is in (specifically the device used in the experiment) and a twist which happens to him in the film. This twist, to me, makes him one of the most tragic characters in the film. No spoilers but while this doesn't excuse his actions of being a homophobic bully, you do start to feel sorry for him. Like, if he was in a more accepting environment and felt safe being who he really was, he wouldn't need to confide in Brad to stay out of danger. Also, the whole setup of this film was a fun challenge for me acting wise. Ninety percent of all my scenes I was tied up which made me rely mainly on facial expressions because of the physical restrictions. You don't realize how much you use your body until you can't use it anymore. That was a new, exciting challenge for me which I think I exceled in. 
.
.
.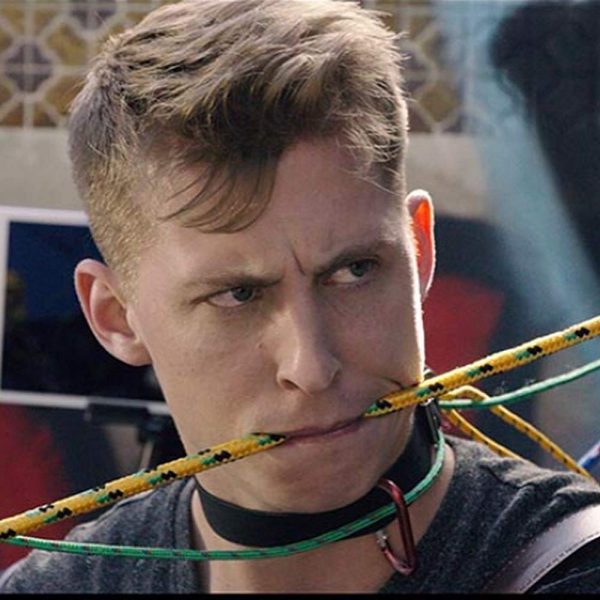 .
GRUEMONKEY: What was your favorite moment or scene from Groupers?
CAMERON: I have two moments. First, Dylan's bit about him having a big dick, that always gets a laugh from me. Second, Dylan's bit about the kidnap being a, "hate hate crime crime". His logic is hilarious especially when you see Brad and Meg's reactions as he explains his reasoning.
.
.
.
GRUEMONKEY: Yes, I Remember that. Great scene!! How would you describe how Brad and Dylan's friendship got being held captive together? 
CAMERON: In the beginning of the film, Brad thinks he knows everything about Dylan but by the end, Brad is devastated when he realizes he doesn't know who his best friend Dylan is at all. I think this speaks to a lot of "friendships" and how sometimes we only show a part of our real selves to other people.
.
.
.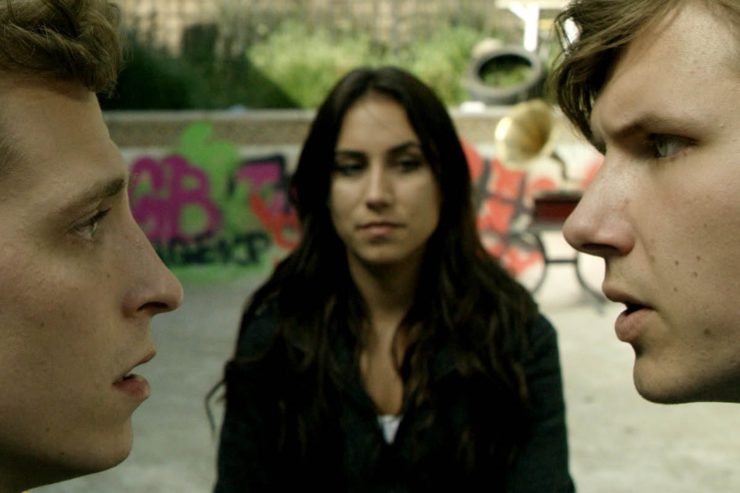 .
GRUEMONKEY: Yeah I agree. Sometimes, you really don't know a person, even if your friends with them. The film has a very powerful message. Too many young people are still being bullied at school for being Gay, which is a shame. What message did you get from this film, from being in the film as an actor and watching as a fan? 
CAMERON: Yeah, it's a shitty truth which we still have in today's society and unfortunately, I think there are just as many older people getting shamed and/or bullied for being who they really are too.
The message of the film is in the title: Groupers. This film tells you step out of the group and ask yourself what you really think. This film holds a mirror up to our current society, especially towards anyone who is going along with whatever the majority is doing. Groupers shows the dangerous consequences which occur if you put yourself in an echo chamber or group of other people who share the exact same beliefs you do. There's no real, independent thinking happening, only "groupthink" or a regurgitation of beliefs they once heard and went along believing only because that was what the group believed. If you live in this echo chamber, all you get are recycled ideas and beliefs from one person to another. The danger is if those beliefs advocate violence onto another person or group of people, you won't question it because that's what everyone else thinks so it must be the right thing to do. 
.
.
.,
GRUEMONKEY: If you were Gay in school and are getting bullied, what would you do to attempt to make it stop? 
CAMERON: I would find my support people and tell them about me getting bullied and how it was making me feel. From there, whoever I talked to would help me contact a teacher, consoler, principal or the super intendent to put a stop to the bullying. For me, my support people are my parents, but they can be anyone from your best friend, parents, consoler or whoever. What matters most is you are able to feel safe around them to completely open up, be yourself and tell them how you are feeling with what has happened to you.
.
.
.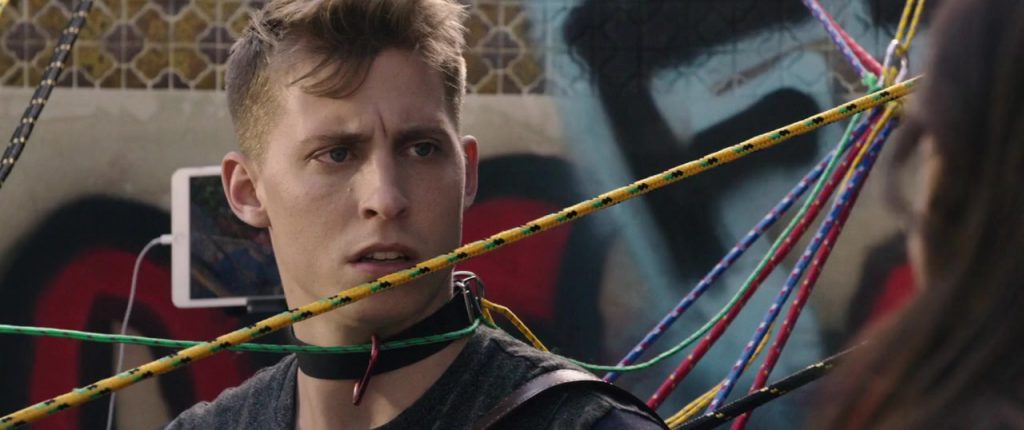 .
GRUEMONKEY: Very positive message. I agree. Are there any fun stories that happened on set for Groupers that you can tell us? 
CAMERON: Oh god too many! The whole cast and crew got along very well the entire time but specifically, Peter (who played Brad), Nicole (who played Meg), Anderson (the director), Milan (the DP) and I really bonded while on set.
One fun story on set was the contacts scene. I've never worn contacts before, so the production got me these clear contacts. My eyes immediately got irritated because I didn't put them in right the first few tries so when you watch that scene, it is real discomfort on my face as I'm struggling just to keep my eyes open. After doing that, have much more respect for anyone who wears contacts.
Another story was a fight breaking out between some locals at the dive bar we shot at. I'm not sure what caused the fight but as we started to set up for the shot, one person yelled something to the other person. The next thing you know, they're throwing punches and slamming each other down to the ground. The fight eventually got broken up and no one got hurt but it was still glorious. 
.
.
.
GRUEMONKEY: I hate contacts too (laughs). What was it like playing a creepy creature in the horror short Running out of Rain and how long was the makeup process? 
CAMERON: I had to have my eyes closed once the prosthetic went over my face, so it was a fun challenge to experience the world without sight while also adding the physicality I created for the creature. Also, it was just plain fun to be creepy and terrorize my victims as I put fear into them.
The makeup and prosthetics took about an hour and half to put on and that was just for the photo shoot! We're hoping to film the short soon once pre-production is completed.
.
.
.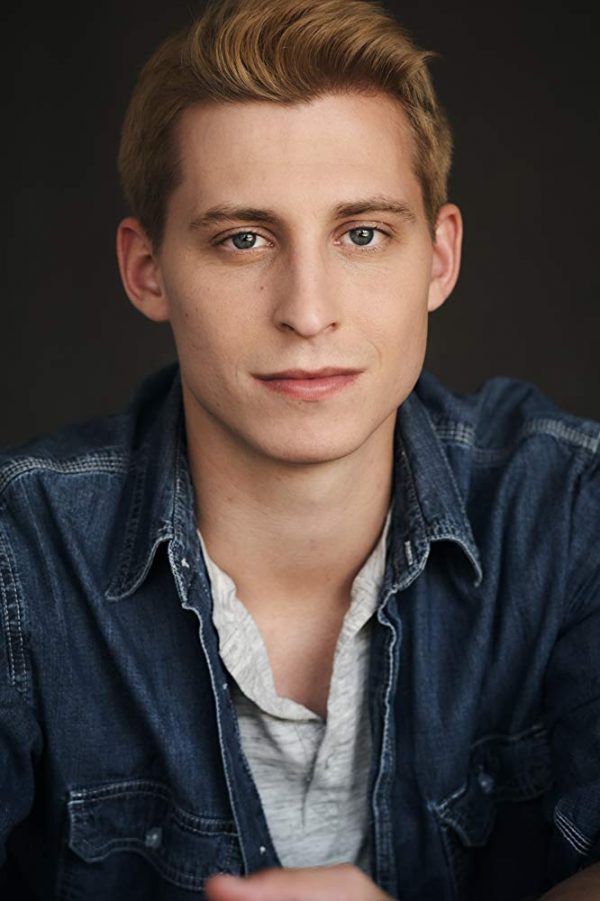 .,
GRUEMONKEY: I can't wait to see it. Anything else you want to discuss or promote? 
CAMERON: I have a movie coming out this September called, Insite. The film is a dramedy starring me along with Eric Roberts. It's about a guy named Ryan (played by me) who lives in LA but finds out his father, who has never been in his life, has died in Finland and left him something there. In order to retrieve this mysterious gift, he must travel to Finland and learn more about the person his father really was. We shot all around Finland for two months and it was truly a once in a lifetime experience. One I will forever be grateful to be a part of. Here's Insite's IMDb: https://pro.imdb.com/title/tt9383658/?ref_=nm_filmo_filminprod_3
I also wrote a film with a buddy of mine called, Xposed. It's a metaphysical coming of age drama and we are just starting pre-production in the hopes of filming later this year.
I also have my own music project called, Pisces Party. I write and compose all my songs and I sing and play the guitar (but I can also play the drums and piano). I just released my debut single, Face Your Fear, which you can listen to anywhere you stream music! I also have another single that's scheduled to release in March. Think of Pisces Party's sound as an angsty Nirvana getting serenated by Death Cab for Cutie and Paramore.
Here's the website for Pisces Party: https://piscesparty.bandzoogle.com/home
You can follow Pisces Party on Spotify, Instagram and Facebook Spotify: https://open.spotify.com/artist/3XJkzya21Sac0lfg28lQ42
Insta: https://www.instagram.com/piscespartymusic/
Facebook: https://www.facebook.com/piscespartymusic/ 
.
.
.
SPEED ROUND:
Guilty Pleasure TV and Movie show currently watching?
Hmmm… my favorite TV show of all time is The OC and I'm not ashamed to say it! I'm currently watching Oliver Stone's, Natural Born Killers with Woody Harrelson for the first time.
Favorite Social Media platform?
Oh, Instagram easily. It's simple and straight to the point.
Who is currently on your playlist?
Oh wow okay. I listen to practically every genre of music, so my daily playlist has over sixteen hundred songs at the moment. I'll quickly name my top favorites! Nirvana, Moose Blood, Paramore, The Night Café, Eat Your Heart Out, Soccer Mommy, Boston Manor, Joyce Manor, Car Seat Headrest, Sonny Rollins, Slipknot, Kenny Chesney, Artic Monkeys, blink-182, Interpol, Death Cab for Cutie, Pixies, My Chemical Romance, Hop Along, Tom Waits, Orchards, Radiohead, Yeah Yeah Yeahs, Social Distortion, Foals, The Damned, We Were Promised Jetpacks, CCR, Chopin, Sleater-Kinney, Tool, Whale Bones, Billie Eilish, Royal Blood and The Offspring.
Hidden Talent and something about you that not alot of people know?
Not too people know about Pisces Party and I sing and write music. I also love to rock climb and read!
Favorite Karaoke song?
I don't Karaoke that much but the last song I sang was Come as You Are by Nirvana. My all-time favorite Karaoke song would probably be Karma Police by Radiohead.
.
.
---
.
.
.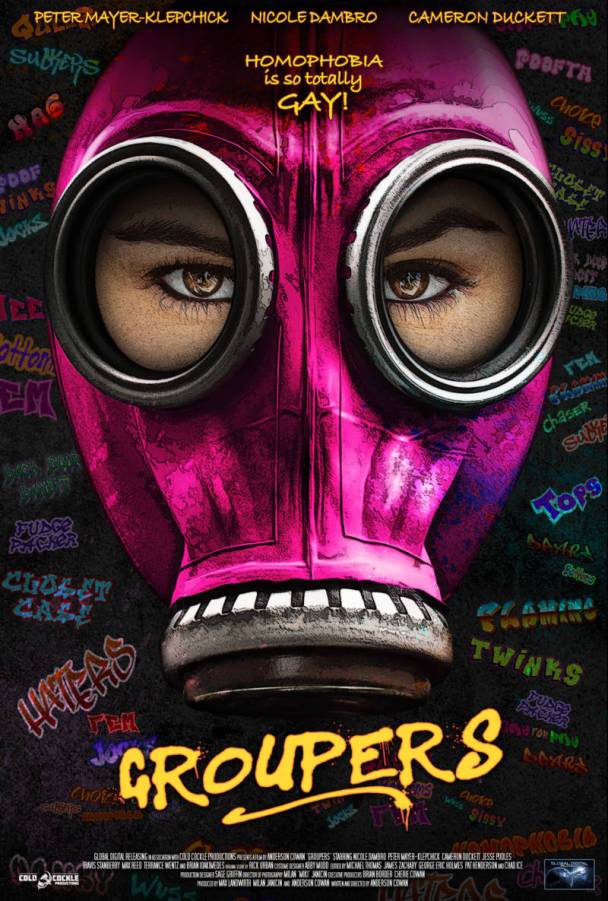 ---