Gruemonkey interviews Carson MacCormac (October Faction, Shazam!)!!
---
Gruemonkey interviews Carson MacCormac (October Faction, Shazam!)!!
---
Hello Grue-Lings,
   Today we have an amazing guest, Carson MacCormac. Carson is an amazing talented young actor. He got started around 2017, he was in Bellevue tv series as Adam 16 years old, and a short film called Cold Hands as he played the role of Lucas. In 2018, he was Connor Foster in a made for TV film called Zombie at 17. He also had a recurring role as Nicky Zolta (Young) in the tv series Big Top Academy. He played the role of Michael in Giant Little Ones and Brett Breyer in the film Shazam! You can catch him currently as Rob in a few episodes of the horror series October Faction. Here is our interview with Carson MacCormac:
.
.
---
.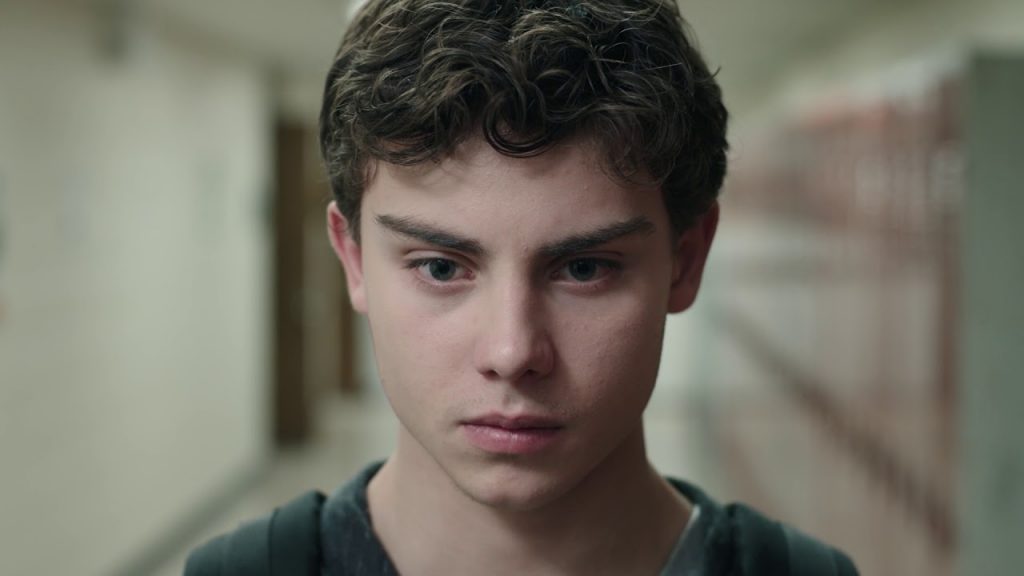 .
GRUEMONKEY: Hello Carson and welcome to Gruemonkey. Thank you for being our guest today. What made you want to get in acting and what was your first acting gig?
CARSON: Thanks for speaking with me! When I was in middle school I enjoyed singing and acting in our school musicals. After doing that as a hobby for years I decided to try out film and TV acting and honestly just fell in love with the process. Dissecting characters and bringing them to life is such a uniquely rewarding experience and that exploration became the main reason I wanted to pursue it as a career. The personal growth and improvements I would see over time became addictive and one day it hit me that not only was this exploration what I wanted to do for a living, but that I doubt I would be happy doing anything else.
.
.
.
GRUEMONKEY: That's awesome. You have to do what you love doing or else you won't be happy. One of the first films you were in was a thriller called Zombie at 17. Can you tell us what the film is about and who your character is?
CARSON: The film is about about a girl in high school named Tia who has contracted a disease that is slowly turning her into a zombie. It's a very slow process and while dealing with a whole bunch of personal issues, she has to try and find a cure. I play the oblivious, party-oriented boyfriend of Tia. My character is charming but cares more about partying and his friends then he does about his girlfriend, who is clearly dealing with some major obstacles in her life.
.
.
.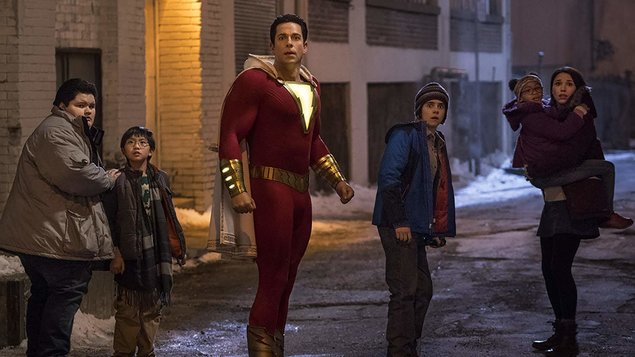 .
GRUEMONKEY: Sounds very interesting. I have to check it out. I see another actor in the film Zombie at 17 is Gabriel Darku. Did you work with him on both Zombie at 17 and October Faction and are you two friends?
CARSON: One of our first days of filming for Zombie at 17 was a scene I filmed with Gabriel and I remember we immediately worked well together. Granted, I spent most of the day pretending to act like a drunk idiot, but working with him was a great experience. After I saw we were working on October Faction together I messaged him immediately. Pretty sure we both geeked out for a while over how excited we were for the series. He's such a great guy and so incredibly talented. Working with him on both Zombie at 17 and October Faction was such a treat. We still keep in touch! He's a great friend of mine. The whole cast had such a great time working together on October Faction and we all have stayed close friends after filming.
.
.
.
GRUEMONKEY: Gabriel seems really down to earth and nice. Good to hear you two became good friends. How did it feel to be in a DC film Shazam! and where you a fan of Shazam and DC before being in the film?
CARSON: Shazam! was such an incredible set to work on. When I first found out that I booked the role of Brett Breyer I definitely freaked out. The cast and crew were an absolute blast to work with. At that stage in my career it was useful getting to experience so many of the more unique skills required on a set: stunt work, fight training, wire work, green screens, I learned so much working on Shazam!. I always loved superheroes but was never that familiar with Shazam until after booking the role. It was when I first read through the script that I became obsessed with the superhero. Just the concept of a kid being able to turn into a grown-up superhero is so cool! It's every kids dream, mine included, and being able to help bring that story to life was special to say the least.
.
.
.

.
GRUEMONKEY: That is great. I would be the exact same way you were if I got to be in a Marvel or DC film. Wow. You had a recurring role in Big Top Academy, what can you tell us about the series?
CARSON: Big Top Academy was so different from all of the other sets I've worked on. Wardrobe put me in this awesome 80's outfit and old school hair style the whole time I was there; it was so much fun. The show is based on a school that trains kids in a wide variety of circus tricks and acrobatics. My character is this legendary trapeze artist that used to go to the school and is the father to one of the current students. The show is filled with mysteries, awesome singing, dancing and acrobatic performances, as well as a school filled with hidden secrets for the students to discover.
.
.
.
GRUEMONKEY: Sounds like you did a lot of acrobatic performances. Sweet. How did you get involved with Netflix and October Faction?
CARSON: I auditioned for October Faction a couple times before booking Rob. I had a really good feeling going into the auditions and when I got the call from my manager, Daniel Abrams, that I had booked it I was ecstatic.
.
.
.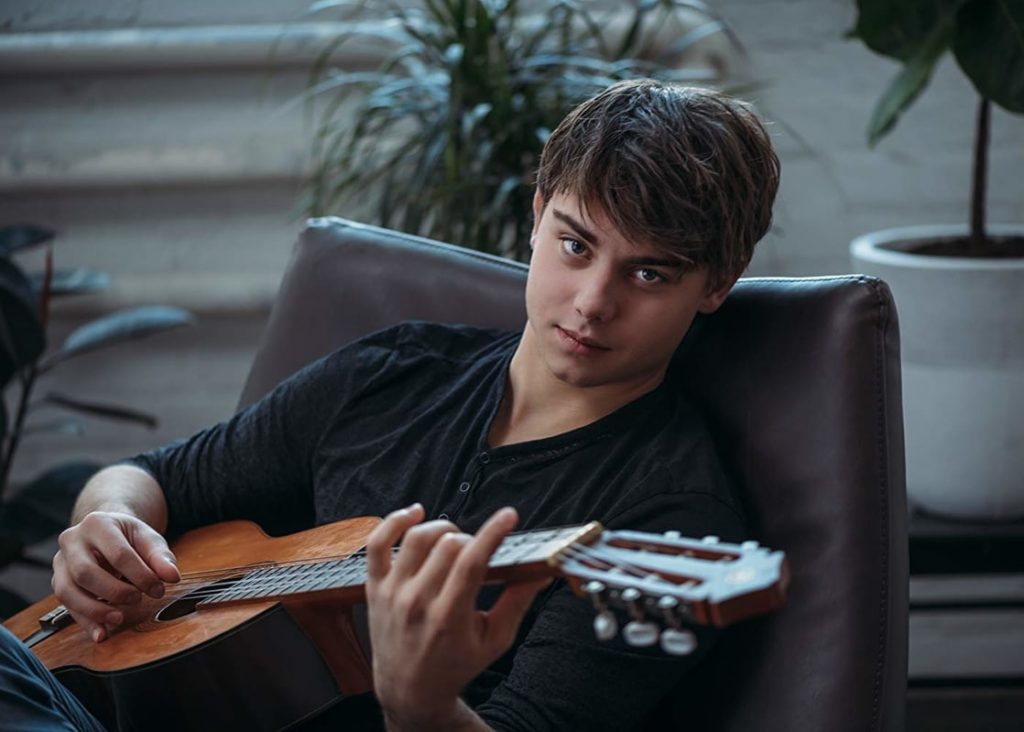 .
GRUEMONKEY: It's a great show to land a role on. Congrats. Tell us what October Faction is about for people who haven't seen it?
CARSON: October Faction tells the story of Viv and Geoff Allen, 17-year old twins whose lives are turned upside down when they discover their seemingly unremarkable insurance sales rep parents are, in fact, (spoiler alert!) trained assassins who hunt monsters. Think Men in Black meets Riverdale – dark family secrets and simmering high school angst all collide against the struggle between monsters and humans.
.
.
.
GRUEMONKEY: It's a great show. I love it. Tell us about your character and if there are any similar characteristics between your character and yourself?
CARSON: Thankfully, I'm not at all like Rob. Rob is a charming teenager in high school who has it all. He's the quarterback of the football team with scholarships lined up for college, a supportive and wealthy family, and is one of the most popular kids in school. Rob has been given so much that he feels as if he is entitled to whatever, or whoever, he wants. I'm not similar to Rob at all but I have been surrounded by 'Rob's' my whole life. His entitled and 'the world revolves around me' mentality is something that I think a lot of people have encountered before.
.
.
.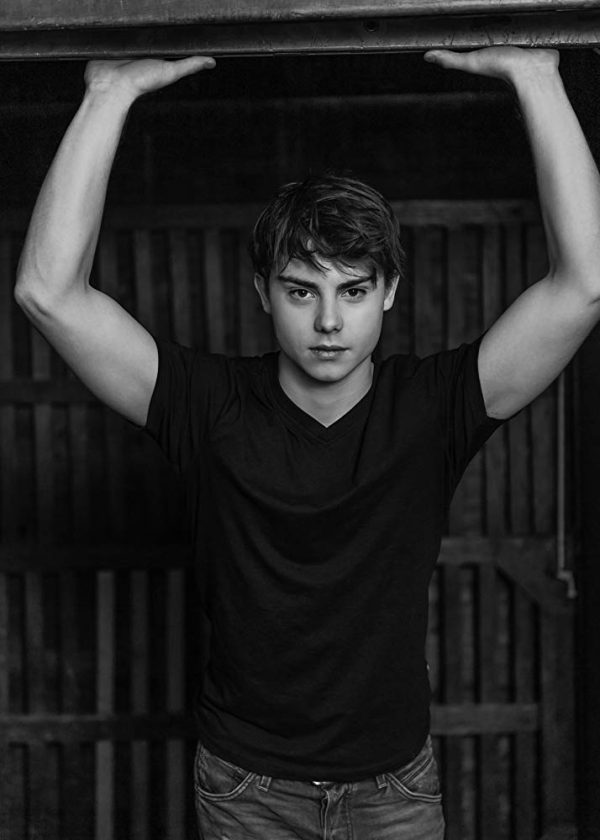 .
GRUEMONKEY: Yeah, I been surrounded by Rob's my whole life to (laughs). What was your favorite scene that you are involved in for October Faction?
CARSON: My last scene of the season was definitely my favorite. Most of my cast mates were there, I have this awesome argument with our whole high school group and it was just such a blast to film. Fighting with everyone and then laughing and joking between takes was just a really fun dynamic to be apart of; you could really pick up on the chemistry we all had on set together during that scene.
.
.
.
GRUEMONKEY: I love that scene. What actor did you talk to the most on set for October Faction?
CARSON: I would talk to everyone on set, especially our high school group, but I definitely was with Aurora Burghart the most. Most of my scenes were with Aurora and we got along great while working together. We had some pretty intense days so the fact that we enjoyed working together made it much more comfortable for both of us. Aurora was so great to work with.
.
.
.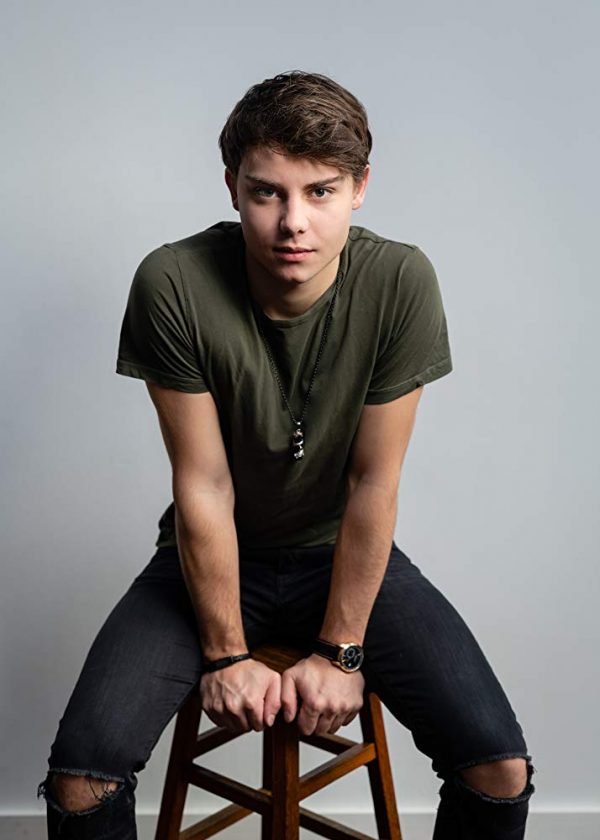 .
GRUEMONKEY? Any cool or funny behind the scenes stories you can share with us from October Faction?
CARSON: During one of the carnival scenes I'm playing one of those strength testing games where you swing the hammer onto a target and it tells you how hard you hit it. The catch is that I'm supposed to do it with one hand. Sounds fairly simple but I remember trying it for the first time after they called action and completely missed the target I was aiming for. Meanwhile, a whole bunch of the other high school cast is standing beside me trying not to laugh as I go through my lines. After the director called cut the whole cast and crew, myself included, start laughing at how ridiculous it all looked. Four or five takes later the cast was still laughing at how silly I looked trying to swing this hammer one handed. It's always interesting when some of the cast starts getting the giggles on set but we got through it! Shout out to movie magic for making me look like I crushed that strength test in the show because it was definitely not that smooth in person.
.
.
.
GRUEMONKEY: Those strength testing games are no joke. They are hard (laughs). It looks like you did some modeling and play the guitar? Can you tell us about that?
CARSON: I've never done professional modelling but I do enjoy photography. It's a lot of fun working with talented photographers and it's something I want to do more of in the future. It's such a unique experience and differentiates so much from person to person. Guitar is a big hobby of mine right now. Around 3 years ago I started teaching myself how to play and have just been enjoying it ever since. I always wanted to learn how to play growing up and finally decided it was time to learn. It's a lot of fun for me and I've recently started messing around with the electric guitar as well. Not sure what I plan to do with it but playing the guitar and singing have become big creative outlets for me. Music is such a moving medium, I use it for roles all the time.
.
.
.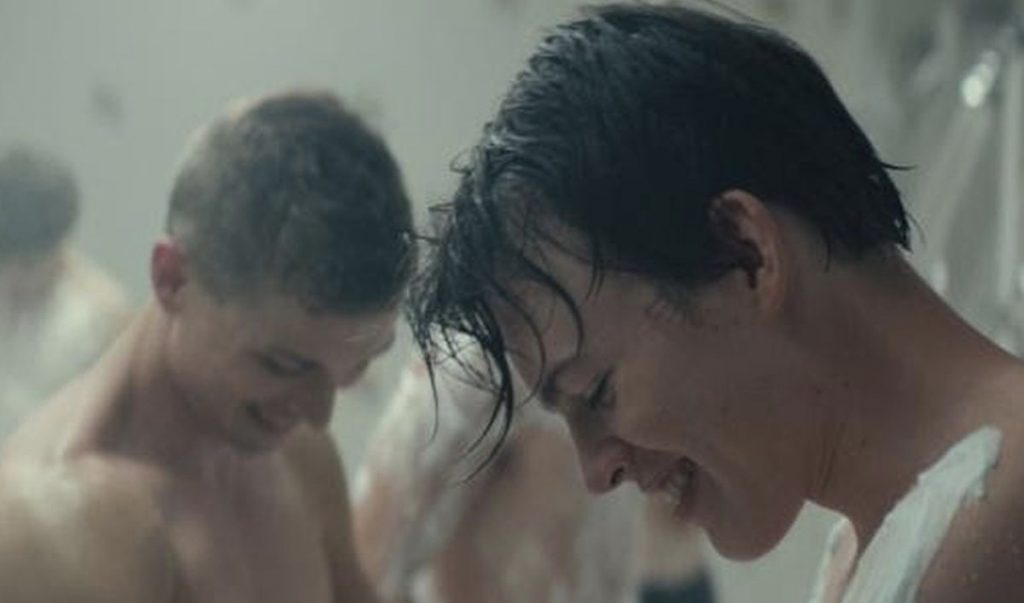 .
GRUEMONKEY: Anything else you want to discuss and promote?
CARSON: I have a few projects that are currently in the works that I am very excited about. If you want to check them out or just want to follow me then I'm on Instagram @carson_maccormac. I have a new feature coming out called East of Middle West where I play the lead role of Chris. It's currently in post-production and I can't wait for it to release. I'm also co-producing a short film that is in the final stages of post-production called Thinly Veiled. If you haven't checked out October Faction then please give it a chance; I promise you will love it! Thank you to Gruemonkey for the interview, it was a pleasure talking to you.
.
.
.
SPEED ROUND:
Guilty Pleasure TV series and movie that you are currently watching?
I have seen Top Gun an unhealthy amount of times. I'm not sure if this is a guilty pleasure but I'm currently obsessed with The Boys. I also have re-watched New Girl quite a few times at this point.
Favorite social media platform?
INSTAGRAM
Who is currently on your playlist?
J. Cole, Matchbox Twenty, John Mayer, Eminem, EDEN
Hidden Talents or something some people and fans don't know about you?
I played high level baseball for 10 years, I'm a certified ski instructor and can wiggle my ears!
Favorite Karaoke song?
Mr. Brightside or Dirty Little Secret
.
.
---
.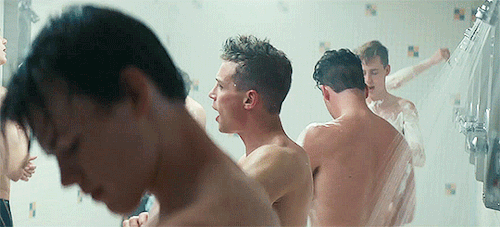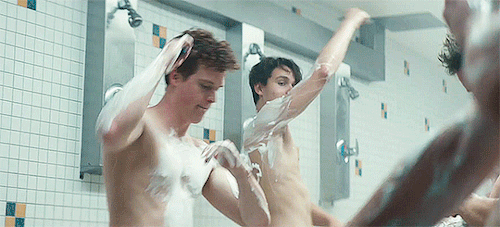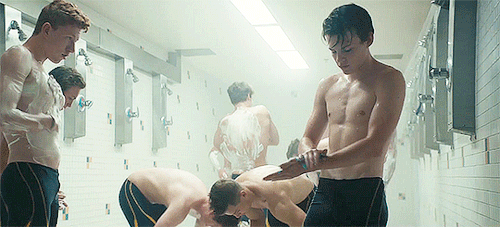 .
.
.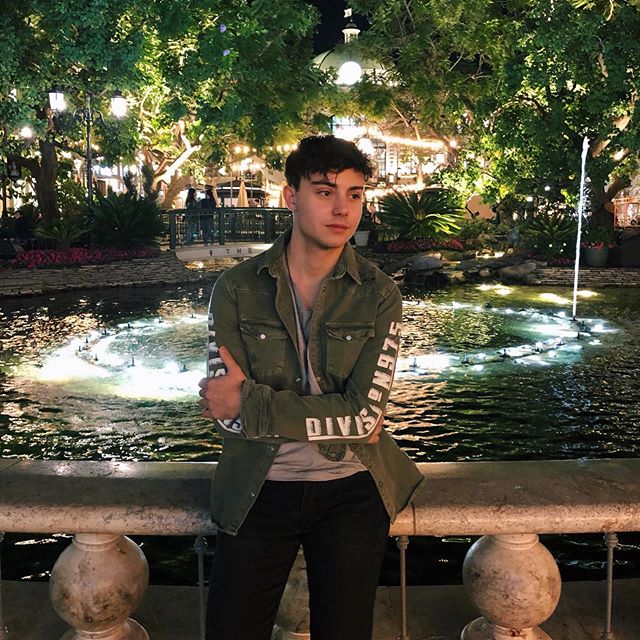 ---