Gruemonkey interviews J.C. MacKenzie (October Faction, Dark Angel, Hemlock Grove)!!
---
Gruemonkey interviews J.C. MacKenzie (October Faction, Dark Angel, Hemlock Grove)!!
---
Hello Grue-Lings,
  Today we are very happy and honored to be interviewing a legend in the acting the world. This guy has done so many films and tv series. His name is J.C. MacKenzie. 
J.C. MacKenzie was a student at Concordia University. 
He has made over 150 appearances in films and television, and on stage. He is best-known for his role as "Ludlow" in Martin Scorsese's The Aviator, "Arnold Spivak" in the Emmy Award TV-Series, Murder One, as well as his portrait of "Reagan "Normal" Ronald" in James Cameron's Dark Angel series, which won the People's Choice Award. He made his screen debut in the TV-movie, Perry Mason Returns. He is no stranger to the horror/thriller world as he appeared in Final, The Return, The Day The Earth Stood Still, Alfred Hitchcock Presents, Poltergeist: The Legacy, Murder One, Dark Angel, Ghost Whisperer, Medium, Dexter, Hemlock Grove, and October Faction. Here is our interview  with J.C. MacKenzie:
.
.
---
.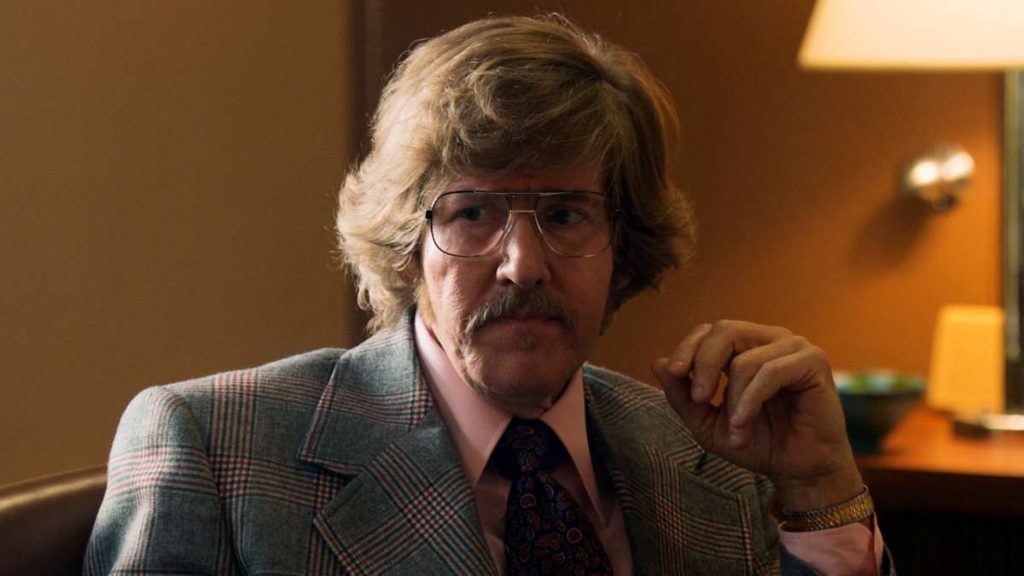 .
GRUEMONKEY: Hello J.C. and welcome to Gruemonkey today. Thank you for being my guest. It's my honor. You worked for Martin Scorsese a lot. The Wolf of Wall Street, The Departed,
The Irishman, and Vinyl. How was it like working with Martin on all 4 of these amazing
films and can you tell us your experiences with those films?
J.C.: I first worked with Scorsese in 2004 on the film The Aviator. I nearly soiled myself the first day I was so nervous Playing Cate Blanchett's ex-husband and doing a six-page scene with Leonardo DiCaprio around a dinner table.
 After one rehearsal I relaxed because Scorsese has a magical touch with actors. He's positive, he's engaged and he knows just because he's called "the director" doesn't mean he has to "direct". It's all about establishing confidence. He wants things messy, like life, he often says "it sounds to writer-y make it more real – muck it up. You don't feel like you can't make a mistake because he loves mistakes. In fact he often includes mistakes in the final product -whether it's overlapping lines or mispronouncing a word – It's often in the final cut, so psychologically it frees the actor up. Most directors feel the need to micromanage because they are so insecure and afraid for their own jobs. They tend to over direct. Scorsese is interested in diminishing the line between documentary and fiction as long as it's based in reality, he's open to anything. For me, he's the perfect actor's director.
.
.
.
HELLTER: He really sounds like a pleasure to work with. Did you get to interact with Rock and Roll Icon Mick Jagger at all and if so, can you tell us a fun story about being on set with Mick?
J.C.: Mick would come to the readthrough's. It sounds so surreal even saying that now. He was as you can imagine, impossibly cool. I was sitting next to Ray Romano during the first readthrough and Ray said, "have you met Mick?" And I said "no I don't want to meet Mick. I won't be able to speak. "He grabbed me by the arm and literally push me into Jagger, who could see I was apoplectic and immediately hugged me and said, "it's all right, it's all right."
.
.
.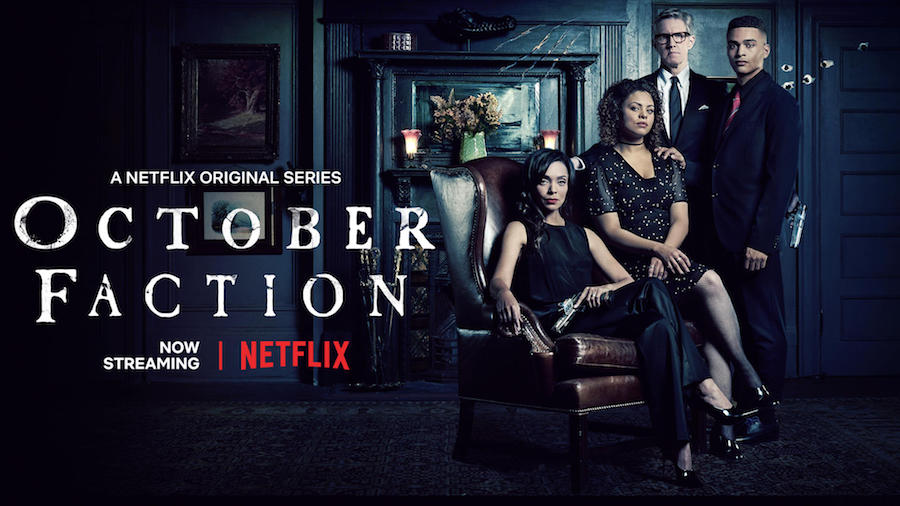 .
GRUEMONKEY: That's so funny (laughs). I would freeze and pass out if Mick was standing next to me (laughs). What attracted you to October Faction and how did you get involved in the series?
J.C.: I'm a character actor.  I guess I've done a lot, but I am more often than not tertiary. Which is to say "I'm down the line." I'm the goof, the sociopath, the pedophile, the fuck up, I'm never the lead. I came to the project through an individual named Charles H. Eglee who was my executive producer on ABC show I did called Murder One and is generally considered to be the top of his field when it comes to television writing and producing. He's also been incredibly generous and loyal, something you don't find a lot of in this business. Whether it's The Shield or Dexter or Dark Angel or Hemlock Grove he's one of the few people that has continued to hire me. Anyways, he called me up and said, "My friend is creating a show for Netflix and I've suggested you for the lead." I said, "Are you sure? You know who you're talking to right?" Two days later I got a call from Damien Kindler, the creator of the show. We had an hour-long conversation and immediately hit it off. He's dark. He's smart. He's very empathetic and he's got a wicked sense of humor. We had six subsequent meeting talking about everything from marriage to sci-fi to xenophobia. He said, "Would you mind putting yourself on tape with a couple of scenes of your choice?" I said, "I'll put myself on tape for all the scenes if you want." Which I did and submitted to him. He informed me shorty after that he was getting some pushback from the network because I'm not famous so he asked if I could get a letter from Scorsese who I've worked with five times and Aaron Sorkin who had directed me for the second time in Molly's Game and the upcoming film, The Trial Of The Chicago Seven. I said, "How in God's name am I going to get a letter from Scorsese and Sorkin?" "Ask," Damien said. I did. Sorkin wrote back the same day. Scorsese the following day. Both insanely complementary. I don't care if the assistant wrote the letter, it's something I will treasure forever. We submitted the letters and two days later Damien called me at midnight, my time, to offer me the job. 
.
.
.
GRUEMONKEY: Wow! I am glad they went with you for the lead, you did an amazing job in October Faction. Can you tell us about Fred Allen and about the distance he has with his parents and love for his deceased brother?
J.C.: His brother is the distorted lens that Fred looks at life through. He feels responsible for his death and the subsequent demise of his family his brother was the Alpha to Fred's beta and Fred, in a sense, is trying to live out his brothers life as a spy rather than his own. This is problematic as Fred is often perilously insecure and unsure of himself, but it makes for compelling drama.
.
.
.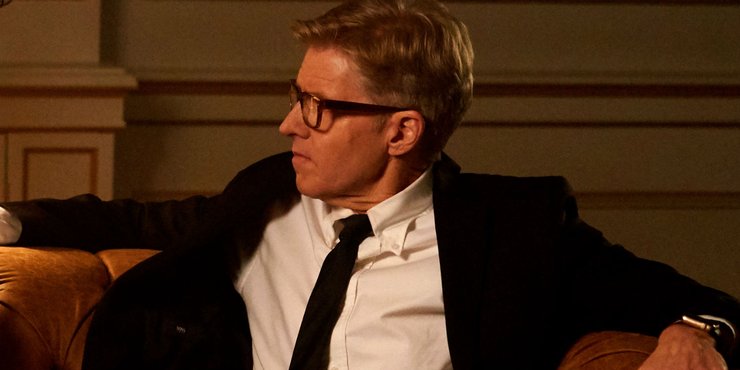 .
GRUEMONKEY: Fred is a great character. What can you tell us about Presidio? We know its a family business that Fred was involved in since he was a kid. At first we think Presidio is doing the right thing, ridding the world of these monsters, but we learn later in the series, that it's not what it seems, and the fact that Fred and his wife have to hide it from their two teenage kids. What are your thoughts on the whole angle in the series of Presidio and the secrets and keeping it from the kids?
J.C.: Presidio Is a metaphor for institutions  that will go to  any length to  hold and maintain power and as a result  Fred wants his children as far from Presidio as possible.
.
.
.
GRUEMONKEY: What is it about October that draws out Presidio to take care of that one month out of the year?
J.C.: October Is the full moon, the catalyst and the period of time anarchy, evil and mayhem rears their heads. To me it's like the movie The Purge, but instead of a 12-hour-period, it's a month.
.
.
.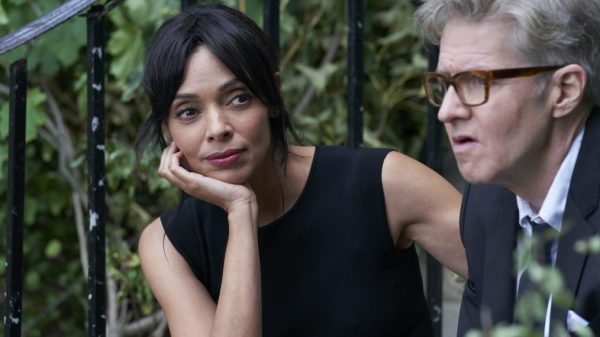 .
GRUEMONKEY: Nice!! I am happy that October Faction focuses on an interracial married couple with two interracial teens and Fred's son is gay. It has interracial storylines and even a romantic gay storyline between Fred's son and Philip. Are you happy with how all that gets told in the series with you heavily involved as the main character and the fact that Fred's son doesn't have to be scared to be Gay and be who he is?
J.C.: The series is not only a supernatural thriller but a character driven family drama about a marriage, and racism. The monsters in series are a metaphor for the xenophobic paranoia of "the other" that all the characters in the show deal with it. It's also excruciatingly relevant, given our current political situation.
.
.
.
GRUEMONKEY: Yeah I agree. What monsters did you enjoy working with on October Faction? 
J.C.: The opening Sequence of the television series Tamara Taylor's character shoots what looks to be an ominous looking creature at the end of the scene. When we shot that there was a small-ish man dressed up in a rubber suit who could neither see nor hear because of his costume. I had no idea, stupidly, that special effects were going to be used to create the "monster". The man looked like a Teletubby at the time and I was frankly, worried. I say that to illustrate that a lot of the monster effects are employed long after we finish the scene in post. I don't see the monsters that often – it's all imagination.
.
.
.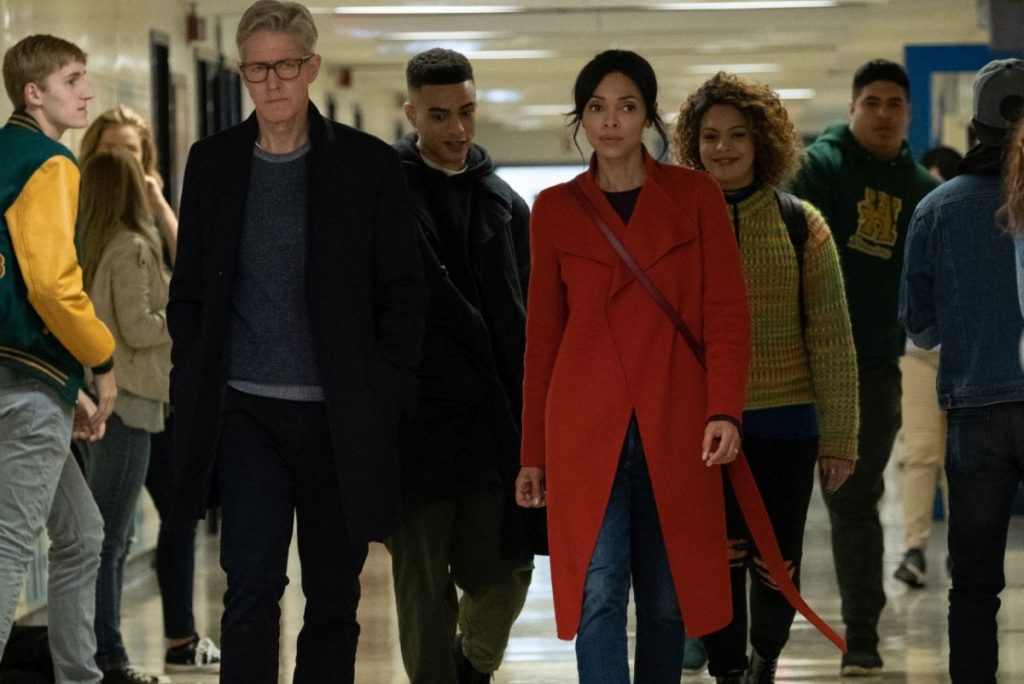 .
GRUEMONKEY: They did a great job with the Monsters. I read you have a teenage son. From raising your teenage son, did you pick up a lot of pointers on how to play a dad to two teenagers on the show and has your son watched the show and see how you play a father?
J.C.: When it comes to acting I use as much of myself and that includes my family as much possible. So yes, I've used my son and everything that goes along with being the parent of an adolescent in New York City, which is where I live. My son is also extremely prescient when it comes to culture often telling me what's going to be the hit movie that weekend or a television series he finds interesting and predicts might be successful. Interestingly I asked him about October Faction. He told me that he would definitely watch a show like this. His friends would definitely watch it. It's good. Really good. He thinks it's going to be a hit. From his mouth to God's ears…
.
.
.
GRUEMONKEY: I agree with your son. It looks like this show should be a hit. It has everything for everyone. What has been your favorite scene in the series that you shot?
J.C.: I adore all scenes with Tamara Taylor. I've never had more natural chemistry with another actor. She is talented, listens, has great ideas, is empathetic, easy to work with and not hard on the eyes.
.
.
.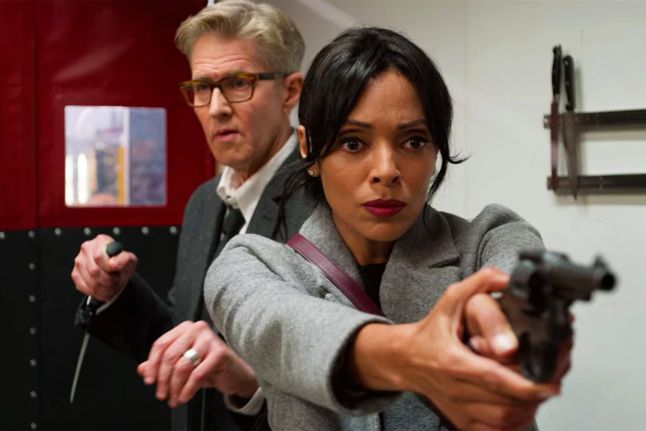 .
GRUEMONKEY: Yeah, she is amazing. Any cool or funny behind the scenes stories you can share with us from October Faction?
J.C.: Refer to Teletubby scene.
.
.
.
GRUEMONKEY: What are your thoughts on how the kids reacted to finding out their parents are Monster Hunters and how the parents reacted to their kid's reactions?
J.C.: It's really where the show begins to ramp up tremendously. It's about secrets kept how damaging they can be.
.
.
.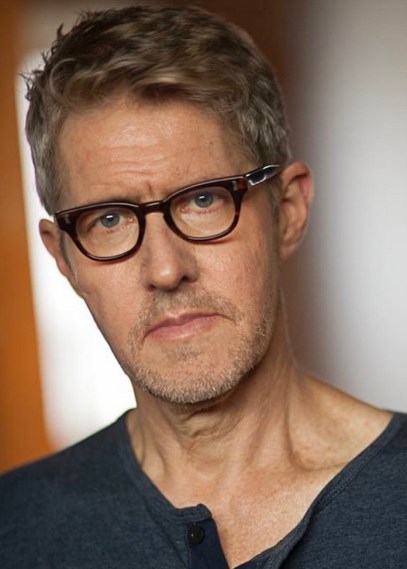 .
GRUEMONKEY: Before I wrap up the interview. Two series I loved are Dark Angel and Hemlock Grove. Can you tell me your experiences working on both amazing shows?
J.C.: Both shows were run by Charles "Chic" Eglee who is responsible for three out of the four series regulars I've had in my career. The character of "Normal" was originally described as a short Jewish man in his mid-40s. I was a tall nerdy, neurotic wasp in my early 30s. A testament to an independent thinker, working outside the box. Like all great artists "Chic" hired you, then stepped back to let you do your work.
.
.
.
GRUEMONKEY: You had get chemistry with Chic. Anything else you want to discuss or promote?
J.C.: For an old man it's been a busy couple of years. I currently have a movie on HBO called Share and three films being released this year. The previously mentioned Sorkin film called The Trial of the Chicago Seven, a Craig Zobel film called The Hunt and a film written and directed by Daniel Robie called Target Number One. 
.
.
---
.
.
.
---