Gruemonkey interviews Peter Mayer-Klepchick (Groupers, The Girl on the Train)!!
---
Gruemonkey interviews Peter Mayer-Klepchick (Groupers, The Girl on the Train)!!
---
Hello Grue-Lings,
   We have Peter Mayer-Klepchick today on Gruemonkey for a great interview. He stars in the Gay horror/thriller film Groupers. We are very excited for this interview. Peter was a QVC co-host. He was also in some tv series Paterno and The Anomalyst which is currently filming, he plays Ryan. He also did some films including: My Pastor Jim, Backseat, Unbroken: Path to Redemption, Canvas: A Short Story, Finn, Ecstasy: Teaser Trailer,  The Girl on the Train, Airborne, and of course Groupers. There is a film he is involved that is being pitched called The Beautiful Ones Are All Mad, he is supposed to play Bradley. Here is our interview with the talented Peter Mayer-Klepchick:
.
.
---
.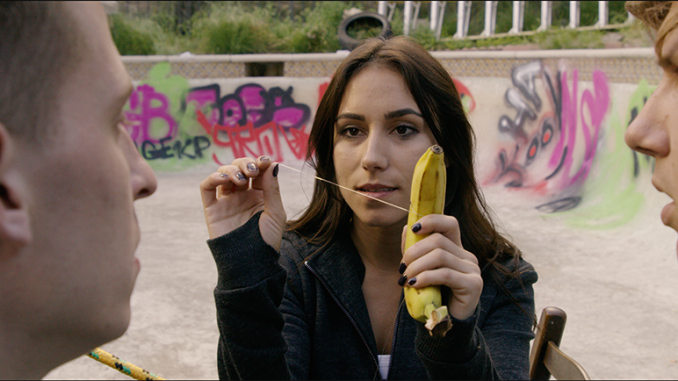 .
GRUEMONKEY: Thank you Peter for this interview with Gruemonkey. What made you wanna become an actor and what was your first big break that broke you into the entertainment industry?
PETER: I wanted to become an actor because it was the only career I couldn't put down. Before acting, I wanted to be a lawyer, then a baseball player and finally join the FBI, but those daydreams only lasted a few months. Acting was the one career I couldn't seem to run away from, and no matter how far I ran I always seemed to circle back to it.
My first big break was ​The Girl on the Train ​ . It was the first time I was called back for an audition, and it's a ​Dreamworks ​ picture, so you can imagine my surprise when I show up to a set where six Cadillacs are waiting to drive you anywhere you like. I'm so thankful for those opportunities, but it was and always will be a little much for me. I'm a simple man who enjoys hiking until I'm lost, reading anything I can devour and writing in one of my several notebooks.
.
.
.
GRUEMONKEY: You sound very down to earth and chill. That's awesome. Tell us about your character Mac from The Girl on the Train and how it was working with some amazing actors in the film?
PETER: Mac was a cool dude! An outdoorsman who likes his peace. For the audition, I threw on an old country flannel and chopped wood out back. Before I knew it I was on set, and the outrageously generous director Tate Taylor told me I was selected because I followed the character; and it made him laugh. As for working with the cast, I spent most of my time alongside Haley Bennett who was absolutely kind, caring and loving throughout the entire process.
.
.
.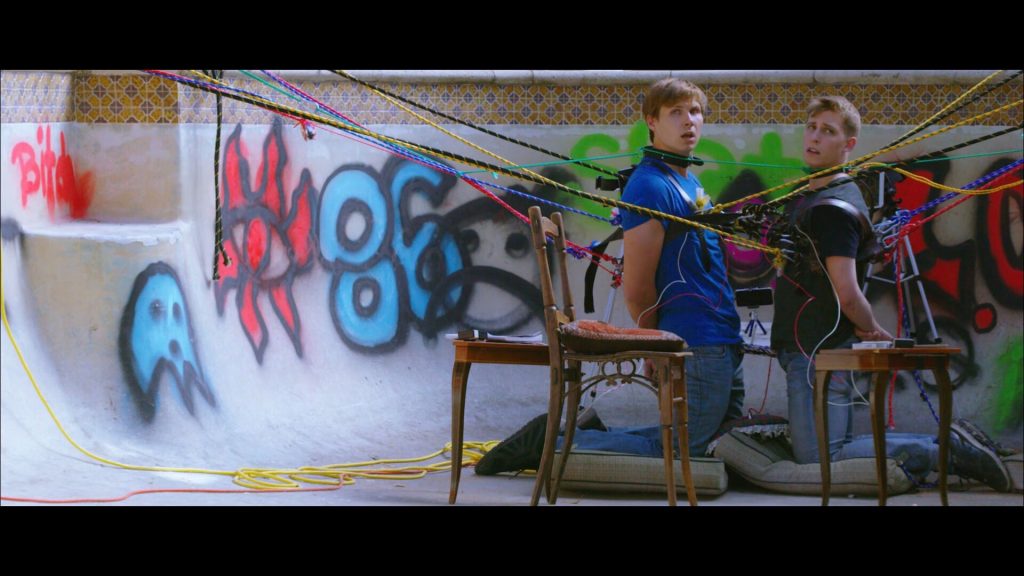 .
GRUEMONKEY: So happy you had a great experience from that film. What is the short film Finn about?
PETER: Finn is about an isolated young man who begins to fantasize that his goldfish is coming to life. We were lucky enough to win best director and cinematography at the All-American Film Festival as well as several awards throughout the award circuit. Oh, and since its release in 2017, director David Kim kindly put it on Youtube… 🙂 
.
.
.
GRUEMONKEY: Grue-Lings be sure to check this out on YouTube!! Another short film you are in that sounds very interesting is Esctasy: Teaser Trailer. It's about out of towners vacationing in spain only to be seduced and kidnapped in a drug ring and making it hard to escape. How unnerving was it to film that because sadly stuff like this happens a lot in our world today. What would you do to survive and escape if you were ever faced with a situation like that?
PETER: We live in an unsettling world, but I firmly believe diving into the tough trenches of mankind will help you better understand human nature as a whole; not just the beautiful aspects of life. If we avoid difficult stories, we cannot grow as individuals… that's why I've imagined these situations so I can escape once I'm taken! Kidding? No. We've all imagined what we'd do, but I'm the type of guy who thinks he can get out of any situation. Car chase, robbery, shipwreck you name it! Ah, who am I kidding. I can't swim. 
.
.
.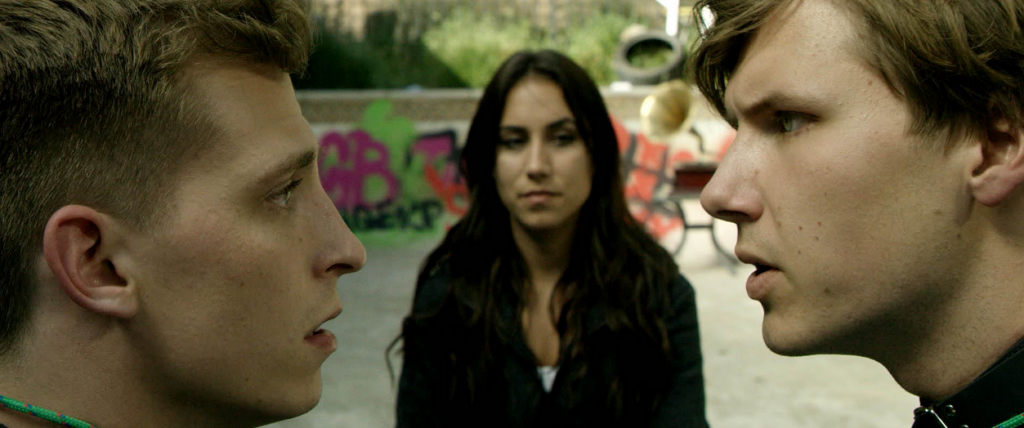 .
GRUEMONKEY: Don't worry. I can't swim either (laughs). Let's talk Groupers. For anyone who hasn't heard of this film yet. Can you tell us what the film is about?
PETER: Groupers is about two homophobic jocks who are put to the test to see whether or not homosexuality is a choice. It's a handful, but again it's a necessary story. I can't give too much away, and I know that's what everyone says, but it's true! The story is told in the same nonlinear progression as a Pulp Fiction, but carves its own place in cinema's daily climate with a narrative that needs to be heard in today's ever growing climate.
.
.
.
GRUEMONKEY: You're right. It's a movie that really needs to be seen. I loved it. Tell us about your character Brad in Groupers and what made you become interested in playing Brad?
PETER: Brad is not your usual closet homophobe. Not at all. He is a true, outright homophobic. I was drawn to him because of his fears and insecurities in something he doesn't understand, and how he feels the need to ostracize individuals that are, in his eyes, different. It plays into what I previously said; if we understand the horrific individuals we encounter, it will put us in a stronger light while defending what we know to be right. 
.
.
.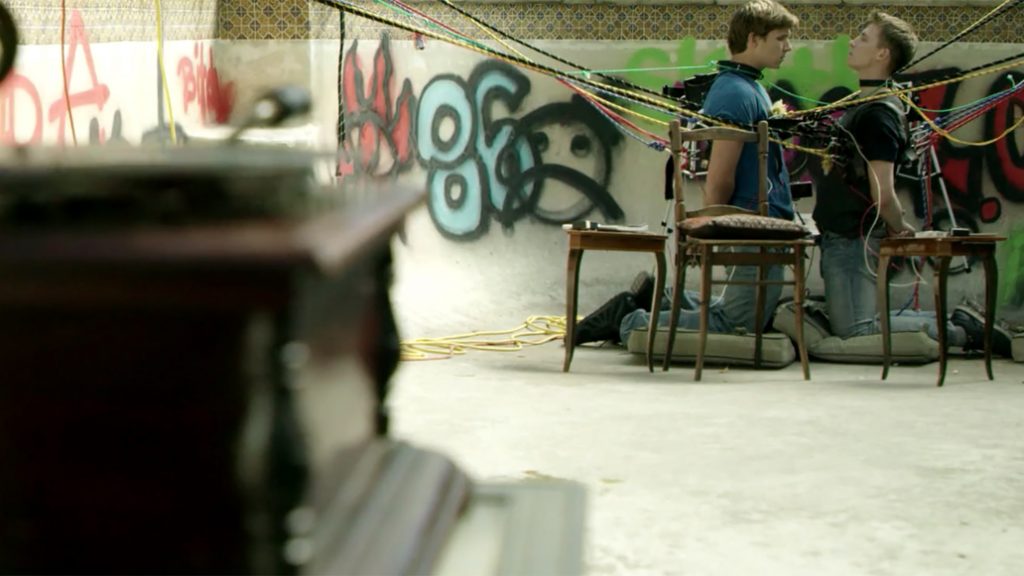 .
GRUEMONKEY: What was your favorite moment or scene from Groupers?
PETER: AHH! Well, my favorite scene is one I can't divulge in full detail, but I will say that it's a comedic moment between Dylan and Brad in the bottom of the pool that I could not handle myself in. I want to say it's the only scene we had to shoot more than three takes. I don't want to say I think it was upwards of twenty takes because I couldn't stop breaking.
.
.
.
GRUEMONKEY: Oh yeah. I know the scene you're talking about (laughs). How would you describe how Brad and Dylan's friendship got being held captive together?
PETER: Their friendship truly evolved, and given the circumstances, I'm not sure if it couldn't. Secrets unfold, egos are tested and individual pride is pushed to its limits throughout the development of Brad and Dylan in our story. It's truly a great takeaway in the evolution of a friendship.
.
.
.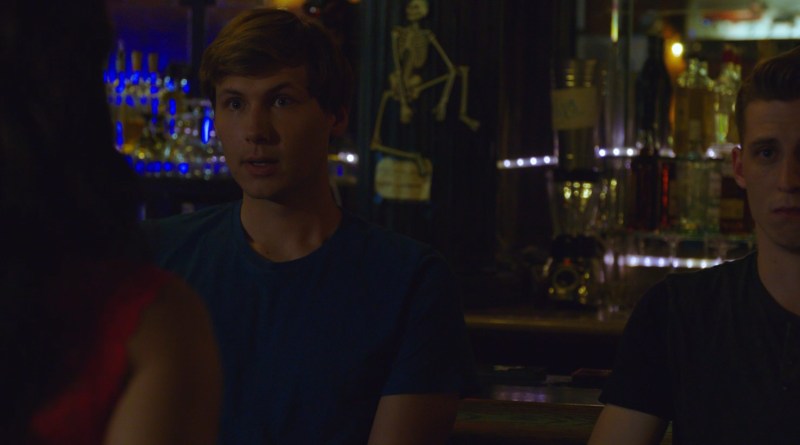 .
GRUEMONKEY: Isn't that the truth!! The film has a very powerful message. Too many young people are still being bullied at school for being Gay, which is a shame. What message did you get from this film, from being in the film as an actor and watching as a fan? 
PETER: I won't lie. As a fan I disliked Brad. I found some empathy for his immature nature, yet as an actor it was a blast playing something against my convictions. I can truly say I've grown as an individual after playing Brad. Growing up, I worked in a highly progressive town that exposed me to all colors of mankind at a young age. I loved it! It allowed me to be open. It allowed me to make true, lifelong connections with people because of the journeys we shared, and how willing, specifically, the gay community was in sharing their story knowing I'd be tender towards their feelings. Man, I just want people to focus on being true to themselves and not to worry, or feel the need to belittle anyone because of their own insecurities, or lack of knowledge about someone else's struggle. Just talk to people. That's the message. Have open and honest conversations each and every day.
.
.
.
GRUEMONKEY: I 100 percent agree! If you were Gay in school and are getting bullied, what would you do to attempt to make it stop? 
PETER: I used to bully the bullies. I've been 6'4 since high school and raised by a loving and caring single mother who insisted I stick up for others. I never saw myself as a role model, but she knew other people did. I made it a priority to look out for others, and I truly believe that's how you handle a bully. Being open to the right people. Allowing the right people to be on your side. I know that's not the BEST answer, but at such an impressionable young age people need an inner circle of friends. It's how we cope. It's how mankind has always coped. Not alone. Together. We need to stand up to hate together, and it starts as early as middle school. You're not alone. Someone out there will stand up with you. Seventeen year old Peter would. Man, you're just not alone. 
.
.
.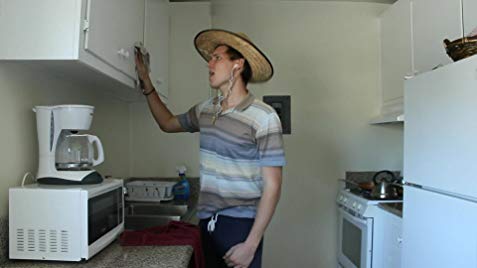 .
GRUEMONKEY: Are there any fun stories that happened on set for Groupers that you can tell us?
PETER: There is a scene we shot at a bar and our call time to set was around midnight. When I arrived at the bar it was still open, so I sat down and relaxed. Not saying that I had a drink or not, but if I did it would be a Guniess. So, I'm waiting around, Guniess-less, and
these two women start having a harsh verbal altercation. Someone cheated on someone. Anyway, before you know it the drunkest lady shatters a wine glass on the table. (Yes, this is the type of place Groupers was shot at.) And I notice the stem of the glass looks awfully sharp. Being as I've been in a bar fight a time or two, I've seen what could happen next, so I casually walk over (our Director Anderson and DP Milano, watching) and take the would-be eye stabber away from the situation. Now, when I arrived to safety I was scolded for getting involved in a bar fight, but I'd do it any day. A lot has changed in my typical protocol of dangerous situations after being attacked by three pitbulls with a combined total of ten legs, but that's an entirely different story. 
.
.
.
GRUEMONKEY: (laughs). Ok. Anything else you want to discuss or promote? 
PETER: Yeah! Throughout shooting Groupers and other sets I would pass the time writing short stories for daydreamers and the daily commuter. I take the train into NYC a lot, and I could never truly dive into a book, so I compiled a collection of forty short stories I wrote and put them into an anthology. It's called Ephemeral; of things lasting briefly, and it's available on Amazon. I wrote them to get through some tough times. Placing words on paper helps me, and it's available to the world to hopefully help you. 
.
.
---
.
.
.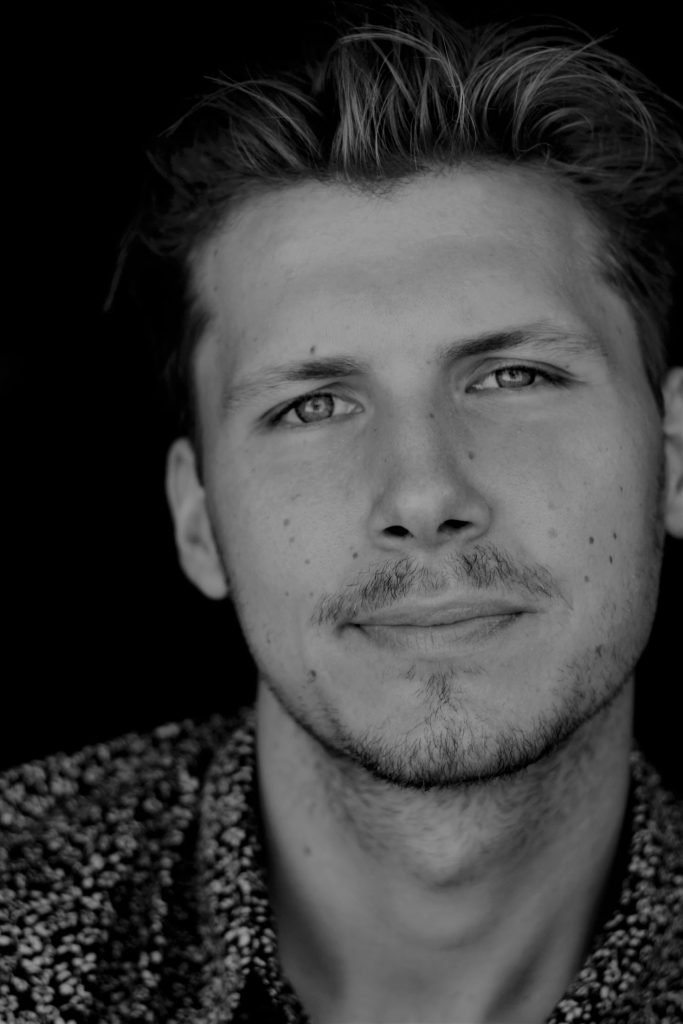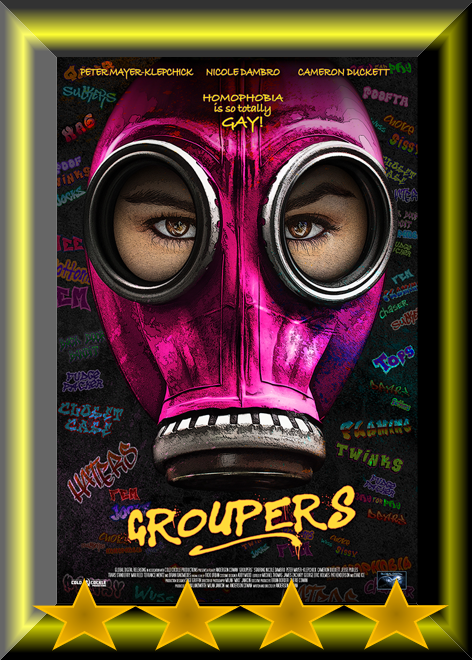 ---