---
Unearthed Films announces The Untold Story!!
---
In 1978 in Hong Kong, a grisly murder takes place. Eight years later, on a Macao beach, kids discover the severed hands of a fresh victim. A squadron of coarse, happy-go-lucky cops investigate, and suspicion falls on Wong Chi Hang, the new owner of Eight Immortals Restaurant, which serves delicious pork buns. The hands belong to the missing mother of the restaurant's former owner; he and his family have disappeared; staff at the restaurant continue to go missing; and, Wong can't produce a signed bill of sale: but there's no evidence. The police arrest Wong and try to torture him into a confession. Can they make him talk? And what was in those pork buns?
.
Directed by Herman Yau. Produced by Danny Lee. Written by: Law Kam-fai, Sammy Lau. Starring: Danny Lee, Anthony Wong. Music by Jonathan Wong. Cinematography by Cho Wai-kee. Edited by Choi Hung. From Hong Kong. 
.
Stephen Biro and Unearthed Films are proud to present The Untold Story, the most notorious cat III film ever made. Stay tuned for more details on special features, artwork, interviews and more!
Due to its explicit and disturbing depictions of sex and violence involving the Wong Chi-hang character, The Untold Story was awarded a Category III rating in Hong Kong.
The Untold Story won its only nomination, with Anthony Wong winning his first award for Best Actor at the 13th Hong Kong Film Awards.
.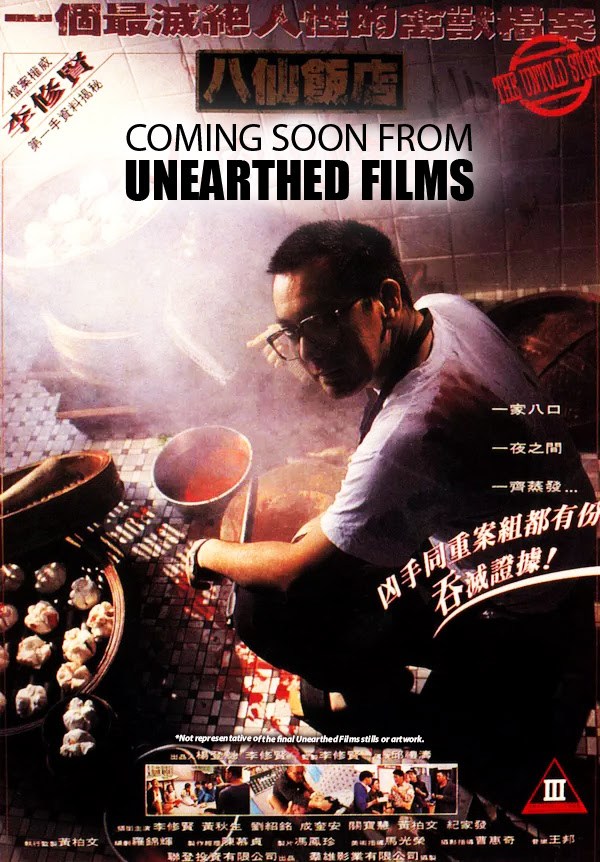 ---