Hellter interviews Jack Sholder (A Nightmare On Elm Street 2: Freddy's Revenge)!!
---
Hellter interviews Jack Sholder (A Nightmare On Elm Street 2: Freddy's Revenge)!!
---
Hello Grue-Lings,
   We have a very special guest today on Gruemonkey. The man behind A Nightmare On Elm Street 2 Freddy's Revenge, Jack Sholder.  He is a retired American director, best known for his work in the horror film genre: Alone in the Dark, A Nightmare on Elm Street 2: Freddy's Revenge, The Hidden, and Wishmaster 2: Evil Never Dies. 
In the DVD commentary of The Hidden, Jack Sholder states that his favorite film director is Jean Renoir.
He currently works as a teacher at Western Carolina University in the department of stage and screen.
During his interview for Behind the Curtain Part II (2012), he confessed that of all the films he had made, Arachnid (2001) was his least favorite. In the same interview, he cited Alone in the Dark (1982), The Hidden (1987), By Dawn's Early Light (1990), and 12:01 (1993) as his favorite films of his own. 
.
.
---
.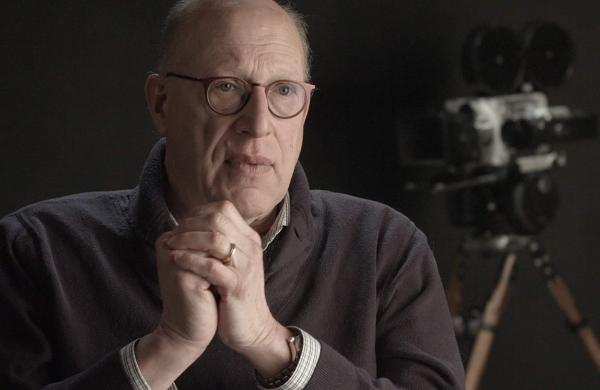 .
GRUEMONKEY: Did you watch Nightmare on Elm Street before becoming the director for Nightmare on Elm Street 2 to familiarize yourself with what kind of movie it is and who Freddy Krueger is?
JACK: I first read Wes's script about a year before it was shot since I'd had a long association with New Line, and Bob Shaye liked to get my opinion on things. I visited the set when Wes was shooting the upside-down scene. And I'd seen several cuts of the film before it was completed. So I had a pretty good idea of what it was all about.
.
.
.
GRUEMONKEY: How did you get involved with Nightmare on Elm Street 2?
JACK: Wes dropped out of the project about a month before production because of disagreements about the script. I was then hired since I was familiar with Elm St and New Line was familiar with me and frankly there wasn't much time to go director hunting.
.
.
.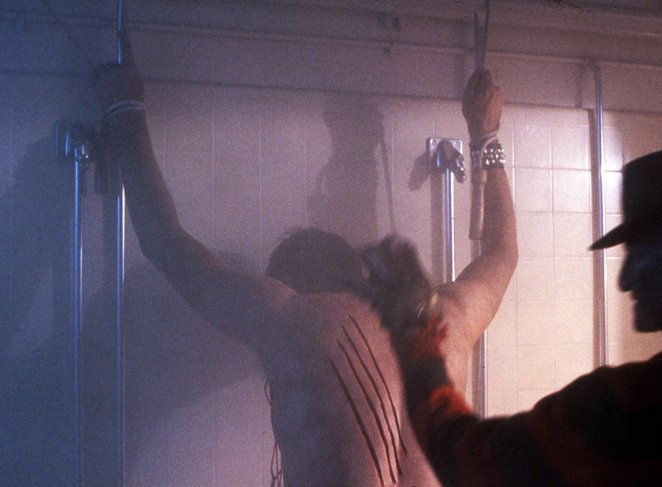 .
GRUEMONKEY: Did you have alot of creative freedom to do what you want to do to Freddy Krueger and the characters in the film?
JACK: It was a huge task just to get the film ready to shoot in the small amount of prep time I had, so it was pretty much shoot the script Dave Chaskin had written. My only directive was to keep Freddy dark and scary. Aside from that, as long as I kept to the schedule and shot what was in the script, I could pretty much shoot as I wished.
.
.
.
GRUEMONKEY: What new things did you want to bring to Freddy that wasn't done in the first film? The whole concept of Freddy living inside Jessie was brilliant.
JACK: My goal was to make it scary, make a good movie, and come out in one piece. The concept was already in the script. That said, New Line was planning to get another actor to play Freddy since Robert Englund's agent was asked for more money. I told them Robert was brilliant as Freddy and they needed to bring him back. At the time, New Line didn't understand that Freddy was the franchise. Aside from that, if there was anything I brought to the film that was not in the original, it was the humor. I have a hard time taking much of horror seriously, so humor is part of my way of coping. Also, humor is a great way to set up a scare. And how do you shoot a demonic canary??
.
.
.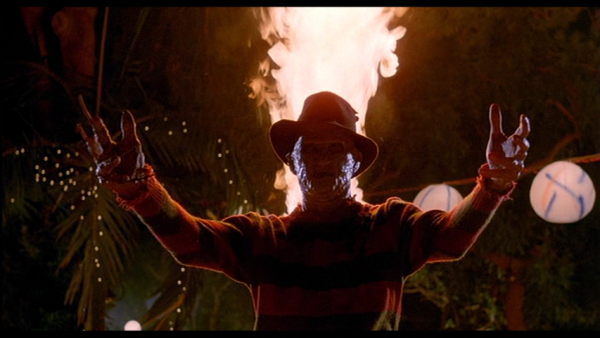 .
GRUEMONKEY: How do you prepare directing an action fight scene and death scene?
JACK: Action scenes are worked out with the stunt coordinator as to how the actors are going to execute it. Then based on that I would in usually make up storyboards, or at least shotlists, of how to shoot them. I also had some help from the DP Jacques Haitkin who had shot the original Elm St and was a lot more experienced in shooting these kinds of scenes than I was. Same thing with special fx scenes where I'd work them out with the special fx guys. Again, a lot of it is very technical to make these things work. The thing that I always tried to keep in mind, however, was that these were not special fx, they were terrible things that were happening to the real people in the script, and so humanizing these scenes was crucial since the audience needs to identify or sympathize with the characters.
.
.
.
GRUEMONKEY: How was it like working with Robert Englund?
JACK: Due to how long it took for New Line to make Robert's deal, we had no time to meet before the film, although quite by chance I went to see a play and Robert was in the audience, and we talked as fast as we could for about ten minutes since we knew we wouldn't have another chance until we were shooting. In fact, he was working on another film during our first week of shooting, so for the scene in the shower we used a double for Freddy, and he was awful. I had to keep telling him to stop acting like a monster. When Robert finally showed up, it was clear what a great actor he was and how much he meant to the success of Freddy and the series. In addition, he was a great guy to work with, full of ideas and ready to go for whatever we needed him to do.
.
.
.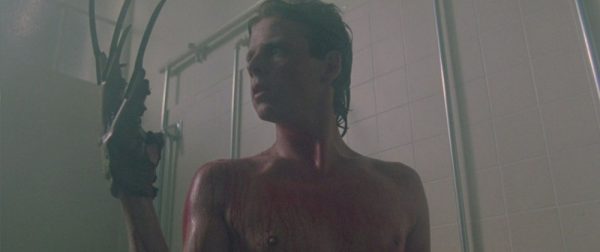 .
GRUEMONKEY: Your favorite kill in Nightmare 2?
JACK: Probably the scene in the shower, aside from the final shot featuring the Freddy double. I thought it was funny, scary and original. I loved how Coach (Marshall Bell) just sort of accepted all the weird things that were going on as he was being pelted by gym equipment. And I thought the stuff in the shower was well shot and effective.
.
.
.
GRUEMONKEY: Your feelings on working with the late great Wes Craven?
JACK: Wes left the film before I came on and was not involved in NOES II from the time I started until it was in the theatres. I had met Wes earlier while New Line was making Elm St, and I helped out a bit with the editing, so I knew him. And when I moved to L.A. from NYC after the NOES II came out, Wes was helpful in giving me advise etc on the ways of Hollywood. But we were never close. He never liked NOES II, which is why he quit the film, but his objections aside, I think he felt it was well made and I had done a good job with the material.
.
.
.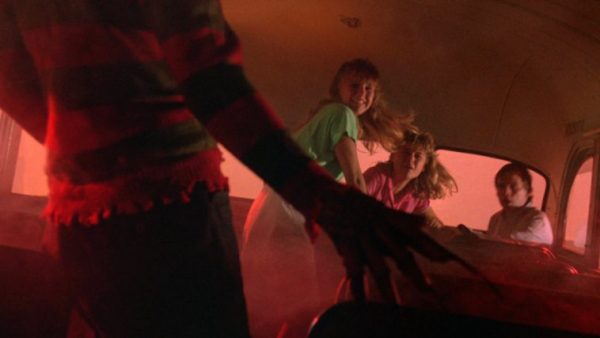 .
GRUEMONKEY: How was the audition process to find Mark Patton?
JACK: We auditioned many dozens of the hot and not so hot young actors from that time. Someone told me Brad Pitt auditioned, but honestly I don't recall. Mark had some heat coming off a Robert Altman film, and I really liked the vulnerability that he brought to the role. New Line agreed, and he was cast.
.
.
.
GRUEMONKEY: How would you reply to the critics who comment on the homosexual themes calling Nightmare on Elm Street 2 the gay Freddy film?
JACK: When we read the first review in the Village Voice that called it the gayest horror film, we all had a good laugh since none of that ever crossed our mind. Yes, there were gay elements brought up in the relationship with Jesse and some of the other male characters, but I saw it as a certain gay anxiety that is implicit in adolescent friendship and sexuality. I was also living in Greenwich Village before the AIDS epidemic hit, so gay life was all around me and again, I found some of it ripe for satire. I must say, when I watched the film several years ago after not seeing it since around the time it came out, I could certainly see what the critics were talking about. I think, knowing now that Mark was/is gay – something that honestly never occurred to me when he was cast – he brings that to the role and to the movie. If we'd cast Brad Pitt, I'm not sure we'd be having this debate.
.
.
.G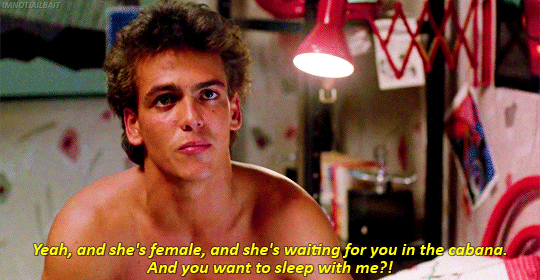 .
GRUEMONKEY: Your thoughts that Nightmare 2 is still talked about and popular in the horror world all these years later?
JACK: As one of the few people in Hollywood to actually get a nice check every year from my NOES net points, I'm delighted. And I'm glad so many people respond well to it or have reevaluated it after these many years Personally, there are other films I've made that I think are better and that more truly represent who I am, but without Elm Street I'm not sure I'd have had the chance to direct them (Alone In The Dark excepted).
.
.
.
GRUEMONKEY: I think a film that I loved that is very under rated is The Hidden. What got you interested in The Hidden and how did you find the actors?
JACK: Sara Risher, head of Production at New Line, showed me the script and said I'd like it. I loved it and fought to direct it since they were talking to another director at the time that I think Sara wasn't happy with. It was not easy to cast. We didn't have big stars, and in fact we didn't cast Kyle McLaughlin until a couple days before we started shooting.
.
.
.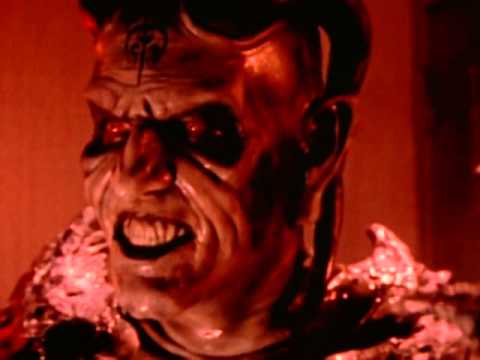 .
GRUEMONKEY: In Wishmaster 2, you have the Djinn take human form in the film. How was it like working on Wishmaster 2 and working with the Djinn character?
JACK: I'd been offered the original Wishmaster but turned it down. My agent mentioned Wishmaster 2 when another film had fallen through and I needed the work. I was not happy to work on a sequel to a film I didn't especially like, but I was told I could write the script and I had a lot of creative freedom as long as I could do it for the budget. It seemed like a fun concept. And Andrew Divoff was great to work with, though toward the end of shoot the make-up and particularly the contact lenses, were extremely uncomfortable and Andrew was understandably in a dark mood, but I thought he did a great job and is a wonderful actor. Actually, we had worked together before, on By Dawn's Early Light, where he played the voice of the assistant to the Russian Premier. Andrew is a brilliant guy and speaks fluent Russian as well as a number of other languages.
.
.
.,
GRUEMONKEY: How was it like working with Donald Pleasence in Alone in the Dark?
JACK: I was thrilled to work with Donald who I felt was one of the great living actors. He was gracious and totally professional and amazed me with just how good he was. The movie itself, while it's one of my personal favorites, was my first and New Line's first and was poorly produced. I ran into Donald several years later at a film festival. He'd had a few drinks, and said he did not have happy memories of the shoot. Bob Shaye also ran into him and Donald complained to him. Bob said, "Surely you've worked on worse productions." Donald replied, "Once, in Italy."
.
.
.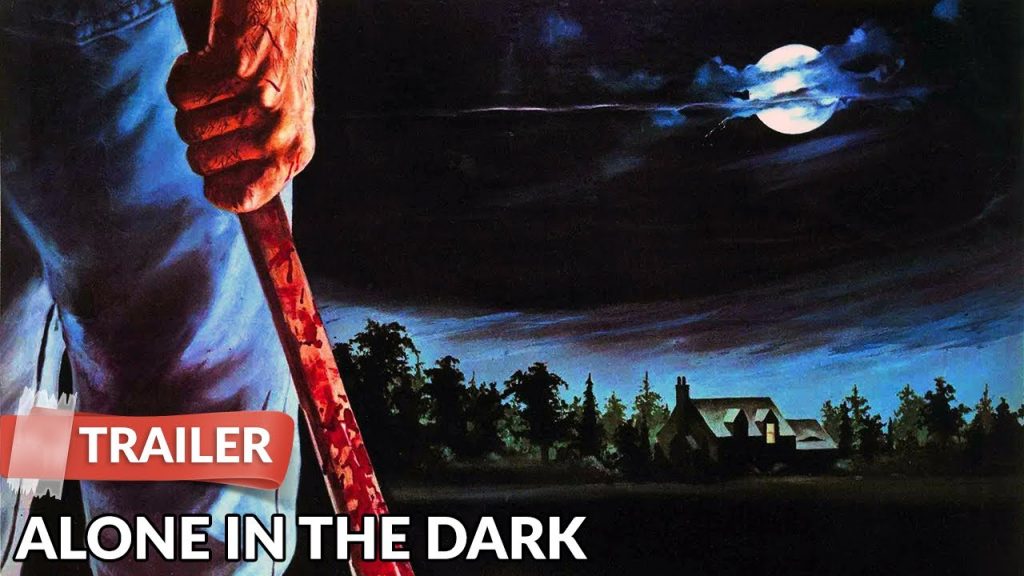 .
GRUEMONKEY: How did Alone in the Dark come about and what did you do to make the film stand out?
JACK: At the time New Line was a small distribution company, not doing production. I cut all their trailers, recut many of the films they distributed, and was very close to Shaye and most of the people who worked there. We were getting high one day after work in 1980, and one of the guys said New Line needed to get into production, and if they could make a low budget horror film they could make a lot of money. I thought about it, came up with the idea of a group of criminal psychopaths who escape from a mental institution during a blackout and terrorize Little Italy and are rounded up by the Mafia, and pitched it to them. They liked it but said it couldn't take place in NYC since it cost too much. They made a deal for me to write it and, if they made it, to direct it. I went off and wrote it and they couldn't get it financed. I took a job editing The Burning, the Weinstein brothers' first film, and as a result learned a lot about how a horror film works. I went back and rewrote my script, New Line was able to put together about $1M, and we made Alone In The Dark. As far as what makes it stand out, I really see it as a film about society and what someone recently referred to as "the thin veneer of civilization" and how easily it can become unraveled, and also, to quote Emily Dickinson, "Much Madness is divinest Sense – To a discerning Eye – Much Sense – the starkest Madness…"
.
.
.
GRUEMONKEY: Thank you for your time and this interview. 
JACK: Thank you. 
.
.
---
.
.
https://www.youtube.com/watch?v=j3zoIIBsiyw
---