---
Gravitas Ventures and Cyfuno Ventures Agree To Terms On Michael Hall's Carrion!!
---
Award-winning visual effects artist Michael Zaiko Hall's directorial debut Carrion will officially be released by Gravitas Ventures in March 2020 – after Gravitas came to terms with sales agency Cyfuno Ventures, who represented the film. The deal was negotiated by Nick Royak of Gravitas and John Lepper of Cyfuno.
Carrion is throwback midnight movie with surrealistic undertones. It tells the tale of a young woman who shows up on her cousin's doorstep after a ten year absence. As dark events from the past resurface, someone in the woods follows their every move.
The film was Executive Produced by visual effects veteran Robb Gardner.
For more information on Gravitas Ventures, visit www.gravitasventures.com
Cyfuno Ventures is currently accepting submissions. For more information, visit www.cyfuno.com
.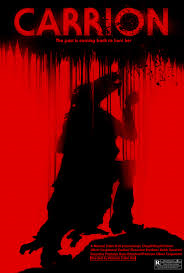 ---