---
XScreamEscapes UK Escape Room!
---
The UK Gruemonkey team has been busy this Halloween season. The team luckily got to attend XScreamEscapes. XScreamEscape is one of the UK's best horror-themed escape rooms the UK has to offer. XScreamEscape rooms are based in Ashford, Surrey. They rock a solid full house score on trip advisor.
When our team visited the branch offered two excellent escape rooms. We were lucky enough to have a go at both…see what we thought below.
Bedlam Escape the Asylum:
The Bedlam Institute ran for over 75 years, harboring those thoughts mentally unstable to be members of society. Opening first in the late 1800s as a refuge for people who needed help, it soon turned into something far more sinister as the doctors began to perform horrifying experiments and tests on some of the patients. Many of the early patients died as a result of the testing, with them disappeared the majority of the records for the patients in what was to become a large scale cover-up by those in charge at the institute.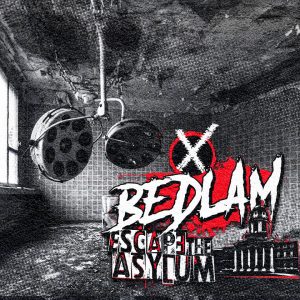 In the early 1900s things began to change in society and it became harder for the doctors to continue to cover up their foul experiments, so they began to operate in secret, continuing their work but under a guise of progressive and new experimental treatments. Most of the records that were kept on patients were either fabricated or simply destroyed, making it almost impossible to track what was actually performed on the unfortunate souls who were admitted to the asylum.
Fast forward 50 years to the admittance of Annie Sanbrooke, a poor young lady admitted to Bedlam under false pretenses, it was clear from the start that she planned to escape…
What happened to her while she was in the institute did she ever escape? You and your party have been sent to discover what happened to Annie and find your own freedom from one of the evilest places imaginable…
'Bedlam' comes with an almighty dark storyline, but that doesn't mean you won't enjoy your time. The room is stunningly decorated and creates an amazing ambiance. Be prepared to READ!  Your progress is defined by reading and connecting the dots from old diary entries of the vanished patient (Annie). Don't worry that isn't all, there are many puzzles and things to keep you busy. An added bonus is getting to use an old typewriter (for younger readers, think of it as an old iPad) to aid us in our quest. The creators have stuffed red herrings to distract you throughout, be warned. The room has a truly authentic feel and professional edge.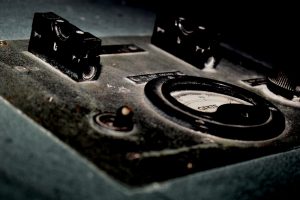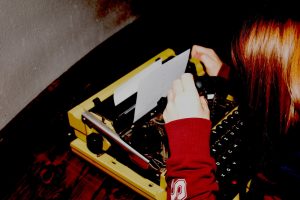 There are secret rooms that will challenge even the most seasoned escape room fanatic. The room offers a lot to keep you busy in your attempt to escape in 60 minutes (or less). In the spirit of honesty, (gulp) we did not actually escape. We needed another 5 minutes to finish. But for someone who enjoys a challenge, it definitely challenged us all.
GRUEMONKEY RATING: 1/5 (okay, 4/5, I am only upset we didn't escape!)
The Corpsewood Killer:
The police have been searching for a serial killer around the area, who for many years remained out of reach. A very elusive killer who never leaves a trail… a police detectives worst nightmare!…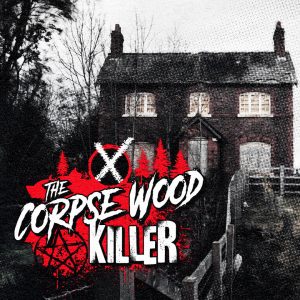 The first disappearances started almost 25 years ago, not long after bodies began to turn up…Little is known about the killer other than the fact that he's meticulous about his kills. Police know only that he kidnaps people around the area, takes them somewhere, murders them and then places the bodies somewhere they will likely be found. It is believed that he works alone, periodically following the same routine with all his victims and only one thing is certain, he doesn't want to be found!
Being an 80's horror lover this room was right up my street. Waking up in grotty blood-soaked rooms with nothing but a dirty bathtub is an exciting place to start. Corpsewood leans more heavily on the horror than Bedlam. There are twists and turns and jumps around every corner. The pace of Corpsewood felt the perfect combination of excitement and desire to succeed. The soundtrack to this room keeps you focused and on edge the whole time. The challenges are difficult but logical – you find yourself getting into a real rhythm after the first 15minutes. Any room that can make our photographer (Darren) scream is the winner in my eyes!
---
Things lurk under and inside everything, be prepared to SCREAM as you try to escape your kidnapper's hovel. Corpsewood was my personal favorite of the two-rooms, it had a real element of excitement about it that played out beautifully. For moments during the 60-minute challenge, I felt like I was actually taking part in my own horror movie. The dark and dank haunts of this killer were created beautifully. Hats off to the creative team who put this room together. I can confirm we did actually escape this room with minutes to spare (with a few prompts to help us through)!
I wish I could go into more detail about some of the contents in this room (and indeed Bedlam) but if I did it would ruin your experience, and these rooms are 100% something you want to experience yourself. You can ask for help throughout your games and cryptic clues help guide your way but that is entirely up to you, you can use those as often or as little as you need.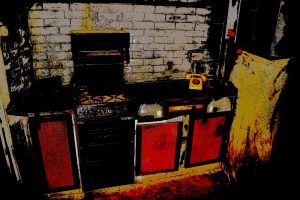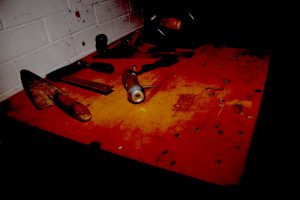 GRUEMONKEY RATING: 5/5 (FULL HOUSE)
---
We here at Gruemonkey want to thank the team at XScreamEscapes who welcomed us into their twisted rooms. Courtney (the manager) was a great host, she gave us all the information and set each room up perfectly before we entered.
We are also going to experience 'THEM BELOW' by XScreamEscapes check out the review shortly.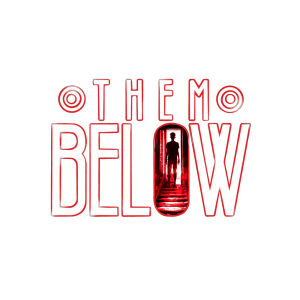 If you want two good and mentally testing escape rooms then you should get online and book these two incredible rooms. The perfect combination for horror lovers and escape room masters. There is onsite parking, and a free bottle of water and juice. Immerse yourself you will not be disappointed. Plus a lovely setting for a good photo opportunity afterward.
Facebook – Click Here
Website – Click Here
---