Hellter interviews Bradley Stryker (The Brotherhood, Final Stab)!!
---
Hellter interviews Bradley Stryker (The Brotherhood, Final Stab)!!
---
Hello Grue-Lings,
  Today we have a special interview. When the sexy series of Brotherhood films came out. It had a great way of showing up these sexy hot shirtless hunks in a horror movie. The first Brotherhood film starred our guest Bradley Stryker and they loved showing his toned body. 
Born and raised in the Pacific Northwest, Bradley is an award-winning Actor whose debut feature film as Writer/Director, "Land of Smiles", received 33 International film festival awards.
Bradley has been actively studying the craft of acting for going on two decades. Upon returning home from life changing trip to Southeast Asia, he began writing screenplays, directing would quickly follow.
Bradley is no stranger to horror. He was in two horror series: Supernatural and iZombie. He starred in horror films such as: Final Stab, The Brotherhood, Wolves of Wall Street, Dark Harvest, Land of Smiles, and Get Gone. Here is our interview with Bradley Stryker:
.
.
---
.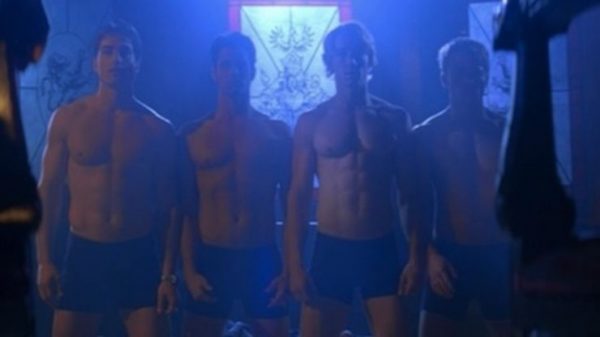 .
HELLTER: How was it like working for David DeCoteau and how did your audition with The Brotherhood, Final Stab, and Wolves of Wall Street go with Dave?
BRADLEY: I ONLY AUDITIONED FOR THE BROTHERHOOD — IT WAS GREAT! I READ TWO ROLES I THINK, DAVE WAS EASY AND FUN TO READ FOR (AS WELL AS BOB AND PERRY, CASTING DIRECTORS WHO HAVE SINCE PAST). DAVE STRAIGHT OFFERED ME PARTS IN FINAL STAB AND WOLVES OF WALL STREET.
.
.
.
HELLTER: Going into the audition process, i'm sure you had a good idea that you would be shirtless alot with alot of teases of male and male action. How comfortable were you filming this movie with all those scenes involved as being a Gay Friendly film with alot of shirtless male candy?
BRADLEY: NO PROBLEM. I'VE ALWAYS BEEN COMFORTABLE WITHOUT A SHIRT ON — I'M A BIT OF BEACH BUM TO BE HONEST. AND IN REGARDS TO "GAY FRIENDLY" — LOVE IT! I HAVE A LOT OF GAY FRIENDS, AND IT TRUTH, IT SICKENS ME A BIT THAT BEING "GAY" IS STILL A THING TO SOME PEOPLE. IT'S 2019, GET OVER IT!
.
.
.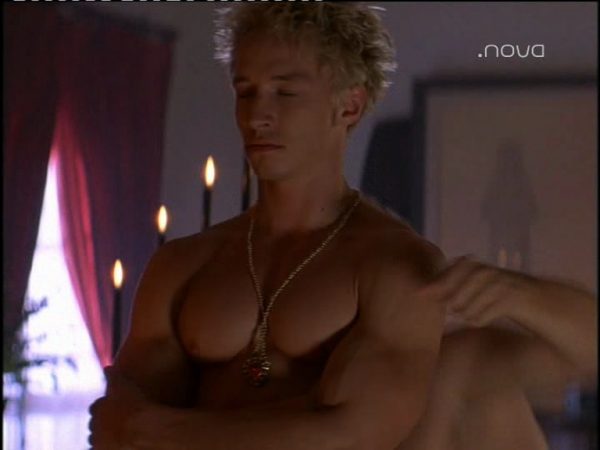 .
HELLTER: You also worked with Dave on Final Stab and Wolves of Wall Street. Who were your characters in both films and what did you think of both homo erotic horror films?
BRADLEY: TO BE 100% HONEST, I WAS A VERY YOUNG ACTOR AT THAT POINT, STILL FINDING MY WAY, SO TALKING "CHARACTER" WOULD BE QUITE FUNNY ACTUALLY. THEY WERE BASICALLY DIFFERENT VERSION OF ME. I THINK IT'S GREAT THAT FANS OF ALL SEXUAL PREFERENCES LIKE THESE FILMS.
.
.
.
HELLTER: What was your favorite scene and favorite on set memory for The Brotherhood?
BRADLEY: I LIKED THE SCENE IN THE WHITE SHIRT WHEN I FIRST MEET SAM'S CHARACTER OUTSIDE, THE BEGINNING OF THE MANIPULATION — FUN STUFF!
.
.
.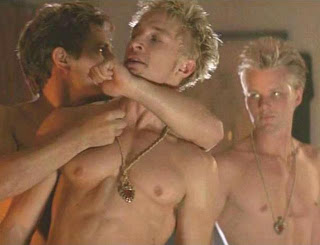 .
HELLTER: Any jokes or behind the scenes bloopers from filming The Brotherhood that stands out to you?
BRADLEY: IT WAS SO HOT (AS IN TEMPERATURE) IN THE ROOM DURING THE 3-SOME BEDROOM SCENE THAT AT ONE POINT, I LOOKED OVER AND SAW OUR BOOM OP WITHOUT HIS SHIRT ON, SWEATING LIKE CRAZY.
.
.
.
HELLTER: The Brotherhood films are very popular among the gay community. Have you watched any, other then the one your in and your thoughts on gay men loving your shirtless character in the film?
BRADLEY: I HAVEN'T SEEN ANY OF THEM, BUT THE ONE I WAS IN. AND IT'S GREAT THAT THE GAY COMMUNITY LOVED THE FILMS — ENJOY BOYS!
.
.
.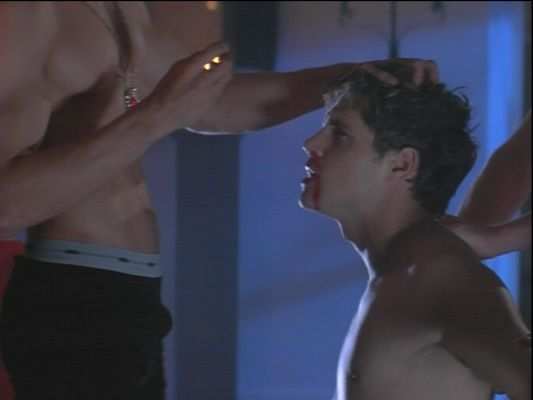 .
HELLTER: Your character in The Brotherhood is a guy who never ages and lives long with special powers. Would you like to have your character's gift in real life?
BRADLEY: GOOD QUESTION. SURE, WHY NOT? CAN I RETURN THE GIFT IF IT DOESN'T WORK OUT HOW I WANT IT TO?
.
.
.
HELLTER: Favorite kill in Final Stab and why?
BRADLEY: MINE OF COURSE :)… DAVE USED A WEED SPRAYING MACHINE TO COVER ME WITH BLOOD, IT WAS AWESOME!!
.
.
.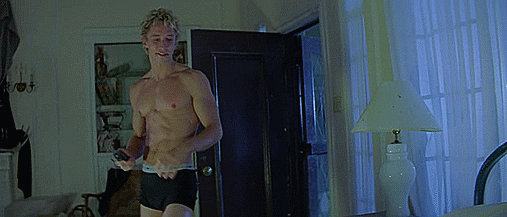 .
HELLTER: You did a few horror films early in your career, alot of Celebrities are ashamed of their horror background but I read numerous interviews of yours and you embrace it. The horror world is big and has a huge following. Do you attend horror conventions and talk to the fans?
BRADLEY: I WOULD LOVE TO ATTEND CONVENTIONS, I'VE NEVER BEEN ASKED.
IN REGARDS TO BEING ASHAMED OF HOW I STARTED IN THIS BUSINESS — THAT'S NOT MY STYLE. IN ALL ASPECTS OF LIFE I EMBRACE THE JOURNEY OF IT, AND I APPRECIATE ALL OF THE PEOPLE WHO HAVE HELPED ME ALONG THE WAY. DAVE IS ONE OF THEM, AND I WILL ALWAYS APPRECIATE THE OPPORTUNITIES HE GAVE ME.
.
.
.
HELLTER: Tell us Chesapeake Shores and your character John Rawl?
BRADLEY: LOVE WORKING ON THIS SHOW! GREAT CAST — THE PEOPLE IN CHARGE ARE POSITIVE HUMAN BEINGS — AND IT'S A PLEASURE. JOHN RAWL IS A GUY WITH A COMPLICATED PAST/RELATIONSHIP WITH CHASE (JESSE METCALFE) — WHICH ALSO GIVES ME AS AN ACTOR SOMETHING TO SINK MY TEETH INTO. AND JESSE AND I GET ALONG GREAT!
.
.
.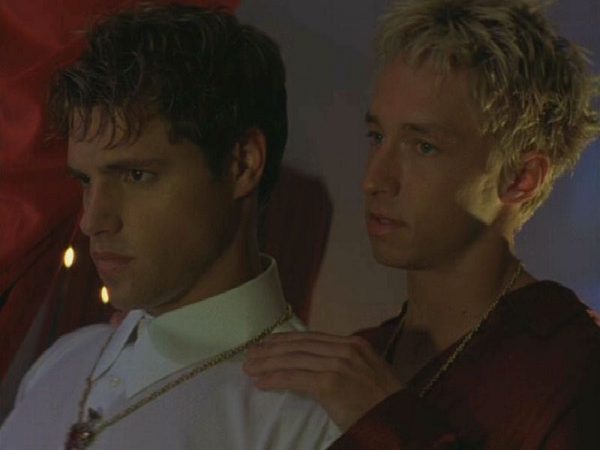 .
HELLTER: How did you get involved with acting?
BRADLEY: TOOK A CLASS IN COLLEGE, I DID A CRAZY EMOTIONAL MONOLOGUE FOR MY FINAL… I WAS HOOKED, MOVED TO LA LITERALLY THE DAY I GRADUATED.
.
.
.
HELLTER: What has been your favorite role to date and why?
BRADLEY: DON'T HAVE A FAVORITE, BUT MY GUT REACTION TODAY WHEN I READ THIS WAS "SKIPJACK" ON LIZZIE BORDEN — HE WAS AN ABSOLUTE PLEASURE.
.
.
.
.
HELLTER: What yours thoughts on indie films and indie film makers compared to big budget films and film makers?
BRADLEY: IT'S VERY DIFFERENT. I REALLY ENJOY ALL OF IT. AS AN INDIE FILMMAKER MYSELF, I APPRECIATE HOW HARD IT IS TO GET ANYTHING MADE THESE DAYS, SO I LOVE WORKING FOR THESE PASSIONATE SOULS. BIG BUDGET DOES PAY MORE BILLS THOUGH, AND YOU OFTEN LEARN A LOT OF THE PEOPLE YOU'RE SURROUNDED WITH.
.
.
.
HELLTER: How is it like being a director, writer, and producer and what are some projects you worked on?
BRADLEY: DIRECTING IS EASILY MY FAVORITE THING TO DO. YOUR HANDS ARE IN EVERY ASPECT OF FILMMAKING — YOU'RE BUSY AS HELL — AND IT TAKES A TON OF HUMILITY TO DO IT WELL.
I ALSO VERY MUCH ENJOY WRITING, AND HAVE WRITTEN 20 SOMETHING SCRIPTS TO DATE. HAD ONE FILM PRODUCED (LAND OF SMILES); HAVE OPTIONED TWO OTHERS (SILENT HERO; DRAGON RUN) AND AM ABOUT TO OPTION A THIRD (MOMMA BIRD).
.
.
.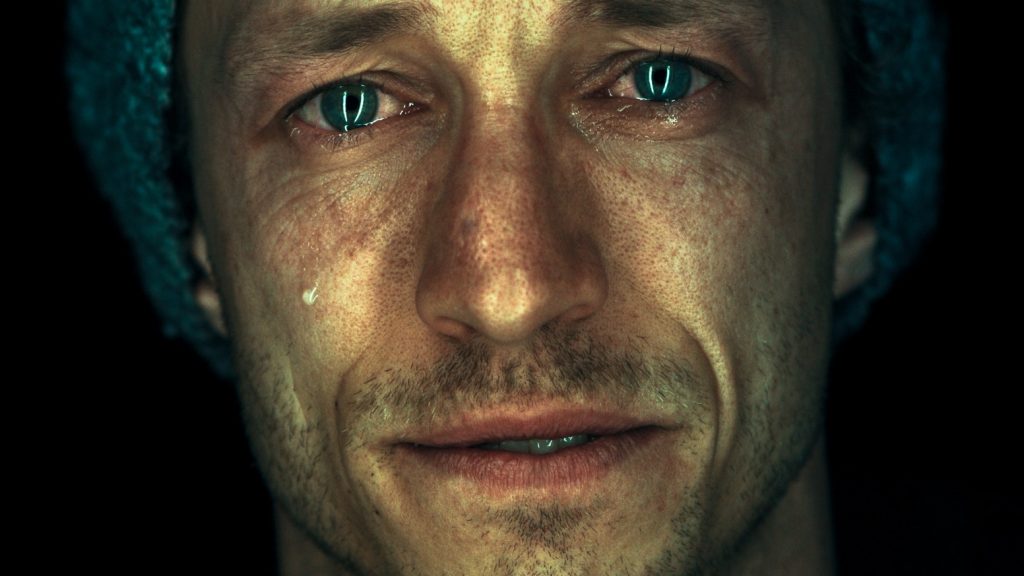 .
HELLTER: Your indie films you made have got alot of attention, how do you feel about that?
BRADLEY: I LOVE IT! I MAKE FILMS BECAUSE I TRULY LOVE DOING IT — THE ATTENTION IS A MUCH APPRECIATED BY PRODUCT OF MAKING THINGS PEOPLE WANT TO DISCUSS. AND TRUST ME WHEN I SAY… I HAVE JUST BEGUN :)…
.
.
.
HELLTER: You been in two popular horror series, The Lizzie Borden Chronicles as Skipjack and IZombie as as Kenny. How was your experience like working on both horror series. One being based on a real life killer and one a zombie series. 
BRADLEY: AMAZING, AMAZING, AMAZING! WONDERFUL EXPERIENCES ON BOTH ACCOUNTS. BOTH CHARACTERS WERE FUN TO PLAY. SKIPJACK DRANK WHISKEY ALL DAY AND WAS ALWAYS OUT FOR HIS OWN INTERESTS. WHILE KENNY WORE A SILK SHIRT UNDER A LEATHER JACKET AND CARRIED A GUN… WHAT'S NOT TO LOVE!!
.
.
.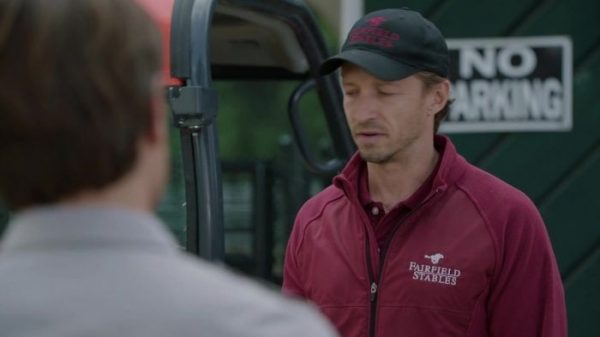 .
HELLTER: Who do you think you would have a better chance at surviving against: A zombie, Lizzie Borden, or a bunch of shirtless jock warlocks?
BRADLEY: LIZZIE FOR SURE.
.
.
.
HELLTER: Anything else you want to discuss or promote, any projects?
BRADLEY: CHECK OUT LAND OF SMILES!!
.
.
---
.
.
---