---
Garden Party Massacre on Amazon Prime!!
---
Gregory Blair's GARDEN PARTY MASSACRE is now available to stream exclusively on Amazon Prime. Currently available only on DVD and Blu-ray, the Amazon Prime debut will be the premiere chance to see the film on VOD.
GARDEN PARTY MASSACRE is Blair's follow-up to his much-lauded DEADLY REVISIONS. 
GARDEN PARTY MASSACRE is a PIX/SEE Productions film. It was released on DVD and Bluray through SGL Entertainment who will also be helming the VOD release. The film will be released on other VOD platforms closer to Christmas. Starring: Andy Gates ("Grimm"), Nichole Bagby ("On The Rocks"), Lise Hart (Deadly Revisions), Gregory Blair ("Love That Girl"), Dawna Lee Heising (Samurai Cop2: Deadly Vengeance), Matt Weinglass ("Jimmy Kimmel Live!") and David Leeper.
The film's official site: http://www.GardenPartyMassacreFilm.com
A Facebook page: https://www.facebook.com/GardenPartyMassacre
The GARDEN PARTY MASSACRE Twitter page: https://twitter.com/GardnPrtyMasacr
Available on DVDs and Blurays now at: https://sglmoviestore.com/comedy/garden-party-massacre/
.
.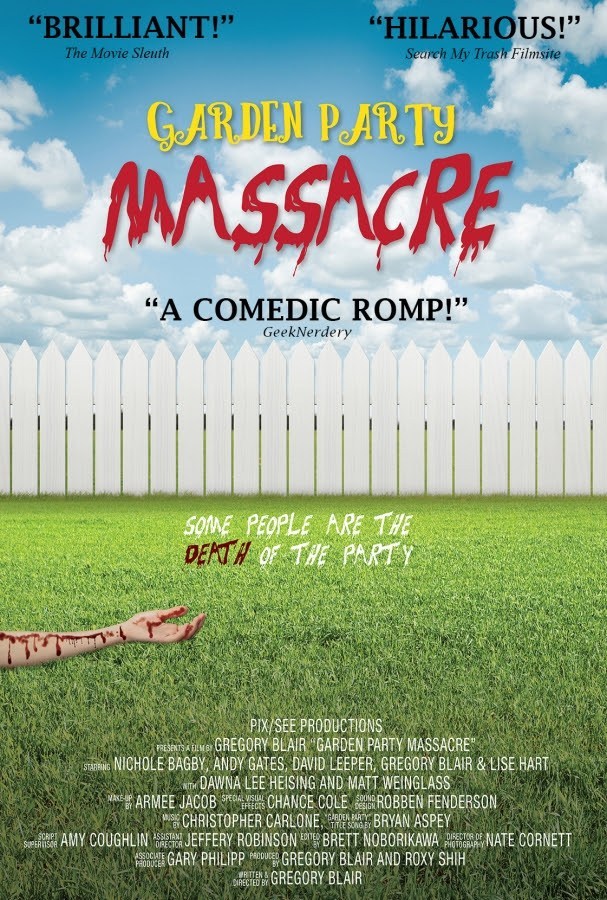 ---