---
First trailer for Slaughterhouse Slumber Party!!
---
Following a successful Kickstarter campaign in 2018, Dustin Mills Productions is proud to present the first teaser trailer for SLAUGHTERHOUSE SLUMBER PARTY. A full trailer will be released closer to the film's premiere.
.
.
What started as the debauched annual slumber party for a tight knit group of gal pals becomes a fight for their lives when supernatural evil threatens to destroy the world–and even worse, ruin the one night of the year the ladies get to have a nude pillow fight. Trapped by magic, surrounded by evil, and very underdressed, will they survive the night? Or will this slumber party become a slaughterhouse? SLAUGHTERHOUSE SLUMBER PARTY is the unholy hybrid of HARD TO DIE, EVIL DEAD II, and PARKS & REC the world never knew it needed.
.
.
Starring: Kayla Elizabeth (OUIJA: BLOOD RITUAL, DON'T FUCK IN THE WOODS 2), Ariel Jarchow (JUST YOUR AVERAGE HALLOWEEN PARTY), Roni Jonah (HI-8, VOLUMES OF BLOOD), J. Ania Lupa (HORNDOGS BEACH PARTY), Haley Jay Madison (HUNTERS, HEADLESS, IN MEMORY OF), Eve Moreau (Feature debut), Erin R. Ryan (BABYSITTER MASSACRE, APPLECART, DEVIL'S TRAIL), Alyss Winkler (SPACE BABES FROM OUTER SPACE, THE BAD MAN) and Melissa Sue Zahs (OUIJA: BLOOD RITUAL).
Crew: Writer/Director: Dustin Wayde Mills, Assistant Director – Virginia Leigh, Special FX – Marcus Koch
SLAUGHTERHOUSE SLUMBER PARTY on IMDB: https://www.imdb.com/title/tt10771232/
SLAUGHTERHOUSE SLUMBER PARTY on Letterboxd: https://letterboxd.com/film/slaughterhouse-slumber-party/
.
..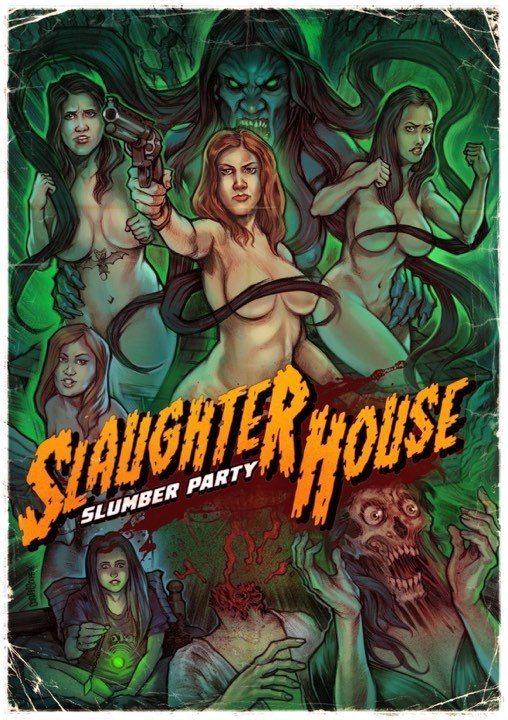 ---