Hellter interviews Mick Ignis (The Sandman)!!
---
Hellter interviews Mick Ignis (The Sandman)!!
---
Hello Grue-Lings,
   Today we have a great interview with Mick Ignis who played the evil Sandman in the 2017 horror film The Sandman. Mick Ignis is an American screen and stage actor, best known for playing dark and eccentric characters, regularly taking on transformative roles in the Science Fiction, Horror, and Fantasy genre while utilizing heavy makeup and prosthetics. They're often noted for their tall, slender, androgynous body-type and versatile physicality. Ignis stars in the film Severus Snape and the Marauders, as the title character in Cucuy: The Boogeyman, as multiple featured demons in the IFC series Stan Against Evil, and performs as Edgar in The Curious Creations of Christine McConnell. Here is my interview with Mick Ignis:
.
.
.
---
.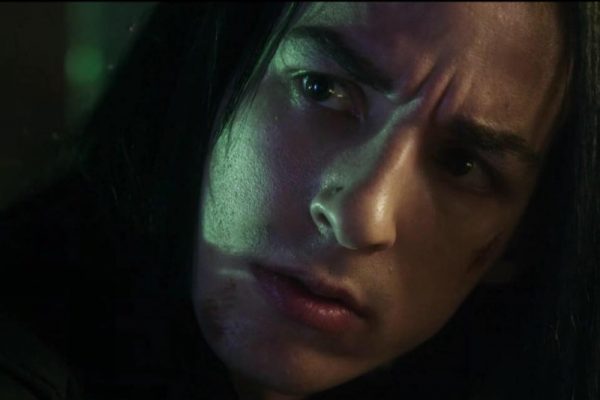 .
HELLTER: How did you get involved with being a little bit of everything in the entertainment world. Actor, makeup, and animation departments? What made you want to become a actor?
MICK: It's honestly been an interesting journey leading me to my current strange career! I got my start in the industry as a Stop Motion Animation assistant, working on shows like Moral Orel and Robot Chicken. I spent a good few years studying movement while training to be an animator and, later on, assisted with some of the writing aspects on the shows. I enjoyed animation a great deal, but it didn't feel like THE thing I was meant to be doing with my life. So, after things got a bit slow in the industry, I went back to school for the two other fields I was interested in: acting and makeup effects. Funny enough, I didn't really consider combining the two with the type of roles I play now, but that divergence was inevitable.
Acting was the first thing that I loved so much I could never get sick of it. I can see myself still getting excited about a new role when I'm 90. It's an art form that's going to evolve with me as I develop as a person. Every role is a new game and a new state of humanity or, often in my case, inhumanity to explore. The possibilities of stories to tell are endless. It allows me to diverge from my every day and become someone or something completely different. And all the years of working in animation gave me a really strong sense of physicality, which is fun to play with and change up. Especially in non-human roles. Every creative field I've played with in the past plays a major part in what I'm doing today.
.
.
.
HELLTER: Is it true that you worked on The Evil Within, describe how that experience was like and what you did?
MICK: The very first project of my career was a live-action commercial teaser for The Evil Within, which was an AWESOME shoot. I played Laura, the games multi-armed demoness, and was brought in by my first employer in the fx world, Alec Gillis of Amalgamated Dynamics (the studio behind the Alien and Predator films and many others). For my first real role, it was definitely an excitingly complex one! In the course of one days shooting, I scaled buildings, had extra puppeteered limbs, and was submerged in a tank of blood. I was also completely naked for most of the shoot so any hangups I had about being shy on set went right out the window!
.
.
.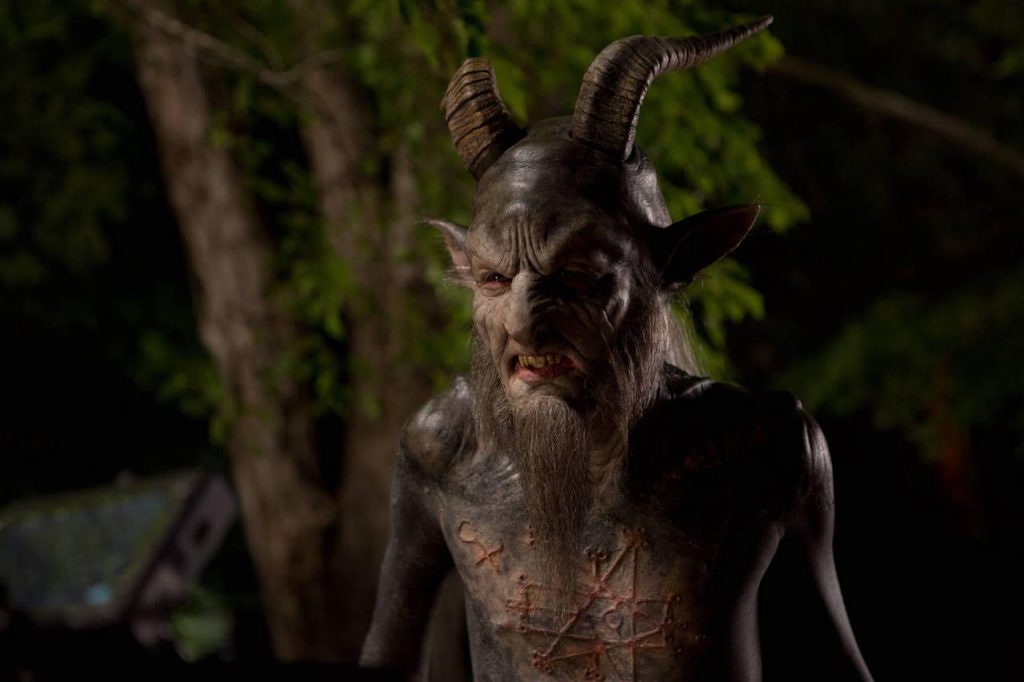 .
HELLTER: You played many demon on Stan against Evil. What are some of the demons you played besides the Goat Demon and tell us how fun it was playing the Goat Demon?
MICK: I've now played four demons haunting Willards Mill! I portrayed the first witch in Stan Against Evil, Stella Stanas, in the premiere where I tried to burn the wonderful Janet Varney at the stake and then, failing that, puked gallons of black goo in her face. I really do love my castmates and can't help but feel a little guilty about the horrible stuff I do to them! The Baphomet character was EPIC. Such an awesome and iconic look. I still get excited when I see his evil goat face pop up in ads for the show. Being a fan of John McGinley for years, getting to battle him as such a badass creature was a pretty cool experience. I hope he'll make a return at some point. Stranger things have happened on the show!
.
.
.
HELLTER: I saw The Sandman. I loved it. You did such an amazing job and I'm hoping for a sequel. But for the people who haven't seen it yet. Can you describe to us what The Sandman movie is about and you playing The Sandman?
MICK: I'm so glad you dug it! The film follows a young girl named Madison with a terrible and uncontrollable power to summon a supernatural entity whenever she's scared that kills anything it deems a threat. Madison moves in with her aunt Claire after this power orphans her, but she now not only has to worry about her power but also an agency looking to capture and exploit her abilities. It's an eerie, atmospheric movie that has an old school monster flick charm to it. The Sandman character was a blast to take on. He has a lot of elements of classic horror villains like Michael Myers or Freddy Krueger, while bringing a new lore and spin in to the mix. I am also keeping my fingers crossed for that sequel so we can unravel more of the mystery surrounding this terror.
.
.
.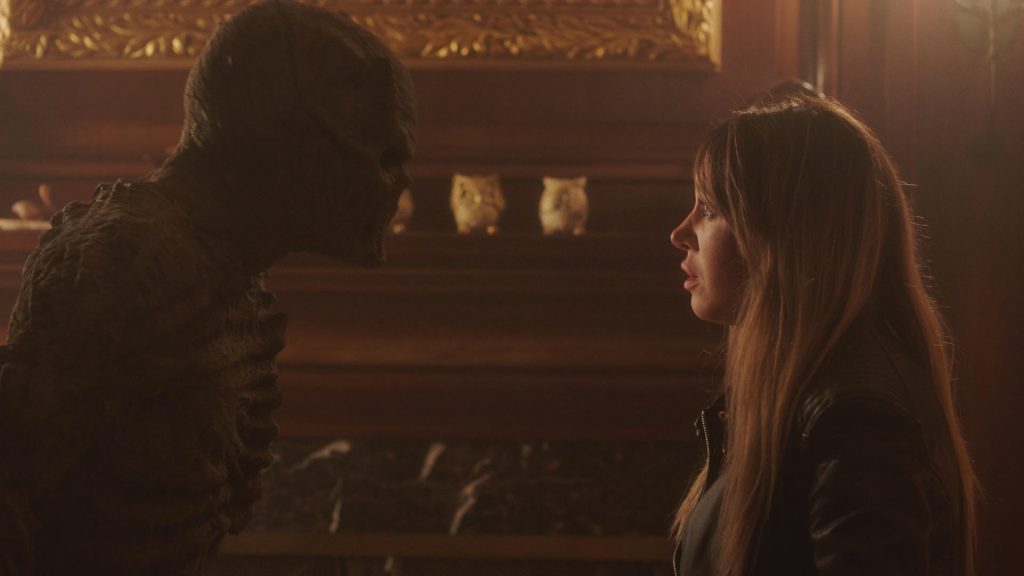 .
HELLTER: How did you get involved with The Sandman film and what has your experience been like while working on the film?
MICK: I was recommended to writer/director Peter Sullivan by my friends George Troester and Cig Neutron of TroTron FX, who were in charge of creating the creature for the film. It's a common thing for the FX artists to recommend casting early in production, as they know what actors are comfortable working under suits and prosthetics (many actors are definitely not). After meeting with Peter for the first time, we really clicked over the genre and both had a lot of ideas on how to bring The Sandman to life. The whole shoot was a great time. George and Cig have been friends of mine for years, so it was a blast to get suited up by them each day and carry out these gnarly kills. So many of The Sandman shots echoed the energy of horror films we all grew up with so, as fans ourselves, we were geeking out the entire time we filmed. It's exactly the sort of monster movie we love making!
.
.
.
HELLTER: What's your favorite moment and favorite scene in The Sandman?
MICK: Spoilers to anyone who hasn't seen the movie yet! There's a scene when The Sandman breaks out of a containment chamber and goes on a rampage through a group of heavily armed guards. Extremely action heavy with a combination of smoke effects, eerie lighting, fight choreography, stunt teams on wire rigs, blood cannons…it was a BIG night and the scene is killer (literally)!
.
.
.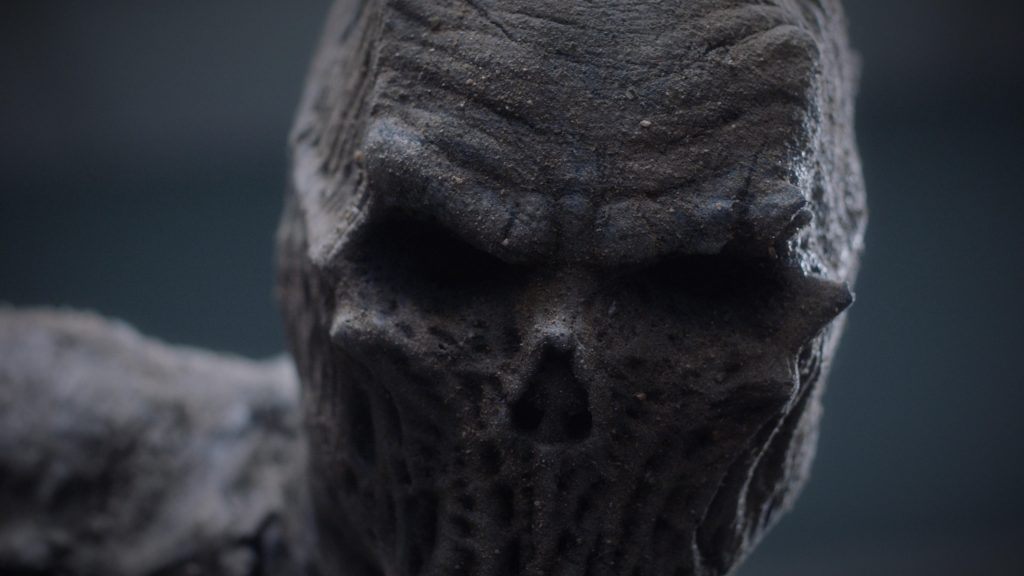 .
HELLTER: Favorite kill in The Sandman? 
MICK: During that same scene, one guard comes after me with an axe. I pull the axe out of his hand, throw him to the ground, step on his chest, and then quickly rip his spine out from between his legs. That one DEFINITELY got a great audience response. I saw a tweet during the premiere that just said "watching the sandman and he just ripped out a dudes spine through his ass". I felt a…very strange sense of pride reading that.
.
.
.
HELLTER: Since you have experience in makeup and FX, did you have any say in the creation of The Sandman?
MICK: Naw, very rarely do I jump in to that side of things. I know how to work with whatever is given to me and can offer some advice on application/removal in some cases but, otherwise, I work with the best damn artists in the industry. I trust them and let them handle what they're best at. The Sandman suit was one of the comfiest and easiest creature looks I've worn! Only took about 20 minutes to complete my transformation and, despite being covered in sand-caked foam latex, it breathed and moved extremely well.
.
.
.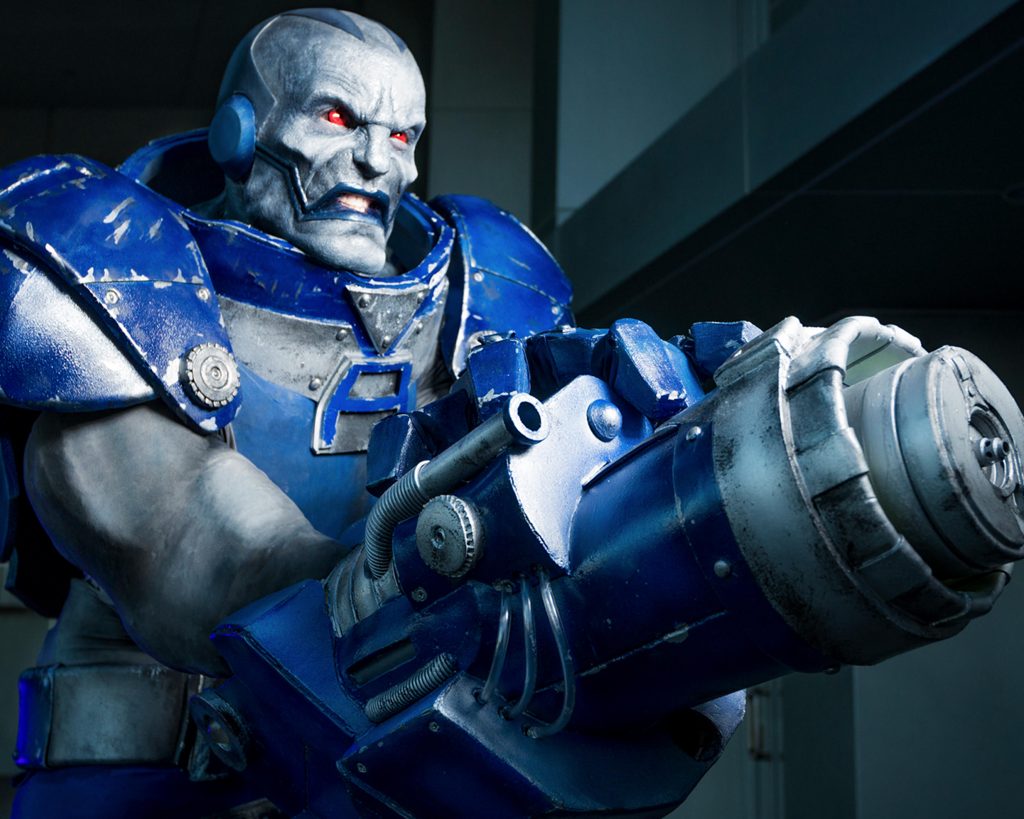 .
HELLTER: For the casting process. How does a actor audition for a creature or Demon with no lines?
MICK: To be honest, I don't audition much for these type of roles! This being such an intimate community, everyone knows my reputation, what I'm capable of, and what I can bring to the table. Usually they'll take a look at my reel and we'll have more of a meeting to discuss my perspective and ideas about the character. Occasionally I WILL be brought in to audition for a project and, when I am, the lobby is always full of the same guys who've made a name for themselves playing creatures over the years. Some of the nicest dudes you'll ever meet. And we're all friends, so it's great to catch up before we go in and do our thing. Normally those auditions are all about physicality and presence. If it's a non-speaking role, you have to say a lot with just your movement alone. Otherwise it's like any other audition. The casting decision could come down to an inch of height or whether they're looking for someone thin or bulky.
.
.
.
HELLTER: Did you get to meet the late great Stan Lee?
MICK: Sadly, I didn't get to meet Stan Lee.  I couldn't believe my eyes when I first saw Stans name on the poster for Sandman as Executive Producer. That was NOT something most of us knew during production. Being attached to this project with him is an absolute honor, especially on a film with a poster that has his name written across my forehead!
.
.
.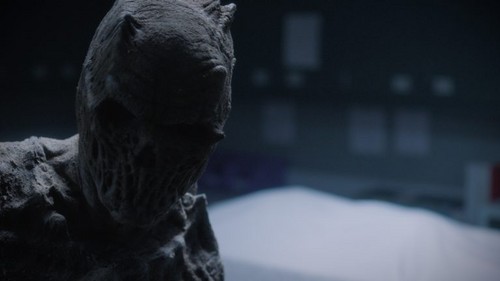 .
HELLTER: Was there alot of makeup involved in your character or mostly a body suit and mask?
MICK: This one was all bodysuit and mask! A nice break from spending hours getting glued in to a makeup, but any amount of application time is worth it for the right character look. I will admit though, it was nice to be able to quickly slip out of the thing at the end of the day.
.
.
.
HELLTER: You worked with two horror legends in The Sandman. How was it like working with the Saw killer Tobin Bell and Nightmare on Elm Street alumni Amanda Wyss? Also newcomer Shae Smolik did an amazing job in this film.
MICK: I remember sitting in a theater when I was 15, watching the finale of SAW for the first time. Tobins big reveal at the end blew my mind. Films like SAW were the reason I wanted to tell these kinds of stories. He has such an iconic presence and voice for the genre, not unlike Vincent Price. When I found out I got to face off against Jigsaw, it only increased my excitement for the project. And then, of course, there's the amazing Amanda Wyss, who I didn't know about until I got the call sheet! What an honor it was to terrorize her in this film. We've kept in contact since shooting together and she's just the sweetest woman. Both her and Tobin, in my opinion, are horror royalty.
Shae Smolik is absolutely incredible. Total rockstar. We became fast friends during shooting! This girl has acting chops that are going to take her so far in her career. She reminds me of someone like Natalie Portman when she was a child actress. Great talent and a great positive energy on set. When she gets angry during the movie, this 11-year old is more intimidating and badass than I am as the monster!
.
.
.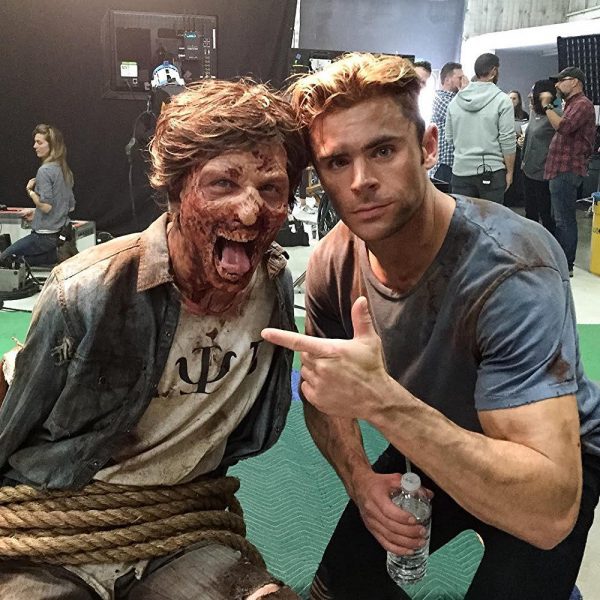 .
HELLTER: In Shortwave, you play The Creator. What is your character about?
MICK: The Creator is a very mysterious entity in Shortwave. A being that's trapped between two worlds, painfully pulled through to our side through the experimentation of shortwave radio signals. Needless to say, they are not pleased with being disturbed. Shortwave recently received a release after racking up rewards on the film festival circuit. It's a very psychological film with a disturbing, atmospheric quality!
.
.
.
HELLTER: Did you get to hang out and interact with the amazing Zac Efron in Neighbors 3: Zombies Rising short? And how was it like playing a Zombie?
MICK: That was a hilarious surprise of a shoot. All I knew before going in was that I was playing a zombie for an AMC commercial. I had a good laugh when I got the script on set and saw the names 'Zac' and 'Seth' written on it! I spent most of my time tied to a chair, but they were both really cool dudes and we had a lot of fun with shooting. Lots of improv and playing off one another. Zac was beyond excited to see me done up as the zombie. He clearly loves this stuff!
.
.
.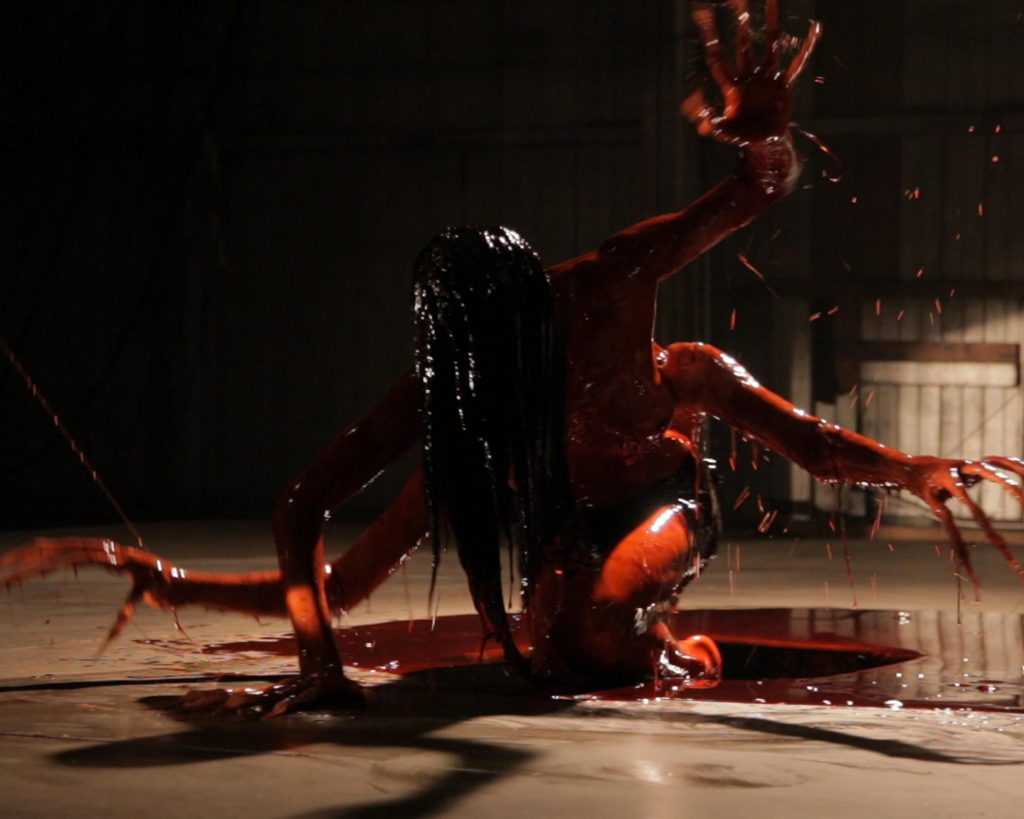 .
HELLTER: What are some of your favorite horror films?
MICK: I grew up with the classics. The original Bride of Frankenstein and Invisible Man are high on my list, but they feel like practically their own genre at this point (before horror was called horror). As to the more terrifying films, I'm big on SciFi thrillers like Aliens and The Thing, Kubricks The Shining, the first Nightmare on Elm Street, the Halloween franchise, and have dug more recent films like SAW, The Conjuring, Babadook, and Lights Out. I've been trying my best to keep up with what the horror genre is doing and how it's evolving. I think, as the levels are pushed higher, it's getting harder to scare a hardcore audience. So filmmakers are having to get more creative in terms of drawing viewers in and making an experience feel immersive. I've worked a lot in VR the last couple years and I think that's going to be a major element in keeping the horror genre fresh and audiences terrified.
.
.
.
HELLTER: I heard you love Theater. Do you prefer movies, tv, or theater better?
MICK: I got my start doing stage work and theater and will always have a great love for it! While working on TV and film productions is my main goal and passion, theater is such a different beast. Performing a story from beginning to end in front of a live audience, getting that immediate energy response back from them, knowing if something you did resonated in real time…it's exhilarating. If I had the ability, I'd be doing something on stage whenever I'm not doing doing something in front of a camera. Theater is also a great place to keep yourself sharp and try new things. It's been a while since I've been involved with a solid stage production and I do miss it.
.
.
.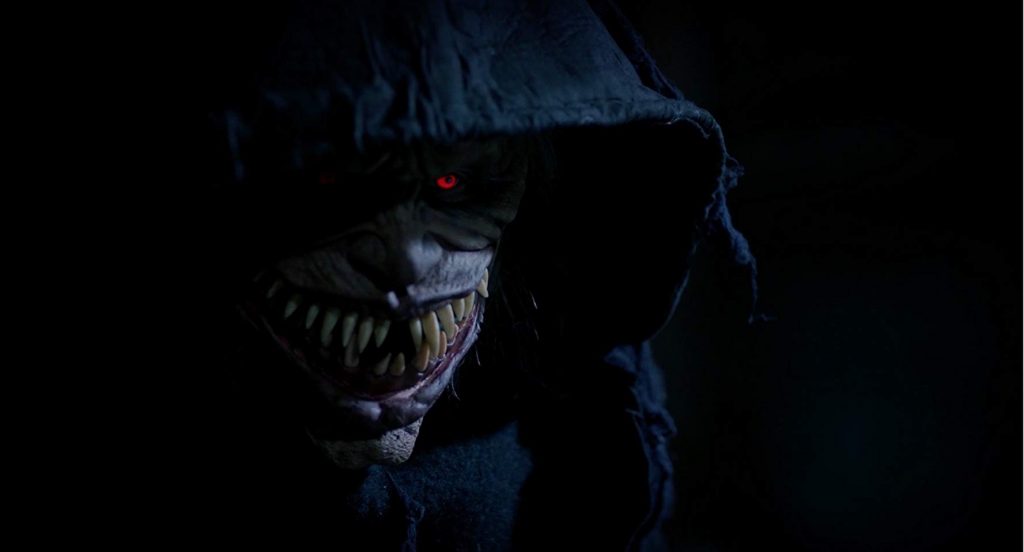 .
HELLTER: Is it true that your a geek to like me. You enjoy comic cons, cosplays, comics, etc? Tell us about why you love it so much?
MICK: Absolutely! I would say comic books have had a bigger influence on my life and career path than anything else has. My first job ever was working at my local comic shop when I was a kid. I was too young to be hired there officially but I loved to help out so much that, in return for assisting them around the store, they let me take as many comics as I could read every Wednesday. So I was devouring every Marvel comic I could get my hands on. Marvel (and some DC and Vertigo titles like Sandman and Transmetropolitan) REALLY shaped me. They made me want to grow up to bring those kinds of characters to life, which I get to do a bit of every year at Comic Con by teaming up with FX artist friends for massive cosplay projects. My top dream project is to portray a character within the Marvel Cinematic Universe. There's few images that make me happier than when I see the Marvel logo come across a movie theater screen.
.
.
.
HELLTER: Anything else you want to discuss or promote, any projects?
MICK: Be sure to check out The Sandman and Stan Against Evil. You can watch season of SAE now on Hulu!
.
.
.
---
.
.
.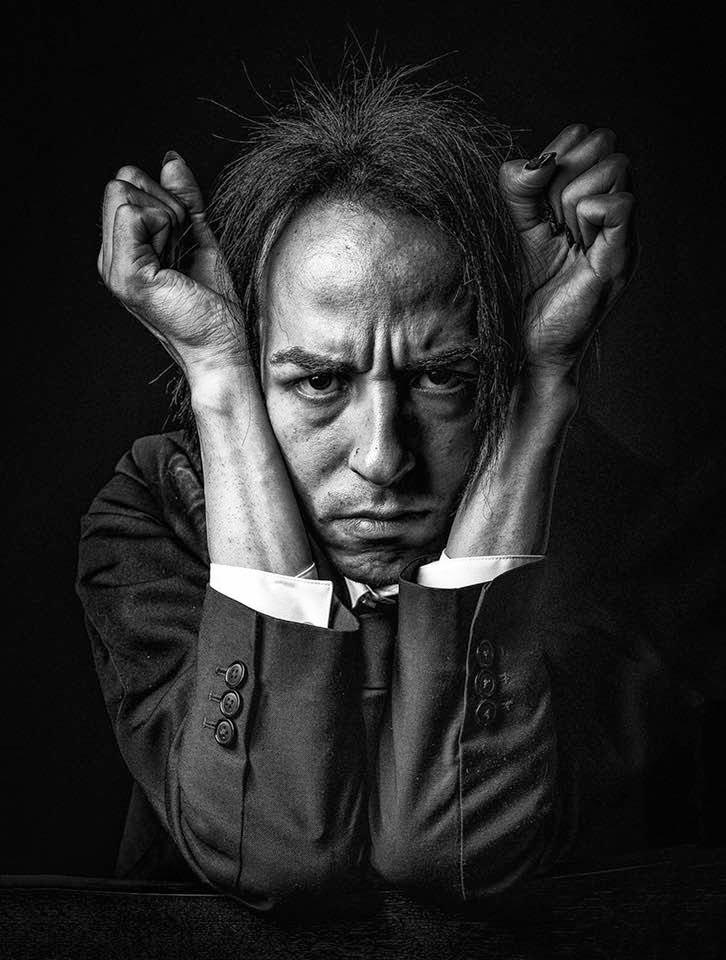 ---