Hellter interviews David Howard Thornton (Art the Clown, Terrifier)!!
---
Hellter interviews David Howard Thornton (Art the Clown, Terrifier)!!
---
Hello Grue-Lings,
   Gruemonkey caught up with David Howard Thornton to talk about his iconic role as Art the Clown. David Howard Thornton is an actor known for work in stage, film, and voice over. He is best known for his roles as Grandpa Who in the 1st- 5th national tours of "Dr. Seuss' How the Grinch Stole Christmas: The Musical", the voice of Shizoku and others in the video game "Invizimals: The Lost Kingdom", The Joker in the YouTube series "Nightwing Escalation", and Art the Clown in the film "Terrifier". This interview was conducted a few months back before we knew about Terrifier 2. Look for David to reprise the role as Art the Clown in Terrifier 2. Below is my interview with David Howard Thornton:
.
.
.
---
.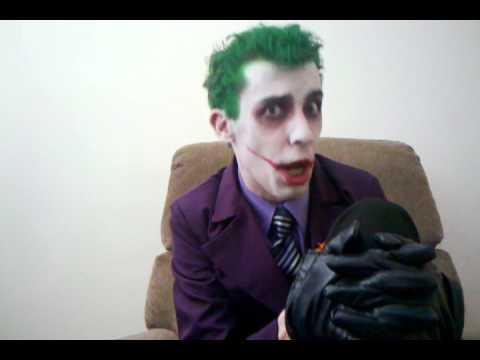 .
HELLTER: Hello sir and welcome to Gruemonkey. I am very happy that you are our guest today. What can you tell us about your time working on Nightwing: Escalation as The Joker. Some of your best moments working on that series?
DAVID: It's been a dream come true since I have always wanted to play the Joker. It is all fan made, so everyone involved loves the source material etc. It's like getting together and making something fun with your friends. Every moment has been great so it is hard to say which are the best. I especially loved my big scene offing two of the main character from the series. It was such a juicy Joker scene and is the scene that sold me on doing the series in the first place when I read it. As much as I have enjoyed Romero, Nicholson, and Ledger's performances, none of those versions of the Joker felt like the comic book version to me. This version did and that is why I loved doing it so much. I can't wait to tackle more scenes with him!

.
.
.
HELLTER: From what I seen, you killed it as The Joker. Love your Joker and Gotham's Cameron Monaghan's Joker. Did that lead to your appearance on the hit tv series Gotham and how was your experience with that?
DAVID: No, my Gotham booking came solely through my agents. The people at Gotham didn't even know about my role on Nightwing: Escalation at first. Gotham was a great experience as well. It was my first time working on a big budget project, and I was amazed with what a well run machine the production of that show is. Everyone was great, especially Drew Powell, who I had to repeatedly dump into Slaughter Swamp. Drew might play a scary bad ass on the show, but he is a big ol' teddy bear in real life, and such a sweet and funny guy! I'm glad I got to work with him and the rest of the crew there at Gotham.
.
.
.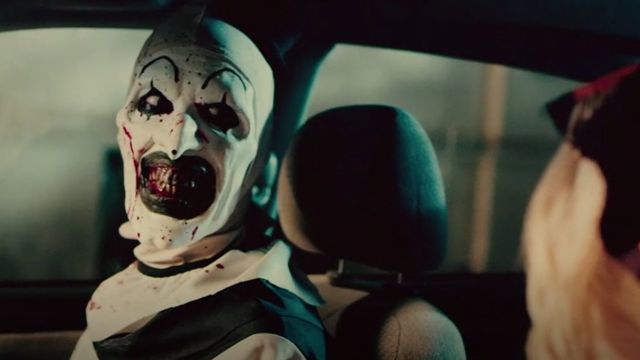 .
HELLTER: You did good on Gotham. Sucks the show ended. Can you tell us how your audition with Terrifier went?
DAVID: It certainly was unique. Since Art never talks, I was not given a script unlike the others that were auditioning the same time I was. I walked in the room and was asked to improv a scene where I decapitated a guy on the spot. Luckily, I have an extensive background in improv and had enough coffee that day that my brain was working well. I made up a scene where I snuck up on my victim in a cartoonish manner, knocked him out, took out a saw and sawed off his head, picked up the head and tasted it, found the taste was not to me liking, whipped out a salt shaker and seasoned it, tasted again and approved, threw the head in my bag for a late night snack, and then skipped away. When I finished, everyone cracked up and I was asked if I could come in for a makeup test in a few weeks or so. I essentially walked out of there knowing I had the role. It goes to show how important it is for actors to be able to think on their feet in a moment's notice!
.
.
.
HELLTER: Wow. That's amazing and really funny. Great advice to for actors everywhere looking to get big roles. What made you want to be Art The Clown, what drew you to that role?
DAVID: First off, I was already familiar with Mike's portrayal of Art from AHE and loved the character. I have always loved playing villainous roles, so that was an immediate draw. What really drew me in though was the chance to merge my love of physical comedy and horror into something new. Art is a very unique character. First and foremost, he is a silent clown, not a mime, and an actual clown, unlike Pennywise. Because of this, there definitely has to be some sort of humorous nature to the character even if it is a dark kind of humor. Since he is silent, everything has to be conveyed through physicality and facial expressions. Plus he is evil incarnate and finds tremendous enjoyment out of causing chaos and mentally breaking his victims. It was fun merging all of that into one character. In a way, he is like an evil Mr. Bean. I've always wanted to tackle such a type of character, so I jumped at the chance to play him! What a fun challenge to undertake!
.
.
.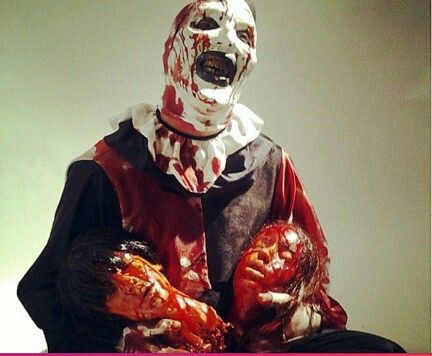 .
HELLTER: I am glad you got this role because you killed it, I can't see anyone but you playing Art the Clown. Did you watch All Hallow's Eve and study Mike Gianelli's version of Art The Clown to get a understanding on what and who Art the Clown is?
DAVID: Definitely. Mike did a fantastic job and gave me solid foundation to build my Art house upon. I watched his performance several times so I could capture the nuances of the character then added my own twist to them. 
.
.
.
HELLTER: Nice!! Tell us about the film Terrfier?
DAVID: Essentially, it is a love letter to the classic slasher films of the 70's and 80's that many of us grew up on. It is one long cat and mouse game, and a very gory and violent one at that! It's a simple film but a whole lot of fun!
.
.
.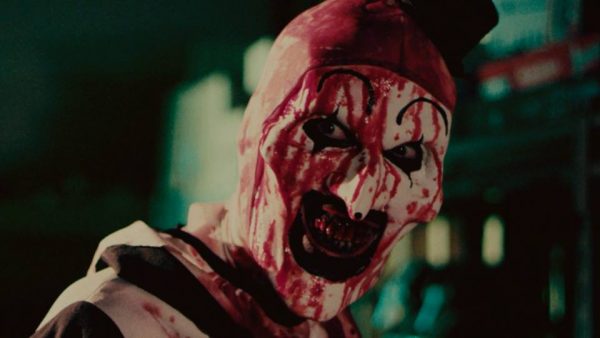 .
HELLTER: It really is a fun film. How would you compare Terrifier to All Hallow's Eve, the differences and similarities?
DAVID: Well the key similarity is Art and the chaos and mayhem that he creates. We also have a lot of nods to events that happened in AHE. AHE had other stories as well, but this is pure Art, and you see a whole lot of him in this. Damien really upped his game on this film. AHE was merely an appetizer compared to this film.
.
.
.
HELLTER: I agree. Do you think Art The Clown can be the next major horror villain for more sequels to come. Another horror icon in the line of Jason, Freddy, Michael, Pinhead, LeatherFace, Chucky, etc?
DAVID: I sure hope so! I'd love that! Honestly though, yes, I do believe he can! There is something about Art that resonates with viewers like the other great icons. He is definitely a charismatic character that you somehow root for despite the horrible things that he does. He's the type of villain that you love to hate and fear. In my opinion, this type of villain has been sorely lacking in horror films in the last 20 years or so. They have all gotten to serious and dull. There was a sort of sense of fun to characters like Freddy, Jason, Chucky, etc that has been lacking in horror films lately. Art definitely has fun with what he does, and I think he brings that sadistic type of fun back to the genre. I only hope others think so as well!
.
.
.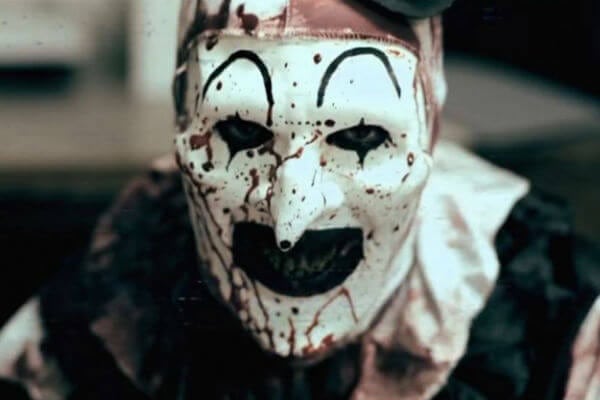 .
HELLTER: Is a sequel already being written? (Again, this interview was done before we all learned about Terrifier 2). HERE WAS THE INDIEGOGO PAGE THEY HAD FOR TERRIFIER 2: https://www.indiegogo.com/projects/terrifier-2#/
DAVID: Damien is about to start writing a rough draft very soon and has already set a deadline for himself to complete it buy. We are constantly brainstorming ideas for the next film(s) on an almost daily basis right now. He's come up with some great ideas that I think the fans are going to love! 
.
.
.
HELLTER: How did you mentally and physically prepare yourself and get into the mind frame to play such a demented evil Clown?
DAVID: If you are thinking that I went the Leto route, I didn't. No mailing used condoms etc! (LAUGHS)! No, I simply just tapped into my extensive knowledge of films and characters to draw inspiration from. I essentially took my love of silent films and great physical comedians, and my love of iconic villains from films and comics, put them in my mental blender and hit "frappe" to create my twisted version of Art. 
.
.
.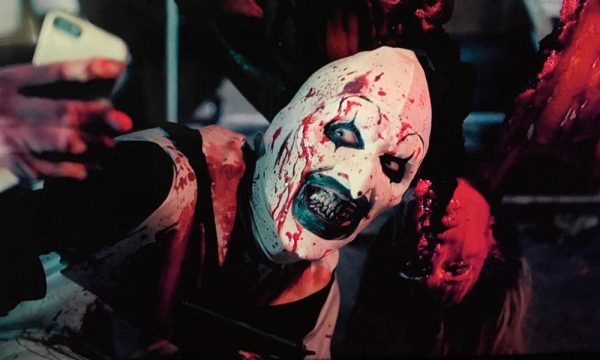 .
HELLTER: How was the makeup process to become the Clown?
DAVID: Long. (LAUGHS)! It usually took 3-4 hours, and sometimes more if Damien had to set up shots and film other scenes. Damien did all of the practical effects and makeup himself! He's one talented dude! He made a mold of my face so that he could cast the mask off of that. That way, it fit my face perfectly when he glued it on and allowed for full articulation and expression of my face. The teeth were also molded as well and made me drool a lot. Poor Damien had to constantly fix the makeup around my mouth because of that. The only part that I was not fond of were the contacts since I have never liked things in my eyes. We had one night where one of them had a big rip in them and did not have a back up pair, so we ended just taking them out and leaving them out from any scenes that took place after that. You might notice that I have green eyes in later scenes if you look close. (LAUGHS)!
.
.
.
HELLTER: Hmm, I have to go back and watch it now to see the later scenes, (Laughs). Can you tell us a story about being on set for Terrifier? Funny or fun story.
DAVID: We had this funny one moment one night on set where there were these women having an argument outside of my makeup/ holding room while I was waiting to go to set. I was bored and went over to the window over looking them to watch the events unfold. I completely forgot how I looked in full makeup and blood. At one point, they noticed me, screamed, and ran off. About 15 minutes later, the Damien and our producer, Phil, come in telling me that there were some people outside of the garage we were filming in that wanted to meet me, but I was not to come out until they told me to. I patiently waited, not knowing what was behind the rolling garage door. I hear them ask me to come out and meet my new friends, so I roll up the garage door and am greeted by about 15 police officers in full gear, like they were ready to go to war. I offered up a "What's up guys?" and waved. They broke out in laughter. It turns out that the ladies called in saying they thought something crazy was going on at our location and that people were dead. The cops came up to me and told me that I better be glad that I had not been the first to step outside when they arrived, or I would have been shot looking the way I did. I believed them. I ended up taking a bunch of pictures with them, except for one of them who was afraid of clowns. I had to remind him that he was the one with the guns. One of them ever offered to bring a dead body in from the station in case we needed one. I still don't know if he was joking or not. Fun night!
.
.
.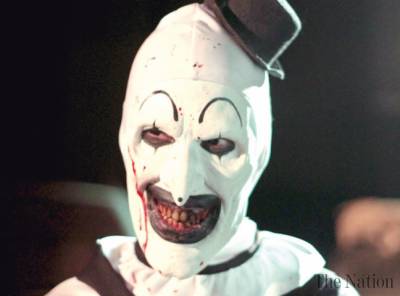 .
HELLTER: (Laughs). That's awesome! Why do you think people have both a fascination with Evil Clowns and a fear of them?
DAVID: I think it is because they walk that fine line of the Uncanny Valley. They appear to be human, yet also inhuman due to the over the top makeup, wardrobe, and mannerisms. Clowns are also something that you are supposed to love as a child since they are supposed to bring joy and merriment to those they encounter. These evil clowns mess with our inner child in that way and corrupt that notion. I think that is what makes them so horrifyingly fascinating! 
.
.
.
HELLTER: Yeah, you're right. What has been your favorite evil clown horror film besides Terrifier?
DAVID: Oh, I've enjoyed all that I have seen so far. Both versions of "It" are enjoyable to me. I also found much amusement in "Stitches". Of course, you can't go wrong with "Killer Clowns From Outer Space" as well!
.
.
.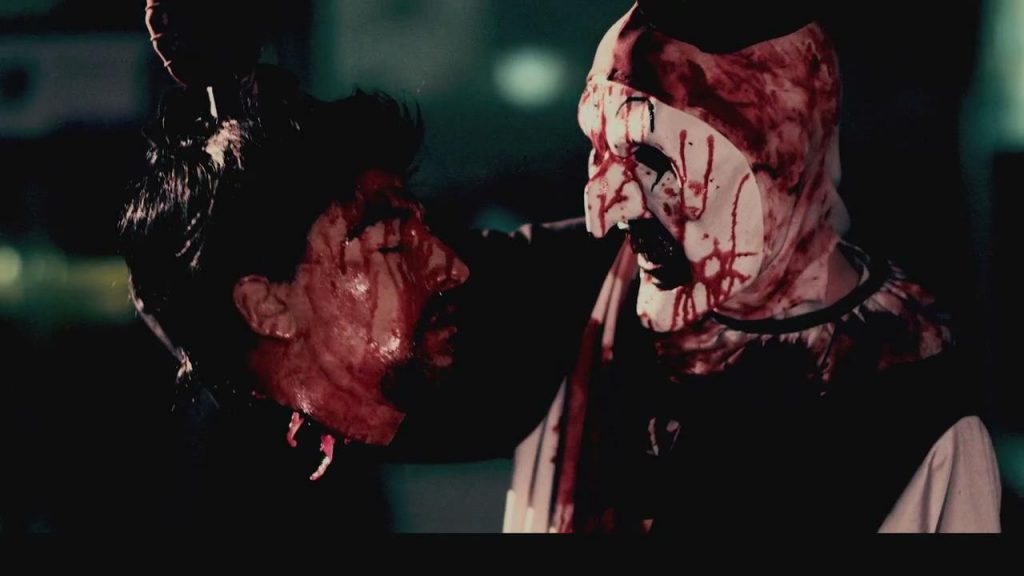 .
HELLTER: I love Killer Clowns From Outer Space!! How was your time working with Damien Leone?
DAVID: Truly a blast! The guy is such a genuinely great guy and just so amazingly talented at what he does. He truly loves this genre and it shows. We spent over 100 hours together bonding in the makeup chair alone, so we have gotten pretty close. I consider him one of my best friends now and can't wait to start working on the next Terrifier film with him! 
.
.
.
HELLTER: That's so awesome. Favorite kill and favorite scene in Terrifier?
DAVID: (LAUGHS)! That is like choosing between all of my kids! Though I would say that Dawn's death is probably the most spectacular one. We went all out on that one and did not hold back one bit. I don't think that there has ever been anything like it. Plus I have to give mad props to Catherine for all that she endured during the filming of that scene. It was truly rough for her, but she handled it like the true pro that she is. I would say that it is one of the most talked about parts of the film.
As for my favorite scene, I really enjoyed doing the pizza parlor scene since I really got to flex my muscles there on the clowning side of things. It was such a fun scene to film, and Damien gave me a lot of room to play around with it. 
.
.
.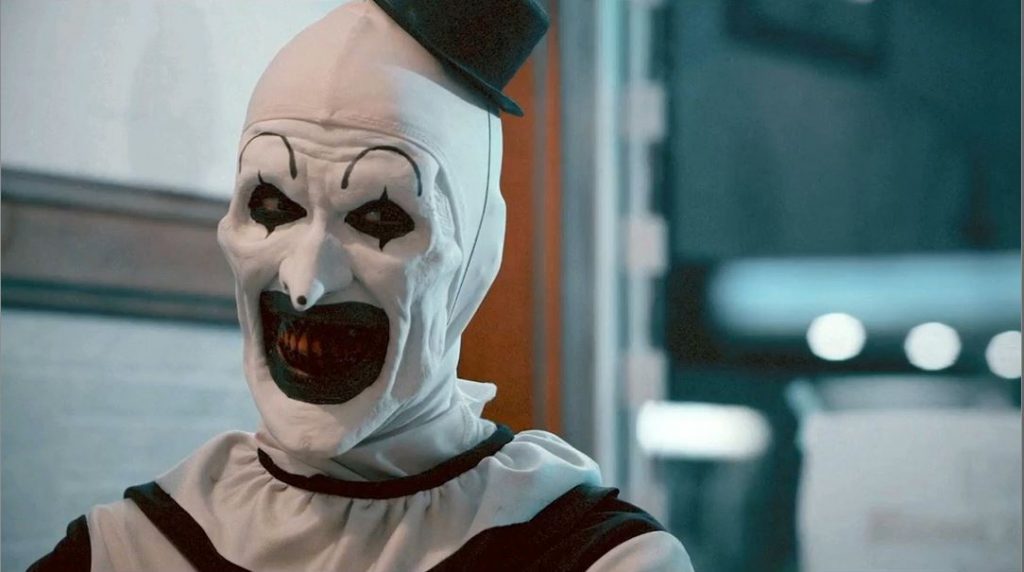 .
HELLTER: Love those scenes, (Laughs). Who would win a WWE style Steel Cage Match between Pennywise vs Art The Clown vs American Horror Story's Twisty The Clown vs Killer Klowns From Outer Space?
DAVID: Definitely not humanity! (LAUGHS)! It would definitely come to a standoff between Art and Pennywise though. Ultimately, Art would win. Some might disagree, but I am one of only a few people that know what Art is truly capable of. 
.
.
.
HELLTER: I would pick Art too. What would you do to survive if a crazed killer clown wanted to kill you?
DAVID: I'd take the Roger Rabbit/ Eddie Valiant approach and make them laugh. Maybe they would die laughing, or at least be distracted enough where I could slip away.
.
.
.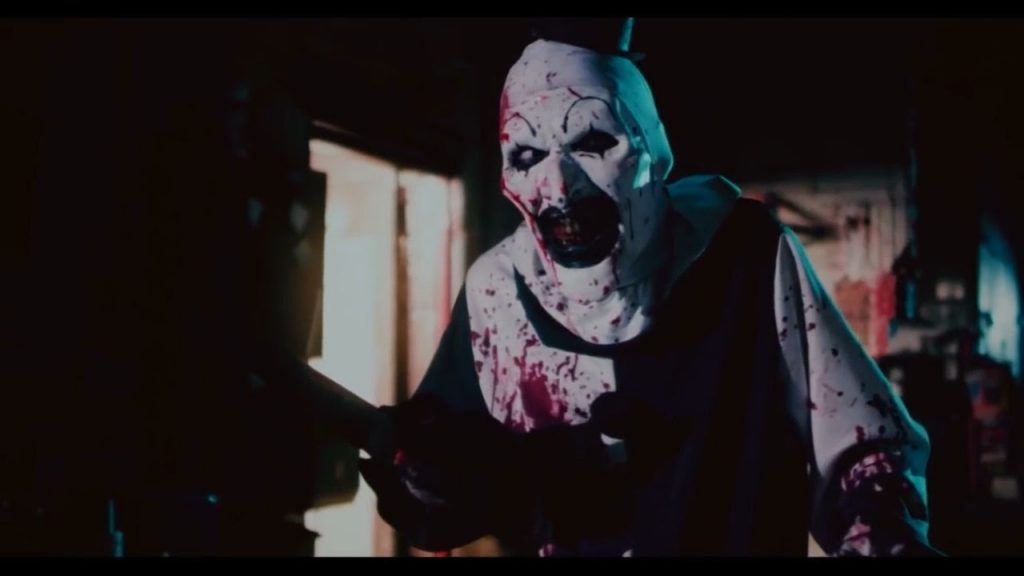 .
HELLTER: Anything else you want to discuss or promote?
DAVID: I would say to stay tuned for the final episodes of Nightwing: Escalation that are currently being filmed. We are going out with a bang! I'm also working on a new animated show for Hulu, but can't say more right now about that due to NDA's. It's going to be a fun series though! 
.
.
.
HELLTER: Thank you for your time sir.
DAVID: Thank you as well! Also, a big thank you to all of the fans out there that have been watching the film and spreading the word about it to their friends and on social media! It is because of you that we have been a big success since we have gotten very little attention from main stream entertainment media. That just goes to show what power the fans have! Thank you all from the bottom of my dark heart!
.
.
.
---
.
.
.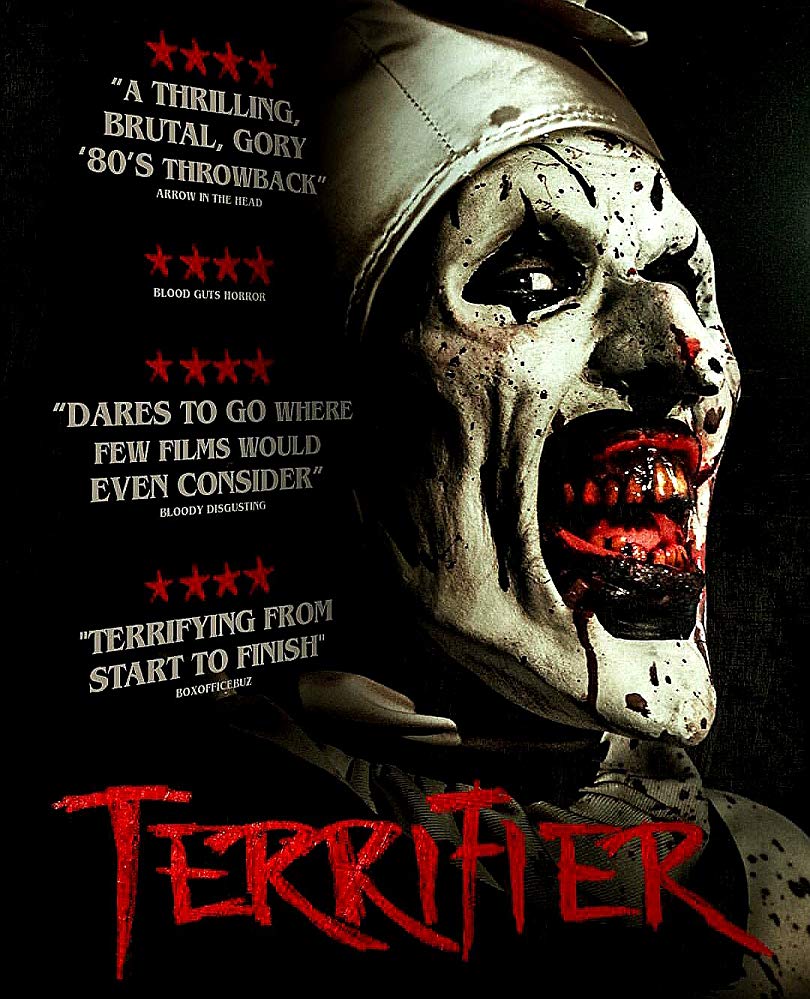 ---